Well, not too many people got a chance to examine the evidence, but MR. STITCH was the first solid proof that Roger Avary could stand on his own without reminding anybody of his video store co-worker Quentin Tarantino. Two years after winning an Oscar for PULP FICTION he was directing a DTV movie. Of course around here we know there's no shame in that, but I guess it was not the original plan, just what happened when him and Rutger Hauer couldn't agree on anything, according to this old Entertainment Weekly article. Sounds like they really didn't get along well at all. Could've been worse, I guess.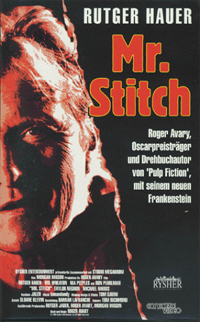 It's not an easy movie to get ahold of. I've seen pictures online of an ugly, Hauer-centric VHS cover – the DVD I rented was a region 0 Asian import with equally questionable art. So what's the deal, is this movie terrible? The beginning had me worried, with opening credits worthy of a home made wedding video and some dicey low budget computer effects. But it turns out to be a clever and well-executed variation on Frankenstein, which is a famous story that I would recommend if you haven't heard of it before. Look it up.
Most of the movie takes place in a white void, where clearly-untrustworthy scientist Dr. Wakeman (Hauer) teaches life lessons to a man-made human (Wil Wheaton, the main kid from STAND BY ME) covered from head to toe in weird white bandages with the texture of a shar pei. He speaks in a measured, intelligent tone and is very inquisitive. He isn't allowed to read The Bible because the doctor says he's not ready for fiction yet. He also has super strength, is followed around by a floating eyeball the size of a beach ball, and he seems to have memories from the body parts he's made of. When they take his bandages off he's a Leatherface type patchwork quilt with different races and skin tones spread throughout. The makeup is by Tom Savini (who also has a cameo) and it does a great job of being repulsive without any blood or guts.
The human jigsaw puzzle look makes no sense on a literal level. He even has a mix of different hair colors, and one of his fingers has a long, painted fingernail left over from the original owner. But it illustrates the clash of philosophies within the project. "The Outfit" funds him as a super soldier, but some of the scientists on the team are trying to do something more poetic, combining all races and genders into one perfect human. They gave him no genitals and balanced his parts between male and female so he wouldn't have a gender, but he chooses to call himself a man, explaining that it makes people more comfortable to consider him one gender.
Even Wakeman must have interests beyond creating a killing machine, otherwise why would he teach him about books and music? But of course regardless of what they do or don't want him to be, they can't control it, and as the fox says, chaos reigns. As the creature learns more he becomes more curious, more rebellious, and makes more decisions about what he wants in life. He names himself Lazarus.
The story is mostly a series of conversations between Lazarus and Wakeman or Lazarus and the psychiatrist Dr. English (Nia Peeples of HALF PAST DEAD fame) as he begins to understand the world, piece together (get it? piece together?) his past lives and deaths, and question his situation. The minimalistic white sets are a smart way to keep the budget down, but don't worry, the world of the movie expands eventually and there's even some good action (although I question the skull-faced smoke plume after a car goes off a cliff. It's like they tried to do show-offy 2000s type visuals on a $5 budget and a decade and a half too soon).
Alot of little touches go a long way to implying an interesting futuristic world. There's the occasional weird biomechanical device full of Cronenbergian slime, the security guards drive dune buggies on and off road, American soldiers wear skeleton makeup like child soldiers in the Sierra Leone. In the building where Wakeman's lab is housed ordinary people in suits and lab coats walk past identical, non-descript offices with doors matter-of-factly labelled with what goes onside, even if it's "CHEMICAL WEAPONS." Some viewers might find this laughable, but I think the mundane-ness is horrifying and all too believable.
The idea of Lazarus having flashbacks from his dead body parts is one of those sci-fi/horror things that clearly doesn't make any sense but has been done to death anyway. But I like how it's handled. It leads to some poignant scenes (I don't use the word poignant that often, so please enjoy these two uses of it here) and some intense ones. There's a great car crash scene shot from inside a rolling car. Pretty scary.
Hauer pretty much acts as you'd expect him to as a mad scientist. I didn't notice any clues that there was trouble or that the movie was reworked around him getting kicked off. Ron Perlman also has a small role.
But the movie entirely depends on Wheaton's performance, and I think he gets it just right. He sounds like a guy who doesn't really know exactly what it's like to be human, but in some ways is more thoughtful than somebody who does. So he's both inhuman and humane, scary and sympathetic. He's kind of a ticking time bomb because we know his strength and see his impatience with the way these doctors are treating him. But we definitely side with him. Get the fuck out of there if you can, Lazarus.
Nobody ever calls him Mr. Stitch, by the way. I'm glad, because that would be mean.
From what little I've been able to find about this movie it seems like its reputation is not good, but I gotta say I really enjoyed it. The article says it debuted on video and then played the Sci-Fi Channel. Compared to the movies that do that these days it's CLOCKWORK ORANGE. I mean, nothing against Gatoroid, I'm sure he's a nice guy. I'm just saying this has more smarts, style and entertainment value than the kind of thing they make now, in my opinion, although with less tendrils.
This entry was posted on Saturday, March 5th, 2011 at 1:46 am and is filed under
Horror
,
Reviews
,
Science Fiction and Space Shit
. You can follow any responses to this entry through the
RSS 2.0
feed. You can skip to the end and leave a response. Pinging is currently not allowed.