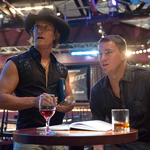 Remember when it got out that Channing Tatum had been a stripper before he was an actor? I forget if he said it in an interview or if it was Wikileaks or something, but there were alot of stories about it in the entertainment journalism and it was a big joke to everybody. But who's laughing now, motherfuckers? Tatum found the best possible way to own that on the set of HAYWIRE when he convinced Steven Soderbergh that his experiences would make a good movie. It might've gone a different way if it was on the set of GI JOE and it was Stephen Sommers that ended up directing MAGIC MIKE. But Soderbergh is the guy to take any subject matter, find what's interesting about it, bring out the innate and sometimes unknown talents of his cast, and shoot it beautifully. He's made one of his little independent character pieces, but he threw in just enough shirtless cowboys humping stages to advertise that for the ladies.
And it was a huge hit. According to IMDb it cost about $7 million and made almost $114 million at the U.S. box office alone. They're already planning a sequel. I wish it was HAYWIRE getting that, but I guess they don't make alot of beefcake movies, so there's room for it in the world. Good for you, ladies.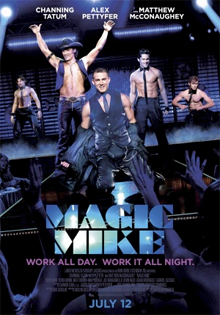 Tatum plays Mike, a guy on a roofing crew who immediately dislikes the new young chump Adam (Alex Pettyfer, aka ALEX RIDER: OPERATION STORMBREAKER) because he shows up to work wearing tennis shoes. But when Mike runs into the kid outside of a night club he reluctantly hangs out with him, gets him to hit on some young women, then gives them a flyer for one of his other jobs at the male strip joint Xquisite.
Adam mooches off of his sister/roommate (Cody Horn) and is in desperate need of work. Mike gets him into Xquisite to help with props, but of course he gets pushed on stage, has to learn the ropes, becomes enmeshed in the bow-tie, no-shirt lifestyle. (Actually, that's not accurate. In modern male stripping, at least as depicted in this movie, they wear a regular tie and collar, but no overall shirt.)
Where do you take the plot from there? The big National Male Stripping Tournament that they have to win to save the club from evil real estate developers or from being bought out by Chippendales? No, this is a story about the ol' American Dream of acquiring wealth and success, and perhaps the more modern American Sub-Dream of doing it with integrity and dignity. The Boss Man, Matthew McConaughey (who's having fun but I wouldn't say as great of a character as he had in TROPIC THUNDER or REIGN OF FIRE) wants to bring their scrappy little club into the big time by moving to Tampa. That's the big break for these guys.
Adam's story is part crime drama, part rock star biopic. The lifestyle only exacerbates how irresponsible he is. He starts dealing ecstasy through a guy from the club (that comedian Gabriel Iglesias), with some of the expected results. And his sister blames Mike. I've heard some criticisms that the guy-with-drug-problem part of the story is a cliche, but for me it works because it's the subplot, the story always feels like it's about Mike and this thing is only important for what it teaches Mike. It's not the kid's story. Forget about the kid.
Mike sees himself as an entrepreneur, he has a bunch of different businesses and the one he's passionate about is cool furniture that he designs and builds out of recycled materials. But it takes his disastrous babysitting of dumbass Alex to make him realize that he's fooling himself if he thinks he's not mainly a stripper. You know how alot of people get a job when they're young and they see it as a stepping stone to something else or just something to do for a little while, and the next thing you know they're much older than they thought they'd get and they don't know how the hell to move on? It's kind of like that, except shirtless.
Ultimately it's a romantic dramedy between Mike and the sister. It turns out Horn is the daughter of Warner Brothers President Alan Horn, and alot of people hate her and say she can't act. I don't know if that's so in her other movies but here she's got the director who can get a pretty good performance out of some lady he found working at a Kentucky Fried Chicken, and I really like her in it. She's especially great at acting unimpressed with Mike but not being able to hide that she's intrigued when it goes to a close up. I love when she comes to the club and watches his erotic STEP UP routine. She stands grimacing with her arms folded, but the lines on her cheeks threaten to smile, her eyes yearn to pop out of her head cartoon wolf style.
There's another great scene where Mike goes in to the bank to try to get a loan for his furniture business. The woman he meets with (Betsy Brandt) can't give him what he wants, and is completely flustered. She wants him like Meryl wanted Clint in BRIDGES OF MADISON COUNTY. It's hilarious because it's not played as comedy, not pointed out, and seems so authentic. These odd side journeys are one of Soderbergh's many talents.
The wrestler Kevin Nash, who I know from THE PUNISHER (Thomas Jane edition), plays one of the strippers, called Tarzan. So WWE Films should've gotten in on this, they would've made a fortune.
Anyway, pretty good. Not embarrassed. I liked it.