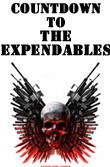 Part of the reason for my Countdown to The Expendables was to expand my action movie horizons. I didn't want to just revisit movies I'd seen before, so I gave myself some rules: for each major EXPENDABLES cast member I wanted to review a movie I'd never seen before. Not just one I hadn't reviewed or hadn't seen in a long time, but one I had no experience with at all.
But with Randy Couture this is a problem, because he doesn't have 50 movies to his name like Gary Daniels. I'd already seen and reviewed his two biggest roles: THE SCORPION KING: RISE OF A WARRIOR (villainous scorpion king who presides over the rise of a warrior), and REDBELT (commentator who Mike Terry tries to tell the tournament is fixed). I'd even seen most of his bit parts, like as a cage fighter in CRADLE 2 THE GRAVE, and of course this top notch door-answering in TODAY YOU DIE:
He's also in the Mark Wahlberg football drama INVINCIBLE and the Rob Schneider prison comedy BIG STAN, but neither of those seemed Expendable enough to fit what I was looking for. This leaves one excellent possibility: an '05 mixed-martial-arts-themed no budgeter called NO RULES, where he apparently plays a fighter who leads a satanic cult. Unfortunately I couldn't find it for rent and I'm not sure I can get it in the mail before EXPENDABLES comes out. So later for that one.
Instead I did what I could to research him. I watched some of his UFC fights and his two appearances on "The Unit," a TV show created by his REDBELT director David Mamet. I know Couture's Expendability has come into question in some comment threads here. But despite his lack of a celluloid trail he seems like one of the more intriguing Expendables to me. While most of his co-stars represent a long history of action movies (or at least a recent history in action movies), Couture's contribution is to represent an authentic bad motherfuckerness that could not possibly be questioned.
In part 3 out of 5 of Stallone's recent Ain't It Cool Q&A, Adam from Olympia asked "With that talented cast of badasses, who would win in a fight if all hell broke loose? Who would be the last man standing?" All Stallone really offered was, "Steve Austin is a mammothly strong man and Randy Couture is hard as Pittsburgh steel. Dolph certainly is not someone you want to flip off at an intersection because he may simply flip your car over, so in reality you can never bet against a professional light weight and heavy weight champion and be considered sane."
I'm not sure if Stallone is agreeing with me here or not, but after watching some of these UFC fights I got no question in my mind that Couture is the only possible answer to that question. Stone Cold and Dolph I'm sure would acquit themselves admirably, but they don't got the same skill set. Couture's actual occupation is to survive horrendous beatings while punching, kicking, and pulling on the world's toughest men until they're afraid they're going to break a bone or suffocate and are forced to tap the mat, morse code for "uncle." That's his fucking job, and he's very good at his job. You could say he's gotten employee of the month a record number of times.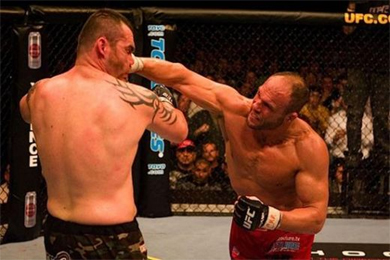 Couture looks kind of like Ed Harris if he lifted weights all day and wrestled enough to get cauliflower ears. He's best at the grappling, with his specialty being what they call the "ground and pound," when he manages to get an opponent on his back and just sits on top punching his face in. But over his career he's continually added new skills, becoming just as good at standing up and "dirty boxing" or kicking the other guy's legs out.
He seems to specialize in defying expectations. I watched his first fight with Chuck Liddell, where nobody seemed to think he had a chance. They keep saying he's going to have to get Liddell down to the ground to wrestle him, but he surprises everybody by nearly punching the guy out. Joe Rogan and the other commentator can't believe what they're seeing. Then there's the fight against Tim Silvia in UFC 68. They show the "tale of the tape" and it's ridiculous – Couture is 7 inches shorter, I forget how much lighter, but they normally got about 100 pound difference according to Wikipedia. Sylvia's got a 5″ reach advantage. Couture had previously retired, hadn't fought in a year. Most importantly he was 12 years older. Most of the big UFC guys are in their 20s, this guy's fighting in his 40s, so he's not expected to have the cardiovascular stamina to hold up against a young guy. Everybody says Couture is gonna get smashed, but he immediately knocks the guy down and dominates the entire match, winning by unanimous decision.
But my favorite is UFC 44, where he fights a WWE-looking bleach blond champ named Tito Ortiz. Before the fight the camera crew interviews various celebrities in the crowd like Michael Clarke Duncan and some NFL players. Fellow Expendable Jason Statham happens to be there, and fortunately for his ass is diplomatic and doesn't predict a winner. Everybody else says Ortiz. But of course the 40 year old Couture dominates the whole fight. By the end, the crowd that was booing Couture and chanting "Tito" has conveniently switched sides. After 5 rounds with Couture in total control Ortiz gets some kind of desperate lock on Couture's leg. Couture reaches down and for a second I was disappointed, thinking he was tapping out. But he wasn't – he was spanking the guy. As if to say Naughty boy. Stop trying to hurt my ankle. Go to your room.
Yeah, I know, this hardly dispels the reputation of UFC as being "kinda gay." But it's some funny shit to see the supposed old man shaming the young powerhouse like this. That's one reason why he's such an appropriate Expendable. In a time of pretty boy actors training to seem like real fighters Couture is a real fighter training to seem like he can read his lines properly. Modern Hollywood's idea of a tough guy is a good looking kid in his mid-twenties working out his pecs and maybe getting a little peach fuzz to go with his aviator glasses. Couture is the opposite in every possible respect. He doesn't try to hide his male pattern baldness or his monstrous former ears. He's not gonna be able to switch it up and do a romantic comedy with Sandra Bullock, is my guess. Even when he gets cleaned up and smiles for the red carpet he's gonna look like this: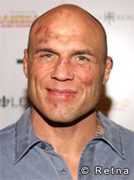 I think Stallone was trying to cover alot of bases with his cast. He's got '80s action icons like himself and Dolph, he's got Jet Li as the legend of Hong Kong cinema and martial arts, Statham representing modern action (for whatever that's worth), Stone Cold representing the pro-wrestlers, so he wanted to get a mixed martial artist in there too. Maybe going from a fighter to an actor is not a natural leap, but then neither is football player to actor, and that didn't stop Jim Brown from starring in some of our favorite movies. Come to think of it Jim Brown himself was a commentator for the first few Ultimate Fighting Championships, later to be replaced by another b-movie star, Don "The Dragon" Wilson.
In fact, the concept of UFC I think was most likely inspired by the old martial arts movies with mysterious islands and tournaments between fighters of different disciplines. Shit, they even fight in "the octagon" – you can't tell me that didn't come from THE OCTAGON! So UFC and movies have always had connections, and I think it's only natural that some of those guys will make some fight movies the way various champion kickboxers did in the '80s. In fact, mixed martial artists turned actors like Couture and Oleg Taktarov are way more manly and battle-hardened than Van Damme, Don the Dragon or Gary Daniels were when they started making movies. Of course Stallone wants to hang out with them.
And none of those guys had David Mamet to help them out. Until REDBELT came out I never would've guessed that Mamet studies Brazilian jiu-jitsu. But now that I know that I'm guessing it was his idea to put Couture in a couple episodes of his elite black ops squad TV show 'The Unit.'
Couture's first episode is the season 2 finale "Paradise Lost," where he just has a cameo as "Sergeant Strickland," a soldier who brings The Unit of the title some bad news. He has to inform this secret anti-terrorism team that they've been accused of war crimes, are being disbanded and can't even talk to each other or they'll be busted for conspiracy. Couture stops them from entering a base, but then the Colonel played by Robert T-1000 Patrick (their regular boss on the show, I assume) takes over chewing them all an elite unit of new assholes.
For his small amount of screen time Couture is used well. You see his nasty ear before you see the rest of him – it's like a shark's fin, announcing his presence: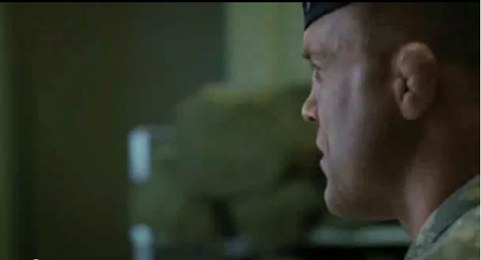 Then the last glimpse of him is a creepy-as-hell Michael Meyers type shot where Dennis Haysbert (the leader of The Unit) comes out of an office and sees him just standing there watching at the end of a hallway. It kind of seems important at the time, but he never shows up in the episode again.
'The Unit' seems like a pretty cool show, lots of scary CIA guys making wives uncomfortable by approaching them in grocery store parking lots and shit, betrayed agents busting out the hidden caches of weapons and cash, secret codes and macho dialogue written by Mamet. Well, his sister Lynn Mamet, anyway. This storyline has them getting set up and having to go dark like the A-Team. Haysbert flees to Panama City where an old agency type buddy gets him a new name, social security number and passport, explains that the real guy has no family except a brother who's not getting out of the joint any time soon. When Haysbert asks where the real guy is now his friend says he went missing a couple years ago.
"Anybody know what happened to him?"
"Only me," his friend smiles.
There are a few Mamet connections besides Couture. Max Martini, Officer Joe from REDBELT, is Mack, the angry scary member of The Unit. Ricky Jay is a sardonic CIA asshole. Rebecca Pidgeon is Patrick's treacherous bitch of a wife. I didn't notice William H. Macy or any other magicians in there. It sort of has Mamet's cynical know-it-all brand of conservative politics, which I didn't really mind. I already bought into these guys being honorable supermen who can handle anything, so I'll buy into the idea that we gotta let them do whatever they want to stop terrorism. And actually since the cliffhanger got me hooked I also watched "Pandemonium," the 2-parter that follows, where The Unit uncovers and disagrees with another agency executing prisoners that they're worried will be freed when a Democrat takes over the White House and wants to close down all the infamous illegal prisons and shit.
Couture has a much bigger part in "M.P.s", the sixth episode of season 3. There are three storylines: most of The Unit is in Iraq guarding an obnoxious pop singer (Mikalah Gordon, who it turns out is from American Idol, which is not surprising because she's clearly not from professional acting) and her fluffy dog during a USO visit. Hector (Demore Barnes) is courting a watiress, with the support of the Unit wives club (probly the source of all the boring subplots in this show, is my guess). And Noel from 'Felicity' (Scott Foley) is teamed with Couture's Sergeant Strickland character to transport a terrorist suspect (Al Faris – customs official in Mamet's SPARTAN) to his home country for execution.
Lynn Mamet's brother David actually wrote this episode, so Couture gets to use some good phrases he didn't get to use in SCORPION KING 2 such as "his affectless state" and "if we bypass that rationale" and "advance to your goal by another man's road," all while debating prisoner control techniques and ethical matters. I'm sure Mamet is a Couture fan and deliberately wrote a bigger part for his cameo character. So it's interesting that he doesn't set him up for a big fight scene or anything. Instead he uses him purely for Badass Juxtaposition. While "the good looking boy scout" Noel treats the prisoner harshly and coldly, Couture argues that he's still a human being and offers him small gestures like talking about daughters and playing cards with him.
You're just waiting to see what window of opportunity this will open for the terrorist, but being familiar with Couture's fights now I wasn't at all scared for him. I figured he could handle it. In fact, he could just let that guy go and count to twenty and then run after him, I don't think anybody would be in danger.
Ultimately the character's philosophy turns out to be foolish – in fact (TV EPISODE SPOILER) it turns out Noel's actual mission was to let something like this happen before the prisoner is transferred. But I think macho Mamet still has some sympathy for Strickland. I bet Mamet agrees with Noel that it's a shame Strickland's career should be ruined just because he has a heart to go with those fists.
Couture actually does really well in this episode wearing a suit and doing full Mamet conversations and speeches. Maybe that's why his nickname is The Natural. Somehow somebody taught him how to act. I think he'll do well in THE EXPENDABLES, mostly for his fighting skills, but I hope some day we'll get to see him in a role that combines the kind of acting he does here with the kind of assbeating he does in the trademarked eight sided battle arena. That would be great to see him with a bigger role in another movie directed by Mamet. Or Isaac Florentine, if you want to give him REDBELT II.