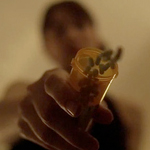 SIDE EFFECTS is supposed to be Steven Soderbergh's last theatrical release before handing in his camera and his DGA card, not counting BEHIND THE CANDELABRA, which went straight to cable in the U.S. I haven't seen that one yet but thank Christ it came out already because I was real worried about him there, 'cause you know what tends to happen to guys right before retirement. Congratulations to him on making it out. I hope they gave him a gold watch.

This one has Soderbergh's arthouse feel: simple music, often no music, natural sound, mumbled, unflowery dialogue, lots of smaller parts played by (I think) non-actors. It also could be seen as an issue movie, because it explores psychiatrists giving prescriptions for different anti-depressants, friends recommending them, companies promoting them, making you question how thoughtful and scientific they're being about all this. And for a while it seems like a commentary on this type of thriller movie, with Jude Law crazily grasping for some plot twist that could explain what seems to be pretty straightforward. But ultimately it ends up being Soderbergh's version of a thriller like FATAL ATTRACTION or BASIC INSTINCT or one of those. It even has Catherine Zeta Jones in it, continuing the family business.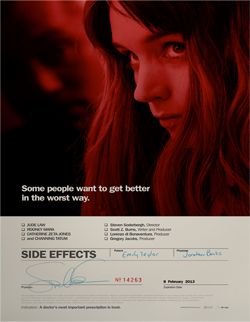 Rooney Mara plays Em, a young office worker whose depression hits the rails shortly after her insider trader husband ("Charming" Channing Tatum) gets out of the joint. He seems more likable than somebody guilty of that crime would be expected to be, and they seem sweet together, but she's kinda distant and then her psychological well-being metaphorically drives straight into a brick wall when she decides to literally drive straight into a brick wall.
Physically she's okay. Airbags. But a psychiatrist (Law) knows she did it on purpose and only lets her leave on the condition that she'll start coming to see him a couple times a week. They strike up a pretty good doctor-patient relationship, he gets her to try out a particular anti-depressant, and over time they explore different drugs when she's not happy with the, you know, the thing in the title.
The doctor is an interestingly complex character. He seems pretty quick to prescribe drugs. He also participates in  a study for a specific pharmaceutical company, for the money, supporting the psychiatric-industrial-complex or whatever. He's not always great with his wife (Vinessa Shaw) and there's a possibility of a sleazy skeleton in the closet (though I think he was probly innocent). Despite all this he's a sympathetic character and he switches to a protagonist role about halfway through. He seems genuine about trying to help his patients, and being honest with them about getting paid by that one company.
At times it seems like it's gonna turn into an anti-psychiatric drug scare film. It's a touchy issue. It seems like half the people I know are on anti-depressants. I wish they didn't need chemistry to be happy, but if it works they should do it. There are horror stories. I've known people that seemed zombified on the wrong medication, or of course there's the tragedy with Phil Hartman and his wife, it's easy to worry about that type of stuff. Indeed there is some bad shit that happens in this movie, but as my buddy Matt Lynch pointed out to me it's not just about pills, it's a whole theme of people wanting a quick fix: I need money, so i'll cheat the stock market. I want to kill myself, but I need to go back to work. The sex isn't good, I need a different pill. I'm sleepwalking, so I need another one. My reputation is ruined, I gotta find some conspiracy that caused it. But nothing is gonna be that simple. There's gonna be some side effects.
Soderbergh has some movies that I revisit over and over again – OUT OF SIGHT, THE LIMEY, OCEAN'S 11 and already HAYWIRE too. This is not in that category. I see this as a smaller, more intimate version of what he was doing with CONTAGION and even ERIN BROCKOVICH in a way, where he takes a pretty standard mode of studio entertainment but puts it through his filter so it comes out with a unique feel to it. It's solid and a little better than you might expect and not much more than that, but that's enough.
I read that Mara turned down ZERO DARK THIRTY for this. The other movie and role are way more memorable, so it kinda seems like a bad decision. On the other hand she got to work with Soderbergh, which has sure helped other actors elevate their game. Here she gives another complex performance with layers of smart, troubled, sympathetic, scary, scared. I bet we end up hearing more from Soderbergh eventually, but if not we'll definitely be hearing more from Mara.