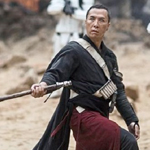 a.k.a. ROGUE ONE: A STAR WARS STORY
ROGUE ONE is the new Star Wars picture, but not episode VIII, but also not new exactly because it's what happens before part IV, which is the first one. I look forward to explaining that to the first casual viewer I meet who thinks this little British heroine is the same one from THE FORCE AWAKENS.
She's a new character though, Jyn Erso, played by Felicity Jones from THE THEORY OF EVERYTHING. She's supposed to be some kind of criminal or something who's snatched from a prison transport by the budding Rebel Alliance because they're looking for her father (Mads Mikkelsen, VALHALLA RISING), a scientist who was abducted by the Empire when she was young and is helping them build a spherical planet-destroying space weapon (see also episodes IV, VI and VII). So like most STAR WARS leads she's an orphan, then she was raised by a legendary guerrilla named Saw Gerrera (Forest Whitaker, BLOODSPORT) although the raising happens offscreen.
She's spunky and kicks some ass and what not but she's more of a cipher than Rey and whatever badass troublemaker lifestyle got her locked up goes unexplained (though referred to in the original trailer before the movie had major reshoots). She's teamed with Rebel spy Cassian Andor (Diego Luna, VAMPIRES: LOS MUERTOS, MISTER LONELY), who dresses similar to Han Solo or Poe Dameron but has less humor or charm. The bright spot on their team is the reprogrammed Imperial Droid K-2 (Alan Tudyk, I, ROBOT) who has comedically poor personal skills and is tall and powerful enough to pick up one Stormtrooper and beat up some other Stormtroopers with him.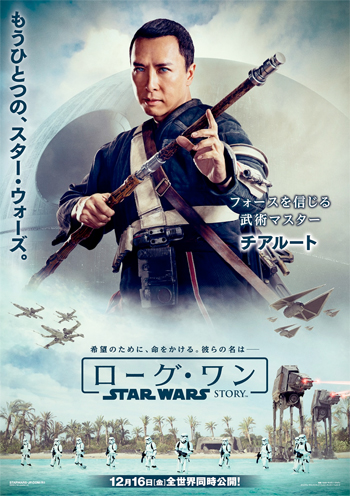 Their WIZARD OF OZ group really picks up steam on the planet Jedha, where they meet two cool badass characters played by Hong Kong stars. Baze Malbus is some kind of mercenary played by Jiang Wen (THE LOST BLADESMAN), and he hangs out with the blind Jedi-worshipper Chirrut Imwe, played by the one and only Donnie Yen (IP MAN). They guard a ravaged old Jedi Temple and Chirrut kind of seems like a Jedi at first but according to Baze he's just some weirdo who worships them. He doesn't have a light saber or even a padawan braid, but he chants about the Force and he seems to be able to use it to sense things before others see them. There are great scenes where his faith in the Force allows him to walk fearlessly through battlefields being narrowly missed by lasers. (Either that or he travels a little bit into the future and knows how to dodge them like Nic Cage in NEXT.)
Although this is not a full-on Donnie Yen vehicle he does get a few actual martial arts sequences, plus one of the biggest laugh lines in the movie and a chant that I suspect will become somewhat of a popular catch phrase. It's a genuine acting performance for him, creating a memorable supporting character. This is not a THE-RAID-guys-in-FORCE-AWAKENS situation at all.
Two other good actors in the cast are Riz Ahmed (NIGHTCRAWLER), but I honestly don't remember anything he did in the movie, and Ben Mendelsohn (ANIMAL KINGDOM, KILLING THEM SOFTLY, THE PLACE BEYOND THE PINES), who is effectively menacing in a few scenes.
There's an interesting dillemma in that they're planning on making a new STAR WARS every year until we all die, which the way things are going in this country means this is almost for sure the last STAR WARS movie and it's been a pretty good run. But if a miracle happens and civilization survives we know that John Williams isn't gonna be able to keeping doing the scores for every one of them. So for the first time he has a substitute, Michael Giacchino (THE INCREDIBLES), and the theme on the opening title (which I saw twice because of technical difficulties) sounds oddly limp. I felt his most successful moments were his most imitative of Williams, but if this is gonna work they're gonna have to figure out how to make the sound of STAR WARS evolve in a way that we will accept. Because endless copycats won't cut it.
There are some good, complex battle sequences in space and on land. There are a few cool alien guys you see a little bit of, done with masks and animatronics, from the looks of it, and in my opinion they have much better designs than the ones in FORCE AWAKENS. I like this guy played by Warwick Davis (RAY):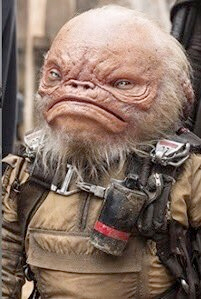 Give him a STAR WARS STORY.
That's what this is billed as – the first try at a standalone or spinoff STAR WARS that is not a numbered episode and doesn't center on the saga of the Skywalker family. So it's weird that when it comes down to it it's not all that different. It's really just an insert prequel, an Episode 3.75 that illustrates the "first victory against the evil Galactic Empire" mentioned in the original opening crawl.
It's a great looking movie, meticulously adapting the look of STAR WARS. On a technical level I think they've done a better job of re-creating Lucas's universe than THE FORCE AWAKENS. It helps that they have an established set of vehicles, uniforms and weapons to expand on in similar style, and they seem very inspired by the more overcast and gritty texture of EMPIRE STRIKES BACK's cinematography. It looks and feels great and it's fun to be back in that world again.
But to me it feels a little hollow because this is the perfect chance to really try something bold, since it's outside of the ongoing saga, and yet even more than THE FORCE AWAKENS it follows the exact-opposite-of-what-made-STAR-WARS-a-phenomenon route of trying to only give you exactly what you remember from before or at best something that is kind of new but seems exactly like before so as not to spook you too much. Yeah we can have a planet that has a new name and has some palm trees and wow, holy shit, some of the Stormtroopers have black armor now! But that's about as radical as they want to go because the intent is to hit this specific right-before-the-first-one look and feel, and that's it.
That's fine, but in my opinion it's their duty to, within that, try to give us a type of story we haven't seen in STAR WARS before. To find something new within the old. But they didn't make a heist movie about stealing the Death Star plans, or a war movie about it. They didn't go deep into the procedure of the Rebellion to show us things we never knew about before. They didn't decide to show us the parts of Rebel life that we didn't get to see before. They just made a regular STAR WARS movie with less light sabers. Basically, it's a whole movie of the B story, without feeling like it goes any deeper into any of it. Like, we don't know anything more about how Mon Mothma operates, or what she does after work. It's another movie about a ragtag group of people meeting each other, bickering, sneaking into a place, and eventually getting hologram briefings from military leaders and waging a simultaneous space and ground battle to defeat the bad guys. It follows the template of episodes IV, VI, I and VII.
And for that it is very good. The last act of the movie is definitely the best part. But to me, Disney's Star Wars is the death of the event that STAR WARS used to be, because now it's not a saga that intends to reinvent itself and challenge and expand our imagination while preaching George Lucas's personal philosophies. Instead it's just a strict formula that will be rehashed once a year to remind us of the different things Lucas created and how much we liked them back then. And this time the characters don't get as much of an arc as in FORCE AWAKENS, nor will they get to expand on it in future chapters.
It's possible I missed something. When the credits came up and I was thinking "Well, I didn't love it but that's okay," the audience I saw it with exploded into some of the loudest applause I've ever heard at a movie. They were clearly engaged in a way that I wasn't. One thing I thought about after but not during the movie is that this is the first STAR WARS without any chosen ones, and I can appreciate that. Jyn Erso does inherit her role in the rebellion because of who her father is and who raised her, but she's not given a power. And she risks her life anyway.
And maybe we need that more than ever. None of us are prophesized to bring balance to the Force. But we might still rebel. If people take something out of this, good for them.
SPOILERFUL NOTES SECTION FOR MOVIE WATCHERS ONLY
A friend who saw it early told me it has "the worst thing in any STAR WARS movie, worse than Jar Jar," and I guess he was talking about the digital re-creation of Peter Cushing as Grand Moff Tarkin. At first it had a Young-Jeff-Bridges-in-TRON-LEGACY type quality, but other times it looked completely real. I didn't have a problem with it. It's a gimmick, but this whole movie is a gimmick.
I can see why some people are upset, though, because if they were gonna fake a new performance by a great deceased actor obviously they should've gone practical. I think the fans would be okay with it if it was just a terrifyingly realistic and unnatural puppet. You know? None of this "using the most sophisticated technology available" stuff.
These little nods to the original movie, like the stock footage appearance of some the X-Wing pilots, are in the tradition of the so-called fan service moments that were in the prequels and the special editions. Like those they went over huge with the crowd and will immediately become a source of grumbling, but it seems like a silly complaint to me. The cameo by the toughs from the Mos Eisley cantina is the only one that I can't defend, since it shrinks the universe in the tradition of Yoda riding on Chewbacca's back. Everyone else is a prominent figure in the Empire or Rebellion who would logically be involved in this battle. To have digital Moff Tarkin instead of the guy who played him in REVENGE OF THE SITH is weird and maybe distracting, but it's acknowledging the unique greatness of Cushing and his facial features. Hell, it's giving an actor (Guy Henry, V FOR VENDETTA) a chance to act through very realistic digital makeup.
(Note: I heard someone afterwards explaining that "that old guy" was a special effect to someone who didn't seem to have noticed anything odd.)
DARTH VADER AND CONNECTING TO THE PREQUELS.
I had made a promise to stand up on my chair and do the Ed Lover dance if they had a part where you saw Vader with his mask off and it was Hayden Christensen. For a second there it almost seemed like it could happen. I liked the idea of burnt up amputee Vader in his Calgon-take-me-away Bacta tank. And it's nice that he gets his own evil castle on Mustafar (an unused idea from EMPIRE STRIKES BACK I believe) and a weird robed toady that bows to him and tells him when he has company. Man, what did he do to get stuck with that shitty gig? Poor bastard.
But you also gotta feel sorry for Vader, after all he's been through, being bothered like that while he's bathing. I'm pretty sure that's why he has that little pod in EMPIRE. After this invasion of his privacy he's like "Could you guys build me a Sith Lounge for when I want to kick back and take my helmet off?"
I think maybe I was looking too hard, but in his first in-costume scene I didn't really buy him Spencer Wilding (JUPITER ASCENDING, GREEN STREET 3) as Vader. He's 6'7″, but he looks too short the way they shot him, and his muscles make him look kinda fat in the costume. And the movements don't seem quite right. And James Earl Jones, bless him, his voice is a little worn at this age, he sounds a little different. I wish it worked for me.
But Vader's final scene is one of the best things in the movie, a great demonstration of his scary powers that shows how one-sided things were between the time all the Jedi were dead or hiding and the time they came back. You can believe he went around and killed all the remaining Jedi. More importantly the scene turns the nameless rank and file rebel soldiers – the good guy equivalent of Stormtroopers – into great heroes, many of whom gave their lives to pull this caper off by the skin of their teeth.
I think today's Lucasfilm is using the slow-boiling-lobster method of admitting that the prequels exist. I didn't get my Christensen, but they did have two actors reprising their roles from the prequels: Jimmy Smits as Bail Organa and Genevieve O'Reilly as Mon Mothma (or at least I thought she was in REVENGE OF THE SITH but I guess it's a deleted scene). The next step is a STAR WARS that uses a character that originated in the prequels. A little Watto here, a little Yaddle there, just to get people used to it. And then out of the blue, bam. SEBULBA'S FÊTE: A STAR WARS STORY.
DARKNESS
I didn't immediately think of this as being the "darker" STAR WARS that some people say it is, maybe because REVENGE OF THE SITH set the bar pretty high by having the hero of the trilogy decide to murder a bunch of children, choke his wife and then fight his best friend and have three limbs chopped off and all his skin horribly burnt by lava and lay on a beach gurgling "I HATE YOU" while his wife dies of acute hopelessness during childbirth. But it is pretty ballsy to set up this new band of characters and have not some but all of them sacrifice their lives for the greater good. Especially in this licensed intellectual property franchise where we've been trained to look for the next episode. I mean I'm sure they'll be making dolls and comic books of all these guys but it's kinda cool that there's no chance for a sequel. They were already dead when STAR WARS started.
And it's cool that the robot dying was the saddest one. We've had droid death before, but never one like this. Then our two Hong Kong stars, my favorite characters. Those are powerful acts of valor and that's one thing that does seem to come specifically from a war movie tradition.
When they lose their lives while getting shit done it's really effective but also feels like yeah, now that I think about it of course these characters have to die to achieve the mission. But when the pretty leads also face their doom (in a tribute to the ending of DEEP IMPACT, according to a lady I know) I gotta admire the filmmaking discipline on that one. They stay true to story logic (because why wouldn't these great heroes be involved after this if they survived?) and the theme of sacrifice. And the music and the act of holding hands as they look out to their fiery death is a nice reflection of similar downbeat endings in episodes V and II.
Anyway, slick job by director Gareth Edwards (GODZILLA and one other movie) and writers Chris Weitz (ANTZ, NUTTY PROFESSOR II: THE KLUMPS), Tony Gilroy (THE CUTTING EDGE, ARMAGEDDON, THE BOURNE LEGACY), Gary Whitta (BOOK OF ELI) and John Knoll (ILM visual effects supervisor who came up with the idea for the movie years ago). All I ask is for a big old heart beating beneath the surface next time and then for the surface to be something new and bold and innovative and barely nostalgic at all. I think you guys can do it if not no big deal just don't call 'em STAR WARS call 'em BATTLE BEYOND THE STARS.
This entry was posted on Monday, December 19th, 2016 at 1:31 am and is filed under
Reviews
,
Science Fiction and Space Shit
. You can follow any responses to this entry through the
RSS 2.0
feed. You can skip to the end and leave a response. Pinging is currently not allowed.