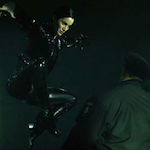 THE MATRIX is, I continue to believe, one of The Great Movies. It absolutely holds up today, and also it reminds me so much of then. I will always remember what it felt like when this was a new movie, and our entire understanding of the MATRIX story. When we all imagined where it would go next, and then we we had a couple years enjoying or rolling our eyes at all the movies obviously influenced by it, whether that means corny outfits and techno music or that brief, glorious window when Hollywood actors could be convinced to spend months preparing for action scenes with the great Hong Kong choreographers. But mostly I like to remember what it felt like to be surprised by it. Going in wondering if it would be good and then coming out knowing it was this.
I did have hopes. I had come to respect Keanu Reeves' taste in movies after SPEED and, say what you will, JOHNNY MNEMONIC. I liked BOUND and it was exciting to see directors like that doing a sci-fi movie. And then a day or two before it came out I heard something about there being kung fu in it? So it wasn't completely out of the blue that it was good. But I don't think I was expecting something that a couple decades later would still be thought as highly of as the fucking MATRIX is.
It's both a timeless classic and a thoroughly 1999 movie. Maybe that's because it's so singular that it can't be adequately imitated, and so popular that it came to define its time. It also speaks to many issues that were in the zeitgeist in '99, but continues to reveal additional meanings and interpretations as time passes. In the years since, of course, the Wachowskis have both come out as trans women, providing a piece of the puzzle we didn't know was missing at the time. So a large percentage of MATRIX discourse has morphed into queer and trans readings of the movie, and I like that because this is such a huge movie across a broad spectrum of moviegoers, including some more reactionary contingents, so it's interesting if that stuff was in there all along.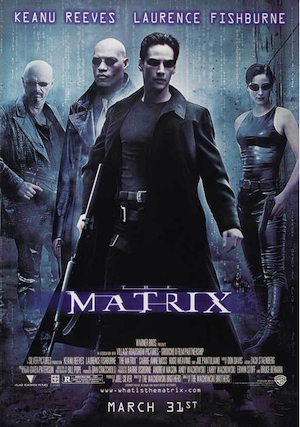 Other people have and will continue to dig into that aspect better than I can, so I won't focus on that. I also can't claim to understand the various philosophical ideas underlying the script (unlike the cast, who were required by the Wachowskis to read and discuss a number of books before reading the script). To me THE MATRIX is still about the less specific, more 1999, but definitely related matter of wanting to be recognized as an individual and find meaning under an oppressive system. In his lead up to explaining what The Matrix is (not the movie, but the virtual world its characters live in or enter for kung fu purposes), Morpheus (Laurence Fishburne, DEATH WISH II, CHERRY 2000) says, "The Matrix is everywhere. It is all around us. Even now, in this very room. You can see it when you look out your window or when you turn on your television. You can feel it when you go to work… when you go to church… when you pay your taxes. It is the world that has been pulled over your eyes to blind you from the truth."
What he's describing is, you know… the bullshit. Shitty governments, shitty jobs, shitty churches, shitty lies about how the world works in your news or entertainment. Like the same year's FIGHT CLUB, it addresses fears of becoming a bland, nameless cog working in an antiseptic office building honeycombed with cubicles, having to impress some asshole boss you share nothing with, to make money you feel you're being told should fill your emptiness, but that you know will not.
Keanu's now-iconic character, known as "Thomas Anderson" to his boss, "Mr. Anderson" to Agent Smith, "Neo" to the internet, Morpheus, and us, clearly feels unfulfilled at his job. But at home in his dark bedroom, lit mostly by the green glow of a monitor, surrounded by stacks of hardware clutter and CDs as clicky techno bleeds from his headphones, he sells homebrew hacker tools to local industrial/goth clubbers aware of his talents, and through that underground scene he stumbles upon his destiny. Like many young cool people (then? always?) Neo can see the job trying to turn him into a conformist capitalist, he maybe seeks refuge in chat rooms and music, follows a tattoo to a dance club, falls in love with an amazing woman in black latex who leads him to who he was looking for. Just as Boone in NIGHTBREED has been searching for Midian, he's been searching for this Morpheus. Doesn't even know who he is, just knows he needs to find him. And then Morpheus finds him.
Of course we'll need to discuss the matter of red and blue pills. Following an Alice in Wonderland eating-things motif and a counterculture enlightenment-through-psychedelics tradition, Morpheus presents Neo's two possible paths as two pills. Take the blue and he'll "wake up" back in The Matrix (the artificial world, the capitalist system, etc.) with no memory of all this, and just go on living in… well, not blissful ignorance since he'll probly still have to work that shitty job. But without the burden of knowing the truth. Or he can take the red pill that literally wakes him up in the actual real world, where he will have to face the harsh reality of seeing through his eyes for the first time (which hurts), and living in a cave hiding from robotic squids dominating a devastated planet without sunlight (or plants?), but at least he'll know the truth and won't be enslaved.
Years later the term "red pilled" has been co-opted by shitty misogynistic goons and racist fuckwads to glorify the moment they "woke up" to the convenient "reality" that their race, gender and sexual orientation happen to be superior but unfairly treated by the scary women and minorities they should rule over. I don't know what to say about this other than it sucks and they obviously got the wrong things out of THE MATRIX and I would like to invite them to consider fucking off.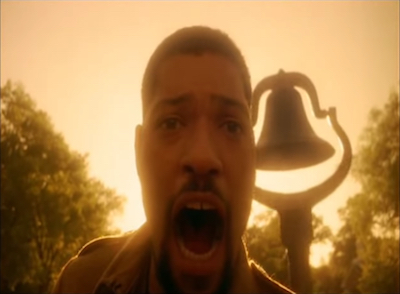 But it does bring up another contemporary issue I wanted to mention. In THE MATRIX, being unaware of the truth is equated to sleeping, and becoming aware to waking up. The Matrix is compared to a dream – going down a rabbit hole. The red pill causes Neo to literally wake up in the real world. Sleeping/waking is a commonly used metaphor – examples that come to mind include the phrase "wake up and smell the coffee," the titular graffiti in THEY LIVE ("they live, we sleep"), and the last several minutes of Spike Lee's SCHOOL DAZE, in which Dap – played by Morpheus himself, Laurence Fishburne – runs around campus yelling for everyone to "WAAAAAAAAKKKKEEEEE UUPPPPPPP!," before turning to the camera and asking us very seriously to "Please, wake up." In fact, Zack De La Rocha also yells the same thing on the end credits of THE MATRIX, in the song "Wake Up" by Rage Against the Machine. (It's still unbelievable to me that the perfect songs to end the first two MATRIX movies happen to be by a band whose name describes the basic conflict of the movies both literally and figuratively!)
Unrelated to all of these things, but parallel to them, is the African American slang term "stay woke," which goes at least as far back as a 1938 Lead Belly song ("best stay woke, keep their eyes open"), continues through a 1971 play about Marcus Garvey ("Now that Mr. Garvey done woke me up, I'm gon' stay woke"), and was re-popularized this century when Erykah Badu started using #staywoke as a hashtag, having used "I stay woke" repeatedly on her song "Master Teacher."
Of course, after the term was widely used by activists in the movement for Black lives, it was adopted by white people, first in earnest, then to attack each other for supposedly going overboard, and then was adopted by the right wing as a non-specific way to belittle anyone against any kind of racism or injustice they enjoy. In that iteration it has been so widely used that my 90-something-year-old grandmother-in-law asked me this summer, "So, what is this 'wokeness'?"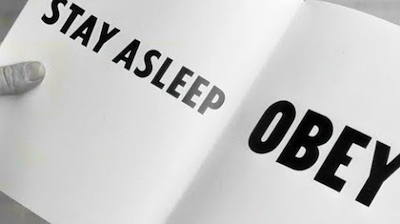 And I only bring this up to note how funny it is that today's conservatives feel no shame in waging an anti-awareness campaign, adopting the language of the machines, the THEY LIVE aliens, the bad guys. We must keep people asleep! They're trying to wake them up! Don't listen to that raging machine guy. Go back to sleep. Take a nap.
But I guess it makes sense that they'd be on the side of Agent Smith, a weird blowhard who forces people to sit and listen to his stupid theory about humanity being a virus. Of course that's their guy.

Let's go back to raging against the machine. Morpheus and friends find that the best way to do it – or at least to recruit more people to do it – is working within The Matrix. They don't try to climb around on those battery towers unplugging people, they use The Matrix itself to free people's minds from The Matrix. So if you believe the Wachowskis are sincere about what this movie is preaching – and I absolutely do – then it makes alot of sense that they're doing it in a series of big expensive wide release Warner Brothers genre movies. To the extent that messages can get to people through movies, this is the way to get them across to more people. I would argue that CLOUD ATLAS also has heartfelt messages for the world, but an arcane art house sort of movie like that just can't connect with as many people.
Of course, we've already seen that many did not receive the messages the Wachowskis were sending in THE MATRIX. They wanted to create their own truth that makes them happier, like Cypher. But that doesn't mean the siblings didn't get anything out of raging within the machine. It's hard to overstate the enormity of coming out as trans after having created a work of popular art as huge as this. In recent years there have been some famous people revealing themselves as transphobes, and I don't get it because I feel like it should go without saying that if you don't understand somebody that doesn't mean you should go around declaring your unsolicited opinions about their lives and struggles and existence. In that case some better things to do would be 1) be nice 2) shut the fuck up stupid 3) mind your own god damn business for once in your life you narcissistic goofball.
So I don't get being a dick about it but I do get feeling like you don't understand. I was definitely there at one point. I knee-jerk rejected the "they" pronoun when I first heard about it. I still have trouble getting my brain to do it, but I try because people deserve to live the way they want to. It's the same as I don't call Jennifer Lawrence J-Law because she didn't want that nickname but I do sometimes call Jennifer Lopez J-Lo because she did want that nickname. Just be respectful to people, silly.
My point is that in the middle of me trying to evolve on this stuff there were these directors I greatly admired and one of them turned out to be a trans woman and then the other one also turned out to be a trans woman. And what am I gonna do, say "You created amazing art that is important to me, but I don't understand how you could be a different gender than I previously thought, here are my opinions of how you should live your life"? No, I did not do that. So even if I hadn't met many trans people at that point it turned out there were a couple of them in my life in this other way. Examples like that really do make a difference. I know they do.

Okay, I wanted to mention all that, but at this point in the review I would like to set aside the substance and just talk about that THE MATRIX is cool as shit. I would like or love this movie just for coming up with such a cool sci-fi concept that has meaning to me, but that's only one of the great ingredients in an absolute knock out of a recipe. Like Tarantino and some of the other pantheon '90s directors (and in the tradition of sampling and remix culture), the Wachowskis take clear influence from a number of different genres and mediums of which we may or may not also be familiar and combine them in ways we haven't seen before, or that we haven't seen done on this level, or in a big Hollywood movie. So we could recognize where some of this was coming from but it still felt ferociously original, new, of-the-moment, of-the-future.
Those influences include but are not limited to:
Anime, including GHOST IN THE SHELL, AKIRA and NINJA SCROLL. In those days anime was not as widely distributed in the U.S., and it was unusual for a major Hollywood movie to take influence from it.
William Gibson's Neuromancer and other cyberpunk literature, which also influenced GHOST IN THE SHELL. Also, the paranoid reality-bending concepts of Philip K. Dick. (see A GLITCH IN THE MATRIX review for more info)
The '90s movement of "mature" comic books and so-called graphic novels. Some people have said that THE MATRIX is a rip-off of Grant Morrison's The Invisibles, published by DC Comics' Vertigo imprint from 1994-2000. The comic involves a group of rebels trying to free people unknowingly enslaved by aliens or something, but I haven't read it so I have no idea if those charges are fair or not.
But before working in film, the Wachowskis scripted Clive Barker-based comics, including issues of Hellraiser and Nightbreed. Writing seven issues of Ectokid (one of the titles in the Razorline mini-universe Barker created for Marvel Comics) they worked with the artist Steve Skroce, who they later hired to storyboard THE MATRIX so executives would understand what the fuck they were talking about. They also brought on the great comics artist Geof Darrow, known at that time for Hard Boiled with Frank Miller.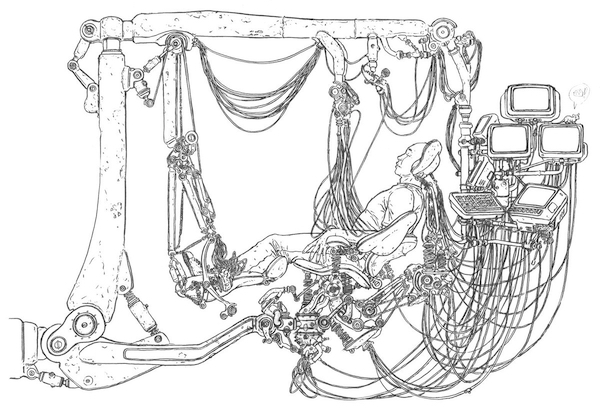 A more mainstream influence is THE TERMINATOR and T2, with their dark post-apocalyptic future where bands of human survivors battle machines that have conquered the world. I think the Wachowskis also follow in the James-Cameron-circa-THE-ABYSS-and-T2 tradition of trying to push special effects technology to show us things we've never seen before. "Bullet Time," as they called it, does have a few precedents (including in BLADE) but the way they did it exploded a bunch of minds and was widely imitated. Sometimes in a poser-y sort of way, but also it was surely an influence on the way later movies could depict super powers, for example with the Quicksilver scene in X-MEN: DAYS OF FUTURE PAST or the Flash scene in ZACK SNYDER'S JUSTICE LEAGUE.
Also you have John Woo, whose over the top gun fights with endless ammunition, agile movements and massive damage to building interiors had to have been an inspiration in the lobby scene and other shootouts.
Another cinematic influence that I think tends to be forgotten is the noir that you'd expect from the directors of BOUND. Especially in the early scenes before The Matrix has been explained, we see these unexplained people running around shadowy, rainy streets, in hallways lit by flashlights, and across roof tops. Trinity (Carrie-Anne Moss, Models Inc., F/X: The Series) doesn't necessarily seem like the good guy when she's cornered by cops in a dingy hotel or when she and her friends drag Neo into a car and zap him with a weird machine. We only trust their mysterious rebel cell due to the sinister vibes of the shades-wearing "agents" chasing them
But also we know something's up when time freezes for the camera to rotate around Trinity's trademark seemingly super-powered crane kick, and when she leaps off a building, spins like an arrow, blasts head first through a window, somersaults down a set of stairs, and lands aiming two pistols back at the window.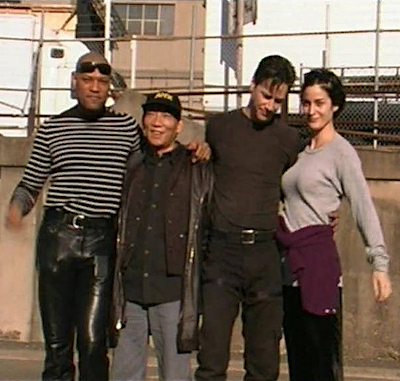 Which brings me to the part of the movie I fell most in love with, the one I heard about shortly before seeing the movie, the kung fu, the action direction, the infusion of Hong Kong style wire work. They cited FIST OF LEGEND as the reason they hired Yuen Woo-ping (DRUNKEN MASTER, GAME OF DEATH II, TAI CHI MASTER, WING CHUN) as choreographer, though for the record he'd already done some work on another Joel Silver production, LETHAL WEAPON 4. Famously, the actors trained with Yuen's team for several months to perform much of the choreography and wire stunts themselves, unheard of for Hollywood movies at the time (though duplicated by Yuen for KILL BILL and his brother Cheung-Yan Yuen for CHARLIE'S ANGELS). Yuen got to know their strengths and weaknesses and developed the choreography around them, giving Neo, Trinity, Morpheus and Agent Smith each very distinct fighting styles. Trinity's takes advantage of the lanky, jagged shape of Moss's body, Neo's concentrates on punches since a neck injury prevented Reeves from training as much on kicking.
I think Yuen did a particularly good job creating Neo's style, with all its tai chi sort of movements that really express the idea that he's harnessing and redirecting some sort of energy within the Matrix. And I like the way his skills grow through the movie to the point where he fights Smith and seems almost bored with him, the way he seems to predict every movement and counter it perfectly. He goes from being taught "If you see an agent, run" to being so good that the agents see what he's doing and run from him.
There's probly less martial arts than in, say, a Jet Li movie. But whenever it pops off it's a thrill, it's well performed, it's shot beautifully, and it's just made so cool by this sort of lucid dream concept that because they know they're not in the real world they can learn how to do things they're not supposed to be able to do.
It would be another 15 years before most of us realized the true action influence of THE MATRIX. When the well trained actors and wires were replaced by shakycam in most Hollywood action, it seemed like that would be the end of it. But Reeves' stunt double Chad Stahelski was quietly continuing the practice with his (and David Leitch's) action design company 87Eleven. They both worked on the MATRIX sequels and the Wachowski produced V FOR VENDETTA and NINJA ASSASSIN, but the real payoff was when Reeves convinced them to direct his 2014 watershed action movie JOHN WICK. Since then Stahelski has directed the WICK sequels and Leitch did ATOMIC BLONDE, DEADPOOL 2 and HOBBS & SHAW. 87Eleven has turned into 87North Productions, a trustworthy name brand in action that gave us NOBODY and KATE this year.
Another legacy of THE MATRIX stunt crew is the friendship between Reeves and Tiger Chen, a protege of Yuen chosen to train Reeves for the fights. 14 years later Reeves directed and played the villain in Chen's excellent starring vehicle MAN OF TAI CHI, with choreography by Yuen. They also fight briefly in THE MATRIX RELOADED and JOHN WICK CHAPTER 3.

THE MATRIX came out a few months after I started writing reviews online, and for some reason I didn't review it at the time, though I awarded it Best performance by a non-Badass in a Badass role (Keanu Reeves) and Best Badass, female (Carrie-Ann Moss) in "the first ever VERN'S motherfuckin OUTLAW AWARDS 1999 brought to you exclusively by VERN." I did review THE MATRIX RELOADED when it came out in 2003, but for some reason did not do THE MATRIX REVOLUTIONS. So for 15+ years I've been meaning to really sit down and write up these movies and do them justice. At least one time during those years I did watch them and take notes and start working on it and then not finish for some reason and lose the notes. And in the interim there have been whole books written analyzing the movie(s) and more than one generation of critics revisiting them, but it always seemed like there could be a lull when people weren't really talking about them, and just as I was maybe gonna get around to it— ah, fuck. They're really making another one? I knew every fuckin body with a websight was gonna do their revisit now, but I couldn't put it off any longer.
Which is to say I don't know how to live up to all that, but I'm glad I'm finally trying, and I hope I came up with a few good angles. And yes, I will be reviewing the sequels and the anime anthology next.

Random notes:
The fact that being killed in The Matrix means being killed in real life because "The body cannot live without the mind" is basically Freddy Krueger rules. That the rebels can become aware of The Matrix and develop great abilities is Dream Warriors rules. And waking up in the real world feels like HELLBOUND: HELLRAISER II. (Again, Lana wrote a bunch of HELLRAISER comics. Not a coincidence.)
When Agent Smith first meets pre-pill Neo at the workplace he confronts him with print outs about his double life as the ordinary computer programmer Thomas Anderson and the infamous hacker Neo. "One of these lives has a future, the other does not," Smith says. This turns out to be true, but not in the way he expected – it's his chosen identity, Neo, that survives, not the one society has prescribed to him.
Have I never noticed how much the green-tinted rain drops in front of street lights or dripping down car windows look like the famous opening credits lines of code?
It seems to me that Fishburne, like Weaving, uses a very odd cadence and enunciations. I wonder if this was intended to make us suspicious that he's not real either? But also occasionally I wonder if he's trying to imitate Orson Welles.
I think most of the soundtrack has aged really well, much better than some of the early 2000s movies like THE FAST AND THE FURIOUS. We now know Marilyn Manson is a much worse person than the horror villain he pretended to be, but musically the song holds up. The Prodigy and Ministry still capture the right aggressive electronic black leather dudes vibes. The only one that seems a little goofy is Rob Zombie's "Dragula" playing in the club, but it's mostly just because I know the song and associate it with Zombie's Munsters fandom and shit.
Tank says something about "Mikey, I think he likes it!," a reference to the '80s Life Cereal commercials. Since Tank doesn't have plugs and has never been in The Matrix, this must mean he watches TV on those little code screens he watches the missions on. (Or maybe other people say it to him and he just picked it up without knowing what it means.)