Have you guys heard of this one? Pretty good. Newcomer Peter O'Toole plays T.E. Lawrence, or just "Awrence" to his friends, a goofball English soldier stationed in Cairo on Doing Jack Shit duty during WWI. He annoys his superior officers with his Jar Jar style clumsiness and just plain oddness ("it looks insubordinate but it isn't, really," is how he explains his sloppy salute). So they send him with a guide out to the desert "to appreciate the situation." And he really does appreciate it. Throughout the course of this nearly 4-hour epic the strength of his personality brings him from nobody grunt sent out on a G14 classified in the desert to unlikely leader of a massive Arab revolt against the Turks.
Until now I hadn't seen LAWRENCE OF ARABIA. (Don't worry, I've seen TREE OF LIFE, I'm pretty cultured.) I've actually been wanting to see this for years, but I kept missing its showings in the 70mm Film Festival they have every year at the Cinerama. Then I'd consider renting it on DVD and think "But… 70mm! It'll be back. I know it will!" This year I finally got tired of that cycle and made sure not to miss it.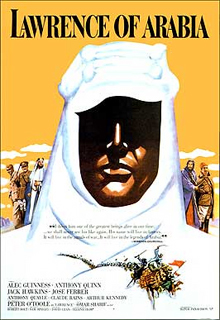 LAWRENCE was made for 70mm just like AVATAR was made for 3D or POLYESTER was made for smellovision. It takes advantage of the giant screen with shots showing the characters from far away, a little dot in front of a sunset or in a screenful of sand. As the movie goes on it has more and more scenes showing hundreds of men on camels or horses. How the fuck did they organize all those people and get them to do the right thing at the right time? It's a kind of massive undertaking that will probly never be tried again because of the computers. I'm sure RED CLIFF was a huge pain in the ass to do too, but they had some tools to make it easier.
From those enormous shots it'll cut to a closeup and O'Toole has these blue eyes that pop out of the giant screen. You can see why he stuck out among Arabs even in a movie where it's mostly white people playing Arabs. For example Alex Guiness plays Prince Feisal. They didn't have Tony Shalhoub to do those roles yet.
Another weird thing: in a cast of thousands I swear there are almost no women. No wives, no princesses, nothing. I actually couldn't remember seeing any women at all, even in the crowd shots, but somebody said there were some dead women in a village that got attacked. So, no reason to fret, ladies. There's some representation there.
Maybe it's for the best that they aren't in there. I doubt the women were treated very well during these events. Might make the characters less sympathetic if you saw that.
The story remains relevant in a whole bunch of ways. I guess colonialism and the clash between east and west are never gonna become dated topics, are they? This story has westerners genuinely trying to bring "freedom" to the Arab world, while their governments have more cynical motives for their involvement. The government looks at the Arabs as "savages," misjudges how to deal with them militarily, and gets stuck in a conflict that keeps on going. Even the non-violent, pure-motived Lawrence gets his hands (and other parts) bloody.
The tribes don't get along, and the Westerners just can't understand the conflicts. Lawrence tries to get them to work it out basically by saying "Come on fellas, be reasonable," but (as we continue to find out) it's not that simple.
There's a great jump after the intermission, almost like it's a 2-part movie like RED CLIFF or KILL BILL. Before the break he's ready to go back to the desert and start a rebellion, after the break he's in the thick of it, travelling with a small army that reveres him, leading them in attacks on trains.
It's an uncomfortable spot for the modern viewer. On one hand I like this character, and watching a character you like plant a bomb for a sneak attack on the bad guys is inherently exciting. On the other hand I can't put it out of my head that this is alot like militants in Iraq and Afghanistan setting IEDs on the roads to attack American soldiers. Does that make us the Turks? Does it make them freedom fighters? Is there a chance some of them have seen this movie, or know of it, that it's played some part in the creation of the image they see of themselves as heroes?
We – and by "we" I guess I really mean "I" – tend to think of everything as having gone to idiocracy, nobody has an attention span anymore or cares about shit that didn't get invented this morning during breakfast. But here is the Cinerama – a huge theater with a balcony – completely sold out for a showing of a long ass 50 year old movie, not only on film but on an old type of film that was never the standard. Nice to see LAWRENCE getting that kind of love, and on a Friday night no less. There might still be some life in re-releases and revivals. If it's done right it can work.
Also the music is good in my opinion. They should bring back overtures. I dig a good overture.
http://youtu.be/70L-9oXGJwo