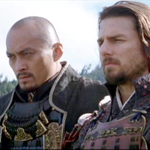 Back in 2003, when THE LAST SAMURAI was new, I had a cynical, kneejerk reaction to it. "Yeah, right… Tom Cruise is the last samurai? Who's next, someone from the brand new TV show this year America's Top Model?" I was offended that they wouldn't make a movie just about samurai, it had to be about the white guy that meets the samurai.
Some things I wasn't taking into account at that time:
I. The DANCES WITH WOLVES type story of a westerner taken in by an enemy tribe of some kind and learning their ways is a longstanding tradition, and it's a cool idea to do one with samurai instead of Native Americans. In fact it was partly inspired by real stories of a French soldier who did something like that.
II. There are hundreds of great samurai movies made in Japan, and director Edward Zwick of COURAGE UNDER FIRE was not about to beat them at their own game. It's simply more interesting if he does his own thing here than if he just tries to imitate Japanese samurai movies. Come on.
III. What the fuck are you talking about here 2003 Vern, you LOVE the white ninja tradition of movies – ENTER THE NINJA, NINJA, AMERICAN NINJA, Steven Seagal… how could there not be value in seeing the big expensive studio from-the-director-of-GLORY version of that?

#III was the decisive one when I remembered the movie after it was mentioned in Amy Nicholson's excellent Tom Cruise essay in the L.A. Weekly (please read that if you haven't – it's the best piece of movie writing I've read in a long damn time; makes great points about Cruise but is mainly about something much larger than him). It wasn't until after I'd already rented it that I remembered this was the movie that put Ken Watanabe on the map, and got him an Oscar nomination. That's funny because I had just seen him in that remake of UNFORGIVEN and was stupidly wondering why he hadn't done other samurai roles.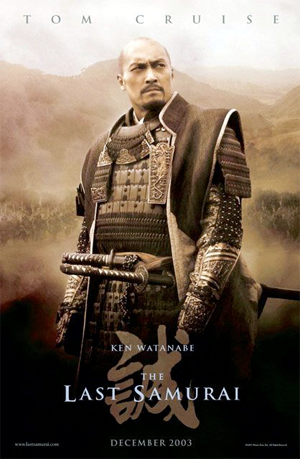 You know, I thought it made sense for Watanabe to take on the Clint role in UNFORGIVEN because he'd been directed by him in LETTERS FROM IWO JIMA. This movie made me realize he also has a relationship with Warner Brothers like Clint does. This one is WB, and so are BATMAN BEGINS, INCEPTION, and GODZILLA. I bet he's officially on their payroll as Japanese Clint.
Cruise plays Nathan Algren, a washed up (and chest-waxed, I noticed) Civil War veteran full of regret and alcohol, telling war stories on stage for tourists to promote Winchester Rifles. He has a chance for a little more dignity though when the Japanese government hires him to come train their army to suppress a rebellion led by the samurai Katsumoto Moritsugu (Watanabe). After all, you guys did such a good job massacring your natives.
This is supposed to be 1876, just a couple years before the UNFORGIVEN remake, a period when guns are replacing swords, the old ways are being shunned and the government is trying to weed out the old warriors who won't step in line. (Watanabe's character in that might even be kind of a meta reference to this one, almost what could've become of him.) This guy Algren's supposed to teach them how to do that. The soldiers wear Civil War type uniforms and carry rifles but they don't know what the fuck they're doing. They can't shoot for shit! In one intense scene Algren yells at one soldier to shoot him. He keeps yelling until the poor guy actually tries to do it. I'm not sure if Alrgren has that little faith in the guy's marksmanship or if he hates this job so much he's trying to commit suicide. Either way, he survives and continues to be the star of the movie (spoiler).
So where do you think this is going? A Bad News Bears type deal where he has to mold this ragtag band of scamps into true warriors? And at first they kinda hate him and he gives up hope but then they start to warm up to each other and he comes to one of their houses to talk to their parents about something and you know he really does care and then they try really hard to come through for him and he really starts to care and they just might be able to come out on top? Good guess, I'm proud of your effort. But no, instead a bunch of samurai just show up right away and just horribly murder a bunch of them and the rest run away like sissies. Tom does manage to kill a red-armoured bigshot in a sword duel, which impresses Katsumoto enough that he takes him prisoner instead of chopping his cute little white head off.
They don't keep him in a cage or anything, they let him walk around and stuff. They treat him like a guest who just isn't allowed to leave the village and has to be chaperoned. Most of the movie is about Algren staying with Katsumoto's sister and nephews, the family of the guy he killed. Awkward. They act very polite but hate having him there, partly because he smells like ass.
You'd think this would be one of those pictures where everybody speaks broken English, but instead he just can't communicate with any of these people except Katsumoto, who's very studied and likes to speak English to him. It's largely a Japanese language movie with subtitles. Just one example of how it's not as dumb as I assumed back then.
The turning point for both the character and the movie is one night when everybody's gathered around a stage watching their leader and some other guys put on a comedy show. This is like 40 minutes in and all the sudden a bunch of ninjas come out of the shadows and attack the village! Algren proves himself by crying out and helping foil the assassination attempt, and the movie proves itself by giving us out of the blue ninja attack. You gotta respect that.
Obviously our boy is going native. He starts to learn the language, the customs, some katas, some sword moves. He makes friends with the kids. He finally tries to have conversations with the old guy that follows him around all day to keep an eye on him. But he doesn't pretend to be Japanese, he insists on one American tradition: men help women carry the groceries.
It gets a little uncomfortable when you're wondering if he's trying to get it on with this lady. I mean, he felt bad about killing all those Indians, did he try to fuck their widows too? But it's not a bad uncomfortable, really. It works.
Even the kids around here are little badasses. He practices sword fighting them with sticks, and he's really good from his wars but they can hold their own.
There are subplots about his relationships with different people in the village. He has to prove himself and whatnot. One of the guys is handsome Hiroyuki Sanada from SUNSHINE, SPEED RACER, THE WOLVERINE and 47 RONIN.
That guy can't keep hating Algren forever, because it's obvious that he's fully on board for the rebellion, and this isn't Stockholm/Helsinki Syndrome. This is legitimate mutual respect. This village is so beautiful and peaceful, it kinda made me want to live there too. Some of the people are so nice to him. The ones that aren't it's okay, because he deserves it. Plus, Watanabe is so cool. Wouldn't you want to be his bud? He wouldn't have to abduct you to win you over.
And it doesn't hurt that Algrn fuckin hates Colonel Bagley (Tony Goldwyn)'s guts. And he told him as much. Bagley was his commanding officer in the war, ordered him to do horrible things that he still has nightmares about, so he can't respect him. It definitely gives him pleasure to ride up on horseback with a bunch of samurai and tell that motherfucker sorry bud, I'm on the home team now, my sword will be pointing in your direction.
There's a scene in here that was actually thought provoking for me. Algren sits in for the audience, so he has a modern view of the Indian Wars he was involved in. He's ashamed and haunted by what he did. But Katsumoto is a samurai, he admires uphill battles and good deaths, so he's fascinated by Custer's Last Stand. He thinks it's awesome! I thought that was clever to compare his philosophy to a piece of American history that most of us see as shameful. It forced me to think more about how these ideas that seem so cool in far off, exotic battles are actually very fucked up. There's nothing courageous about being willing to die to murder the locals. But Katsumoto loves it. He talks about Custer the way we talk about Dolph Lundgren.
These warrior guys are all pretty nerdy about historic battles. Since he's not a Custer fan, Algren tries to hype Katsumoto up by telling him all about the battle of Thermopylae. This would be so much easier now 'cause he'd just go "Have  you seen 300?" Anyway, he has to choose a team here and he chooses the one that is obviously gonna lose but also has the best uniforms.
It's pretty exciting when Algren and Katsumoto fight side by side, and we get to see the other characters we got to know in the village, but now in their element, in battle. For example, when Algren was first captured he was told he shouldn't bother to run because Katsumoto's son was an archer and he'd never get away. Now it's these guys running, but we get to see the young man firing off arrow after arrow at their pursuers.
Action-wise this is a pretty  good version of the "a bunch of yelling guys swinging swords at the same time" approach. I mean you got that but you got arrows and one-on-one duels and stuff mixed in. It's not like it's a martial arts movie, but the fighting is pretty cool for a prestige war movie.
This is another chance for a RUSH HOUR type buddy movie. They could make fun of each other's local cuisine and stuff. But I was sure Katsumoto was gonna die before the last battle and Algren would have to lead his army for him in the climax.
Luckily no. They fight together. "The Last Samurai" probly doesn't refer to Algren. I think it refers to Katsumoto, but also to the plural samurai, the whole group are the last of the samurai. But Algren does possibly go back to the village in Japan, he could kinda become a samurai and have more adventures. WHITE RONIN could be the sequel title.
If Tom Cruise is the last samurai, or if he's learned anything from the experience, shouldn't we get to see him commit seppuku at the end? That would make it pretty different from 80% of his movies. I don't think any of his characters have done seppuku since at least RISKY BUSINESS. Well, the good news is that (END SPOILER) he does offer to. He goes to the emperor and offers him a sword and his life. But the emperor is like "Nah, I don't like white people intestines staining my floor" and takes a rain check.
The script is by John Logan, who did GLADIATOR, THE AVIATOR, RANGO, HUGO, SKYFALL. Pretty good movie. I prefer the Japanese ones, but this was worth watching.