Before Wilson Yip directed Donnie Yen in the IP MAN series the two had already done a bunch of movies together. Their first collaboration was the 2005 crime movie SPL: SHA PO LANG. The title has to do with Chinese mythology and every man's capacity for both good and evil. That's hard to translate for Americans so the Weinsteins called it KILL ZONE. It's about a zone of killing.

I was a little concerned early on because there's alot of non-linear editing that seemed overly gimmicky to me. Not PULP FICTION type big-chunk-out-of-order non-linear, but skipping around within a scene. For example a bunch of dead people in a van intercut with them driving in the van earlier, a crime scene investigation intercut with what happened there. Those two examples sound sensible but it just keeps using the trick over and over in the beginning of the movie and to me it seemed more concerned with showing off than with having any meaning. Which would be fine if it was a really cool gimmick, but it seems to me a more straightforward approach would be better.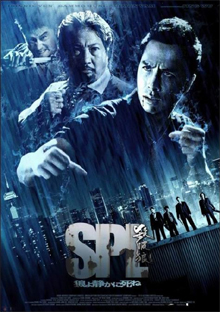 I just mention that so if it bothers you too it doesn't put you off and make you stop watching, because this is a great movie. It didn't take long for me to get over that and get hooked. Detective Chan (Simon Yam) is a supercop who's in that van crash. He's transporting witnesses to a big trial against the Triad boss Wong Po (Sammo Hung) but they get ambushed and the witnesses all die. Chan survives but when they're pulling a chunk of glass out of his head they discover that he has an inoperable brain tumor. So he makes plans to retire and before that he wants to bust Wong Po by any means necessary. That's what's on his bucket list. He probly has other things on there like bungee jumping and wearing a bee beard, but those are not mentioned in the movie because those are activities that occur mostly outside of the Kill Zone.
He's got a great team to bust Wong Po, played by Liu Kai-Chi, Danny Summer and Ken Chang. They all love Chan like a father or really nice big brother so they'd do anything to fulfill his last wish of putting that motherfucker behind bars, including skirting a few rules or straightup framing the bastard. Yen plays Ma Kwun, who's been transferred in to lead the team after Chan retires. He's legendary among cops for having once punched a guy so hard it mentally incapacitated him, but he still  causes tension when he finds out the team aren't exactly playing by the book.
Yen comes strutting into the movie wearing baggy pants and a John McClane tank top. He's far from the reserved, humble character of Ip Man, but also is not the brazen asshole his reputation implies. He turns out to be the conscience of the team, but his values are challenged. Not surprisingly he's also the primary asskicker and has two great fights with Sammo Hung.
It's funny that Sammo has become good at playing scary. He's believable as this cold-blooded pony-tailed tyrant, you don't see the jolly goofball behind his eyes. I hope they just keep doing this Yen vs. Hung matchup in movie after movie, time period after time period. Sometimes they could switch and have Sammo be the good guy, though.
The other scary villain is Wong Po's psychotic knife-wielding enforcer Jack (Wu Jing), who goes around assassinating our protagonists. This guy's a really good fighter, likes to do flying, spinning kicks and takes perverse pleasure in stabbing people. I don't know how he gets in so much practice though when he obviously spends so much time on his looks, bleaching his hair and shit. He wears an all white outfit (bad idea when in a baton vs. knife alley fight with Donnie Yen) and his coat almost looks like Captain Eo's. You just immediately hate this guy before you even realize what a threat he is.
The action (directed by Yen, according to the credits) is excellent. The fighting combines the type of exaggerated, acrobatic moves we love in a kung fu movie with more brutal modern MMA type of styles. Yen is doing armbars, leglocks, chokes, they're pinning each other down and slamming each other, but there's still time for jumping and knocking people into things and what not. And I don't know if this counts as action or not but there is a moment that knocked me on my ass (metaphorically) when Yen is clear across a huge room, he throws a duffle bag of money and it somehow lands exactly at Sammo's feet. Maybe it's just CGI but it doesn't look like it. My #1 guess would be wirework and #2 would be Donnie Yen is a champion bag thrower skilled at both distance and accuracy.
I'm not sure if Yen's action directing extends to what's going on in the scenes or not, but there are clever ways to add tension to the proceedings. There's one where a cop gets tricked into being locked inside a fenced off area and Yen's on the outside unable to help. (Is that what the Kill Zone is?)  Another part Detective Chan is there during a big fight but he literally has his hands tied, he can't intervene. I mean I guess that's a pretty common thing to happen in action movies, but in this story it seems kinda deep the way it parallels Chan's situation of not being able to affect the outcome of this ongoing war between murdering criminals and cheating cops.
But what I love about this movie is that almost every major character has some emotional thing going on in his life. Chan not only has the impending death, but he's raising his goddaughter, whose parents were the murdered witnesses. Another guy has his daughter who he rarely gets to see coming to visit, another guy's estranged from his dying father, and even Sammo has a wife and baby he cares about and he has them on speaker phone as he's fighting to the near death. Donnie Yen's character, everybody thinks he's cool for punching that thug into retardation, but wait 'til you find out what he secretly does because he feels so guilty about it. (some of you guys will like it, because it involves playing video games.)
SPL looks very slick and modern, but that combination of topnotch violence, sincere melodrama and blurry lines between cops and robbers reminds me what I loved so much about the '90s Hong Kong cinema when I first discovered it. It's a movie that doesn't skimp on the action, and yet takes plenty of time for quiet moments of emotion and brotherhood and shit. It can slow down and linger on a guy's face as we know what he's thinking about. This is one ZONE I would absolutely KILL to– you know, whatever. Point is I loved it.
.
.
.
SPOILER ZONE (or SPL)
Seriously, big ending spoilers below
Early in the movie, whether you consciously think about it or not, it seems obvious that the two characters who will have to die by the end are the terminally ill captain and the enemy he's trying to avenge before he dies. A few other people on each side could die of course, but those two are the for sure ones, you figure. The sick man probly shortly before the final battle, inspiring his team with his final words as he slips away, maybe sacrificing himself heroically because he's the one that's gonna die anyway so he might as well take advantage of that situation. And then maybe Donnie Yen has a big showdown and kills Sammo Hung, right?
So I loved that it was the opposite of that – the terminally ill guy and the villain are the only two characters who survive! The entire rest of both teams get killed, and these two assholes are alive regretting how much shit had to go down. Beautiful.
This entry was posted on Wednesday, March 23rd, 2011 at 11:40 am and is filed under
Action
,
Martial Arts
,
Reviews
. You can follow any responses to this entry through the
RSS 2.0
feed. You can skip to the end and leave a response. Pinging is currently not allowed.