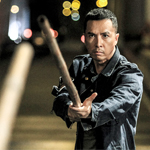 KUNG FU KILLER also played as KUNG FU JUNGLE (it still says that on the end credits) but the new title fits better. It refers to both the villain and the hero of this enjoyable moosh-up of martial arts challenge movie and serial killer thriller. Donnie Yen plays Hahou Mo, a renowned teacher and fighter who's in prison for killing his opponent the last time he had a martial arts duel. But when a mysterious killer is targeting other martial arts masters Hahou convinces the police to let him out to help catch the motherfucker. I mean, if Hahou's gotta go to prison for an apparently accidental and honorable duel-death then surely this murdering creep should be in there too.
Just as John Doe in SEVEN was killing based on the seven deadly sins, Hahou determines that this guy is killing in an order based on traditional martial arts training. He predicts who the victims will be based on who has the best kicks, grappling, etc. To stop the killer he works with police inspector Luk Yuen-Sum, or "Madam" (Charlie Yeung, BANGKOK DANGEROUS remake with Nic Cage), who is suspicious of him, and his wife Sinn Ying (Michelle Bai), who he is very protective of.
His wife ran the school while he was locked up, she carries a sword on her back at all times and she tells the cops they need their help because "this is martial arts business." I like her. She also ties a string around Hahou's wrist as a handy reminder to stop fucking punching people to death like he did that one time when he tore their family apart and ruined their lives. She preaches restraint, in direct opposition to the killer's often repeated motto "martial arts is for killing." That asshole says any other use of it is just "fancy boxing."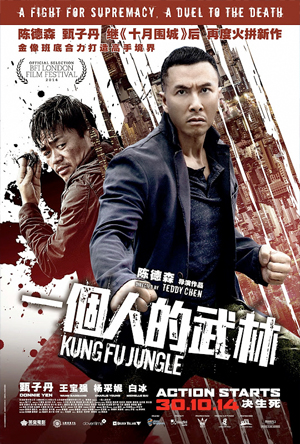 The killer's identity is not kept secret from us. He's Fung Yu-Sau (Baoqiang Wang, ICEMAN, LITTLE BIG SOLDIER), an arrogant, scar-faced dick, fond of hoodies and standing on roofs, and using his poor wife's illness as an excuse for being what Hahou describes as "a martial arts maniac." His most distinct characteristic is that he wears one platform boot because he was born with that leg atrophied. One of his victims notices that during their fight and compliments him on having overcome his disability. He does not return the politeness.
Of course the duels are the best parts of the movie. Yen is action director and he does his style of brutal but not realistic fighting. It's very fast and complex moves, lots of spinning around and flipping and twisting arms and there's an occasional wire-assisted super move, which some people are against, but I am not some people. There's alot of missed kicks and punches that smash through wooden walls and posts and railings and send splinters flying around, and that's something I always appreciate.
Also, as often is the case, there's alot of good symbolism in the wreckage. Most of the masters that Fung targets have moved on from fighting and built new lives. For example one guy is a big time artist ambushed while setting up his installation at a museum, and they fight on top of his giant hanging skeleton. Every errant kick that smashes a piece of the sculpture is damaging everything he worked so hard to accomplish. Same goes for the grappler and his tattoo shop. And as Fung is obviously disgracing the memory of his late wife during his rampage it's only fitting that her urn gets broken and spilled during it.
As you'd hope, the last fight is by far the best one. They actually duel on a highway, in traffic. They just keep fighting and ignore all the hooooonnnnnkkkking and the skidding out and crashing and what not. One highlight: Hahou saves Fung from getting run over by a truck because "I'm not done with you yet." It's kind of a character flaw that he really wants to fight this guy. That's what Madam says, and I think she's right. Even though his quest for #1 ruined his life he wants to prove that this new kid isn't better than him. Kind of giving the killer what he wants. But also the audience.
On the outside Hahou will do what he needs to do, including misleading and disobeying the authorities. In prison he's actually very nice. He helps out an old guy who just got in for avenging his daughter. Seems to be the guy's physical therapist. It's only when he needs the guards to pay attention to him that he causes trouble. That's when he beats up 17 guys.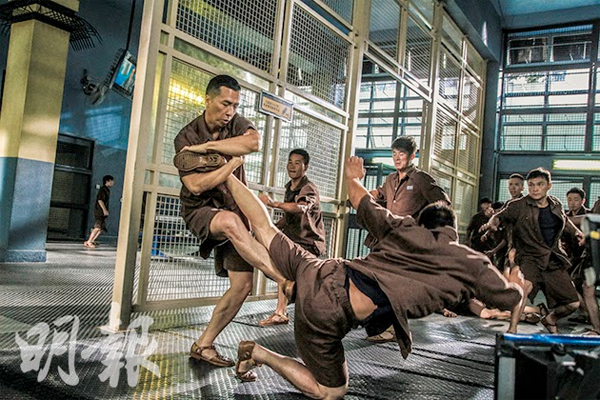 And that scene is kinda funny to watch too because the inmates all have to wear these sandals and UPS driver shorts. That probly prevents alot of violence in my opinion. How are they gonna be menacing each other when they all look like their dad at the beach?
Another thing that's kinda cool about this movie is it's jampacked with cameos by famous Hong Kong actors, directors and other behind-the-scenes people. They include Golden Harvest founder Raymond Chow, INFERNAL AFFAIRS director Andrew Lau, IP MAN action choreographer Tony Leung, DVD commentary track master Bey Logan, THE BIG HIT director Kirk Wong, and Ricky O himself Louis Fan/Fan Siu-Wong has a small part as a movie star. Even though I pretty much only recognized that last one I was able to enjoy this gimmick because the end credits have a cool montage with outtakes of all of them as the movie's dedication to the Hong Kong film industry.
KUNG FU KILLER is directed by Teddy Chan (BODYGUARDS AND ASSASSINS, THE ACCIDENTAL SPY); he wrote it with Ho Leung Lau (DRAGON SQUAD) and Tin Shu Mak (14 BLADES). It's good to see that Yen can still do a solid vehicle that follows tradition but puts a bit of a spin on it. Good job everybody.
Another thing that's cool: I saw this movie in a multiplex, subtitled and everything. I mean, there were only two other people there, but it was still cool. I know it's a limited release, but my local AMC theater frequently shows Asian imports, with subtitles and everything, usually ones I never heard of. This is the proper use of digital projection and distribution. Since they no longer need to strike up prints they should be doing things a little more risky like this, not just having more screens of THE AVENGERS or whatever. So I salute whoever is in charge of that with that thing where you hold up one fist in front of you and then put an open hand for it and then do a little bow.
This entry was posted on Tuesday, May 5th, 2015 at 11:49 am and is filed under
Action
,
Martial Arts
,
Reviews
. You can follow any responses to this entry through the
RSS 2.0
feed. You can skip to the end and leave a response. Pinging is currently not allowed.