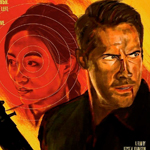 SAVAGE DOG is an impressively weird new Scott Adkins joint written and directed by Jesse V. Johnson, the veteran stuntman and director of PIT FIGHTER, GREEN STREET HOOLIGANS 2, THE BUTCHER, THE PACKAGE and the upcoming TRIPLE THREAT and ACCIDENT MAN. This one is a period piece, taking place in Indochina circa 1959, portrayed as sort of a CASABLANCA-esque scoundrel zone, or "a melting pot of post-war villainy," as the titles put it. And some of this villainy will piss off Adkins, setting off a straight up bloodbath.
Adkins plays Martin Tillman, who enters the film in mythical fashion, climbing out of a muddy grave during a lightning storm as narration from the great Keith David (THEY LIVE) promises us a story about the time he "faced down an army and spilled a river of blood." David will show up on camera later as a bar owner named Valentine, but since the man has more narrating credits to his name than Morgan Freeman they must've followed the Morgan Freeman rule with him: if he's in your movie, get him to narrate.
So Martin is the most hyped up Adkins character yet, what with Valentine talking up how great he is, how people don't believe in the legend but it's true, how he loves him like a son, quoting various words of wisdom to describe his state of mind. Later, when we get back to him surviving a shooting and climbing out of the mud, the bad guys will compare him to a demon, which counts as a "Just How Badass Is He?"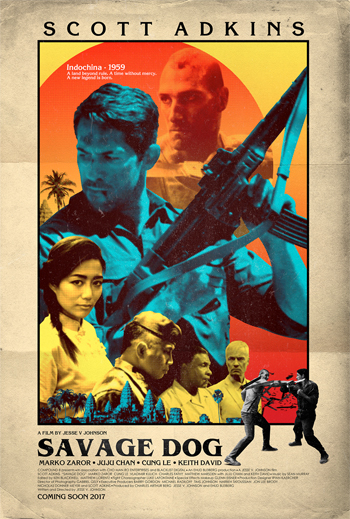 Martin is an Irish boxer (new accent for Adkins), has a price on his head in the west for some I.R.A. bombings, and is the prisoner of the "European war criminals, ex-Nazis and other undesirables" who seem to rule the place. They let him out of his cell for a pit fight – not high flying Boyka stuff, more HARD TIMES style bare knuckle brawls but with some side kicks here and there (though the kicks get fancier as the movie goes on).
When Martin wins, the loser gets killed and he gets let out. It almost seems like the commandant Steiner (Vladimir Kulich, THE 13TH WARRIOR) just frees him to fuck with him.
Martin has a thing for Isabelle (Juju Chan, CROUCHING TIGER, HIDDEN DRAGON: SWORD OF DESTINY), rejected daughter of Steiner, adopted daughter of Valentine, so he goes and works as a bouncer at their little shack-sized bar. And he's a violent motherfucker so he also agrees to come back and fight in Steiner's human cockfights, and also to take a fall, causing all kinds of trouble.
This doesn't have the fine-tuned storytelling of an UNDISPUTED – dialogue scenes with the villain can drag a little, the score (by Sean Murray, SCORPION) can get overbearing, and I didn't feel a strong momentum to the narrative, it feels kind of "and then this happens, and then this happens, and then this happens." But it works in part because it's interesting to watch these characters clash.
First of all, this Nazi bastard Steiner. He's a type of talky, non-combatant villain that can drag down an action movie, but I enjoy that he goes the extra mile in being a total piece of shit. He not only refuses to acknowledge his daughter once a week when she brings him flowers, but sits down to type her a letter that starts out making him seem sympathetic, saying that he knows she wants him to tell her he loves her.
But then he writes, "But unfortunately I do not. You are at best the daughter of a whore." So, if you ever see him drinking out of a #1 Dad mug, call him on it.
Then you have the Vietnamese war criminal Boon (Cung Le, DRAGON EYES, THE MAN WITH THE IRON FISTS), who admittedly spends most of the movie standing by as a henchman, but Le has such an interesting face and disdainful stare that he's interesting even in those scenes. As in BODYGUARDS AND ASSASSINS, he's a bull getting ready to charge, and when he does he seems like the star attraction.
But the best villain is Jean-Pierre "The Executioner" Rastignak, a Spaniard who fought for the Third Reich, now looks great wearing nice light colored suits, bright shirts and fedoras, and enjoys slicing people up with a huge foldout hunting knife. In his first scene he takes off his jacket to get down into a mud pit and slashes a guy to death, and it's a relief that he doesn't ruin his clothes.
He's played by Marko Zaror, and this is another great example of the Chilean fighter's ever-growing range as an actor. He plays this cocky, sadistic prick just as convincingly as his introverted heroes in movies like KILTRO and REDEEMER, or his suave romantic in MANDRILL. I never expected him to become such a good character actor.
Adkins too is defying expectations with this role – he's not an anti-hero who turns out to be honorable, but one who goes shockingly overboard in his vengeance. He strolls in with a bamboo hat and a machete on his back like a sword, starts butchering people, chopping people with a hatchet. When Valentine and Isabelle had to stop him from beating on a problem customer at the bar, that was normal "you're out of control!" type shit – it didn't seem like it was foreshadowing this much of a massacre! Dozens of people get shot, and it's not all digital blood sprays and bullet hits, there are lots of bloody squibs and people spitting real (fake) blood. Heads explode, and there are throats slashed with fat ribbons of blood pumping out. He kills a bar full of people with a machete, chops off a guy's arm, another guy's head which he carries into the bar and puts down on the counter and everybody stays cool enough not to look at it. Or maybe they don't even notice it because they're drawn to his fiery eyes. This is considerably gorier than other Adkins vehicles, so it's fitting that for the climax he's wearing a blue shirt and brown pants like Ash.
I'm not gonna give away what he does to Zaror at the end, but, uh… it's something I've never seen another action hero do. When he's walking away he stops and leans against a car with his head bowed and, I don't know, maybe he's just exhausted, but I wondered if even he was taking a moment to think "Jesus, I got a little carried away there, didn't I?"
It's messier than some horror movies, but it also has the action goods. He gets to have a classical training montage, doing pushups and pullups and punching bamboo (sorry, no Stan Bush or similar song). And unlike CLOSE RANGE, where the climax is Adkins vs. a non-martial artist, Johnson wisely gets the boss out of the way early. What's more, he's cornered at gunpoint but his arrogant speech about being an aristocrat annoys Martin enough to make him throw the gun down and stab him with a sword. It's a suitably brutal death for a deadbeat dad who insisted on putting on his swastika lapel pin before facing death.
So Johnson saves the good shit, the henchmen, for last. Because right then Cung Le's Boon walks in. He has not been previously established as a fighter (not that he would need to be) but he says, "I used to be a fighter. Let's see how good you are." When Martin tells him he has no beef with him, Boon explains that with his boss dead he has no way to feed his family. This makes it morally upsetting when Martin (SPOILER) dishonorably ends the fight by shooting him. But until then it's a good fight, taking full advantage of the sledge hammer force of Le's shorter limbs, knocking Adkins over furniture, smashing through bottles when he ducks kicks. I don't think Le gets enough credit for all the great movie-stealing fight performances he's done.
The climactic duel with Zaror (UNDISPUTED III rematch!) is also very good, and reminiscent of Zaror's choreography in THE REDEEMER in that Martin targets one of his legs for repeated attacks, chips away at him for a long time until he completely breaks him down. The stunt coordinator and fight choreographer is Luke LaFontaine (THE LAST SENTINEL).
There are other Adkins movies I like better, but this is a strong one that really stands out for its oddness and savagery. In the end it seems like Valentine is trying to tell us we've witnessed an origin story. Martin Tillman has become Savage Dog. I sure hope we get a chance to find out what kind of tricks he does.
SAVAGE DOG is supposed to be available digitally today. I couldn't find it on the VOD through my cable, but it is on iTunes and Amazon. I've been told it's already available to stream on Australian Netflix.