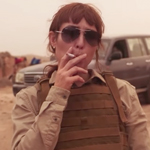 There's this weird psychological thing about the availability of movies. I looked at IMDb and determined that I've seen every Coen Brothers movie since THE HUDSUCKER PROXY in the theater, most of them probly on the first day or opening weekend. That's thirteen films over a period of 24 years. But when THE BALLAD OF BUSTER SCRUGGS went straight to Netflix I let it sit there for more than two months before I finally got to it. Because, you know, every weekend I wanted to go see WIDOWS or CREED II or on and on, and I rented THE FOREIGNER I needed to watch that and return it and then I wanted to watch some Christmas horror, that was more timely, that had a sell by date. I procrastinate more when it feels like it's accessible at any moment between now and the day whatever black magic they've been using to stay in business wears out.
I bring this up to explain how surprised I am at myself for seeing an article mentioning the release date of the Netflix original CLOSE and realizing it had gone up 18 minutes ago and then spontaneously actually watching it. I sorta did that for THE NIGHT COMES FOR US too, but that came with the pedigree of HEADSHOT. This one I had seen a trailer and knew Noomi Rapace (THE GIRL WITH THE DRAGON TATTOO, PROMETHEUS, PASSION, DEAD MAN DOWN, THE DROP) was a badass in it so it seemed like some DTV shit I could get behind.
The title refers to "close protection" – Rapace's character Sam Carlson is an elite bodyguard and counter-terrorism expert for hire. Director/co-writer Vicky Jewson (BORN OF WAR) says it's inspired by stories told to her by Jacquie Davis, a pioneering female bodyguard and consultant on the film who has protected everyone from Russian oligarchs (boooo!) to Diana Ross and Nicole Kidman (hooray!). And this does have a tinge of that heavily-researched-this-is-the-real-shit-right-here-people type of texture, but it just so happens that the types of stories you tell about this job fall exactly into normal action movie traditions.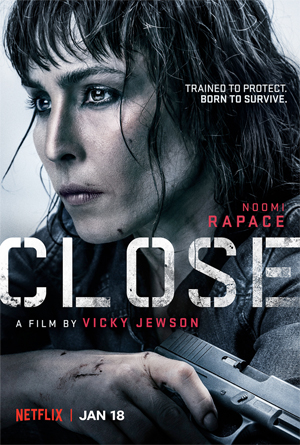 So if a lack of originality is a dealbreaker for you, you're not gonna make a deal here. It's a gritty action thriller working in the very familiar area of "gruff badass protects young person, has heart warmed" (see also MAN ON FIRE, THE KEEPER, LOGAN). Any surprises in it are pretty subtle. But I liked it because it's well executed and centers on a strong performance by the always interesting and in-my-opinion underrated Rapace.
We first meet Sam protecting reporters from a harrowing ambush by insurgents in South Sudan, so when it cuts to her off the clock it's kind of like that feeling CRAZY HEART and A STAR IS BORN show so well, the whiplash of flying into some place and performing for thousands and then in the morning just being a normal person in a quiet house eating a bowl of cereal and watching some bullshit on TV.
That may be a weird connection to make. THE HURT LOCKER, AMERICAN SNIPER and other war movies dealing with P.T.S.D. would be a more direct comparison. Back at home Sam has shaky hands, she combines her morning coffee with smoking and gun cleaning, and she flinches when her phone makes a sound. But it doesn't seem like she's brooding. She's got a nice beach front house and works out and tries to exist. She has some scabs on her face, neck and hands that don't go away when she gets dressed up nice and professional for the private jet ride to another gig. It sounds like it's from the prologue but it could also be some other adventure. I'm sure she gets into scraps all the time.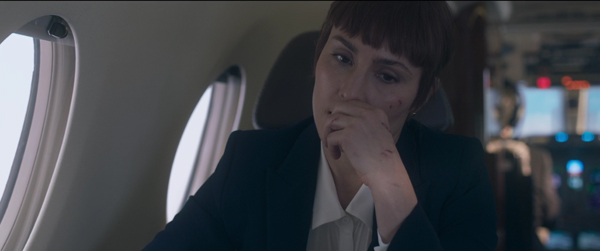 The job is to protect Zoe Tanner (Sophie Nelisse, THE GREAT GILLY HOPKINS), a teenager who just inherited her father's controlling shares of a mining company. Zoe's stepmother Rima Hassine (Indira Varma, Niobe from Rome) is now the CEO, and pissed that Zoe basically owns the company founded by her family. She makes Zoe go with her to the family Kasbah in Morocco while completing a billion dollar deal and, since the girl has been fucking her regular bodyguard, asks for him to be replaced by a woman.
Sam is not thrilled about the job, and Zoe doesn't want to go to Morocco or have a new bodyguard, so they don't hit it off. (I love the part in the dance club where she inserts herself between Zoe and the older dude she's dirty dancing with.) Sam intends to leave as soon as she's fulfilled her duty to drop the kid off at the place, but Zoe makes her stay the night, maybe out of brattiness, maybe to have another woman there she at least likes more than her stepmother. Lucky decision, it turns out, because Sam is still there when gunmen show up, override the security system and start shooting up the regular security team. Sam helps Zoe escape from the locked down fortress and waves down a police car.
I can't say it's surprising when the police turn out to have bad intentions. But I can say that it's cool when Sam figures that out and launches an attack from the back of the police car. Like a TAKEN movie, much of this is about showing off her Very Particular Set of Skills, telling Zoe what she needs her to do, being able to strategize, how to hide, how to find a safe house or contact an ally, how to deal with this or that. Stuff I always enjoy. But a more novel aspect is the way the action never pretends this shit is easy. She's fighting men who are bigger and stronger than her – they don't even hide that she's shorter than the teenager she's protecting – so she has to be smarter and more resilient than them. And that means she takes a beating.
In my favorite fight scene she's handcuffed. She uses her knees and her skull and even steals a gun and tries to fire it from behind her back, but she's not some superwoman. She gets punched in the face and thrown around and beaten. But she keeps getting back up and continuing until she wins.
Oh, but there's also an underwater fight. They got the "realistic" handheld cameras and everything but they're not making one of those thrillers that insists on being too down-to-earth to be fun or cool. Stunt coordinator Julian Spencer also did SNOWPIERCER and EASTERN PROMISES. Jewson mentioned in an interview with one Mr. Fred Topel at slashfilm that Spencer specifically did the famous naked fight from the latter.
It's also kind of novel to see a movie of this type that seems to only care about three female characters surrounded by mostly interchangeable men. All three are allowed to be flawed in different ways while still sympathetic. Sam is obviously heroic, and the emotional trauma at the center of her character arc is maybe a little too on the nose, but it's also a specifically female issue and that's kind of refreshing in a usually male formula. Zoe is a rude brat at first, and even after you start to warm up to her she might disappoint you, like when she says of a security guard who died protecting her, "That was his job!" But she's young enough to be forgiven for acting out, and I'm a sucker for this kind of story where she and Sam go through the shit together and each learn from it and become close (OH MY GOD AND THE MOVIE IS CALLED CLOSE). Most surprising is Rima, who seems to be well meaning at first and then seems to be a cold hearted phony and then seems to be something more complicated.
There's a little bit of the International Corporate Intrigue – not-very-believable financial news programming giving exposition about competing conglomerates and stocks taking a hit from news about Zoe being a fugitive and things like that. The tone is humorless, and it has exactly the musical score (by Marc Canham, THE DISAPPEARANCE OF ALICE CREED) that you expect in a Serious Thriller, but I think good locations, a lack of repetitiveness and some scenes with actual sunshine keep it from getting as dreary as these things often do. It has some scope to it too. They're able to have some enclosed action in the fortified mansion (with suspense gimmicks involving security gates, cameras and intercoms) but also get out and move around to a variety of locations.
With this level of seriousness and production value you expect Pierce Brosnan or Sam Neill or somebody to show up as a politician, but I guess they didn't feel it was necessary to put another name on the poster – a poster that was probly never printed out anyway. As far as we know Netflix will make the same amount of money from CLOSE whether every single person on Earth watches it every day for the rest of their life or not one person including Pierce Brosnan ever watches it, ever. Which is a pretty good business model for making weird action movies, so they should get weirder if you ask me. But for now I can appreciate a well-made formula one like this.
In fact I'd love to see more Sam Carlson close protection adventures, so be sure to support it by… clicking on it? Giving it a thumbs up? Recommending it to Siri? Who knows. Nobody knows.