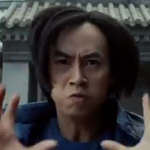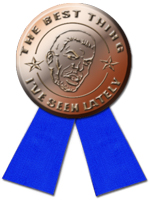 MAN OF TAI CHI is a finely tuned new take on my beloved underground fighting subgenre. It's the directational debut of POINT BREAK's Keanu Reeves, who gets extra cool-points for starting his directing career just to make a vehicle for a stuntman he met on the MATRIX sequels, Tiger Hu Chen. Reeves brings along MATRIX fight choreographer Yuen Wo Ping and, even better, plays the villain. It's a Chinese production, set and filmed in Beijing, only partly in English. I guess that's why I've never seen an ad for it and almost missed the fact that it was playing in theaters (it's been available on VOD and iTunes for about a month).

Tiger Chen plays a  character named Tiger Chen, because this is a 110% true story. You're telling me it's not? Don't be naive. Tiger is the last student of the Ling Kong Tai Chi school. His master (Yu Hai, who I think I heard is Chen's actual teacher, but maybe I made that up) doesn't believe in fighting, but allows Tiger to go on his own path as he develops a Tai Chi fighting style that is about power, not just harmony, and uses it in a local fighting competition.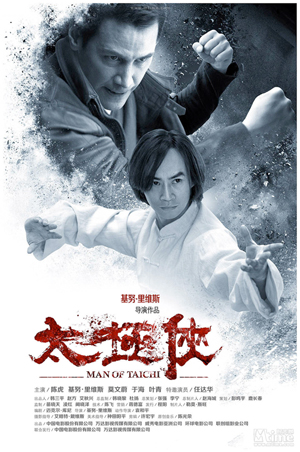 That's a legit competition with referees and points and everything, but his success draws the attention of Donaka Mark (Reeves), owner of a security company which may or may not be real. He spends all his time curating brutal no rules fights that we know from the opening scene are sometimes to the death.
In the tradition of Tony Jaa or Marko Zaror, Tiger minus the skills would not look like a badass. He seems meek and has dorky long hair (almost like he's trying to imitate a young Keanu) and works a shitty job as a deliveryman, where he's always late and gets shit from his boss and keeps apologizing and avoiding eye contact. So he's interested when a mysterious package arrives about possibly working for Donaka Mark.
The first fights take place in a room with no windows and one mirror. Tiger is so naive that he thinks it's about pure fighting, and is upset when he learns it's being broadcast pay-per-view to the overseas super-rich. There are different layers of surveillance: hidden cameras film his fights, a guy working for Donaka (Brian Siswojo might be the actor?) follows him and films him in the real world, and Hong Kong police detective Sun Jing Shi (Karen Mok) follows all of them and takes pictures in her attempt to bust open the fighting circuit. One great moment is when Donaka calls Tiger during a family dinner to tell him he has to fight the next day. He makes a point of watching Tiger on a hidden camera as he takes the call so that he can see the reaction on his face. And he seems to get off on it.
I love Reeves in this role. I know he's played a couple of villains before, but it's still a novelty, and he's perfect casting for the decadent gwilo corruptor. The movie opens on a long, static shot of a fight, and the first voice we hear is Reeves, over an intercom, saying "Finish him." When the fighter refuses, in walks a man wearing a creepy black mask and black leather gloves, who breaks the fighter's neck. Of course it's Reeves behind the mask, and you can tell by his lanky shape and by the way he walks that it's not a double.
The mask is for special occasions though. Usually he's just the rich guy in the nice suits, talking on his Bluetooth while shopping for more Lamborghinis and Bugattis. Reeves' performance is mostly through posture and poses. Like a Wesley Snipes performance!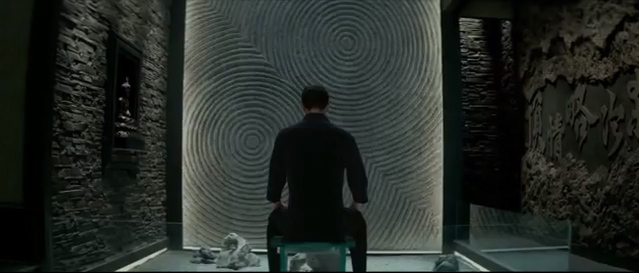 He's not mega-acting, but he has several moments that made the (small) audience I saw it with laugh, like when he suddenly roars at the camera, or when he watches Tiger on a TV and says "Innocent!" I love those parts because they feel knowing without being ironic. Like "yeah, I know people are gonna laugh at this but fuck it, I'm doing it anyway." It's a movie that understands the genre completely but not in order to comment on it – in order to participate in it. I saw a review that called it "ambitious but generic," which is kinda like saying a production of a Shakespeare play is well executed but we've seen this type of story before.
We've seen this type of story before and we keep watching because we like this type of story. We appreciate the execution and the little variations, we don't want it to reinvent the wheel and call it a SmartWheel or something. We know that Tiger is gonna get more and more brutal in his fights and lose touch of his master's teachings. But that doesn't mean we're not excited to see how exactly it plays out.
I love when Tiger disgraces his school by being too cruel in the legit competition. He doesn't protest about being disqualified. He just picks up his gym bag and walks out, doesn't say a word to the woman trying to ask him why he did it, goes straight to the temple, walks in and duels his master. Nothing has to be said, they both know this is what's up. And I like that as he gets more out of line he looks more cool, now wearing all black like Donaka. The only way we know he hasn't gone all the way to the dark side is that when he gets a bunch of money he doesn't splurge by buying a flashy Lamborghini or something, just a sensible Volkswagen.
Of course, Tiger's master wears a white robe. Donaka is the other side of the yin-yang, the evil anti-Sifu who tries to teach his students lessons about being more violent, stands over him and gives him bad pieces of wisdom. I love the philosophy of martial arts movies, and to me the most personally meaningful idea is that Tiger is betraying these ancient teachings while also working on legal maneuvers to protect the temple from foreclosure on the basis of its 600 year history and importance to Chinese heritage. He pays lip service to this great tradition while clearly not practicing it in his daily life and not (at this point in the movie) recognizing his failure.
There's a nice sincerity to the movie, matching the innocence of the star. I think this is the only movie I've seen where the hero's downfall comes from not meditating enough. His master leaves his destiny up to him but encourages him to meditate on his decisions. He doesn't and he falls right into Donaka's traps.
The fights are excellent and varied in style, with his personal style of Tai Chi pitted against a variety of styles – grappling, crane style, iron body, etc. Of course it's best when it becomes personal, so the duel with his master is a highlight. I'm rooting for Tiger in the overall movie but wanting him to get whooped in that fight to learn his lesson. I was worried that all the fights might be in that window-less, racquet ball court sized room (one sin of underground fighting movies is to keep re-using the same fight location) but they go to larger and more opulent venues.
It builds to an amazing climax with all the different conflicts crashing into each other: we want to see Tiger refuse to fight for Donaka, but also we want to see him win, but more than that we want to see him kick Donaka's ass, but also we know that the detective is racing to the scene and we want her to succeed. And then we see who they want Tiger to fight, and somehow I managed to not know about this cameo by the best possible "oh shit, I didn't know he was in this!" of modern martial arts movies. So that was cool.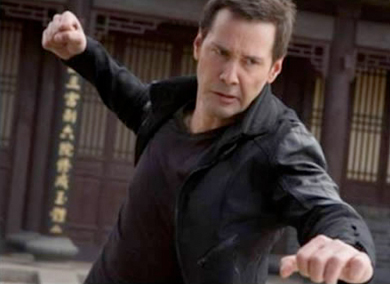 And I was not prepared for how exciting it was gonna be to know that maybe this guy we've been watching is about to fight fucking Neo. Or the evil version of Neo. There are so many movies where it's a cheat and a let down to have the real martial artist fighting against an actor. But Reeves has this history from THE MATRIX, we know he and Wo Ping can pull off some good screen fighting, and now he has this great hatable character. He's also so much taller than Chen that he seems more physically imposing than he did as Neo, and he gets to fight with a scowl on his face the whole time.
Who knew what a gift it would be to have a movie that builds to this fight? I guess Reeves did, because right when the shit is gonna go down the lights come on and the roaches scurry and it plays with the idea that maybe everything can be resolved without the fight. They even show Donaka swimming away, like maybe he's gonna go down like Bodhi in POINT BREAK. For me it was torturous man, I was worried after all this he was gonna fuck up the landing. But actually he was just saving the fight for a more thematically appropriate location.
It looks more like a good Hong Kong movie than an actor vanity project. It looks real nice, has an effective electronical/orchestral hybrid soundtrack, has an intense car crash sequence, and a couple dashes of ONLY GOD FORGIVES type creepiness (something about the emotionless model who introduces some of the fights gave me the willies). More importantly to me, it turns out Neo's got action chops.
I know alot of people think Reeves is a dummy, but during his time with the Wachowskis and Yuen Wo Ping he was smart enough to pick up on filmatistic lessons that most of current Hollywood flunked out of years ago. The editing (by Derek Hui, BODYGUARDS AND ASSASSINS) is A+, always holding long enough to show many consecutive moves. The camera (cinematographied by Elliot Davis of OUT OF SIGHT and SHAKES THE CLOWN fame) usually stays back far enough to show the whole bodies of the fighters, except when intentionally using closeups to focus on the movements of the hands or feet. Occasionally there are long, completely static shots for emphasis. I'm giving it a maybe too cautious ACR of 4.75 in recognition that the spinning and flying around of the camera (they used a new rig designed to move the camera deftly in and around fighters) will make some people dizzy, although I was fine with it. It's fast, but it's precise, it's not the same as the shaky handheld stuff we see so often.
Oh shit, we should team up Reeves and RZA as a directing team. The Reeves technique combined with the RZA imagination would be unstoppable. Sometimes to relax on set RZA could freestyle and Keanu would be his hype man. I think this is a pretty good plan, it could happen. But it's probly more likely that he just never directs again. Whatever happens my respect for Reeves has gone way up, 'cause I love MAN OF TAI CHI.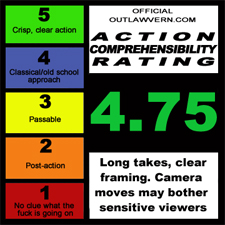 This entry was posted on Monday, November 4th, 2013 at 3:15 am and is filed under
Action
,
Martial Arts
,
Reviews
. You can follow any responses to this entry through the
RSS 2.0
feed. You can skip to the end and leave a response. Pinging is currently not allowed.