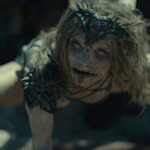 I've been waiting for Zack Snyder's ARMY OF THE DEAD since it was first announced in 2007, at which point he'd only directed DAWN OF THE DEAD and 300. Snyder would've produced and they had commercial director Matthijs van Heijningen (who later did the THE THING premaquel) set to direct. My understanding of the premise was that Las Vegas was walled off to contain a zombie outbreak, a team of mercenaries were hired to go in for a heist, and the hero was really trying to rescue his daughter who was stuck in there.
14 years later it exists in what could only be an entirely different form, since it's directed by Snyder himself, rewritten by a guy who was 13 years old when it was announced, starring a guy who was a WWE wrestler and hadn't even been in a David DeFalco movie yet, made with technology that didn't exist, distributed on a service that didn't exist. As always, Snyder is unpredictable. I definitely wouldn't have guessed that I'd be happier with his 4 hour redux of JUSTICE LEAGUE than the zombie movie I'd already been waiting several years for when he did MAN OF STEEL. But here we are.
ARMY OF THE DEAD did not live up to my hopes, so I will share many complaints about it. But that doesn't mean I didn't like it – it's an entertaining movie, especially for straight-to-Netflix. I recommend watching it if you're into this sort of thing and won't pull your hair out that it's either surprisingly sloppy or prioritizes setting up anime spin-offs and fan theory speculation over telling a good story.
If it was ever intended to be connected to DAWN OF THE DEAD, that sure changed. It starts with the beginning of the zombie outbreak, which seems to be alien in origin. Newlyweds participating in a highway blowjob (a risky activity with a 0% survival rate in movies) collide with an army transport coming from Area 51, a big Hulk looking guy escapes from the truck, bites the soldiers and turns them into zombies, which head for Las Vegas.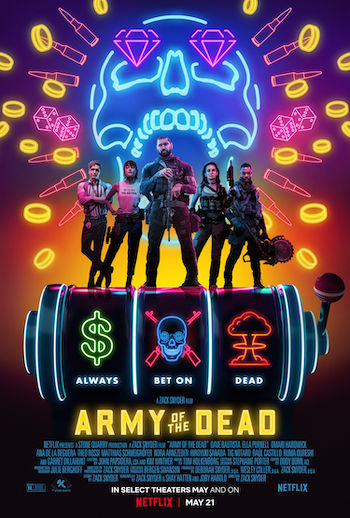 One Snydery zombie battle musical montage opening credits sequence later we're in a world where Vegas has been overrun by zombies, sealed off with a wall of shipping containers, and an unnamed president (Trump) has announced he'll nuke the city on the 4th of July. Scott Ward (Dave Bautista, HOUSE OF THE RISING SUN), a highly decorated hero of the zombie wars who now flips burgers for a living, is approached by notorious casino owner Bly Tanaka (Hiroyuki Sanada, RINGU, THE LAST SAMURAI, THE WOLVERINE) with a job offer: put together a team, sneak into Vegas and get the money out of my safe before it's nuked, you get to keep $200 million.
So Scott goes to some old buddies and some others. You know I love a good old fashioned recruiting-the-team sequence. He gets his BWBFs (best war buddies forever) Maria Cruz (Ana de la Reguera, EMPIRE STATE) and Vanderohe (Omari Hardwick, GRIDIRON GANG, MIRACLE AT ST. ANNA), plus helicopter pilot Marianne Peters (Tig Notaro, LUCY IN THE SKY), goofy German safecracker Ludwig Dieter (Matthias Schweighofer, VALKYRIE), and for some reason a young guy they don't know named Mikey Guzman (Raul Castillo, KNIVES OUT) who's internet famous for videos of doing trick shots on zombies.
To get the team in, Scott has to swallow his pride and ask for a favor from his estranged daughter Kate (Ella Purnell, NEVER LET ME GO, MALEFICENT, THE LEGEND OF TARZAN, MISS PEREGRINE'S HOME FOR PECULIAR CHILDREN), who has barely spoken to him since he killed her (zombified) mom and who volunteers in the camps along the border wall.
What are the camps? I am unclear. I assumed they were for refugees, but later you find out the people are kept there against their will. I guess maybe they're quarantined, that's my best guess. Kate is not happy to see her dad, but accepts payment to connect him to a guard named Lilly (Nora Arnezeder, MANIAC) who will bring the team in. But when Kate realizes her friend Geeta (Huma Qureshi, GANGS OF WASSEYPUR) went in and never came back, she insists on going in too.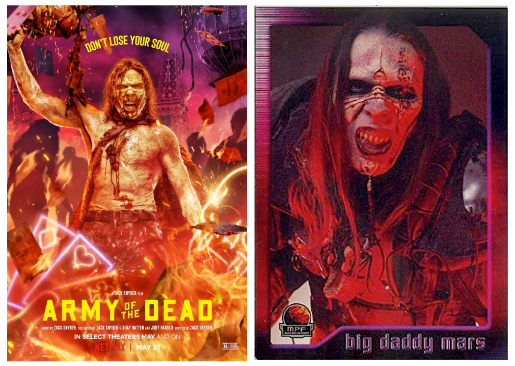 Maybe because of the alien factor, the zombie rules are unusual. Most of them are classical Romero style ghouls called "shamblers," but to the surprise of the zombie war veterans the place is now run by intelligent, acrobatic I AM LEGEND type zombies Lilly calls "Alphas." They were directly bitten by, and are now disciples of, the escaped alien zombie or whatever, referred to in reference materials as Zeus. This tall, ugly long hair reminded me of GHOSTS OF MARS, and I didn't realize it was because the same guy, stuntman Richard Cetrone (MISSION OF JUSTICE, BEST OF THE BEST 4), actually is the main monster from that movie.
Lilly immediately becomes a stand out character when she reveals her plan (which I won't spoil) to negotiate entry from Zeus's zombie queen (stuntwoman Athena Perample), a very cool-looking character who moves bizarrely and pounces like a dancer playing an animal. Lilly guides the team through unique and cool obstacles including a territorial zombie tiger named Valentine (yes, specified as belonging to Siegfried & Roy) and halls full of asleep-standing-up zombies liable to wake if anyone bumps them.
Their benefactor sent along his head of security Martin, an untrustworthy asshole played by Garret Dillahunt (LAST HOUSE ON THE LEFT, BRAVEN) in his usual entertaining manner. So we have intrigue among the team as Martin tries to screw over Mikey's friend Chambers (Samantha Win, MAN OF STEEL, WONDER WOMAN), who quickly earns our respect with some badass moves and a Vasquez-homaging bandana headband (there are a million ALIENS nods/lifts, which seems to bother people, but not me).
There's a surplus of cool if one-dimensional characters here, at least for a while. It's fun to see standup Notaro apply her wisecracking to a grizzled military lady. The joke of Dieter being a scaredy cat with no zombie killing experience somehow works after he and the giant Vanderohe bond over a shared tendency to ponder weird shit. And Scott is another really appealing character and performance by Bautista, a unique actor and movie star who always brings a quality to his movies that no one else could. His sincerity is the movie's biggest strength, bouncing off a strong performance by Purnell.
There's an important scene where Scott and Kate are on the roof looking for a backup generator and he proposes a plan for her to go to college, him to run a food truck, and the two to be family again. She blurts out something honest: sounds nice, but she's hated him for so long she doesn't think she'll get past that. She immediately regrets her words and tries to rephrase it but – and this is by far the most human moment in the movie to me – Scott says he understands, and turns away to start working on the generator. Just politely suppressing the pain of the crushing blow, trying to numb the pain by pretending it's nothing, not looking her in the eye, moving on to the mission.
He may not realize that this running away from his emotions into his work is exactly what he's just learned caused their falling out in the first place. It was weird to suddenly get emotional in the middle of this thing, and now that I've tried to summarize the scene I realize it's because it's a feeling I relate to that's not easy to articulate. (And also because Bautista is phenomenal in that moment and nothing is cooler to me than a giant tough guy being emotionally vulnerable.)
There's also something to be said for the monsters as characters. There's a bit of a mythology and storyline for them that has to be conveyed without dialogue, and I love that shit. I like that feeling of spying you get watching the goings-on of a bunch of non-humans doing weird shit crammed into a hotel. I love Zeus having a cape and a bullet proof mask and riding a horse, and everything that happens with the queen (SPOILER: including when she's a severed head) is even better.
But this is also a place where the director's usually impeccable visual gifts come up short, with uncharacteristically muddled visual storytelling. This may be partly a stylistic choice – he goes lighter on the slo-mo and heavier on the handheld than usual. It may also be budgetary – it doesn't seem stylized like 300, but many of the outdoor scenes are distractingly green-screeny, the choice to constantly put the backgrounds out of focus failing to hide that. (There was also an actor replaced in post-production, and many of that character's dialogue scenes play like Space Ghost Coast to Coast interviews to me.)
So it's possible Snyder's ambitions were too much for a Netflix budget and he wasn't able to shoot what he normally would. But he does weird things like giving Zeu's queen another companion who looks similar to Zeus, that I had to keep reminding myself was not him. I wondered if the queen was supposed to be the bride from the car crash in the opening scene, but she's not. Did I miss something in the opening montage that explained where she came form? And if not, isn't that something that would be worth explaining? I think it would. There's also a Zeus scene of some significance where I was torn between two completely opposite interpretations of what was supposed to be going on (SPOILER: I think the baby was dead and he was growling in anger, but maybe it was alive and they were all celebrating since he holds it up Simba style).
Other issues seem to come from the script, which is credited to Snyder, Shay Hatten (JOHN WICK CHAPTER 3) and Joby Harold (KING ARTHUR: LEGEND OF THE SWORD). Some things that either weren't explained, or I failed to comprehend: why was Geeta stuck, unharmed, in that hotel room? How did Kate know that was the building she was in? Why did everyone act like they only had to get outside of the wall to avoid the fallout of a fucking nuclear bomb? Was there a reason given for why Tanaka couldn't help them get past his own security system and into his own safe? Also, I think there's a pretty huge flaw in the premise once you get past a major plot twist, so SPOILER: we know that Tanaka already sent in a team that failed – their bodies are found (somehow decomposed) outside of the safe. But we find out Tanaka doesn't actually care about the heist at all, he really sent them in so that Martin could sneak off and try to get an Alpha zombie to weaponize. So why did he need a team at all, or a fake mission to give them, and after it failed spectacularly, why did he do it again?
Okay, I suppose there's a quasi-answer to the last part. When Vanderohe sees the mummified bodies he suggests that maybe they're not the previous team, they're them, and they're stuck in a time loop, doing the mission over and over. I liked that because I took it as Vanderohe being a space case and/or just fucking with those guys. But the next day I saw on Twitter that the bodies really have identical clothing and jewelry, and Brian Collins sent me a quote from Snyder confirming that it's supposed to be them:
"When I was with the costume designer, she was like, 'Oh, so we'll just put some zombies on the ground'. I'm like, 'No, it's them.' And she goes, 'how is it them?' And I go, 'I don't know, how is it them? You tell me'. That's always fun."
So it becomes a Choose Your Own Adventure. Either you ignore it because it's just some bullshit thrown in on a whim without a meaning or explanation in mind, or you take it seriously and figure out what it means for the story. Of course some Snyderites on Twitter chose the latter and are convinced many of the scenes intentionally don't make sense because we're watching a selection of scenes from various timelines.
(Snyder also threw in other tiny details to theorize about – turns out some of the zombies have robot parts?)
There is one thing I like about the time loop idea, but this necessitates we move on to a FULL ON SPOILER ZONE for the rest of this review. So – make good choices for yourselves.
I do think it would be cool if there was a straight-to-Netflix-non-theatrical sequel where they get to try again and do better. Because almost every complaint I've made here would be much easier to forgive if there was a satisfying victory at the end. Instead it feigns being a fun crowdpleaser action romp long enough to then say "Ha ha fuck you nihilism 4eva." George Romero, who spawned this entire genre as well as Snyder's movie career, correctly felt that the status quo could never be restored in his movies. But when he killed Peter in DAWN OF THE DEAD he realized it was a mistake and reshot it. Even the way more serious and bleak than this DAY OF THE DEAD allows for some sense of victory and survival at the end.
Obviously characters you like need to die in horror, and this was a deliberate choice. If you want us to feel like anything could happen, I guess you kill off a character that we like, and then another character that we like, and then all of the characters we like, leaving only one survivor, who failed at her mission (at least as far as we know, since they didn't bother to verbally or visually confirm that Geeta died in the helicopter crash). It should be called DON'T GET ATTACHED. Even the opening credits are like a short film with a devastating ending where the central character dies and fails. To really rub it in, the first and last kills in the movie proper are characters who seem to have died off screen but then return in a really badass and exciting way and then – psyche – quickly die anyway.
I'm not saying it's wrong, it mostly works, but in thinking about it further I started to wonder if this dedication to subverting audience satisfaction was also the reason for the lack of follow through on some of the cool things it sets up. There are these apparent blunders like making a huge deal about Vanderohe's love for his giant saw weapon and Mikey's fancy trick shots but not doing much with them, or establishing the existence of desiccated zombie piles said to reconstitute in the rain and then not having it ever rain. It's like if in GREMLINS they said not to get them wet or feed them after midnight and then they never got wet or fed after midnight.
Is it possible that was deliberately trying to disappoint us? For laughs? Ha ha, you thought something cool was gonna happen, but it didn't. DID I BLOW YOUR MIND?
I don't know, but the one area I can think of where ARMY OF THE DEAD does operate in a traditional crowd-pleasing manner is in setting up two very hissable asshole characters and then giving them extravagant, "deserved" deaths. I mean, I love that, but it's telling me maybe this movie isn't trying to be cruel to the audience, maybe that's just a side effect of it being cruel in general.
I'm positive I would like this movie better if it gave us more of a victory at the end, but I think this nasty approach can be justified in one way. There's an obvious irony to the fact that the sole survivor, Kate, is the person who wasn't planning to go in with them in the first place, and that she failed to save the person she went in for (or even get the money). But of course it can't be said that she got nothing out of it, because she made peace with the father she hated, before it was too late.
That's obviously the point of this story. I don't know if it was rewritten to be that way, or if that was the idea all along. But for a director who lost his daughter to suicide to make a movie where only the daughter lives and her dad and everyone else die, obviously there's something there.
(But also I've see some argue that she got them all killed by running off to fail to save Geeta, causing them to come after her. So maybe if she'd stayed home her dad could've lived and she'd have more time to make up with him.)
ARMY OF THE DEAD is cool, it's fun, it's so fucking stupid, it's kind of infuriating, kind of fascinating, I wish it was so much better, but I think I like it. So yeah, a Zack Snyder movie.
–
P.S. I think we're pretty safe from ZAnon cultists around here, but before anyone gets on my ass about any of this you should know I've been digging into Zack Snyder movies since before you were born young man
DAWN OF THE DEAD
300
WATCHMEN
LEGEND OF THE GUARDIANS: THE OWLS OF GA'HOOLE
SUCKER PUNCH
another piece about SUCKER PUNCH
(300: RISE OF AN EMPIRE)
MAN OF STEEL
another piece about MAN OF STEEL
and another piece about MAN OF STEEL
BATMAN V SUPERMAN: DAWN OF JUSTICE
JUSTICE LEAGUE
ZACK SNYDER'S JUSTICE LEAGUE
so there