KILTRO was the first Marko Zaror movie I saw, but for some reason I never reviewed it. Maybe it's for the best, because I liked it then, love it now. It improves with age and extra viewings, like a wine that's flavored by people looking at it (I don't know). Later I did review MIRAGEMAN and of course UNDISPUTED III (where he's the lead villain/opponent) but it wasn't until seeing a screener of his finally-coming-to-video-this-week latest MANDRILL that I decided to revisit KILTRO. I'll have a review of that new one up soon but first let's examine the prototypical Zaror vehicle here.
Being a Chilean martial arts sensation, Zaror is nicknamed "The Latin Dragon," but after KILTRO and MANDRILL I call him The Lovesick Dragon (more on that in my next CLiNT column). Here he plays Zamir, a weird loser who lives with his mom (who is nice to him but obviously disappointed that he hasn't done more with his life) and spends all day mooning about this girl Kim (Caterina Jadrisic) that he's been obsessed with ever since he rescued her from rapists and she kissed him. That was a legitimate Good Samaritan type event but ever since then he's been a stalker, following her around as a self-appointed protector, waiting to re-create the incident if she gets attacked again. So that means he flips out and beats up the guys who she's dating or who she dances with at a club.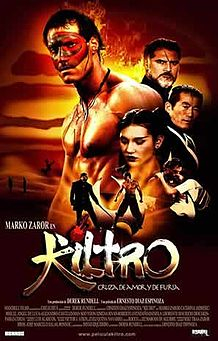 Most action stars try to make themselves look cool, but this character is more of a gloomy weirdo. He wears giant baggy pants (which I thought were a juggalo type style when I first saw this, but in retrospect probly just give him good mobility. Function before fashion) and his hair is dyed with red streaks on the back. He's a timid social misfit, but he also comes across as a bully because he actually goes to the apartment where Kim's new boyfriend Carlos "The Maniac" lives, shouts for him to come out and then beats him up while his friends cheer him on.
So it's hard to say what he might've been like before he became obsessed with this girl. He does have friends, they're almost like a gang. But they're obviously kind of worn out from giving him love advice all the time.
Obsession with a girl is not only his problem, it's the problem of all the men in the movie. In fact the plot really kicks in when the villain, Max Kalba (Miguel Angel De Luca) comes to town and starts massacring people as revenge for the time decades ago when his wife cheated on him with Kim's dad (Man Soo Yoon). He's the master of a tae kwan do studio, so Kalba storms in and starts fighting all the students at once just like Bruce Lee did in FIST OF FURY. But Kalba has some kind of evil sorcerer super powers, so he effortlessly murders all of them, chopping them up with a staff, crushing them or sending them flying through the air like they got hit by a train. After he's done inside the studio he leaves and more people start running after him on the street and he does the same to them. Back-to-back massacres. But he leaves the master alive and takes him prisoner.
Well, there's a whole sordid history to this thing and also some STAR WARS Jedis type shit going on. Little did Zamir know that his mysterious deceased father was part of a super powerful sect of martial artists who learned to tune their minds to a "Zeta state" that made them fight good. His mom hid it from him because she didn't want him to get involved in all that shit, just like Luke Skywalker's uncle tried to pull on him.
But Zamir wants to help his girl so he tracks down a master of the Zeta sect named Nik Nak (Roberto Avendano) and then gets sent to find washed-up Maestro Soto (Alejandro Castillo) and be trained in the forgotten ways. Soto obviously is the Yoda character in the movie but on the other hand Nik Nak – I hate to say it – is a little person. I don't think it's a coincidence that he resembles Yoda. He's Yodesque. (I don't think that's condescending to point out. Nik Nak is the one who says that he can't defeat Max Kalba because "I'm old and I'm a dwarf.")
Maestro Soto also tells of how heartbreak over a woman affected his life. These guys are all weepy romantics, and there's lots of Zaror's trademark soap opera melodramatics in their lives. Even while murdering people Kalba acts heartbroken and fingerpaints a big heart in a blood puddle. There is a training montage in front of a fake backdrop and then Zamir has to go out and "contemplate the desert" like Ang Lee's Hulk. When Zamir comes back to town he's a powerful warrior. He doesn't have the goofy hair anymore but he does go shirtless and wears ritualistic face paint that looks like a domino mask. So he could still fit in at clubs, I'm sure.
One of the best fights involves newly Zeta-fied Zamir on a street taking on dozens of Kalba's thugs in an entertaining variety of methods. He poses with nunchakas in an homage to one of Bruce Lee's most iconic scenes, kicks at people with blades on his feet like a fighting cock, kicks a guy into a soccer goal (his skull pinging on the top, one of those dramatic shots that bounces in). This scene has alot of fake looking digital blood spurting from necks, but it's so well choreographed that can't kill it. It almost adds to the charm of it.
Director Ernesto Diaz Espinoza shows an early-Robert-Rodriguez type of enthusiasm for movies – a lovably juvenile mish-mash of genres that's knowingly, unapologetically silly, but serious about it. Like the other Espinoza movies the music is by Rocco, as always showing a huge '70s influence, including some pretty cheesy wah-wah sounds that are frankly a little white sounding. But the opening credits song puts a huge smile on my face because it's a completely unhip type of '70s influence, with disco violins and a bit of an easy listening vibe. More like some cheesy TV show than a blaxploitation classic. But in a good way.
Later, as Zamir's life turns from sad love story to high adventure, the score turns into heavy Ennio Morricone homage. At times it's a straight up ripoff of ONCE UPON A TIME IN THE WEST. Again, in a good way. I love this movie.
This entry was posted on Monday, February 27th, 2012 at 1:04 am and is filed under
Action
,
Martial Arts
,
Reviews
. You can follow any responses to this entry through the
RSS 2.0
feed. You can skip to the end and leave a response. Pinging is currently not allowed.