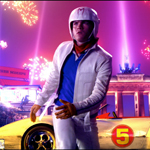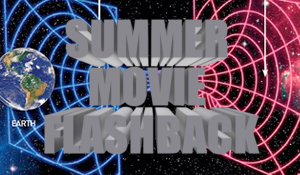 These days it's pretty common for people to say that SPEED RACER is an overlooked gem – or even a masterpiece – that was misunderstood at the time. So give credit to your old Uncle Vern for praising it from day 1. I didn't misunderstand that shit! I understood the hell out of it. I am a real good understander in my opinion. Not to brag.
But this is the second time I've watched it and actually I liked it alot more this time. I didn't have as many reservations about the aggressively shiny and video gamey pixelscapes it takes place in. It's still not my favorite look, but my brain has adjusted. I don't know, maybe the rainbow colored kaleidoscope spinning around the studio logos at the beginning hypnotizes you when you see it on Blu-Ray. It starts to look amazing.
What really impressed me is the next level filmatism within that artifical world. The camera (or "camera") soars through, over and around these space age racers as they zoom, drift, bounce and fly through loopty-loops, giant pinball machines and monster-faced ice caves, and despite all the speed and freneticism I think this mayhem is really easy to follow. (Judging from my original review maybe the smaller screen helps.) Characters' heads constantly float away, wiping into the next scene, a more evolved version of Ang Lee's best moves in HULK and, now that I think about it, one of a long list of ways that this movie must've influenced the shit out of SCOTT PILGRIM VS. THE WORLD. There are fight scenes, Speed and Racer X vs. practicioners of nonjitsu, and you get a glimpse of the MATRIX era Wachowskis. Then it bounces into a more candy colored, silly-anime type of style with abstract backgrounds and even more exaggerated physics.
But even better is the complex construction of the story. It seemed convoluted the first time but ingenious now. Like you gotta take a few steps back from it to see the whole thing. In fact it's like the engines of their cars, it's complicated and crazy but somehow it works. The way I see it it's kinda divided into 5 sections.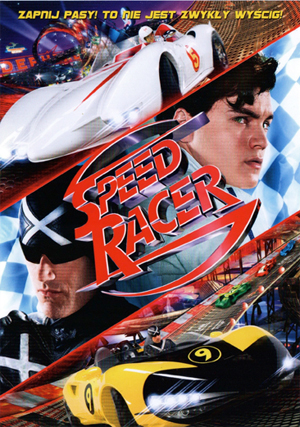 ONE:
The first 17 minutes of the movie is an incredible storytelling contraption that shows us Speed Racer (Emile Hirsch, SAVAGES) competing in the big Thunderhead race, during which he flashes back to his childhood and obsession with racing, the influence of his older brother Rex (Scott Porter), also it goes into the stands where Mom (Susan Sarandon, SNITCH), Pops (John Goodman, DEATH SENTENCE) and Trixie (Christina Ricci, THE HARD WAY) are cheering him on, and each of them has a memory of Speed that explains more of the backstory including the death of Rex. Meanwhile Speed remembers the time Rex set the record on this track, and then a see-through memory of that race overlaps with the current one and Speed is literally racing against the memory of his dead brother, a tear streaming down his cheek. His family is elated that he comes close but doesn't break the record.
The way Speed drives, spinning and flipping around and making it seem effortless and correct, that's how the Wachowskis are filmatising here. Holy shit!
And the chapter ends on a dramatic eyeball closeup on the unmasked Racer X (Matthew Fox, ALEX CROSS) declaring that Speed will be the best… if they don' t destroy him.
TWO:
How they try to destroy him is the topic of the next section, which is about 15 minutes. The corporate bigwig/Christopher Hitchens impersonator E.A. Royalton (Roger Allam, V FOR VENDETTA) comes to the house, sweet talks the Racer family and brings them on a Charlie and the Chocolate Factory tour of his company to try to sign Speed to his team. He says all the right things: we want to make you your best, we'll give you the best equipment in the world, the best trainers, you'll have to work hard, but you'll be heavily rewarded, here are some legendary champions for you to meet (and one of them's Richard Roundtree), here are their trophies, I still see myself as an independent ever since I quit Globocon to start my own small company, I respect your decision, take your time, whatever you decide I'm your buddy, let's be pals, I love your mom's pancakes…
When Speed politely declines the offer we watch Royalton struggle awkwardly with his fake smile all through Speed's passionate speech about his independent family business and what driving means to him.
And then the bastard shows his true face as an abusive asshole who not only threatens to destroy Speed's career and bankrupt his family with bullshit lawsuits, but tries to crush his spirit by telling him that the world he loves and his childhood heroes are all a fraud, that it's not about racing at all, it's about selling engines, and fuck you you piece of garbage, do you know who I am? Christ, JC Penney is coming here because of ME. You ask anybody, they'll tell ya.
THREE:
The next chapter is only about 5 minutes, but it's about how this racer named Taejo Togokahn (Rain from NINJA ASSASSIN) has been kidnapped by thugs, but the mysterious masked driver Racer X rescues him. He says Royalton is trying to buy out his father's company. Racer X is in cahoots with the G-Man Inspector Detector (Benno Fuhrmann) to try to clean up the corruption that Royaltan was bragging about, so they come up with a plan: if X, Taejo and Speed race as a team and win the race it'll drive up the stock price so Royalton can't buy them out.
[wait a minute, does Speed Racer ever think it's weird that Racer X's first name is the same as his own last name?]
FOUR:
is that trio race, the Casa Cristo, which turns out to be a trick. When Speed wins (spoiler) he jumps out and the camera rotates around him doinng what I think is the pose from the opening of the original cartoon, but then stock tickers float out over him, dirtying his victory. So really he loses.
FIVE:
is the Grand Prix, which is every racer's dream, but it turns out it's always been fixed, so if Speed can defy that by winning anyway then he can save everything he believes in. The Grand Prix is for all the chips.
Speed's driving is explicitly described as art. His mom gives a stirring speech about it. He tells Trixie that it's not about winning, but that winning is important because he needs to do it to keep on racing. (That's why the Wachowskis' next movie is a science-fictional piece with Channing Tatum and not CLOUD ATLAS 2: THE INACCESSIBILITATION.) I don't know if there's anything on record about the Wachowskis' relationship with their parents, but either it was really good or this movie is what they dearly wish it was like. It's charming to see such a sincere portrait of an unfailingly supportive family. Goodman does that funny-but-then-there-can-be-a-serious-emotional-part thing he did so well on Roseanne. They teach Speed good values, support him in his decisions, apologize when they've made mistakes, beat up ninjas who attack him. You'll wish you were a Racer.
This is always a family operation, they gotta work harder. Over on the corporate side, the team that Speed turned down, a state-of-the-art machine manufactures the cars while everybody sips champagne. Pops and Sparky have to build Speed's car by hand, and there's no alcohol served. Mom does make everybody peanut butter and jelly sandwiches.
I love SPEED RACER for its originality, its complete disinterest in hipness, its values, and especially its heart-on-its-sleeve sincerity. This time I particularly enjoyed the character of Racer X, who is kind of like Snake Eyes in the GI JOE movies in that he walks around in this costume and everybody is so okay with it that it's contagious, he doesn't even seem ridiculous anymore, he seems awesome.
I like it for its heart and soul, but there's also plenty to enjoy on the plasticy, computery surface. There's a ridiculous amount of detail in this world. Looking through the credits these are some of the many colorful characters you'll get glimpses of: Prince Kabala, Blackjack Benelli, Minx, Cannonball Taylor, Grey Ghost, Dour Face, Flying Fox, Nitro, Gearbox. This is a world where some poor guy has to carefully handpaint the red and white checkers on the race track. That's right, painter guy, I noticed you there. Thank you for your service.
There's nothing else like SPEED RACER and probly never will be, even from the Wachowskis. I can admit it, even I was wrong about this movie. I liked it but I didn't realize how truly brilliant it was. Hats off to SPEED RACER, clear winner in the whatever-the-hell-this-is category. Give it a drink of that cold milk.
* * *
other movies that came out that summer: IRON MAN, THE CHRONICLES OF NARNIA: PRINCE CASPIAN, INDIANA JONES AND THE KINGDOM OF THE CRYSTAL SKULL, THE HAPPENING, THE INCREDIBLE HULK, WANTED, HANCOCK, HELLBOY II: THE GOLDEN ARMY, THE DARK KNIGHT, THE MUMMY: TOMB OF THE DRAGON EMPEROR, STAR WARS: THE CLONE WARS, DEATH RACE, BABYLON A.D.
highest grossing movie that year: THE DARK KNIGHT (good choice, everybody)