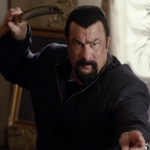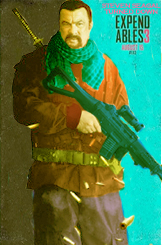 "The rate this is going we're going to run out of Russians soon."
A GOOD MAN – not to be confused with A DANGEROUS MAN, A SERIOUS MAN, A SINGLE MAN, A SOLITARY MAN, HE WAS A QUIET MAN, etc. – is the latest Steven Seagal picture, continuing what at first glance looks like Seagal's Goatee Period (SGP). The new facial hair seems to represent the evil Seagal from another dimension, or at least a slightly darker Seagal. In the opening narration he explains that he has both light and darkness in him. Later he calls himself "a regular man who does bad things to bad people."
He doesn't seem like as much of an anti-hero as the Russian gangster he played in his last movie, FORCE OF EXECUTION, but he is a guy who goes around literally chopping up gangsters and leaving them strewn across alleys. Technically that's not that different from what he does in other movies, but it's presented differently. The first pile we don't see as an action scene, we see it as a crime scene investigated by detectives. And he leaves a calling card – incense in their hands, the Chinese characters for "Gwai-Lo" – like a serial killer.
But on closer examination, this gangster-slayer actually is an alternate reality version of the guy from the last movie. On a behind the scenes featurette writer/director Keoni Waxman says they originally started writing it as a sequel to "our last movie," which would explain the returning beard and that both characters are named Alexander.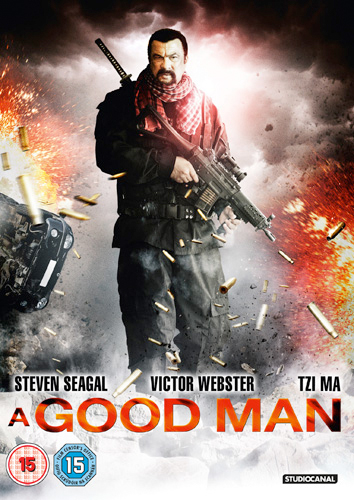 This Alexander has a different backstory though. The movie begins 2 years ago when he's on a special ops mission to assassinate a terrorist and an arms dealer in "Bordering Dagestan." And, not to be racist, but… fucking Dagestanis, am I right?
This seems like Seagal's first movie influenced by the SEAL Team 6 raid on Osama bin Laden, but I have to confess that at his age and size (plus bulked up with kevlar) lumbering up to a house to shoot people doesn't seem like a precision assault. And even though it's a funny joke he's probly giving his critics too much ammunition by asking about local restaurants in his first line of dialogue. Luckily, this limp poor man's ZERO DARK THIRTY turns to gold when Alexander pulls out a little sword and slices a dude up. Just like the real special ops guys do.
Here Seagal deals with some modern elements that he hasn't used much in his movies: Islamic fundamentalists, human shields, digital blood spatters, drones. Once again he's ahead of the curve in political themes as his character is outraged by a drone strike that kills civilians. He warns them at least three times not to attack and they still do it. The guys who are off somewhere else are removed from the situation, they don't have the same humanity as the boots on the ground.
This prologue also has a bunch of stock footage of Blackhawk or similar helicopters. I've long enjoyed the inclusion of helicopters on Seagal DVD covers even when they're not in the movie, this one seems to pay homage to those covers by randomly dissolving between Seagal and a bunch of helicopters. It's the most helicoptery shot in any of his movies so far.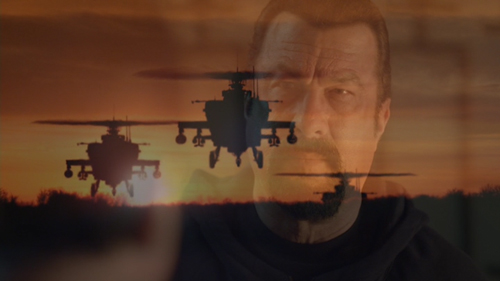 But most of the movie takes place in the present day when Alexander is living in "Eastern Europe," and I thought he was being cute when he first called himself a "handyman," but later it sounds like that's supposed to be his cover job. I don't know, he's never shown going to work or wearing work clothes or doing anything handyman-like other than in one scene when he helps his sexy neighbor Lena (Iulia Verdes) and her young sister Mya (Sofia Nicolaescu) break into the apartment they're locked out of.
Alexander is haunted by the little Dagestani girl he failed to save and this inspires him to protect Mya from the gangsters her family owes money to. He befriends her because she likes his dog. His relationship with her might count as a badass juxtaposition, but his dog doesn't. He hasn't bothered to name the dog and at the end gives him away saying "I'm gonna give you this dog. It's a good dope dog, tha's why I got him," as if that's relevant to any dog owner's needs. That right there is Chief Seagal's LAWMAN experience expressing itself to the world.
Of course he's got his other eccentricities in here, especially the shifting accent. Early on it almost seems like he's trying to do a scene as Robert Downey Jr.'s blackface character from TROPIC THUNDER, but mostly he just talks like regular Seagal. He has plenty of lines that you gotta assume he made up, like when he accuses a guy of having less than "the IQ of a mature caterpillar."
There's a scene where he goes into a Christian church, like in the old days, but he doesn't confess or anything. He tells the father he's "Just lookin around."
Then we're introduced to Sasha (Victor Webster), a well-dressed protection money collector who surprised me by being immediately captivating. You don't expect to find any acting revelations in the no-name supporting cast of a later Seagal movie. This guy seems like a little Jon Hamm or Jim Caviezel, a little American Psycho. After his henchman beats a guy down, holds a knife to his fingers and makes him beg, Sasha asks how short he is, pulls money out of his own pocket and and helps him pay up. "Do not mistake this act of kindness for weakness," he says, and I thought "Oh shit, what is this guy gonna do?" That's a crazy waiting-for-the-other-shoe-to-drop way to mess with a guy's head. Seems like this will be one of the better DTV villains.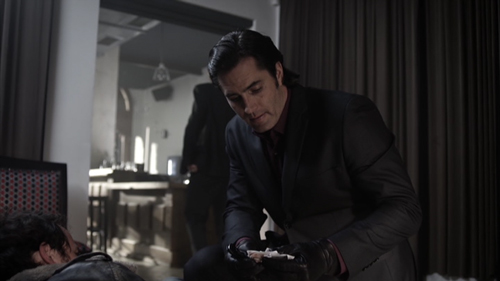 But actually he's not a villain, he's Lena and Mya's half brother, only doing this job to fulfill his father's debt and protect the girls. So he's not crazy, he seriously did that out of kindness. Weird. He'll not only end up on the same side as Alexander, he'll even take over and do the action scenes for a big chunk of the movie, much like Bren Foster in FORCE OF EXECUTION, the surprisingly good co-star-you-never-heard-of here to do the athletic moves that Seagal can't or won't. He fights with a chain, a pole, a pay phone. He suplexes a guy onto a windshield. But to show he's not indestructible like Seagal is he gets stressed by it all. He swears and spits after he wins a fight.
Webster holds his own. Doesn't seem like a martial artist like Foster, but he has more screen presence. I had to pause and look up who he was. A ha, he played the Scorpion King in part 3 and upcoming part 4. I didn't recognize him with clothes and no beard. I like him better here.
Seagal does his usual Spirit of the Man Bear fighting style, kinda quickly edited scenes of him dominating and pummeling with a couple punches, kicks or wrist twists. He's much more exciting when he uses his sword, which he reveals is named "The Devil's Butcher Knife." He uses it in a lengthy fight with a cool-looking but undeveloped, scarfaced henchman, and also in a formal duel with lead villain Mr. Chen (Tzi Ma, who also played a character named Chen on True Justice).
In case in the future I don't have too many good memories of this one I have made myself the following two screen grabs.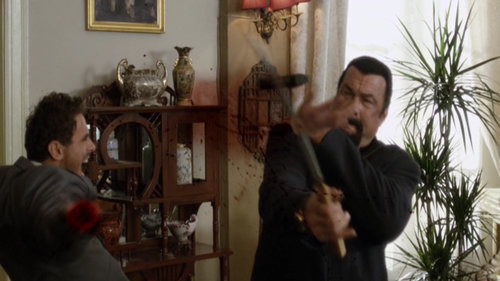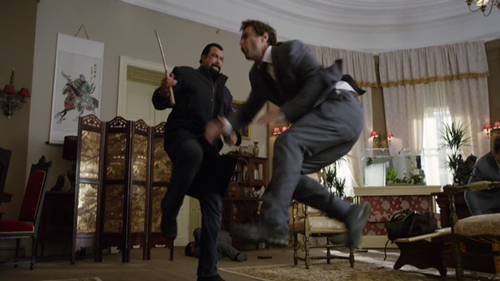 Seagal seems way more impressive and believable in the sword fights than the other action, but maybe that's just because they're able to hold the shots longer.
Here's an odd touch: in 3 or 4 parts Waxman emphasizes dialogue by having it also appear in onscreen text. Here's the most notable one, the part where he reveals himself to the villain: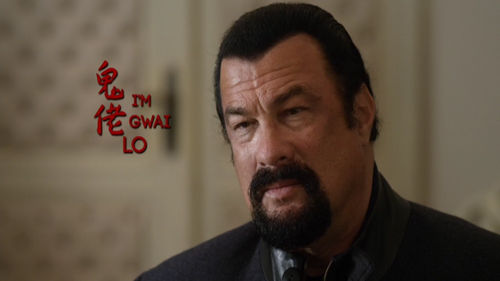 I thought you were a handyman? Yeah, well… I'm also handy.
At times this reminds me of certain early Seagal DTV movies, which is a good thing. The swordsman-protecting-a-little-girl bit is reminiscent of OUT OF REACH. Both the secret alter ego and the formal language when he talks to Mr. Chen remind me of OUT FOR A KILL. He gets Mr. Chen to say things like "It took an adversary to show me the significance of life and death."
But in other ways it's just another dreary and somewhat rhythmless filmed-in-Bucharest DTV joint. So I'd really only recommend it to those of us fascinated by the continuing evolution of Seagal. It's probly a little closer to feeling like a real movie than FORCE OF EXECUTION, but it's not as interestingly weird. Ladies and gentlemen, the state of Seagalogy is okay, not great. I wish we could at least count on his new ones having the pulpy appeal of a pretty good Luc Besson production. I guess he's getting there.
This entry was posted on Monday, September 15th, 2014 at 12:17 pm and is filed under
Action
,
Martial Arts
,
Reviews
,
Seagal
. You can follow any responses to this entry through the
RSS 2.0
feed. You can skip to the end and leave a response. Pinging is currently not allowed.