Like the opening of BLACK CHRISTMAS, HALLOWEEN or THE FUNHOUSE, ENTER THE VOID starts out in a first-person-POV. You are Oscar, a young English speaking gwailo living in Tokyo. Oscar's out on a balcony talking to this girl who's wearing not much more than a t-shirt. Oscar's doing it, so I'm doing it, I'm in his perspective. I see everything he looks at, I even see his blinks. He seems to blink alot, too.
I noticed the girl (turns out it's Paz de la Huerta, the girl in the see-through raincoat in LIMITS OF CONTROL) was kinda cute. Then I figured out from the conversation that this is actually Oscar's sister, which means she's my sister. Our sister. Oh shit, sorry about that, Oscar. Shouldn't have thought about that while I was seeing through your eyes. I made you into a sicko.
After she leaves he digs out his drug stash, shoots up and looks up at the ceiling and starts hallucinating. This is a movie with alot of psychedelic imagery interludes, sometimes going on as long as the light show in 2001. Moving, pulsing crystalline fractals that shift and melt and fold and swirl and bubble into the shape of veins and slime and cell tissue and then turn out to be a light fixture or something.
And we as Oscar go about our white man in Japan business and go to a club and, I'm sorry to say, we get shot and die. And we have an out of body experience. We float up into the air and just stare at our dead Oscar body laying there on the filthy restroom floor. (spoiler)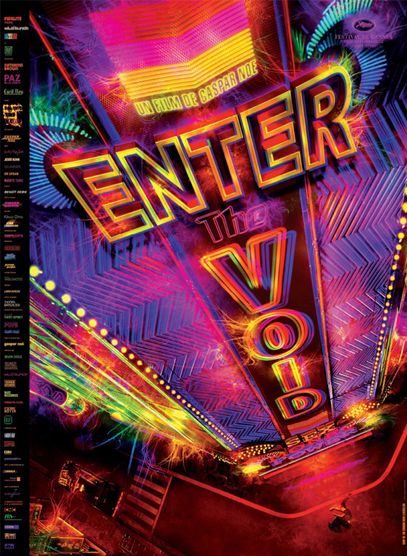 Unlike HALLOWEEN and those other movies I mentioned this one never abandons the POV shot. As far as I know this is the only Ghost's Eye View movie. We hang around and watch the aftermath of our death. Now, it turns out Oscar's sister – and again, I apologize for checking her out, it was an accident – is a stripper. And he floats through the city and watches her do her thing on the pole, then watches her in a back room having sex with her boyfriend or somebody. Her phone rings and she tries to answer it but he pushes it away so as to not interfere with the passion and what not. So we-as-Oscar float at the ceiling watching our sister fuck a dude. I couldn't help but think maybe I was responsible for putting this thought in poor Oscar's head earlier. Now he's a ghost and pretty the first thing he does is use his ghost powers to spy on his sister getting boned. This is not good.
To be fair he doesn't watch the entire thing, he does float away and watch his buddy calling his sister, that's who was on the phone. He leaves a voicemail. Then Oscar floats back and watches the rest of the sex and when it's all over the dude leaves and she listens to the voicemail and he's there to watch her break down and cry about it. I don't know man, this is a crazy out-there type of movie, but just the situation made it really emotionally powerful for me. You kinda feel like you really are watching your sister find out you died.
Well, soon Oscar flashes back through his entire life, so instead of POV it's watching the back of his head. We go back to see these kids growing up together. I'm happy to say that I'm absolved of responsibility, there was definitely some kind of FLOWERS IN THE ATTIC shit going on between brother and sister long before I was involved. It's mostly a sweet bond they have because they were orphaned and they promised each other that they would always be there for each other. So now the poor guy is a ghost and he's sticking to that promise.
The flashbacks flip around in time, more in emotional order than chronological. It has a whole bunch of perfect cuts between adult situations and childhood ones. And the guy is a perv. He definitely checks her out laying around in her underwear. In fact, at one point he sneaks into her room and sniffs her panties. Even I wouldn't have done that. I'm innocent, man. It's Oscar.
There's a scene where you as young Oscar experience the death of your parents in a car crash, you sitting in the back seat. And every time this comes up again it's like a punch in the gut. At one point you have to sit there and hear your sister bawling while the parents lay dead in the front seat, and the little girl is so good it seems like a documentary. I never seen the other movies by this director, Gaspar Noe. I know some of them, like IRREVERSIBLE, have a reputation for just being absolutely fucked up and sadistic to the audience. This isn't like that. It's harsh, but it's not fucked up. It's just sad. Also there's a whole lot fuckin in this movie. No raping, from what I remember, so I appreciate that.
Eventually his whole life has flashed before his eyes, all the way to the point where he's a dead body, so we go back to Ghostvision. And then I think he's looking for some way to get reincarnated. So he goes to this place called The Love Hotel and watches a whole lot of fuckin and blow jobs going on. Maybe some of you already know this, but I guess you gotta find somebody fuckin and just get in there at the right moment, that's how you get reincarnated. And all these people got wisps of glowing smoke emanating from their genitals. There's a gal blowing a glowing dick, etc. Magical luminescent sex type stuff. You know how it is.
There's alot of girls in this movie, including his mom, who look like his sister. But I think this is his sister he eventually finds in a sex bout. She says "Come inside me!" and he misinterprets it in my opinion, she's talking to the guy that's fuckin her but he's like "Who, me?" and he floats into her bellybutton and inside her, and I'm pretty sure he regrets it as soon as he sees the head of a dick coming at him like the boulder in RAIDERS OF THE LOST ARK. Entering the void. (Ha ha, some poor sucker had to animated a CGI dick.) And it does its work and he follows the semen down to a microscopic level and observes the fertilization of an egg from up close so he can be reborn. Same thing that happened in the last issue of Casper the Friendly Ghost.
De la Huerta is pretty good as the sister, she's kind of a trashy mess and a bombshell and an emotional wreck all wrapped into one. Very troubled and obnoxious but somehow sympathetic. The dude playing Oscar is terrible, but luckily he doesn't talk very much. The camera cranes do most of the work for him.
It's not hyperbole to say that this movie is absolutely incredible on a technical level. I don't even know how they did it. At least half of the movie is a camera floating around looking down on scenes, flying through walls, over buildings. Sometimes it floats into the back of people's heads and sees through their eyes (usually to enjoy some sex from some dude's POV, and usually the dude is fucking Oscar's sister). It's like in the FAST AND FURIOUS movies how they always go inside the engines and show what they look like, but this guy can go inside bodies, through pipes, into memories and dreams. He flies over the city, and there's a guy who is building a model of the city, and then sometimes the real city is shot to look like the model and you don't know for sure which one you're in.
I've heard some claims that the movie is pretentious. There are some references to the Tibetan Book of the Dead. I guess Noe had wanted to do the movie ever since he was a kid and saw the first person POV movie LADY OF THE LAKE while he was on shrooms. I'm sure he was trying to do some kind of deep spiritual business here, but I didn't really pick up on it so it didn't bother me. To me it's just an amazing movie experience. I know it would've been even harder to make, but man, here's a movie that would've been perfect for 3-D. It's as much of a theme park ride as any of those Robert Zemeckis mocaptoons. I mean it really throws you into some crazy experiences, you feel like you're there. It might almost be too intense. Especially if they did smellovision for the panty-sniffing scene.
Starting with the opening credits – a seizure-causing barrage of giant, colorful typography cut too fast for anyone to read – it announces its intention to punch your brain in the balls. Jean Pierre Jeunet's old partner Marc Caro did the art design, and his respect for Tokyo's neon signs seems about on par with that priest that got peed on's respect for Pumpkinhead Rawhead Rex. One of the Daft Punk robots contributed ambient sound effects (he was too busy Tronning to do a score), which adds yet another surreal layer of filmatic hookah smoke on this thing. I read that they spent more than a year in postproduction because every frame is computered left and right, but you wouldn't know it except that it just looks so vivid and surreal. Most of the effects are seamless. And it was shot on actual film. Just a mindblowing achievement in my opinion. You will definitely take your hat off to these filmatists, and possibly bow to them.
You'll probly be bored as shit, possibly asleep or fast forwarding through the thing, but with your hat off. Fast forwarding in a respectful sort of way.
I like this movie, I respect this movie, and I think I would probly love it if it was around 90 minutes. But the DVD is a director's cut with an exhausting 2 hours and 40 minutes run time. I'm usually the guy who can take a long running time and makes fun of the impatience of my friends thinking everything is too long, but here's an example where it absolutely would've worked better if it wasn't trying to torture me. I mean I appreciate the gesture, but I really don't need to see like 8 or 9 different couples fucking in the Love Hotel. Three would do it, I bet.
I guess going through death and rebirth and flashing through the guy's entire life is pretty epic, but THE FOUNTAIN spanned hundreds of years and multiple lives and didn't need nearly this long. DAWN OF THE DEAD shows you life and death an the human condition and feels long but it's a half hour shorter than this. There's something to be said for the real time feel of some of these scenes and the sort of hypnotic state it brings you to. But there just isn't enough substance to maintain it for a LORD OF THE RINGS type running time.
For the American theatrical release in order to make it shorter Noe just lifted the entire seventh reel out of it intact, and said it was "inessential." So that tells you something. I also know a guy that saw it with the reels out of order and he would've had no idea except one guy in the lobby was complaining about it. It's an unusual case where there are no credits at the end, so it would be easy to miss.
I really think with a more restrained edit it would be a hugely popular movie, at least with the college kids, they would love it the way the college kids used to love RUN LOLA RUN or a movie like that. But if that's not what Noe wants I guess that's his prerogative. I guess he was going for more of a BROWN BUNNY "fuck you for watching my movie, you'll pay for it you dirty sonofabitch" type of feel.
So I don't completely agree with this guy's instincts, but his filmatistic skills are top notch. You can't front on that level of obsessive attention to visual detail and invention. He can get away with some self indulgence when he's this good and this crazy. It's a rare combination to have a director this talented and this determined to do what the fuck he pleases.  Hollywood will have no choice but to crush him by luring him to do GREEN HORNET 2 or a prequel to a remake of something.
This entry was posted on Wednesday, January 26th, 2011 at 3:32 am and is filed under
I don't know
,
Reviews
. You can follow any responses to this entry through the
RSS 2.0
feed. You can skip to the end and leave a response. Pinging is currently not allowed.