NINJA II: SHADOW OF A TEAR is the kind of action movie I always want more of: a pretty simple story about a badass in a personal conflict, stubbornly entrenched in the distinct values of a warrior subculture, with some absurdity but no joking around, and designed to deliver a whole bunch of great fight scenes done by real martial artists with lots of long takes, the camera always carefully composed and steady, moving in ways that always emphasize action and never obscure it. In other words it's the long-awaited new Isaac Florentine/Scott Adkins joint.
Adkins plays Casey Bowman, sensei of a ninjitsu dojo in Japan that he inherited from the father of his pregnant wife Namiko (Mika Hijii), sort of like young Seagal did his aikido school. Life is ninjasational until some motherfuck murders Casey's wife with an unusual barb wire inspired weapon. Since he's a ninja he follows a "no snitching" policy with the cops and then takes a guess at who might've done it (two guys that tried to rob him the other day), tracks them down and brutally ninjures them in a dark alley. (Actually he murders them, but I thought maybe I could coin a term there, so I went for it.) Then he takes up an offer from his ole friend Nakabara (Kane Kosugi, son of '80s ninja movie king Sho Kosugi, as well as child star of many of those movies himself) to come train at his dojo in Thailand and get his mind off things.
Instead of calming his mind, though, this sabbatical makes things worse because he finds out about a drug kingpin named Goro (Shun Sugata, ICHI THE KILLER) who split from their ninja clan and might have actually been the killer. So he sets out on a re-revenge mission.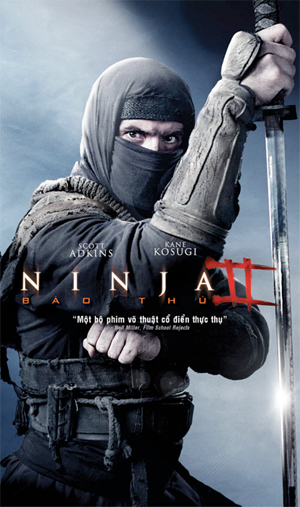 We get alot of the fundamental fight set ups: guys trying to rob him in an alley, bar brawl with drunk asshole and his gang of martial artist buddies, sparring that goes too far, jungle ambush, and my favorite, walking into a dojo and challenging everybody there. That's an old Bruce Lee classic. In this one he's not challenging their fighting style, he's just beating information out of them. He traces the muggers to this dojo based on a kick one of them used! The best part is that he stops to take off his shoes first. I think it's a nod to BILLY JACK, but what I love is that he's respectful enough to go barefoot but not worried enough to bother taking off his jacket.
Oh, here's a good one: he takes a knife from an attacker, takes a moment to note a symbol on its hilt. You know it's gonna somehow be relevant later. I love that old saw. It's as good as the one where he kills somebody and then pulls up their sleeve to see a tattoo that identifies them as part of some faction. That one's not in NINJA II, but it would've fit right in.
There are many fights, all of them exciting. He gets shot at, he uses grenades, he makes some DIY ninja devices that come in handy. There are some knife fights, alot of furniture gets destroyed, a couple unusual weapons make an appearance. He sneaks around, journeys, etc. He steals a bag of vintage ninja weapons and costume from a grave and uses them. That's hardcore, man. He goes on a trip and doesn't even bring his own ninja gear with him, he just figures he can grave rob what he needs.
Also he's forced to fight meth in one part, and then fight a bunch of guys. He does well. I don't think it's a drunken master type of situation, I think he's just so good that he goes into automatic fighting machine mode even when he's zonked out. As soon as the fight ends he turns wobbly again.
At one point he gets captured and tortured by a corrupt general played by Vithaya Pansringarm, the mad cop swordsman from ONLY GOD FORGIVES. He's not really a fighter in this one, though. A more involved duel is the one with fight choreographer Tim Man, playing Goro's #1 henchman (basically the role that Adkins played opposite Van Damme in Florentine's THE SHEPHERD: BORDER PATROL).
The box calls it NINJA II (with SHADOW OF A TEAR written real small under that), the movie itself calls it NINJA: SHADOW OF A TEAR, no numeral. I think NINJA II sounds better, but it makes some sense to play down that it's a part 2. There's no information that you need from part 1 to understand it, and I don't think anybody who saw it unaware would guess that it was a sequel. It does have one little bit for part 1 fans when a character makes reference to seeing Casey spar with fellow clan member Masazuka, apparently not knowing that the two later fought to the death. (Trivia for NINJA series newcomers: Casey was actually an orphan raised by the ninja clan, not just some white boy who came in and took over. That's why he speaks Japanese and knows all the weapons and everything.)
I highly recommend this movie to anybody who likes ninja movies, and I recommend that people who don't like ninja movies learn how to like ninja movies and then later maybe watch this one. However before I get you too hyped up let me say that when I tore open the blu-ray and put it on I had a good time but didn't fall instantly in love. I was laughing and getting excited but it wasn't a high like I got from a modern classic like THE RAID or TOM YUM GOONG or even UNDISPUTED III. I liked it but did I love it like I expected?
NINJA had certain qualities that I miss in the sequel, but I guess I'm a bigger fan of that than most people. It doesn't seem to be as popular among Florentinians as the UNDISPUTEDs, and both Florentine and Adkins have distanced themselves from it, saying it's too "comic booky." Because of that I'll forgive the lack of silliness like the oil company goons who are also robe-wearing cultists. But I think two things that make the first one special are:
1) A really solid villain with a legitimate, relatable point of view (he feels he was screwed over by the clan in favor of this gaijin) and
2) They were fighting over a box of old weapons! Not even magic ones. This shows that they're serious ninjas, that they take these clan traditions seriously. I love that the movie has the balls to use that as the motive. We just gotta respect that this box of old dusty shit is important to them, they don't try to tickle our balls with some bullshit about they gotta stop the bad guys from opening up another dimension and taking over the world or something.
The sequel has a few clever tricks up its sleeve, but mostly it's a standard sadistic criminal villain (with occasional poetic calligraphy interludes – theory of evil juxtaposition) and a staightforward revenge motive. And those are both classics, I dig 'em, they just lack some of the novelty of the first NINJA.
Also, I figured this going in, but it's kinda disappointing to see Namiko, who was involved in full-on fight sequences in the first one (including my favorite, the subway fight), just get killed at the beginning without getting to fight back. I know the excuse is that she's pregnant, but this is Isaac Florentine we're talking about here, I know he can do a good pregnant lady fighting a ninja attacker scene. Oh well, at least she got some genuine husband-wife sweetness in the scene where she's embarrassed about her weird pregnant lady food cravings. It's nice to have a little human foundation in a movie like this as long as it doesn't take up most of the screen time.
By the way, now might be as good a time as any to admit that it was a bad idea for me to always spell it NINJ* with the asterisk representing a throwing star. It seemed funny at the time but it made people have trouble searching for the review. And obviously I want people to have access to all the NINJA information available, I want complete NINJA transparency.
There are other ways that SHADOW OF A TEAR is a clear improvement. The most important one is Adkins, I think acting-wise he's way more badass. People who had a problem with Casey Bowman in part 1 will definitely feel better about him in part II. Also this one's better looking, shot on location mostly in Thailand, while the original looked artificial and cheesy in parts due to some soundstage and green screen stuff.
Anyway, I watched it a second time and I wondered what my earlier self's problem was. I was tired the first time and weighed down by the baggage of high expectations. And I'm no bellboy. The second time I still loved Casey's hunting and taunting of the muggers, but had more appreciation for the attack on the jungle fortress, the reveal of a secret room by having a character get thrown through a wall, and the interesting ninja politics that go down at the very end.
And that he chops the head off a fucking cobra! Nature's answer to the ninja.
I have a couple buddies who saw it at Fantastic Fest. One had watched most of Florentine's movies, the other hadn't even seen NINJA. Both raved about what was then called NINJA: SHADOW OF A TEAR. They told me some of the parts the crowd went crazy for, including the hall-of-fame-worthy line of badass dialogue spoiled in the trailer. It's just too bad, almost no one gets to see movies like this with a crowd anymore. Even when there's a Statham, Stallone or Schwarzenegger movie released theatrically I go see it and there's hardly anybody there. And actually if they were able to see this one it would probly be more of a crowdpleaser than some of those, but it gets ghettoized to our living rooms.
Oh well. One thing I've noticed about ninjas: you'll regret trying to fuck 'em over.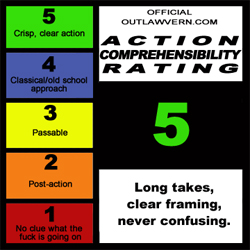 Fun NINJA II trivia:
* If you turn on the subtitles there's a part where they call him a "gaijin" but the subtitles say "kaiju."
* I'm still not sure what exactly "Shadow of a Tear" means. Something about how he's real sad or something.
* Can I illegally download movies like this? Sure I can. If I did that, what would I deserve in my eyeballs? Shuriken. Please support the production of independent badass movies by actually paying for them.
And that's my last review of 2013. Happy new year everybody.