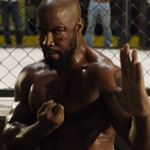 The world needs the NEVER BACK DOWN series. Why? Because we don't have a currently running NO RETREAT, NO SURRENDER series, or a BLOODSPORT series, or a BLOODFIST series. We will soon have more KICKBOXER, but that's not enough.
If I had to guess I'd say your average citizen on or off the street doesn't know what the fuck a NEVER BACK DOWN is, so I'm gonna explain it to everybody now. Part 1 was a slick theatrical release, a dumb movie with the admirably ridiculous premise of combining a teen romance type of story with an underground fighting tournament. They're supposed to be these legendary illegal pitfighters but also they go to the same high school. The hero was Tom Cruise lookalike Sean Faris (STASH HOUSE), the villain was Cam Gigandet (IN THE BLOOD), the mentor was Academy Award nominee Djimon Honsou (ELEPHANT WHITE). Afterwards they all went their separate ways: director Jeff Wadlow went on to do KICK-ASS 2, comic relief nerd Evan Peters went on to become Quicksilver in the X-MEN pictures, love interest Amber Heard went on to become Amber Heard. And that could've been the end of never backing down.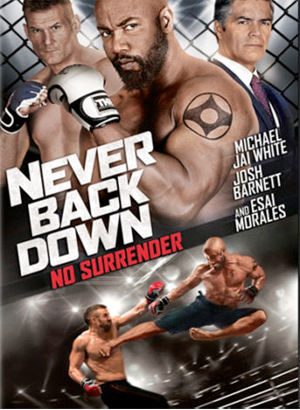 But the title was too good not to have a DTV sequel, right? Even before they added half of NO RETREAT, NO SURRENDER to the end of it. Peters was the sole returning character for part 2, now mastermind of a tournament called The Beatdown. Though not in high school, the new fighter characters are twentysomethings, this time played by real fighters and performing more impressive moves choreographed by Larnell Stovall (UNDISPUTED 3, UNIVERSAL SOLDIER: DAY OF RECKONING). It's an enjoyable MMA soap opera, but the indisputable* highlight is Michael Jai White – also making his directing debut – in a supporting role as the new mentor, a hardcase ex-con ex-pro named Case Walker, who takes no shit from the kids or the cops.
For NO SURRENDER, White returns as director and graduates to lead, continuing the story of Case returning to the cage. His career is floundering because of that old problem of being way too awesome, causing all the fights to be short and anti-climactic. He tries to let the matches go on longer but he's too honest to do it well (and still finds himself giving the loser compliments and tips after he destroys him). So he reluctantly takes a job traveling to Thailand to help his old friend Brody James (former UFC heavyweight champ Josh Barnett) train for a fight in a sketchy but well known league that allows steroids. Brody's opponent is "Psycho" Caesar Braga, played by Nathan "Perfect in every way!" Jones, doing an accent for his handful of lines. I love that. Nothing should get in the way of a good villain name like that, not even the limited acting skills of the Muay Thai Giant.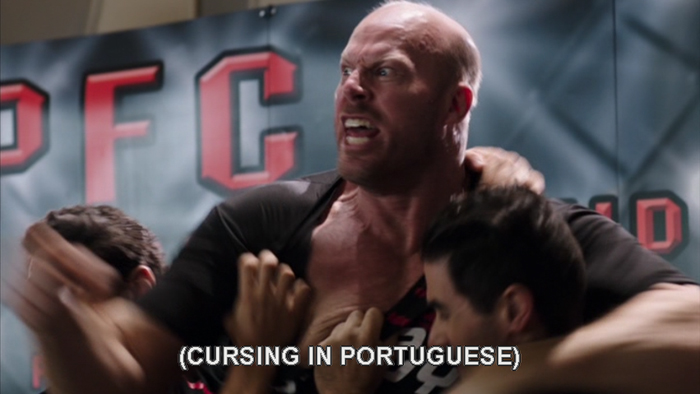 The whole job seems iffy from the beginning, not only in the usual movie way (boss man Hugo Vega [Esai Morales, THE PRINCIPAL] is an amoral sleazeball) but also more down to earth ways (he needs Brody to be disciplined but he keeps showing up late, partying with groupies and eating pizza). It's a good mix of action tropes and real fitness/athletic/martial arts philosophy, no doubt due to the story being co-written by White (screenplay by Chris Haughty, who has written the whole series so far as well as an upcoming DTV sequel to SNIPER). One example is the fight that keeps cutting to black and white flashbacks of Case practicing moves alone in the gym before showing him use the same moves on his opponent. And one of my favorite scenes is actually a pre-training montage. The people at the gym scoff as Case scours junkpiles and brings in scrap wood and beer bottles and things to set up his low tech training spot in the corner.
Stovall returns as fight choreographer as well as stunt coordinator and second unit director. Working in this heightened MMA style it's hard to push the envelope as I felt he did with the super-powered, furniture wrecking fights of UNIVERSAL SOLDIER: DAY OF RECKONING, but it's the sort of hard-hitting, cleanly shot fights that've come to be his trademark, and that's no small thing.
And you know what, so much of the action I watch now is starring guys like Seagal, or even Sammo Hung, who have to work around not being able to do what they once did. And I've made peace with that. But it is not the case yet with Michael Jai White. Let us glory in his abilities while we can.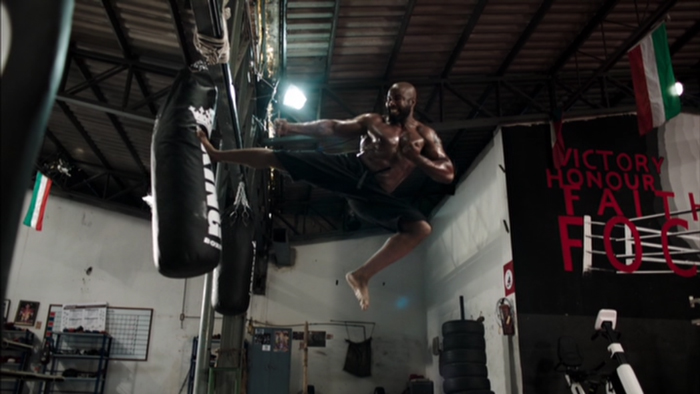 My apologies for this, but here's some Goldilocks shit for you. The weakness of part 2 is that the best character, Case, is not the lead. But the weakness of this one is that Case is not as mysterious as he was in part 2. Maybe part of it is how often he has to do a "What the fuck is going on?" look on his face. One of his main acting moves in this one.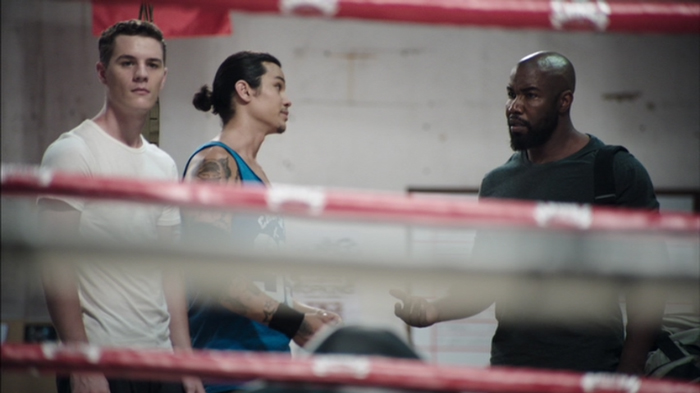 He's a little more adjust to human company, and has to talk way more than in the first movie. I think maybe Barnett could use less dialogue too. He doesn't get to be as natural and funny as when he stole ABSOLUTION from Seagal playing one of the bad guys, because delivering long sentences that don't come off of the top of his head is not his strong suit.
But these sins are forgivable. Case is still great in his slightly-less-prickly mode. The young fighters he trains are now a subplot instead of the stars, and as soon as he agrees to it he grumbles to himself on the subject of his damn mind re: being out of it. And they still make a big deal about him being simple and low tech. It's mentioned that he doesn't own a cell phone. (I'm sorry I sold out, Case.) And his students have to teach him how to dress cool.
There's an almost BLADE-like reveal of a trick he's had up his sleeve the whole movie, and at least for me the earlier scene that set it up also worked as misdirection so I thought something else weird was going on. Interestingly this trick is not a way to outsmart the villain, but to help his friend be healthy.
I thought I recognized the actor playing Matty Ramos, another trainer who butts heads with Case, as some veteran actor like Mark Singer or somebody. In fact it's Stephen Quadros, who made some Pride FC DVDs I watched really entertaining with his play-by-play. (During one boring match he asked Bas Rutten if he'd ever tickled anyone in a fight.) There's a subtle explanation for some of the tension between them, a quick shot of Case glancing a rebel flag tattoo on Matty's arm when they meet. So it's a hopeful message when they learn to work together.
I was also unaware that love interest Myca (Gillian White) was played by MJW's real life wife. That explains their chemistry.
There are two martial arts movie stars I love who have cameos. I won't say who they are, in case you haven't heard. One of them is just used for a corny joke that's given away in the trailer (though with a funny callback), but the other I actually thought was really cool, adding a weird little subplot within a few minutes of screen time.
Usually if a DTV movie has rap music in it it's nobody you ever heard of or will hear of again, so points to this one for having a new Onyx song for the end credits. It's cool because 1) it's the guy who played Blade in the TV show doing a song for the guy that everybody thought should've played Blade in the TV show and 2) "Never Back Down" is the opposite of "Bacdafucup."
And by the way, I don't really know if this means anything to anybody, but Brody seems to be into the band Goatwhore.
A ways into the movie there's a flashback to one of part 2's highlights, when Case is being framed by racist cops and he beats them up while still handcuffed. It seems like late in the game it must've occurred to somebody that that scene, which already felt cathartic at the time, has since become way more relevant to current events, so they made sure to remind us about it. I hope there's a part 4 and I hope Case gets to fight The Man some more, maybe in a BEST OF THE BEST 2 style digression from sports into guns and explosions.
But even relegated to the athletic world these are good stories. I'm sure many people assume this type of movie can't be for them, since they're not into MMA, yet some of the same people may have enjoyed movies about a boxing match, a football game, a dance competition or a karate kid. Fighting competitions, like murder investigations or court cases, can be good generic skeletons for entertainment because they're an easy set up for a number of entertaining elements. You get your inspirational drive to achieve (training montages, philosophical speeches, comebacks), your larger-than-life (both mentally a physically) heroes and villains, your grueling back-and-forth physical struggles, your intrigue, your betrayal, your egomaniacs getting their comeuppances, your failure and triumph, your codes of honor overcoming the corrupt or unethical, your bonding and alliances and fight brotherhood.
NEVER BACK DOWN: NO SURRENDER has all these things and more. I hope that they released it only on DVD and not Blu-Ray isn't a sign that these aren't doing well. They should never back down from making more.
*INDISPUTABLE would also be a good name for a martial arts series
This entry was posted on Monday, July 4th, 2016 at 10:51 am and is filed under
Action
,
Martial Arts
,
Reviews
. You can follow any responses to this entry through the
RSS 2.0
feed. You can skip to the end and leave a response. Pinging is currently not allowed.