There are some things too powerful, too uncontrollable, too dangerous to play around with. Ancient, vanquished forces brought back to life in a world they were never meant for, doomed to fulfill prophecies of disaster. In this case, I'm talking about the 85-year-old Universal Monsters franchise properties, resurrected once more using the fearsome occult invocation "SHARED UNIVERSE REBOOT."
Of course, most people don't see this summer's THE MUMMY as a remake of the 1932 film starring Boris Karloff in a fez, which is in my opinion the least memorable of the Universal Monster introductions. No, they see it as a remake of Stephen Sommers' frantic, rhythmless action-adventure version from 1999, and they're not really wrong. This one borrows the idea of a globetrotting adventurer hero, capable but fallible, who teams with a "funny" sidekick and a strong-willed female antiquities expert who he bickers with while exploring some tombs and accidentally unleashes an evil ancient Egyptian royal who has magic powers and a tragic backstory and at one point appears as a giant face in a sandstorm.
But it's a contemporary version, not only because it takes place in the present day, but because by its imagery and content you can tell it was made after the J-horror wave, and the zombie wave, and James Wan, and years of conflict in Iraq, and most notably THE AVENGERS. So the mummy is pursued not only by our hero Nick Morton (Tom Cruise, THE LAST SAMURAI), but by a secret monster-studying militia called Prodigium, led by Dr. Henry Jekyll (Russell Crowe, THE MAN WITH THE IRON FISTS).
If all goes as planned, these characters will connect to a BRIDE OF FRANKENSTEIN movie with Javier Bardem, Johnny Depp as The Invisible Man, and some other ones. I would like to suggest 12-year member of Britain's National Diving Squad and 1990 Commonwealth Games competitor Jason Statham as the Creature From the Black Lagoon.
Reworking the classic monsters in this fashion is a fun idea, in my opinion, but not in the opinion of the conventional wisdom, which has drawn a line in the sand next to the Marvel and DC movies and I guess FREDDY VS. JASON and ALIEN VS. PREDATOR and KING KONG VS. GODZILLA. Those all get grandfathered in, but across this line no more shared universes shall find purchase. It seems to me like many of the harsh reviews of THE MUMMY are more about rejecting a presumptuous movie franchise than about the qualities of this specific movie, but I guess that's not for me to worry about.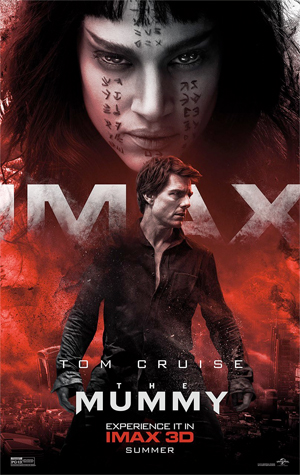 Another thing I've seen alot is "people just don't care about the Universal Monsters anymore." Well then I would like to thank Universal for catering to my non-people demographic.
So anyway this Nick is a tomb-raiding scoundrel who gets mixed up in mummies trying to pull a KELLY'S HEROES/THREE KINGS while on duty in Iraq. I don't see much of a political statement here, but there's an establishing shot of ancient statuary labelled "MESOPOTAMIA – THE CRADLE OF CIVILIZATION" that then adds "CURRENTLY KNOWN AS IRAQ" as machine gun fire blasts the artifacts, and I think that concisely expresses a sincere sadness about the current state of civilization.
Prodigium archaeologist Jenny Halsey (Annabelle Wallis, KING ARTHUR: LEGEND OF THE SWORD) hates Nick because he slept with her and then stole her map, but together they remove an Egyptian sarcophagus buried in Iraq beneath an extravagant ancient security system ("This is not a tomb, this is a prison"), then manage to survive a plane crash – she with a parachute, he with a curse because the mummy chose him to be her boy toy.
Yes, that's right, a girl can be a mummy! While I do like Arnold Vosloo, and he's probly the best thing about those Sommers movies, I much prefer this mummy portrayed by Sofia Boutella. Between this, her ass-kicking alien in STAR TREK BEYOND, and her razor-legged henchwoman in KINGSMAN: THE SECRET SERVICE, she's now the go-to exotic sexy weirdo character actress of the teens, with an Eva-Green-esque mixture of beauty and menace. In fact, Princess Ahmanet reminds me a little bit of Green's character from 300: RISE OF AN EMPIRE, a brutal antagonist who you kinda root for when you hear her backstory even though yes, she's going overboard, going around killing everybody and what not.
It started with her getting a raw deal: after training her whole young life to be a badass warrior queen, her dad had another kid, and since it was a boy she got cut in the line of succession. She fuckin earned it but she has no penis so the job goes to a baby. It's ridiculous.
Admittedly I cannot condone how she deals with this. She does a spell that gets her possessed by a demon or whatever, and that's her prerogative I suppose, but then she kills her dad, and her dad's wife I believe, and the baby, and her boyfriend in a botched ritual to make him the vessel for the Egyptian violence god Set. This is not healthy behavior in my opinion, or in the opinion of the priests who stop her, mummify her and imprison her.
But, uh, she's out on parole now.
I don't mean to single anyone out here, but I've talked to or read multiple people saying that this MUMMY "doesn't know what it wants to be." I'm always skeptical of this criticism because often it just means that it's trying to do a bunch of different things, which is not bad, it just doesn't work for you. Like, somebody could theoretically say that FROM DUSK TILL DAWN doesn't know whether it wants to be a bank robber movie or a vampire movie. They would be wrong. THE MUMMY "doesn't know if it wants to be" a monster movie or a Tom Cruise action movie, because being both is something we haven't seen before and is what is fun about this movie.
The scorned princess's desiccated corpse slinks around, sucking soul-juice out of people's faces like LIFEFORCE or HELLRAISER II or SPECIES, but her powers of seduction are more of an achievement than those ladies since she's got rotten stuff falling off of her. She commands a squad of weird zombies and summons swarms of spiders, birds, rats, etc., skulking in shadowy places like beneath a dock, in a moonlit forest, in a dark alley, more of a classic horror atmosphere than I expected.
But this is not a mummy movie that happens to have Tom Cruise playing one of the characters, it is a Tom Cruise movie, so he dedicated himself to very show-offy zero-gravity and underwater stunts. They gave away the plane crash thing in the trailers, but jesus christ you people, how did he do that scene really flying around weightless and everybody is just like "yawn." I thought that stuff was great.
I agree with the complaint that it lifts a little too heavily from AN AMERICAN WEREWOLF IN LONDON, with the conceit of the dead friend (Jake Johnson, REDBELT) who appears to him in mauled form trying to guide him through his curse. They also throw in a "suddenly he realizes he's naked and has to cover his cock" joke in the same scene as if to say "yes, you are correct, it's AMERICAN WEREWOLF." It's not a dealbreaker, but it's a little weird what a straight up lift it is.
I do not agree, though, with the more common complaint that the "shared universe" adds nothing or is distracting. There's nothing tagged on about it, this is just the angle the story takes, that the guy going after the mummy happens to hunt monsters because he's a guy who has to inject himself in order to not flip out. And if they do continue the series it could be cool. It means this mummy could come back as a supporting character or even ally in a different type of monster movie rather than the standard MUMMY RETURNS style rematch.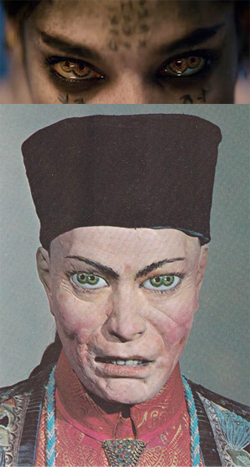 It makes sense to see the monster designs credited to Crash McCreery. A veteran of Stan Winston Studios, he did designs for THE ISLAND OF DR. MOREAU, the PIRATES OF THE CARIBBEAN movies, RANGO and many others. His mummy begins as a wobbly, spindly thing, running around on her hands like an ape. She's covered in layers of flaking bandages, her face marked with text, her eyes sometimes growing extra pupils and irises, which pleases me having grown up obsessed with the image of an allegedly double-eyed Chinese governor on a brochure I got from the Ripley's Believe It Or Not Museum in San Francisco.
Nick is not professional-impossible-doer Tom Cruise, he's the new model of kind-of-a-dumbass-self-deprecating Tom Cruise like in EDGE OF TOMORROW. So he's allowed to be a chump some of the time. As soon as he catches a telepathic glimpse of the princess in her pre-mummified state he has a boner for her. The Moonlighting thing he has going with Jenny cannot prevent him from having his mind on the mummy and the mummy on his mind. And he's too weak to realize that she's just trying to lure him in to cut him open and stuff him with Set.
You know that old saying, "if there's a part where Tom Cruise and Mr. Hyde are throwing each other against furniture, and there's a mummy chained up in the next room puking up mercury, then it's worth seeing?" Well, THE MUMMY passes that test. There is alot of cool stuff in this movie. He gets chased by a bunch of zombie crusaders underwater. From the looks of it, they had stuntmen in zombie makeup swimming for real. It's fun.
I don't think this is one of the great summer movies, or one of the great Tom Cruise movies. It's less satisfying than a MISSION: IMPOSSIBLE. But to me it's a far superior take on what they were doing in those Brendan Fraser movies, which I found substandard on all levels. These monsters are so much cooler, and unsurprisingly the FX are much better (Sommers seems to take the first draft for all his digital effects). The action is thrilling rather than obnoxious. The humor is much more my speed. (SPOILER DIALOGUE PARAPHRASE.) There's this part where the mummy is trying to seduce Nick into her point-of-view, trying to convince him that she's misunderstood, she's the good guy. And he's like, but you killed your boyfriend. And she says no, I was trying to make him live forever. And he says okay, but you killed your father. And she says I loved my father, I didn't want to do that to him but he took away what was mine, I had no choice. And he's like yeah, but you killed a baby. And she's like, uh… times were different.
Also it cracked me up any time Nick would be a little too friendly talking to a mummy. They're fighting and she says something that surprises him and he says, "Sorry, what?" Most people don't give mummies the courtesy of "sorry."
So let me have this one, you guys. I will take this one and THE SCORPION KING and the part with the yetis in the Jet Li one and some of the terra cotta warrior stuff. You can have the rest of that garbage. All of it. I don't want it. Keep it safe. You can borrow THE SCORPION KING sometimes if you want though because I feel it is underappreciated so you can help spread the word.
First time director Alex Kurtzman is sort of infamous as one half of the writing team of the TRANSFORMERS movies and COWBOYS & ALIENS and THE ISLAND and AMAZING SPIDER-MAN 2 (still haven't seen that one). But these guys started on Hercules and Xena, they did a good job on MISSION: IMPOSSIBLE III and at least the first STAR TREK. I think maybe something is a little bit off about his comic timing, but he does well with both daylight action and gloomy night time monstery business. He's working from a script by David Koepp (I COME IN PEACE, TOY SOLDIERS, JURASSIC PARK, MISSION: IMPOSSIBLE, STIR OF ECHOES), Christopher McQuarrie (THE USUAL SUSPECTS, JACK REACHER, MISSION: IMPOSSIBLE – ROGUE NATION) and Dylan Kussman, story by Jon Spaihts (PROMETHEUS, DOCTOR STRANGE), Kurtzman and Jenny Lumet (she wrote RACHEL GETTING MARRIED, is the daughter of Sydney Lumet, the granddaughter of Lena Horne, and an actress in TOUGHER THAN LEATHER. The most interesting woman in the world).
Hey, do you guys remember that before Universal decided "ah, just let that Sommers guy do it with Brendan Fraser or somebody, I really don't give a shit at all, I just want to go home," it was Clive Barker that was gonna do THE MUMMY? He wrote a script with Mick Garris that he kinda describes in this Fangoria interview and I think he's saying that his mummy (or hero?) was also a woman, but was born a boy, and it was kind of a twist. This article says it was about a museum run by a cultist trying to resurrect all the mummies they have. It also says that George Romero was attached for a time too, his with a script by Alan Ormsby (DERANGED, PORKY'S II, THE SUBSTITUTE) and John Sayles (PIRANHA, MEN OF WAR). And then Joe Dante was on it, with Daniel Day-Lewis to play the mummy! Shoulda gone for that one. Maybe he wouldn't be retiring because he woulda become friends with The Rock on the second one and they'd be doing an endless series of buddy movies together.
Also in the '90s, John Carpenter developed a remake of THE CREATURE FROM THE BLACK LAGOON with Rick Baker makeup. Later Guillermo Del Toro tried to do one, and he developed the monster for a FRANKENSTEIN he never got to make. And wasn't Mark Romanek gonna do THE WOLFMAN? I wonder what ever happened with that?
(Oh… that's right. I forgot about that.)
Some of these never-happeneds sound potentially more interesting than Kurtzman's movie, if they worked. But MUMMY: IMPOSSIBLE isn't exactly safe either, as proven by the tepid box office. I mean, what is there to say except it's two types of movies I like that I never expected to see combined? I can't tell you it's anything more than a pretty cool low-expectations afternoon viewing experience, but that's a hell of alot better than most mummy movies!
Cruise better wear a fez in the next one though. And Ronda Rousey should play the Scorpion King.