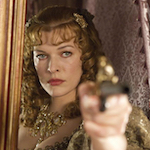 Well, I could've sworn it was a little more recent than this, but Paul World Series Anderson's THREE MUSKETEERS came out in 2011 – two RESIDENT EVIL chapters ago, plus a POMPEII and a MONSTER HUNTER. I don't remember if I just didn't get to it or if I was immune to the charms of the Andersonography at that moment in time, but whatever the reason, I fuckin blew it. I can imagine the warm feeling I would've had watching an early afternoon show in a huge, mostly empty theater at Pacific Place. And I bet the 3D would've been amazing.
But at home on 2D blu-ray ten years later was good too. Maybe I should be thankful I saved it for a time when this specific type of escapism is more precious. Like that 2001 movie THE MUSKETEER that I reviewed recently, it's loosely based on the Dumas novel and completely unembarrassed to pimp it out with modern cinematic trends and PWSA fixations, including but not limited to speed-ramping, acrobatic fight choreography and cool steam-punk weapons and vehicles. It takes the silliness much further than THE MUSKETEER, and has a much bigger budget – the climax involves two armed blimps engaged in a pirate ship battle in the sky – and I thought it was a whole lot of fun.
Correction: Wikipedia says this contains "clock-punk elements" rather than "steam-punk." I don't know what that is, but I'll go with it.
When it comes down to it there are two types of people in the world: people who scoff at a director like Guy Ritchie or Paul Weird Science Anderson taking a classic tale and crassly modernizing it with a bunch of silly bullshit, and people who love that type of thing. You pretty much know if you're gonna love this or not in the opening, when it introduces its Cool 2011Action Hero version of the Three Musketeers trying to steal Leonardo da Vinci's airship blueprints from a vault in Vienna. I believe it's Athos (Matthew Macfadyen, Sheriff of Nottingham in the Ridley Scott version of ROBIN HOOD) who emerges from the canal wearing some mix of medieval armor and proto-scuba gear, then pulls out what look like nunchakas for a second, but then they spring open into… something?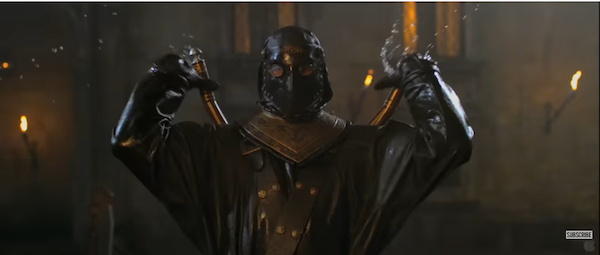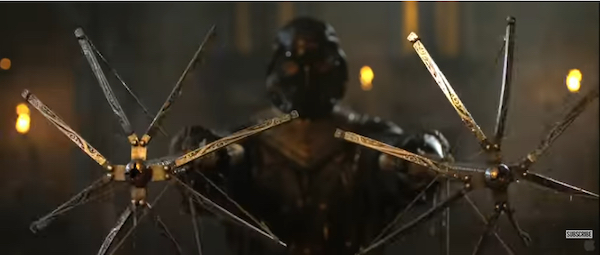 And then fire projectiles? Like a human action figure.
And then Aramis (Luke Evans, NO ONE LIVES) is a mysterious hooded figure (in priest disguise) sitting on a gargoyle overlooking the city like Batman before he jumps down and beats up a boatman whose passenger smiles at him so he stops to have public pre-caper boat sex with her. (Is that in the book?)
They meet up with big ol' lovable lug Porthos (Ray Stevenson in the same year he starred in KILL THE IRISHMAN and didn't get enough to do in THOR) and fancy-dressed Milady (Milla Jovovich, HE GOT GAME), who seems like she's been added to the team in this version to break up the sausage party, until (opening scene spoiler) she betrays them. But only after a lovingly shot and adorably ridiculous sequence where she sets off some booby traps – a long hallway lined with muskets that we see self-firing in cross-section – then smiles and runs through it anyway, expertly dodging and limbo sliding under the barrage that's fired at her.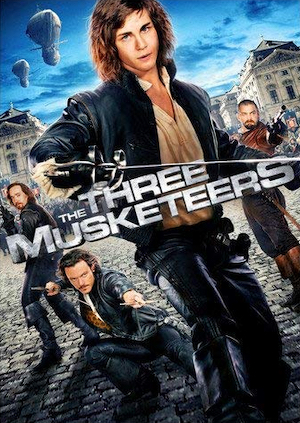 In this one Logan Lerman (3:10 TO YUMA, GAMER, NOAH, FURY) plays d'Artagnan. I always thought he looked like Michael Cera in a Halloween wig on the cover, and I have found most of his long string of lead performances to be unmemorable, but he's fine here, as the cocky young wannabe who comes to town to become a musketeer like his father, finds those three washed up has-beens, and inspires them to relive their glory as, like, elite sword guys or whatever. "Only a few men can prevent the coming apocalypse," according to the opening text, so we'll take however many musketeers we're offered.
Going into this thing without remembering who is in the cast is pretty amazing, because they just keep coming. Like I forgot Cardinal Richeliu was gonna be Christoph Waltz (ALITA: BATTLE ANGEL) – do you think at any point during his decades of acting in Austrian movies he ever thought, "I should try out for a Tarantino movie – maybe then I could move to Hollywood, win two Oscars and be an enemy to the Green Hornet, the Three Musketeers, Tarzan and James Bond"? If so, good call! It worked!
And you got Mads Mikkelsen (VALHALLA RISING) as Rochefort, James Corden (CATS) as Planchet (comic relief – he gets shit on by a bird and gets seasick and pukes and dumps out a bedpan on a guy and stuff like that), and smaller roles for Til Schweiger (LARA CROFT: TOMB RAIDER: THE CRADLE OF LIFE) and Dexter Fletcher (director of ROCKETMAN). Gabrielle Wilde (Sue Snell from the 2013 remake of CARRIE) plays the love interest for d'Artagnan and Freddie Fox (not the rapper Freddie Foxx, but the actor who was in VICTOR FRANKENSTEIN and KING ARTHUR: THE LEGEND OF THE SWORD) plays King Louis (not the orangutan from THE JUNGLE BOOK, but the human king), who's a pawn in a whole scheme involving fake love letters and Queen Anne (Juno Temple, MALEFICENT) and a diamond necklace and the future of England.
They go on daring missions, play clever tricks, swash buckles and musket teers left and right, and it's a jolly time, but a big part of the fun of the movie falls on Milla as Milady. I don't know if Paul Women's Studies Anderson is too close to see it objectively, having already been married to Jovovich for a few years by that point, but together I think they discovered her unique place in movies as a larger than life icon in a certain type of modern mid-budget FX-driven genre movies. Though she's proven herself capable of a certain amount of transformation, such as speaking a made-up alien language in THE FIFTH ELEMENT, in a way she's sort of like Arnold Schwarzenegger. You can take that red hair, those piercing model eyes and that accent, and you can put her into any fantastical role, and we will accept that she not only fits there, but that the whole world revolves around her. And these are video game/cartoon/fantasy worlds, where her size and delicate features do not mean weakness; her affinity for spinning and flipping allows her to fight anybody, or anything.
This is her gift to the world, shared primarily in the long-running RESIDENT EVIL series, but also ULTRAVIOLET and the new Paul Wii Sports Anderson joint MONSTER HUNTER. But THE THREE MUSKETEERS is important as the one that establishes how fun it can be to see her come in and be wicked to the good guys and have us kind of like her anyway. She repeated the trick as the Blood Queen in the non-Del-Toro HELLBOY (2019), which I think is more fun than you may have heard, in part because of her contributions.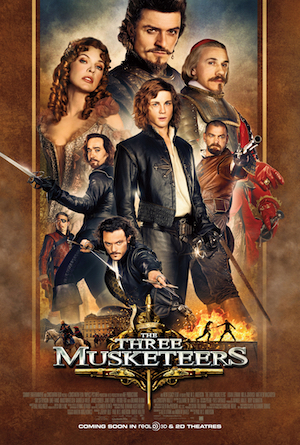 Jovovich can easily pull off the normal villainy of wearing giant frilly period dresses and manipulating things behind the scenes in conversations with the evil Cardinal and the comically arrogant, pompadoured Duke of Buckingham (Orlando Bloom between completing the first LORD OF THE RINGS and PIRATES trilogies and stopping by THE HOBBIT and DEAD MEN TELL NO TALES to make awkward small talk). But Anderson knows to also give her a ninja mission where she sneaks onto a rooftop and has a sword fight with slo-mo spinning wirework leaps and times firing a musket to the chime of a clock and tears off her dress to reveal equipment she uses to wire herself and dive from the roof and use the lock-picking equipment hidden in her hairclip for a break-in.
(Fight choreographer/stunt coordinator/second unit director: Nick Powell [THE BOURNE IDENTITY, RESIDENT EVIL: RETRIBUTION, director of the Nic Cage movies OUTCAST and PRIMAL].)
He also knows that she can betray the heroes and aid an evil conspiracy but if she implies she has some remorse and/or genuine feelings for Athos we'll forgive her and hope that she'll survive her plummet from great heights. Because she's Milla, and she was just being Milla.
As I mentioned in the THE MUSKETEER review I'm really not familiar with the Dumas story, so one thing that surprised me is how many little things that I assumed were just made up for THE MUSKETEER have variations in this version too. For example, d'Artagnan getting in a stranger's face demanding an apology for his horse, or a part where someone pulls an arrogant "Do you know who I am!?" on him and he asks if they know who he is. That probly means they come from the book, or from things that were added in older movie versions and became associated with the story, but I'd prefer to believe this one was mainly adapted from THE MUSKETEER.
The screenplay is credited to Alex Litvak (PREDATORS) and Andrew Davies (BRIDGET JONES'S DIARY). I wonder if Litvak just wrote a bunch of cool action shit and left it to Davies to British it up with royals and shit?
Ask yourself: do you feel lucky, clock-punk? Well you'll feel luckier if you watch THE THREE MUSKETEERS because aren't we lucky that we as clock-punks live in a world where we are provided with a clock-punk version of The Three Musketeers? Bless you, Paul Wyld Stallions Anderson.
This entry was posted on Monday, February 15th, 2021 at 10:54 am and is filed under
Action
,
Fantasy/Swords
,
Reviews
. You can follow any responses to this entry through the
RSS 2.0
feed. You can skip to the end and leave a response. Pinging is currently not allowed.