You probly don't need me to tell you that THE RAID is the new action movie phenomenon with a big buzz coming off multiple film festival conquests and a kickass trailer that made it a must-see for those of us into this type of shit. Here in the U.S. it's in a slowly widening release (we got it in Seattle this week) under the dumb title THE RAID: REDEMPTION. The subtitle has no relation to the movie, so in my opinion it's just called THE RAID. The THE REDEMPTION is silent.
THE RAID is from the team that debuted with a more traditional martial arts movie that I really dug, MERANTAU. It's the Indonesian star and choreographer Iko Uwais and Welsh director Gareth Evans. Uwais is a master of the Indonesian martial art Silat, but here he's playing a cop so he's also a master of shooting a whole bunch of people in the head.
The setup is simple: a SWAT team is raiding a building. The drug lord they want to kill is on the 30th floor. He has two badass security guys, a bunch of thugs with machetes and money to pay the other low level criminals living in the building to protect him. Uwais plays Rama, just one of the guys on the team. We only know he's the main guy because we saw him kissing goodbye to his pregnant wife at the beginning.
So it's a siege movie but from the point-of-view of the siegers. It's ASSAULT FROM PRECINCT 13.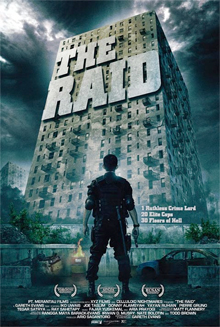 There's a meditative, quiet-before-the-storm opening that shows who our guy is, what the plan is, and how evil the motherfucker on the top floor is. Then the raid begins and it's almost TEXAS CHAIN SAW MASSACRE-like in its refusal to ever let up. There are some twists and reveals along the way, but nothing too complicated. If they're not storming a hallway popping melons or trying to break a guy's skull on a wall they're hiding somewhere that they could be killed at any moment. THE RAID's idea of a quiet moment is a scene where they're stuck in a crawlspace trying not to get stabbed by a machete. It's one of the most non-stop violent movies I can think of, but it had my attention the whole time, never seemed repetitive.
Evans keeps finding new ways to use the confined space of the building. There are many hallway battles but also fights in apartments and different hiding spaces, different security measures for the criminals, different ways to destroy walls or floors. They run out of ammo or (my favorite) encounter an enemy who prefers hand-to-hand, so there's all kinds of stabbing, punching, kicking, headslamming, choking, bonebreaking and other types of physical activities we all enjoy in cinema.
The battle at times seems hopeless, except that our man Rama is clearly not a quitter. This is the type of guy who's willing to tackle somebody out the window. He's not crazy, he's aware of the risk and the pain of falling several stories onto a fire escape, and also that he has to fight his way back up those fucking floors again. But he does it anyway. That's Rama.
It's shitty that I have to specify this, but the action is shot clearly. Not as surgically clean as something like HAYWIRE – there are alot of whip pans and dark scenes – but obviously carefully staged for maximum impact, and never confusing in that sadly familiar way of most modern movies. I should also note that the American release was re-scored by Mike Shinoda, known as some sort of "nu metal" guy I believe. But I like the score, it's a constantly building and exploding flow of beats and John Carpentery keyboard drones. If you're worried about some shitty electric guitars and squealing bullshit that doesn't come until the end credits.
I don't think you're supposed to say this, but in certain ways MERANTAU is a better movie. It's not as much guns, there's more emphasis on the martial arts, with more use of props and acrobatics in the fights, more jumping and climbing. The choreography and photography is clearer, because the locations vary and it's not always in close quarters like this, the camera can pull further back. There's probly ten times more screen time spent on characterization, which alot of people thought was going overboard, but it does make for more hatable and interesting villains. And it has a sweet message, it's about a rural kid finding his manhood by helping strangers in the big city, and about finding a use for traditional Indonesian ritual in a modern world. THE RAID is more nihilistic.
But there's something to be said for the blunt force impact of THE RAID. The concept is so simple, the pace so relentless, the intent to kick ass so unwavering. I mean it, I have never seen a crowd so genuinely into a movie before, including at film festivals, and this was just a regular showing on a Friday night at a multiplex downtown. There were young white nerds and excited black dudes and vocally enthusiastic girls and a dad-type who seemed to have brought his teen martial arts students as a field trip, and all of us were laughing, cheering, gasping, applauding, sometimes yelling to kill somebody. Not that "I came here to have a good time so I'm gonna yell!" type of obnoxious, more like a genuine "I can't hold it in" exhilaration. The guy next to me got so worked up he kept lunging and shadowboxing, no joke. It was a fuckin frenzy.
You know how with movies like, say, THE TERMINATOR and TERMINATOR 2, or maybe EL MARIACHI and DESPERADO, or MAD MAX and ROAD WARRIOR, or EVIL DEAD and EVIL DEAD 2, there's the first low budget movie and then they get more of a budget and make a more elaborate and polished sequel and you love the sequel but also there's something special about the rawness and simplicity of the first one? Somehow they've done that in the reverse here, scaling down from MERANTAU in budget, scope, narrative complexity and length. Unbloating. They couldn't get enough money raised for this movie called BERENDAL so they thought of the more scaled down one-location concept and made a lower budget movie instead. (BERENDAL will now become THE RAID 2.)
MERANTAU follows a classic martial arts movie tradition of having a nice hero who's reluctant to fight. In THE RAID our hero is the nicest one (he wants to help a resident get medicine to his wife) but he's still a vicious fucker and part of a vicious mission. When the SWAT team sneaks up on the first watchman in the building they don't put a hand over his mouth or a bag over his head, they strangle him with a wire. Most people they encounter in the building they put down like zombies. They don't want anybody getting back up. In the situations where they just tie people up they sometimes come to regret it.
There's even a part where one of them shoots at a kid to try to stop him from warning the others. The kid is going for the intercom and the bullet is flying at him in slow motion. The movie knows that this is bad but the cinematic language tells you otherwise… it tries to trick you into hoping the bullet hits the kid before his hand hits the button.
After seeing this it's funny that people thought ELITE SQUAD was fascist. I hope this is not considered proper police procedure in Jakarta. They treat it more like the raid on bin Laden's compound than a police raid. But it's so shockingly over-the-line and ferocious from the beginning that it's darkly humorous. They throw the moral high ground out the window before they even get in the front door.
Iko Uwais is very reminiscent of Tony Jaa in that he's a boyish, friendly-seeming leading man with the constant potential to fly across a room and break a guy's head on his knee or elbow. He's fantastic, but he's matched by his supporting cast, especially his collaborator Yayan Ruhian (you remember him from the elevator fight if you saw MERANTAU) as one of the druglord's two top henchmen. In the tradition of HARD BOILED he's known as "Mad Dog," and he's a uniquely great villain, shorter than everybody else, but more arrogant and vicious. While we never get an explanation of how or why our hero Rama is so badass (just a brief morning punching bag session to establish his skills), Mad Dog gets a "Just How Badass Is He?" briefing before the raid begins, with the captain poetically describing him as a "shower of fists" or something like that.
My favorite badass moment in a movie full of them actually belongs not to Rama, but to Mad Dog. Rama comes in on Mad Dog, who has another formidable fighter named Andi (Doni Alamsyah) strung up on chains and is torturing him. Mad Dog's reaction is not what I expected: it's to lower Andi, let Rama unchain him, then gesture for them to spread apart so he can stand between them and fight. It's great because villains are so often shown as cowards or dirty fighters, and usually the hero has to be outnumbered because that's how you challenge him. It's a great novelty for the villain to get the cocky Bruce Lee moment and earn the audience's admiration by challenging two people at once.
And Mad Dog (or "that little motherfucker CRAZY!" as the guy next to me named him) is up to the challenge. It's such a brutal, exhausting fight that when it was over there was sustained applause from my crowd. And it's not even one of those villains that's so gleefully evil you want to see him get it, it was more like he was just so tough that it was a well earned victory even thought it took two guys to do it. In fact, I feel like part of the applause was for Mad Dog for lasting so long. Congratulations to all three fighters.
Some people have asked me what I thought about Roger Ebert's one star review and followup post. Ebert saw the movie as being about nothing more than violence, and not in a good way. Some of us will get stuck on the part where he compares us enjoying the movie to cats and dogs watching TV,  or on a couple of nonsensical side points that he makes. I'm not sure why he thinks it's so crucial for an Indonesian movie to point out that it's taking place in Indonesia (also, I think they did mention Jakarta) or especially why he says "Establishing Rama as a Muslim seems pointless, except as a cheap fakeout in character development." Would it seem "pointless" for Jackie Chan to have Buddhist artifacts in his home, or early Seagal to have a crucifix on his wall? Of course not.
But forget all that, the important part of Mr. Ebert's review is "I have no prejudice against violence when I find it in a well-made film. But this film is almost brutally cynical in its approach." I think that's legit. Where I disagree with him is that I think it's "a well-made film." He's right that it leans heavier on the action and brutality than almost all movies and lighter on the everything else than most would believe possible. If you weren't on this movie's wavelength it would be torturous to watch. (And if he'd seen it with the crowd I did he would've given it zero stars and wasted most of the review lamenting society's barbaric thirst for blood.)
The reason I bring this up though is to point you to the production blog that Evans made. It's funny because how he describes the movie before filming debunks the idea that he had a "brutally cynical" approach, because he actually thought he was focusing on the very things Ebert thought he was intentionally not focusing on:
"Often I sit to watch a movie and I find myself amazed and in awe on the first viewing, but then when it comes to the 2nd and 3rd time round I'm skipping forward only to see the fight sequences. What I hoped to achieve with Merantau and what I hope to continue with The Raid is to make a film that would work just as well as a drama as it would an action film. Although in all honesty, The Raid is going to be one breezy drama, with our action kicking in around the 15mins mark and barely letting up until the final shot.

When you see a film like Ip Man or Flashpoint what makes the fight sequences so thrilling is not purely the choreography on display but the fact that we as an audience have invested a certain amount of time in the characters and that the fight sequences genuinely count for something. They're not filler, they have a sense of worth and purpose. That's what I hope to do with this movie, spend enough time fleshing out the characters and storylines so that when the action comes it's got a certain weight behind it, with more at stake than just how cool the fight looks."
I'm not sure if I got that out of my first viewing. But I got a hell of a viewing. I suspect we'll be talking about this as one of the classics in a few years. If not at least we had this beautiful season to enjoy it. I call it SPRING 2012: REDEMPTION.