I never got into Brian D. Palma's THE FURY so much, but since you guys mentioned it during my SCANNERSathon I decided to give it another shot. Sure enough it's a pretty good one with some solid DePalma slo-mo suspense sequences and some crazy shit here and there for flavoring. As you can see to your left, Kirk Douglas has a shootout in his swim trunks. He looks so manly and yet also like your dad embarrassing you on a vacation. Or like a middle school wrestling coach that makes everybody uncomfortable 'cause his balls hang out of his shorts.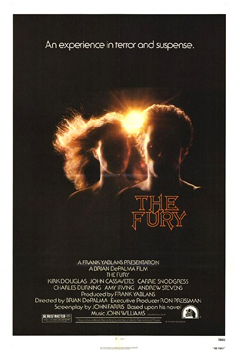 I think my problem last time was I wanted it to be more like CARRIE. It's weird because both have Amy Irving but in this one she's the one with the telekinesis. Or one of the ones. But it's not very similar to CARRIE at all. Kirk Douglas plays some kind of secret agent who gets ambushed overseas, left for dead and his treacherous buddy John Cassavetes takes his telekinetically gifted teenage son Robin (Andrew Stevens). Years later Robin is living in a mansion having his powers honed by scientists and banging the gal who's in charge. And his dad is still looking for him, following leads and psychic tips. He finds out about the girl and convinces a nurse (Carrie Snodgress) at the government-run school she's at to get information from her and then bust her out.
But most of the story is told from the girl's point of view. The way De Palma illustrates her powers is really cool. In one scene she's walking with her friend and doesn't know about the weird guy following them, but in the middle of their conversation she says his name. It just pops into her head. And as he often does De Palma invented a new use of the filmatic language to show us her visions. She'll be standing in a room watching something that happened in the past and suddenly it'll cut to a shot that matches exactly but it's the present day so the lighting is different and different people are there or not there.
One of the real suspenseful parts is when she's watching a conversation from the past that seems real close to revealing where Robin was taken, but meanwhile in the present day somebody's trying to get her attention. You don't know if it's gonna distract her and ruin everything. (or cause her to shoot a guy out of a window like when the guy gets tapped on the shoulder in SCANNERS 3).
The movie starts weirdly off-balance, with a goofy shot of Douglas and son in swimsuits laughing and wrestling. Then the whole shootout and everything has kind of a TV movie quality more than your usual slick and cinematic De Palma. I actually wondered if it was gonna turn out to be a movie-within-a-movie type opening. Then there's two chunks of out of place broad humor, first when Douglas breaks into an apartment occupied by some bickering old folks (and one that doesn't mind helping tie the others up), then when he gets driven around by two bumbling cops (one of them Dennis Franz). But once you get past that it's a solid and unique thriller.
You do get to see Kirk Douglas being a funny weirdo. He has to flee his apartment in his boxers and does a parkour move jumping and swinging to the apartment across the way. Also he has a moment of maniacal glee where he brags about taking off Cassavetes's arm: "I killed it… WITH A MACHINE GUN!" Douglas is pretty conservative if I remember right, so it was probly revenge for Cassavetes punching Reagan in THE KILLERS.
The irony here is that everybody's trying so hard to get this kid back, but little do they know he's turned into a total douchebag prick since they last saw him. If Cassavetes wanted to get Douglas off his trail he should've just offered to let him have lunch with his kid one time. Half an hour with this asshole and I guarantee you dad would give up any interest in rescuing him. He'd finally get to the moving on with his life stage.
This kid is always whining and pouting and jealously accusing his old lady of fucking every guy he ever sees her standing near. His immature lover's quarrel causes a serious disaster on a carnival ride. When he makes his stand he really is like a scanner, complete with glowing eyes and bulging forehead vein.
When De Palma's at his best his movies work like stone henge or something. Everything's put together and carefully adjusted to line up with the stars and work exactly right. This is not one of those, it's kind of a mess. But a good attempt for beginning druids. It's not on the top of my De Palma list, but not on the bottom either. Actually, technically it's scribbled in on the right side but later on I will redo the list and put it in with real nice handwriting and everything, in my opinion.