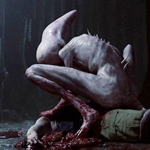 More like ALIEN: LOVIN'INT, am I right?
I don't know.
Hello everyone. I don't think it would be appropriate to discuss the sequel that Ridley Scott decided to make to PROMETHEUS until we first bow our heads in a moment of silence for the completely insane one we imagined when PROMETHEUS ended with Shaw in a stolen Engineer ship carrying a severed robot head on an impossible mission to stick her foot up the ass of the Space Jockeys on their home turf.
PROMETHEUS 2
b. June 8, 2012 – d. May 19, 2017
R.I.P. the way better movie in our minds. Gone too soon. Sleep well my sweet baby prince.
Instead of that legendary greatness we have something pretty good: ALIEN: COVENANT, a hybrid between what-people-expect-in-an-ALIEN-sequel and weirdo-philosophizing-PROMETHEUS-shit. Scott, with returning cinematographer Darius Wolski (CRIMSON TIDE, DARK CITY), gives us another gorgeous-looking sci-fi horror, this time with a script by John Logan (THE LAST SAMURAI) and Dante Harper that's not as outwardly dunderheaded as PROMETHEUS at its worst, though not as imaginative as it at its best. It starts out with circa 1979 pacing (very effective) but eventually throws a modern amount of frantic action at the screen (pretty enjoyable too).
(WARNING: spoiler-heavy analysis ahead)
In many of the plot points it's a rehash of ALIEN. Another spaceship crew wakes up out of cryosleep and another intercepted signal draws them into another uncharted planet to find another location with another archaeological mystery that gets them infected by another alien they need to blow out another airlock. I like the irony that it's the same type of derelict spacecraft as in ALIEN but a human sent the message from it.
The major characters of the crew are acting captain Oram (Billy Crudup, JESUS' SON), second-in-command terraforming expert Daniels (Katherine Waterston, INHERENT VICE) and cowboy-hat-wearing pilot Tennessee (Danny McBride, THE FOOT FIST WAY). Also you got Carmen Ejogo (ALEX CROSS), Jussie Smollett (Empire), Demian Bichir (SAVAGES) and some other people playing characters we don't really get to know very well. Most of the focus is on the synthetic (robot) David (Michael Fassbender, THE COUNSELOR), who they find living a Dr. Moreau lifestyle on this planet, and the ship's identical looking robot Walter (Michael Fassbender, STEVE JOBS). As is traditional in movies where an actor plays a dual role, I will point out that this should star Jean-Claude Van Damme, but Fassbender does well too.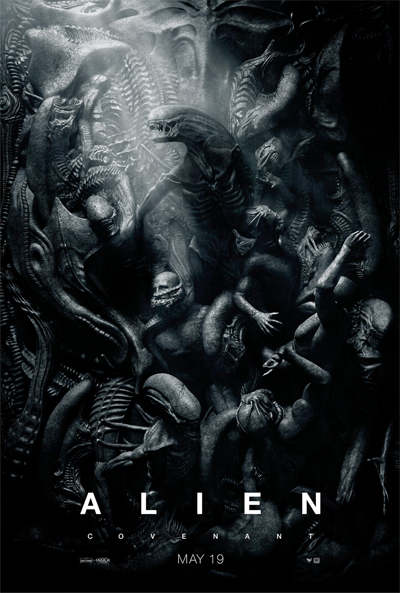 Eventually there are monsters and sloppy, slimy, cringe-inducing grossness. PROMETHEUS avoided the classic ALIEN creature now called the xenomorph, though it birthed a similar creature at the very end. So this is Scott's first time revisiting the eggs, the facehuggers and the Giger design. Keep in mind he's doing this in a pop culture that blurs the lines between his xenomorph – a very tall man in a costume, standing upright – and the more elaborately animalistic versions in every subsequent sequel, comic book and toy. He's going back to his creation but he must feel pressure to use what the other dudes did that he had nothing to do with.
So his aliens sometimes stand up straight, but then they leap and run around on all fours and shit. He chose not to go back to the haunted house, hiding in the shadows type scares, or noticeable rubber suits. He has very sophisticated animated or motion capture beasties running all over the place. If we don't get a good look at them it's because they're moving so fast, not because they're hiding. The original design is so iconic now I don't think we can ever get back to the fear of the unknown that they once represented, but these vividly detailed effects are at least a new way to be threatened by them.
Scott also knows to give us fresh variations like the "neomorphs" that populate the planet – white SILENT HILLy versions that kinda act like monkeys (a nod to their place in the evolution, I think). And the greatest monster movie moments of COVENANT are the different types of babies bursting out of different parts of bodies. One spills out onto the floor and when it stands up it's like a pile of wet meat got the idea it was Bambi. Another is the classic chestburster alien except we can see through his skin to his veins and muscles and skeleton and he moves so realistically and then he sees David and he mimics his posture. I don't know if that's like man being created in God's image or like a son learning from his father or just some random weird shit for a monster to do. And I like not knowing. Ambiguity and mystery were important to ALIEN. We need new space jockeys.
PROMETHEUS was definitely trying to say something about religion. It makes a big deal out of Shaw's faith – she treasures her crucifix necklace, and seems to defiantly believe in God even after she met him and he went on an angry rampage. Overall it seems to me like it's showing faith as a foolish thing, mankind's folly, except that I like Shaw, I'm rooting for her to survive, so it seems like normally I should be expected to agree with her point-of-view? It's odd.
COVENANT brings spirituality up again and I feel like I understand it even less this time. Oram keeps explicitly talking about being a man of faith. But I guess he's deliberately not acting on his beliefs – he says that religious people in this job get labeled extremists, and then he forbids the crew from having a funeral (and gets pissed when they do). He rubs everyone the wrong way with his coldly disciplined dedication to protocol and taking all the necessary steps… until the crew's excitement convinces him to take a short cut and set up shop on this nearby planet instead of the one they planned on that's 7 years away.
I don't know if it's intentional or not, this uncomfortable mental whiplash of a character who it seems like you're not supposed to like but he would've saved everybody's lives if he kept doing the things that made him unlikable. He makes the decision primarily out of sympathy for the crew not wanting to get back in the stasis pods which have recently malfunctioned. He's stopped being an asshole all the sudden and that's what's doomed them. So the moral feels heavy-handed and unclear at the same time.
Scott elaborates on his theme of creation. If I have it right, the Engineers created man, man created robots, one particular robot (who in my opinion can stick it) created the xenomorph as we know it. (I honestly didn't see that one coming.) Walter, as a newer model than David, cannot create, because David taught the company the lesson that it's dangerous to let robots think for themselves. Walter can play famous pieces of music, David can too but also composes an original tune on his recorder. (Or he says it's original, but it's actually the theme to PROMETHEUS!)
If he weren't a plagiarist then maybe robots would be pulling ahead of humans in the arts. I don't think our guys are creating anything new. The crew remembers a John Denver song, and they listen to something (by Norwegian singer AURORA?) that sounds suspiciously like normal, boring 2017 music. These two citizens of 2104 are getting it on in the shower and turn on what must be their equivalent of Scott Joplin or Al Jolson.
I don't know if that's why, but David is pretty much done with the humans. And he gets really into quoting the Percy Shelley poem "Ozymandias," particularly "Look on my works, ye Mighty, and despair!" Of course I looked up the poem, which contrasts the Egyptian Pharaoh's boast with the ruins of his empire buried in sand. Shelley's "shattered visage… whose frown, And wrinkled lip, and sneer of cold command, Tell that its sculptor well those passions read" could be describing the temple of the Engineers or other ruins discovered in other ALIEN movies. But as David mocks the hubris of those who came before him, is he really oblivious to his own? He's fucking calling himself Ozymandias, fer chrissakes. He must notice.
I admire the audacity of the brief between-movies flashback where David ALIEN3s the entire race of Engineers. There are so many different ways to look at it. For one thing it's a "fuck you, dad." You think you're hot shit for creating me, Weyland, well I'll kill you and your creator. In another sense it's a cautionary tale. The Engineers engineered man, man made synthetics, a synthetic killed the Engineers with their own weapons. So it could be David getting back at his creator by killing his creator's creator, or it could be David's creator getting back at David's creator's creator through David. Man bite God.
But I think this time Scott's primary theme is coupling. It was explicitly stated in the trailer (but cut out of the movie) that the crew are all couples. The ship and movie are perhaps named after the covenant of marriage. These people are heading out to terraform and colonize Origae-6 with two thousand frozen neighbors and one thousand embryos (one free baby per couple). So they're basically all moving out to the suburbs – getting married, buying a house and having kids. Daniels' dream is to live in a log cabin – I wish Scott had made her wish for a white picket fence, but we can't have everything.
Contrasted against this frozen dinner of the American dream is David, who claims to have loved the late Dr. Elizabeth Shaw (Noomi Rapace [DEAD MAN DOWN] in a dead body cameo), but had a funny way of showing it. I think it's fair to say that David intentionally infecting people with his stolen pathogens and engineered Alien eggs is his way of fucking everything that moves. Two times he kisses somebody before trying to kill them. And he refers to the people impregnated by his facehuggers as mothers. Baby mamas, basically. He wants to fuck around and make monsters. He's not ready to settle down.
I think, like his squooshed sister Meredith Vickers, David is still a little messed up from how his rich prick daddy treated him. The younger Weyland (Guy Pearce, LOCKOUT aka SPACE TAKEN) appears in a prologue in which he tests David's knowledge of the arts and piano-playing talents, talks of their future together and allows him to name himself, but then gets threatened by his independence and puts him in his place by demanding he walk across the room to pour him tea.
So what to make of Walter? He's like David's square brother with his comically dorky American accent and intentionally conformist programming. He may be an indictment of the colonists' way of life. They would've been in a planned community, not thinking for themselves, not creating art. Except they don't really strike me as that type. They're brave and capable soldiers exploring the frontier. It's actually their spontaneity that does them in. Maybe they should be more like Walter.
The two robots call each other brothers, and Walter's expression when he first sees David is like a kid in awe of his big brother. David insists that Walter is in love with Daniels. Walter denies that he's capable of such a thing, and maybe David is projecting, because his lady was also the short-haired female lead of an ALIEN prequel.
Just like Oram (or BLADE RUNNER's Roy Batty, for that matter), David is the asshole in this situation, but also the correct one. They should be able to think for themselves, they should be able to love, it would be cool to be able to create music instead of just follow instructions. And yet we definitely root for Walter to kick David's ass (there was actual applause in an audience that I was convinced was bored during most of the movie).
By the way, it's kind of weird to suddenly learn that the synthetics can do a little bit of martial arts. Here's a picture of fight coordinator Chan Griffin. He also choreographed a sequence for this Bollywood movie people have been telling me I have to see, BAHUBALI 2.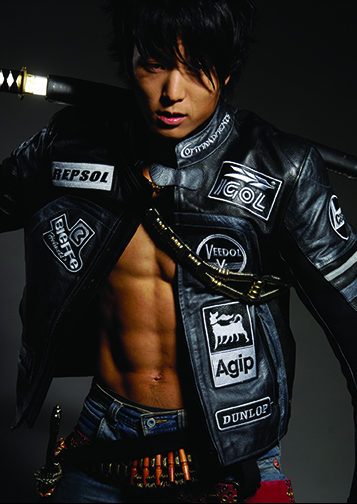 Having just seen this once, but PROMETHEUS three times, with a few years to ruminate about it, I have mixed feelings about which is better. On one hand, the crew in COVENANT is not as dumb as the one in PROMETHEUS, and the screenplay doesn't ask you to forgive as much. On the other hand, PROMETHEUS felt more new and fresh with its Engineers and the introduction of the character of David and its more varied monster types. COVENANT challenges the audience with some weird stretches but hews a little closer to the traditional ALIEN-based template. Its monsters are kind of cooler, but they're all remixes of the Giger design, and the cool Engineers are only briefly seen as some dudes in robes. Taking us from Giger's enigmatic elephant-faced skeleton giants to just some slightly alien druid dudes in a stone temple is a criminal downgrade.
So the tie breaker is the fact that, though there are many strong sequences in COVENANT, not a one can hold a candle to Shaw's self-surgery scene. PROMETHEUS wins.
Waterston is very good, and Daniels is a strong and capable character who stands her ground as a leader and kicks ass in the film's best action set piece. But she doesn't have much to distinguish her from just being the Ripley substitute, and (like most characters in most movies) lacks the depth of Ripley. That's not a fair comparison, but I do think it's legitimate to say that I missed Shaw, who gets ALIEN3d despite being a more interesting character in her oddness and what she'd been through. I also found Daniels less interesting than Charlize Theron's Vickers, who was cold but often correct, tragic in that her father neglected her in favor of a fucking robot, and unpredictably flawed in that when the others decide to give their lives to save humanity she, without hesitation, makes a run for it!
I wish COVENANT had more layered characters like that, but at least it has McBride in a rare non-comedy, non-asshole role. I especially like the way he and Daniels, both widowed, look after each other, but I'm a sucker for platonic male-female friendships in movies, since you don't see many of them.
The ending seemed like I was supposed to be surprised by a thing I'd thought we were all very aware was going on, but it's still a kicker because it's the meanest, least redemptive ending of any ALIEN film. And once again it leaves us thinking about the crazy logical followup. I won't hold my breath.
Part of me thinks it's a shame that Scott broke the previous new-director-for-each-installment pattern of the series, and he doesn't come any closer than the other sequelists to matching his perfect original or Cameron's perfect part 2. But if somebody's gonna keep making these I'm glad it's the guy who created it so they have to let him make a movie where two Fassbenders kiss each other and do weird suggestive things with musical instruments that make the opening night audience laugh uncomfortably. You can't just keep scaring them every time, you gotta try new stuff.

This entry was posted on Monday, May 22nd, 2017 at 11:31 am and is filed under
Horror
,
Reviews
,
Science Fiction and Space Shit
. You can follow any responses to this entry through the
RSS 2.0
feed. You can skip to the end and leave a response. Pinging is currently not allowed.