THIS IS A FREE RANGE SPOILER REVIEW. THE SPOILERS ARE NOT KEPT IN CAGES. THEY JUST RUN ALL OVER THE PLACE, INCLUDING THE FIRST COUPLE SENTENCES. SEE THE MOVIE FIRST.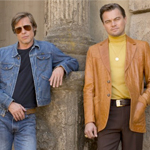 ONCE UPON A TIME… IN HOLLYWOOD is an odd and beautiful movie from… Quentin Tarantino. It's undeniably one that only he could or would make – it's even in his now-trademark 'wish-fulfilling rewrite of a historical atrocity' mode – but it's different. It's not as mean and angry as the last three, or as carefully plotted as any of them. It's sort of a hang out movie, a day-in-the-life of two friends, and a gentle tale of surviving a mid-life crisis, wrapped in a love letter to Los Angeles of the late '60s, and to the then-fading leading men of the '50s, with a chaser of gruesome violence. The fun kind, though. The cathartic kind.
Throughout his career, Tarantino has shown his affinity for cool shit like spaghetti westerns, blaxploitation movies, kung fu and crime novels. Here's where he says "Fuck it, I also like old cowboy shows and procedurals and stuff." When the guy who makes film exhibition and criticism a major element of his WWII epic does one that's actually about the Hollywood film industry, obviously he's gonna go buck wild. The amount of detail he puts into the fictional career of TV star Rick Dalton (Leonardo DiCaprio, two episodes of The New Lassie) – to the point of needing a narrator to talk us through each entry from his Rome period – reaches the level of sci-fi world building. And of course Tarantino, being Tarantino, gives us a soundtrack that drips the sixties without one whiff of Creedence, Dylan, the Doors or Hendrix. Admittedly "Mrs. Robinson" is in there somewhere, but he leans more Deep Purple, Vanilla Fudge and Paul Revere & the Raiders. One of the few I knew was the Neil Diamond song.
(It makes for a great soundtrack album, by the way. I like how many of these bands had organ players! Turns out even Bob Seger sounded pretty groovy back then!? I think it's Tarantino's first without dialogue clips – instead he uses vintage DJ intros and promos for Mug Root Beer and tanning butter and stuff, and that really makes it into a transporting experience. 33 god damn tracks and it's not even everything in the movie.)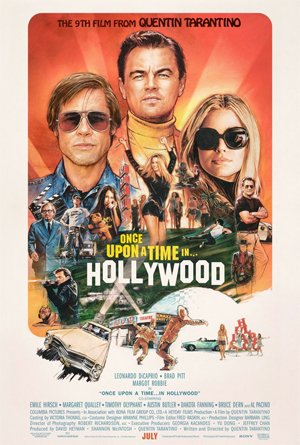 Surprisingly so far it seems like most people interested in this have the patience for it. There goes my dream of Tarantino starting a chain of old timey drive-in theaters to screen a crudely shortened version under the title LAST HOUSE ON THE RIGHT. I guess it's for the best. His movies always take their time, but this one really luxuriates. It never stops to stare, but it's always strolling through this world of fashion, architectural and graphic style that's so appealing now – garish movie billboards and marquees of both historic and fictional creations. I really think part of Tarantino's reason to make this, and for us to watch it, is to build this vivid simulation of Hollywood in 1969 and then just let us hang out in it. There's so much driving past resurrected landmarks (reportedly done with minimal CGI), sitting in period-appropriate home furnishings at night having a drink and listening to records, having a long day on a film set.
I love the scene where an elated Sharon Tate (Margot Robbie, one episode of City Homicide) comes out of the movie theater where she's been watching an audience react to her performance in THE WRECKING CREW just as the sun is starting to come down, and then there's a montage of various neon signs turning on. It's so beautifully evocative of the feeling of a day coming to an end, the cocktail hour beginning, and a love and nostalgia for the places that make up Los Angeles and give it its personality. The scene is set to a great Jose Feliciano cover of "California Dreamin'," a song normally about wishing you were in California, which is what I was doing while watching that scene. In the movie maybe it means something else, maybe something about these characters and their aspirations that in real life went unfulfilled?
[CORRECTION: Seeing it the second time I realized I was conflating two scenes there – the lights coming on is a later montage set to "Out of Time" by the Rolling Stones.]
Two of the many things we know about Tarantino:
1. He has thought hard about every detail
2. He always has cool opening credits
I love it in old movies when they show the actors as their names appear on screen, like a TV show introduction. Tarantino takes that to the next level by meaningfully mismatching the two leads. We see Rick and his stuntman/assistant Cliff Booth (Brad Pitt, 4 episodes of Dallas) from behind in a car. DiCaprio's name is on the left, because he's the lead, but it's over Cliff's head, because he does the driving. Beautiful.
We get used to Rick as this comically insecure goofball and then see him on the job transforming into other characters. In a weird way it reminded me of MULLHOLLAND DR., a movie I haven't seen since it came out, but always remember for the scene where Naomi Watts's seemingly vanilla character turns soulful for an emotional acting audition. A performance within a performance. Seeing Rick as an obnoxious villain on Lancer I realized oh yeah, that's DiCaprio playing Rick. So he can act.
Like FROM DUSK TILL DAWN, KILL BILL and GRINDHOUSE, ONCE UPON A TIME has this sort of anthology/double feature/movies-within-movies format. When Rick goes to work filming his guest spot there's a long stretch where we just get involved in watching part of a western, as if we turned to it on TV in the middle and will watch for a while. And when we leave it we see Cliff – whose services weren't required on this job due to past employment issues – off in a modern day western of his own at Spahn Ranch. He's the heroic drifter coming into the dusty strip where old westerns were filmed, getting checked out by a guy on a horse, the equivalent of townspeople coming out to stare.
I remember a time when Pitt was seen as some bland pretty boy, a symbol of the mainstream lightweights. I'm sure it was more his People-Magazine-cover-story personal life than his work, but he also suffered a Keanu-like curse of being taken literally when he played dumb guys. He was treated like a boy band, mocked as some shallow, empty heart throb who surely got here on looks alone. You would say "Well he was really good in TWELVE MONKEYS" or whatever and you'd be right, but even then you probly questioned whether that was the exception to the rule. It was more of a guarded "he's actually pretty cool" than an emphatic "he's cool!"
And now I'm watching him in this movie and it would be hard to overstate how god damn cool he is in it. It's been a while since I've had such a superficial, charisma-based "I want to be him when I grow up" reaction to a character. He struts in with his laid back don't give a fuck attitude, his belt buckles and jeans, his Elvis sunglasses, his hair just long enough to slightly stick out at the back. How the fuck does he make a yellow Hawaiian shirt look that good? (Is this what John Lasseter was going for?) He's this year's model masculine ideal, some kind of Steve McQueen meets Robert Redford motherfucker who parkours onto a roof, takes off his shirt and puts on his work gloves to fix the antenna and I got the sense a tidal wave of pheromones was blasting through the theater.
And then the movie says "oh yeah, by the way, and he might've killed his wife (Rebecca Gayheart, Vanishing Son)." Never says for sure. I want to believe it was an accident, which is left open as a possibility. You know what, on second thought maybe I don't need to be Cliff when I grow up. But maybe he can give me some kind of lessons?
I was excited to hear that Pitt and Tarantino separately thought of Billy Jack as a model for Cliff. I never would've guessed it, because Cliff is infinitely less self righteous than Billy Jack, and shows no interest in politics or alternative schools. I don't see Cliff becoming a senator, either. Or wearing that hat. I think his main similarity is his confidence to walk into a situation and tell the motherfuckers he's dealing with what's what – give them a little warning, a little speech, a little prediction – before he beats the shit out of them. And I think both are older outdoorsy type guys who have a tiny toe dipped into the counterculture, some openness to the hippie generation. Cliff is Mr. Tough Stuntman but he wears moccasins, buys an acid-dipped cigarette and picks up hitchhikers even though he's not trying to make free love to them. They're impressed and awed by his genuine outlaw status and flustered when they can't seem to control him with either seduction or threats.
Cliff stands between two worlds. He gets to experience the glamour of movie-making and celebrity, hanging out with Rick in restaurants and mansions, driving his car. Then he gets into his rusted up beater, drives to his shitty trailer home (parked behind a drive-in theater, of course), feeds his pitbull Brandy her raccoon flavored dog food, and doesn't seem miserable. Rick can't even drive anymore because of his drinking, but Cliff can jump cars across open bridges. He can fix things. He can fight. He's the rugged guy Rick would play in a movie and dream of being in life. And the guy who sort of picked a fight with Bruce Lee.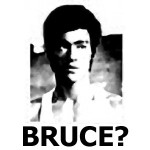 There was some controversy about that when the trailer came out. I thought it was silly to make assumptions. But when I saw it, to my surprise, it did bother me a little. Mike Moh (Masked Rider: Dragon Knight) captures Lee's voice well, and I've seen enough documentaries and read enough about The Dragon to know that some considered him a show off, and even a dick, on sets. For example there are all the stories about him sneaking up on people and just barely kicking the backs of their ears to annoy them.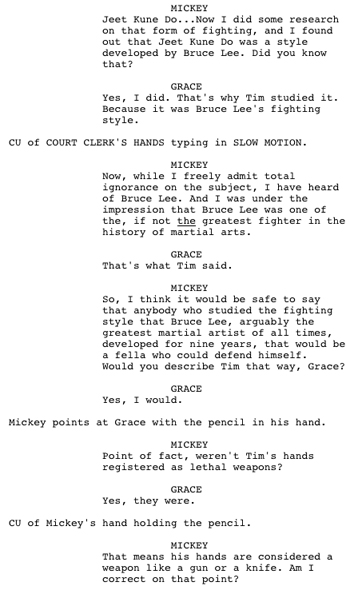 I think I know what Tarantino is doing here, and I think it works. He's making a tall tale out of Cliff by showing him upstage the modern era's best example of a legendary warrior. It's related to an argument that Mickey Knox made, albeit in bad faith, in Tarantino's script for NATURAL BORN KILLERS. Representing himself in court, Knox argues that he couldn't have possibly killed a man he's accused of killing, because the man studied Bruce Lee's fighting system, and who could possibly beat Bruce Lee? Both scenes even talk about having hands registered as lethal weapons.
I appreciate that they show Bruce training Tate for THE WRECKING CREW and giving lessons to Jay Sebring (Emile Hirsch, "Bryce Banks" on the season 3 crossover between The Pretender and The Profiler). We also see his student Steve McQueen separate of him (Damian Lewis [one episode of Poirot] made up as a surprisingly good lookalike). Lee was a super hero to all these stars, but it's not impossible that somebody could've done a good throw on him, which is all Cliff really does before the fight is broken up. A few years before the scene takes place, the real Lee had his famous closed door challenge fight with Wong Jack Man. Linda and Bruce Lee said it lasted about five minutes and ended with his opponent running away, but one of the only witnesses, William Chen, said it was more like 20-25 minutes and was a tie. Even in Bruce's version he injured his fists and decided he had to change his approach to fighting. Bruce Lee was amazing, but he was human, and was always looking for ways to improve. No doubt he could've learned from being thrown into a car and embarrassed by Cliff, if Cliff was real.
The conversation in the scene itself is already kind of poking fun at the idea of "who would win in a fight" speculation. Cliff scoffs at Bruce's claim that he could beat Muhammad Ali, and then the question turns to who would win in a fight between a fictionalized Bruce Lee and the fictional character of Cliff Booth? We don't learn the answer, but the fact that Cliff gets the better of him means then he can stroll onto Spahn Ranch and get in the face of the Manson Family and we're as excited for what he might do to them as we are worried about what might happen to him.
All that's fair. But I saw the movie with an audience and when Moh started doing Lee's cat sounds and footwork, people laughed like he was silly. And then they laughed about what happened to him. He was the butt of the joke. We know this is when he was on Green Hornet playing the sidekick, with ideas for starring roles, but having doors shut to him by racists. Until he got fed up and went back to Hong Kong to show 'em how it's done, his consolation prize was being known as the unbeatable badass. While others in ONCE UPON A TIME gets a fairy tale rewrite, he gets his legend deflated. I wish he was able to be more of a character in the movie later, to balance this out.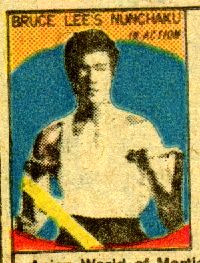 Oh, who am I fooling – I wish there was another hour of movie where Bruce and Cliff hunt down Manson and the rest of 'em. Possibly after a big dune buggy chase through the desert.
(I guess Shannon Lee also heard people laughing in a way that made her uncomfortable. That sucks. And one of his biographers says he never would've dissed Ali like that.)
By the way, there is a very real chance that the scene was inspired by the famous story of Seagal mouthing off on set and getting shut up by "Judo" Gene Labell. If so, let's all be thankful Tarantino doesn't have Bruce shitting himself.
Before we move past that scene I want to mention that if Stunt Coordinator Randy (Kurt Russell, two episodes of The Virginian, two episodes of Gunsmoke) and Stunt Coordinator Janet (Zoë Bell, one episode of Hawaii Five-0) are the parents of Stuntman Mike and Stuntman Bob, that brings a whole new meaning to why Mike was stalking Zoë Bell (she looks like his mom). And congratulations to Bell for being the full-on stunt coordinator on this, a role I believe she's previously only had on short films. IMDb also lists a Steven J. Bagnara as action coordinator and Robert Alonzo (OBLIVION, DEADPOOL, PROUD MARY, BRAVEN) as co-stunt coordinator/fight coordinator.
So Bell was a stuntwoman on KILL BILL who played herself in DEATH PROOF and now she's playing a fictional stunt coordinator while acting as the actual stunt coordinator. That's one of many examples of the cycles of Hollywood careers represented in this huge cast. Old cowboy Bruce Dern (HANG 'EM HIGH) plays old cowboy George Spahn. Julia Butters (one episode of Criminal Minds) plays a precocious child actor while former actual precocious child actors Dakota Fanning (one episode of ER) and Austin Butler (THE DEAD DON'T DIE, one episode of CSI: Miami, one episode of CSI: NY as a different character) graduate to Manson Family higher-ups Squeaky Fromme and Tex Watson. Danielle Harris, once the child star of HALLOWEEN 4 and 5, THE LAST BOY SCOUT and MARKED FOR DEATH is apparently on the ranch somewhere too. And let's not forget that DiCaprio was a child actor himself. There are glimpses of so many good character actors, mostly as actors playing cowboys: Michael Madsen, Martin Kove, James Remar, Clifton Collins Jr., Scoot McNairy, Clu Gulager, Luke Perry, and Timothy Olyphant gets dialogue both in and out of his TV character. And could there be some kind of meta generational change thing going on with the daughters of famous actors being in the cast? I noticed Rumer Willis, Maya Hawke and Harley Quinn Smith all in the credits, and Margaret Qualley is the daughter of Andie McDowell.
Tarantino always gets great performances out of everyone from marquee names to supposed-has-beens to up-and-comers. I'd like to single out two people in the last category there. First, Qualley (THE NICE GUYS) as Pussycat, who manages to be equal parts gross and charming as she dumps out the entire toolbox of seduction techniques trying to get power over Cliff. Second, Mikey Madison, who has such an authentic (but funny) breakdown as Sadie. I couldn't place where I knew her from, but of course she's one of the daughters on Better Things, where she's also great.
The Manson murders were before my time, but I've read a little bit and seen a movie or two. So I can't help but wonder what would happen next in this altered timeline where the Tate murders never happened because a drunk guy in his bathrobe thought their car was too loud and went to yell at them. Would the Family be completely thwarted? In reality, Manson took six Family members the next night to murder supermarket executive Leno LaBianca and his wife Rosemary. But in the ONCE UPON A TIME world, three of those members would be dead and one had abandoned ship. Would Manson have just brought other people? Would he have been spooked by the total failure of the mission? Or maybe Cliff telling the cops that the attackers lived on Spahn Ranch would've busted the whole thing open already?
Then of course there's the Roman Polanski matter. Does not going through the traumatic experience of a pregnant wife horrifically murdered while he's out of town prevent him from committing terrible acts of his own? If so, he would never be in RUSH HOUR 3.
What-ifs are a theme throughout. The Bruce vs. Ali one, the one about if Rick Dalton got Steve McQueen's part in THE GREAT ESCAPE, and of course the whole thing is leading to letting us fantasize about what could've happened if sweet, just arrived Sharon Tate didn't have her story abruptly ended by psychos. It's a fairy tale, a daydream, a wish. And I think if you dig into it it can be an affirmation too. The Manson Family murders were a ghastly tragedy given outsized power by their symbolism. They represented the tearing apart of countercultural idealism, stoked middle class paranoia and launched half a century (so far) of morbid fascination. The dirty hippie who will steal your daughters, turn them against you, have them write on rich people's walls in blood. The Summer of Love birthing an Age of Evil.
If we accept the fantasy that having the right guy living next door could've prevented those murders, can we then reject the power that these sorts of dark events have over our culture? Can we say fuck you evil, you just got lucky this time, the innocence is here to stay?
I don't know. But whatever ONCE UPON A TIME does to the legend of Bruce Lee, it completely flattens that of the Manson Family. Booth vs. Mansons is not a tie. He walks into their territory alone, ignores their demands, crosses their boundaries, gives them a bloody nose. When they come at him (by accident) he shuts them down entirely. While high. Manson himself (played by Damon Herriman – Dewie from Justified) gets a scary scene based on his one brush with Tate, but he's absent for most of the story, leaving Tex Watson in charge. On that now-differently-fateful night, Tex introduces himself as The Devil, and Cliff doesn't take that bullshit seriously for one second, even at gunpoint. In ONCE UPON A TIME the Manson Family don't get to be cultural boogeymen. They're just some dumb hippie assholes. Fuck 'em.