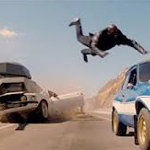 Ladies and gentlemen, the title is FURIOUS 6. They've been advertising it as FAST & FURIOUS 6, and every time I see that I think "if the last one was FAST FIVE then why can't this be FURIOUS SIX?" Well, the actual movie says FURIOUS 6. And this is not the first time that the THE FAST AND THE FURIOUS series has come through for me. We're family.
Director Justin Lin returns for his fourth and final installment, and I hope they gave him a hell of a gold watch. When he came along there was this one really enjoyable POINT BREAK ripoff and one ridiculous sequel and he had to follow up without the original cast or characters. The series was left for dead. But he did a great job with TOKYO DRIFT, then reunited Vin Diesel and Paul Walker for FAST AND FURIOUS, then brought back almost the entire team and added The Rock for FAST FIVE. With FURIOUS SIX he takes everything he learned from those movies and supercharges the engine and adds spoilers and shit. Having the whole team (minus Don Omar and Tego Calderon, plus Michelle Rodriguez) together isn't a novelty the second time around, so to make up for that he kicks the action sequences into ridiculous new extremes. Which is saying alot in a FAST AND FURIOUS – have you seen these movies?
But that's not at the expense of the characters and themes of the series. I know some people think that's dumb, I got buddies who came aboard for TOKYO DRIFT and don't like the later ones as much because they expect you to be interested in Brian and Mia's marriage and that Vince is back and stuff like that. Well, I am interested. To me half the appeal of these movies is their sincerity about codes of honor and brotherhood and finding the good in people. All the talk about "this is what we do" and "this is what I am" and "this is what we're about." Diesel family values. The other half of the appeal is cars jumping off bridges, people jumping from one car to another, cars driving backwards real fast, etc.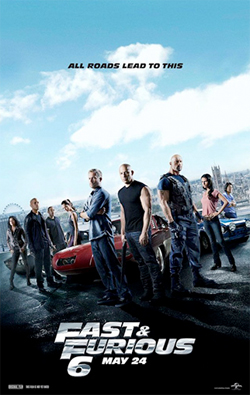 I watched the trailer over and over again so that gave away alot, including the great premise that The Rock's character Hobbs (the Interpol-or-whatever cop who was after them in FAST FIVE) gets Torreto and his team to agree to chase down another infamous crew of fast-car-driving thieves led by Shaw (Luke Evans, the Welsh Joseph Gordon-Levitt) who are trying to steal dangerous military technology to sell to the highest bidder. What's in it for "the team" (as Toretto calls them at least once)? #1, full pardons for the many crimes that have kept them exiled in beautiful exotic locations. #2, a chance to find Letty (Michelle Rodriguez), who we thought died in part 4 but was revealed to be still alive during the credits of part 5.
I love these type of DIRTY DOZEN/Snake Plissken bad-guys-that-are-really-good-guys-working-for-the-good-guys scenarios, including the mission-giving scene where they all stand around a table and the boss man lays out the plan. This is a great character for The Rock, such a charismatic actor who has been in need of a great character. Hobbs is always at 100% intensity and has a ton of great lines because he speaks almost entirely in macho team leader or inspirational coach type phrasing. In must be impossible to talk to that guy without instinctively puffing your chest out.
I like that the bad guys are a more sophisticated version of what Toretto's crew were in their hijacking days, even down to the grappling hooks. They're from an infamous "vehicular warfare" military unit and drive cars that look like a cross between Mad Max and Formula 1. They have a similar racial and gender makeup to Toretto's crew, and it's pointed out that they're like evil twins (a bodybuilder named Kim Kold is the counterpart to Hobbs, Joe Taslim from THE RAID the counterpart to Han, etc.). But philosophically they're explicit opposites of the Toretto team, who always talk about family and having each other's back, who forgive Letty even after she shoots them, while Shaw talks about his people as parts that need to be replaced when they don't work and kills a guy who failed him. The Fast and Furiosophy is to find the good in people (and let them go if you're a cop), to understand and forgive and make bros with the other side. There's no bonding with these assholes, though. They will not be fight brothers.
The biggest addition to the cast is former MMA and Muay Thai champ Gina Carano as Hobbs's new partner Riley. Of course it's not the showcase for her that HAYWIRE was, but she's not wasted. She gets to beat up several people and do painful looking submission holds and takedowns. One downside: after the crystal clear action filmatics of HAYWIRE it's easy to notice they're shooting her fights too close up. The hand-to-hand here is generally shot that way, the one problem I had with the movie. Still, I found it mostly pretty clear, with some great moves including a flying headbutt and a Rock/Diesel tag team wrestling move.
There's a pretty long talky section in the middle of the movie. I like it but it feels a little leaden compared to FAST FIVE. That's forgotten instantly when you get to the chase scene where the bad guys are driving a tank the wrong way on a freeway and intentionally flattening innocent commuters, some of them getting out of their cars and fleeing in terror. This and the even more outrageous climax are the most exhilarating American action I've seen on screen in a long god damn time. If you want something that is physically possible then never, ever watch this movie, but if you want to see the FAST AND FURIOUS staples of driving fast, crashing hard and telling somebody else to take the wheel so you can climb out and jump off taken about as far over-the-top as imaginable by humans, then this is your movie. (This is our movie.)
There's a pretty cool "previously on THE FAST AND THE FURIOUS" montage for the opening credits where you get to see their hairstyles and shit change over the years. But it's interesting to think how much other things have changed. The music and the macho-love attitude have stayed intact, but the gaudy neon colors and show-offy digital camera moves of 2001 are pretty much left in the dust. The series was started to exploit a street racing culture based around Japanese cars painted in bright colors with fluorescent lights on them and shit. Part 2 had a girl in a pink car with an anime self-portrait on a dashboard screen. Now the series prefers American muscle cars in dark colors, and only Brian maintains a loyalty to imports. (Dom and Brian fight for the baby's loyalties by giving him toys of their cars from part 1! I can't help but dream of a rebootmaquel with the baby grown up in a post-apocalyptic future.)
Remember how they used to always do the shots where the camera moves through the driver's seat or even the engine and rotates around as the surrounding blur outside the windows? The races were special effects sequences. Now, with Lin's style (and improved digital technology, no doubt) they are way crazier but have a more organic look to them. The action scenes are incredibly complex, cutting between multiple characters and vehicles, communicating story and location over long stretches, and integrating live stunts with effects so that you don't really think about which is which.
There are moments in the opening and closing of this movie that really sum up what I love about the series. In the opening, Dom and Brian (still wearing Pumas) seem to be having that race they always want to have, but it turns out they're racing back to the house because Mia (Brian's wife, Dom's sister, played by Jordana Brewster) has just given is about to give birth. They get to the house and they're assured that everything is all right and as Brian is about to go inside Dom says, "Brian." And Brian turns to hear what Dom has to say about how when he enters this room his whole life is going to change and they'll leave behind their outlaw ways.
But why did he stop to listen to that when his wife is in there about to have their first child!? Because in THE FAST AND THE FURIOUS the only thing that's more important than brotherhood is listening to whatever Dom has to say. Think of how far we've come: in part 1 Brian was an undercover cop trying to put Dom behind bars. Now they're so close their conversation takes precedence over the miracle of birth.
The other moment I want to discuss is the beautiful visual punchline to the epic action climax. I don't want to ruin it so skip this and the next paragraph if you haven't seen it yet. The last part of the movie is a really long sequence involving cars chasing a plane down a runway. It goes on for so long this runway might as well be the trench on the Death Star. I mean, I don't know how fast they're driving or how long the scene goes on, but 15 miles would probly be a conservative estimate of how far they travel, and the runway just keeps going.
After the plane has been blown up the cars are skidded out and there's a wall of flaming wreckage and our heroes stand dramatically surveying the damage and contemplating what they've done. The camera slowly pans around to show all the debris and then you see it… yep, right there, right after where they stopped. It's the end of the runway.
It's a transcendent moment because it shows us the different levels the movie can work on at the same time. This is a dramatic moment. Crazy shit has gone down. One of the good guys has just died, the fate of another is still in question. And right in the middle of this there's this little acknowledgment that yes, the action scene we just did is completely ridiculous, and we don't care, because it's more important to us to be awesome than to make sense. The audience laughed but I don't think at the expense of the drama going on. It's powerful and it's hilarious and one doesn't void the other.
Tell me this: what other part six is there that's anywhere near this good? I can think of only one contender but you wouldn't agree with me because it's REVENGE OF THE SITH. How many part 6's are gonna be widely considered better than their part 1s?
With this installment THE FAST AND THE FURIOUS officially surpasses DEATH WISH as the longest running series where I like every installment. I have some concerns about the next one. It's ridiculous to rush an installment to be done next summer, and although I'm curious to see what James DEATH SENTENCE Wan will do with the series I can't have faith in it like i did the guy who continually upped the ante for four movies in a row. But it looks like Lin might've wanted to end on this one anyway. It comes full circle in two different ways: it brings the whole family back to the very picnic table where they started in the first movie 12 years ago, and it closes the loop on the much-discussed-at-least-by-people-like-me-TOKYO-DRIFT-Han's-death timeline. At the same time it sets up an exciting storyline for the next one (thanks for spoiling that months ahead of time, internet.)
If the next one's not as good that's okay, just turn it off when the credits start and this one makes a perfect ending. And really, it's hard to imagine how Lin could go any bigger than this one. Might as well quit while he's way ahead (he used NOS).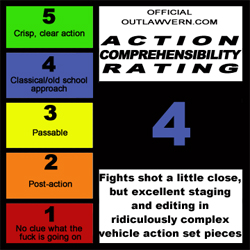 POST-REVIEW SUPER SPOILER SECTION: I wasn't the only one in the audience who was audibly disappointed by Riley's betrayal. We liked having her on our team! I loved watching the giant guy and the little lady running around together. Would've been down for a spin-off. It was funny that she screamed when she went out the plane. I don't believe that Gina Carano would ever scream.
Well, I didn't get my wish that they'd say Han pulled a Tim Dog in TOKYO DRIFT. I was almost convinced I was gonna get it, too, because toward the end of the movie Tyrese and Ludacris tell him they've got his back if he needs anything. Made me hope that was gonna be them getting out of the car and they'd pull him out of the wreck. No, he still dies, but now it was murder and not a racing accident. It's interesting that this reconfigures the whole end of TOKYO DRIFT. Originally it seemed like Vin Diesel just rolled into town looking for some street racing challenges. Now we know that he was called there by Han's murderer. He's there for revenge. And doesn't this logically mean that Lucas Black should be in the next movie, at least at the beginning? I hope so.
POSSIBLE PART 7 SPOILER: according to Wikipedia the villain we see here will be Shaw's brother. FAST AND FURIOUS WITH A VENGEANCE. I was a little disappointed to read that, actually, because I liked the idea of some guy having a problem with Dom and he has to figure out why. I'm sure there are people who are mad at him all over the world. On the other hand, a connection to Shaw would be a good excuse to bring back Riley with a grappling hook scar on her chest.