We had DIE HARD on a boat and DIE HARD in a bus and DIE HARD on a train and DIE HARD in a hockey stadium and a couple DIE HARDs in malls and DIE HARD on piano and DIE HARD still in a building but not as good with Anna Nicole Smith (called SKYSCRAPER) and now we have DIE HARD still in a building but not as good without Anna Nicole Smith (but still called SKYSCRAPER). Dwayne Therock-Johnson plays Will Sawyer, former FBI agent turned small time security consultant given the huge break of overseeing the opening of the residential upper half of a fictional 225 story world's tallest building in Hong Kong.
"The Pearl" as it's called due to a round structure at the top is owned by rich dude Zhao (Chin Han, THE DARK KNIGHT, GHOST IN THE SHELL), who we later find out is being shaken down by some tactical mastermind guy (Roland Moller, ATOMIC BLONDE) whose guerrillas infiltrate and set the building on fire. Will is outside of the building when it happens, but he gets blamed for it and must evade the police THE FUGITIVE style and figure out how the hell to get onto the building because his wife (Neve Campbell, WILD THINGS!) and twins (McKenna Roberts and Noah Cottrell) are on the 96th floor.
It's a Chinese co-production emulating DIE HARD, but it has none of the propulsive thrills of real Chinese action movies or the late '80s/early '90s ones it looks up to. It's an aggressively bland and mediocre take on the time honored premise, though not completely devoid of entertainment value. Part of the fun, to the extent that there is any, is the set up, introducing the characters, the preposterous features of the building (double helix turbines?) and several blatant "don't you worry your pretty little head about this innocent little detail here, there's nothing noteworthy about it and it's definitely not going to come back and be important later" moments. My favorite of those is when Zhao gives Will a tour of the "pearl" at the top and its planks of reflecting HD screens that serve no explicable purpose other than a setting for an ENTER THE DRAGON style mirror maze finale.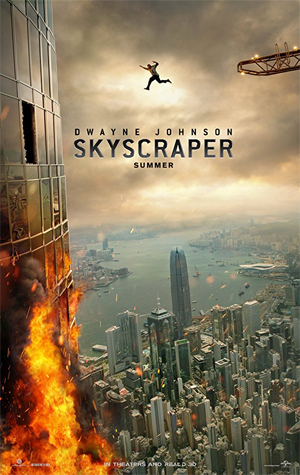 Another one is the prologue where we see him in an FBI hostage situation. He tries to save a little girl, whose father turns around and reveals he's wearing a bomb vest, which goes off. This sets up at least three things: he loses a leg and has to use a prosthetic, he gets surgery from his future wife, and at the end he faces basically the same scenario and gets a chance to handle it successfully.
Now, who the fuck am I to tell writer/director Rawson Marshall Thurber (DODGEBALL, WE'RE THE MILLERS, CENTRAL INTELLIGENCE) how to tell his story, but I believe the good version of this would ditch the opening scene entirely, because
one: opening with him losing his leg suggests it's the central event of his life, undermining the nice touch that the rest of the movie doesn't make a big deal out of it
two: why is it necessary that he marry the surgeon, that is just weird
three: how 'bout the thing he has to face is rescuing his god damn family from danger, why does it have to turn out to be about dealing with the trauma that in every other scene he seems to have long since overcome
But I really shouldn't focus on that because it's far from the most egregious storytelling weakness. Instead let's consider the worst one. It can be inferred that Will gets the job because someone wanted him to be in over his head, but it's still amazing to me how little he does. We've been told how amazing this building is, how unprecedented, how much of a target for terrorism it is, how Zhao might never be able to get it insured. But then all they do to make sure it's ready is call in this one guy, and if he inspects anything it's off screen during some unspecified but seemingly not very significant passage of time.
He hasn't even had a discussion with them before – he acts nervous, like it's a job interview. His friend who got him the job (Pablo Schreiber, DEN OF THIEVES) introduces Will to Zhao and two other guys (including cartoonishly snooty insurance rep Noah Taylor [PREDESTINATION]), then Will gives Zhao some exposition about how the high-tech sprinkler system works in the building (I'm surprised he doesn't know already), then he basically says "okay, we're almost done here, I just have to go over to this other building to check this one thing and then you're good."
What the fuck is your job, dude? What is your expertise, your process? These would be interesting things to include in the movie. I would think these would be required things to include in the movie, but I guess not. Shouldn't we see him and a big team power-walking around spitting out jargon, looking at screens, thinking they know what must've been overlooked, being impressed that it wasn't, showing that they really know their shit, they are really thorough, they thought of everything, etc.?
I guess not. No time for that. We gotta get to all the action. Well, "all the" is kind of overstating it. The parts with the action. He climbs outside the building for a bit. It's okay. The most memorable spectacle moment is the shit with the crane that you saw in the trailer. Despite the great J.J. Perry being second unit director, the occasional fights are not very exciting and not that much more comprehensible than that period after TAKEN came out when most things were so hard to follow I had to make up a ratings system. I do appreciate that Will (SPOILER) stays true to his not using guns anymore and doesn't have an Al Powell moment at the end where he shoots somebody and you're supposed to proud of him.
Most of the enjoyment I got was from the stuff I thought was dumb, like at the end when they're filthy and exhausted and he says "Let's go home" and nobody says "Wait a minute, are we seriously just flying back to the United States now? Can I at least take a shower?"
And I got a chuckle from how low an opinion the movie SKYSCRAPER has of anybody who would go see the movie SKYSCRAPER. There's this part where SPOILER his wife gets ahold of the tablet that controls everything in the building and she's trying to re-activate the fire extinguishing system. And you may realize "oh that's right, there was that whole scene at the beginning where she needed help with her phone and he really emphasized to her that usually the best thing to do is turn it off and then turn it back on." And then she remembers this. So she finds a thing that says "REBOOT" and presses it and then watches as all of the lights and everything turn off on the building.
So if you had forgotten that scene, now is when you go "oh, ha ha, like she did with her phone at the beginning." And she's nervous because everything stays off for a second and what if she screwed everything up, but phew, the lights start coming on and everything else starts coming on and sure enough that system is activated and finally starts putting out the fire.
And then she explains that she rebooted it. And then she explains that that means she turned it off and back on.
YEAH, WE FUCKING FOLLOW YOU, SKYSCRAPER. IT'S LIKE THE PHONE THING EARLIER. THAT WAS VERY CLEAR LIKE 2 MINUTES AGO. Why do you hate us?
There's some silly stuff about why the bad guys are after Zhao. But there should definitely be more ridiculousness to make this thing more enjoyable. The most obvious area for that is in the gimmickry of the building. It's amazing how little they do with that considering that it's the only reason to make this movie.
Well, that and The Rock. The world loves The Rock and the world loves that The Rock seems like a nice guy, and even though the world realizes The Rock is most entertaining when he's more of a macho asshole like in FAST FIVE the world is also charmed to see him play America's Sweetheart like this. And having lost a limb during an act of heroism makes this character even more American and more sweet than standard issue The Rock.
Also, the perfect squareness of Will Sawyer stands in contrast to messy asshole John McClane, which is sort of a necessity for a movie that cannot and will not be viewed by any human being on earth without being compared to DIE HARD. They gotta make him different so, you know, he doesn't wear a sleeveless undershirt. He does wear shoes. He doesn't curse (it's PG-13). He uses an actual rope to hang off the building instead of a fire hose. He doesn't use hardly any humor or jokes until one decent one-liner. He is happily married with no problems or issues that he is concerned about dealing with while facing his own mortality.
So, yeah, he's different from John McClane. And much less interesting.
We also got a villain problem here. For a while I wasn't even clear which one was the main villain they were talking about, he seemed more like a henchman. He does not have a memorable personality, presence, dialogue, motive or gimmick. He doesn't have any memorable henchmen. I actually have already forgotten what type of henchmen he had. Some gunmen I believe. Professionals maybe. Oh, the lady with the cool hair. I remember her.
Actors I like who don't get much to do: Byron Mann (BELLY OF THE BEAST) as the Tommy Lee Jones, the police inspector trying to catch Will but also figuring out that he's the good guy. Matt O'Leary (LIVE FREE OR DIE HARD, DEATH SENTENCE, SORORITY ROW, FAT KID RULES THE WORLD, EDEN, THE LONE RANGER) as "Skinny Hacker." Campbell gets a little bit of a role. I like that a ways in they suddenly mention that she was a combat surgeon in Afghanistan, setting up two parts where she fights somebody. I don't know. She deserves more to do, but I was still happy to see her again. I guess she's been in TV, like everybody else, but I haven't seen her since SCREAM 4 in 2011.
I love The Rock. We love The Rock. But it's time to face the fact that this Next Action Hero is about 40 movies into his career and doesn't have anything close to a COMMANDO or a PREDATOR or a TOTAL RECALL let alone a TERMINATOR or a T2 under his belt. Honestly two of his best vehicles are the fuckin prequel to the shitty MUMMY movie and Brett Ratner's version of HERCULES, and if you add those two together you're nowhere near a CONAN THE BARBARIAN. His best action work is an ensemble series that he joined at part 5 and might not be doing anymore. This is a problem.
Maybe his tastes will never match his charisma, but jesus fuckin christ man it's time for him to make some actual great movies to justify all these ones that we only can manage to sit through because he's in them. He needs to find his James Cameron, his Steven Soderbergh, his Isaac Florentine, his director who makes great movies and knows how to bring out the very best in him, push him to new heights, showcase his strengths. In my opinion that is probly not gonna end up being the guy that directed DODGEBALL or the guy that directed CATS & DOGS: THE REVENGE OF KITTY GALORE. It could definitely be David Leitch (JOHN WICK, ATOMIC BLONDE, DEADPOOL 2), who's doing HOBBS AND SHAW, or Shane Black if he ever gets that DOC SAVAGE off the ground. But it better be somebody. It's time for Hollywood to stop wasting our precious, finite geological resources.