I first paid attention to Nathan Jones in THE PROTECTOR/TOM-YUM-GOONG I think. He's a bald Australian muscleman who's about 7 feet tall, so it's striking to see him fight a regular-to-small sized guy like Tony Jaa. I guess he was also in Jackie Chan's FIRST STRIKE, I haven't seen that in a long time but I'm sure that was a pretty cool fight. In the review of THE PROTECTOR I wrote "I'd love to see this guy in some more movies – luckily he's in an upcoming MOST DANGEROUS GAME rip-off from prestigious WWE Films." Well, that turned out to be a brief, badly-shot fight against Steve Austin in THE CONDEMNED, where you couldn't even tell how big he was. He fared a little better as a tournament fighter in Jet Li's FEARLESS. In the recent CONAN THE BARBARIAN I think maybe he was the guy guarding the giant octopus. To make sure nobody throws unhealthy food in the tank or whatever.
But MUAY THAI GIANT (originally SOMTUM) is the first movie where he's a main character. He plays Barney Emerald, an Australian doofus who wins a trip to Thailand in a contest, but then gets drunk and robbed of his money, clothes and passport, and can't leave the country. He finds shelter at a monastery and befriends two little girls, which made me think this was gonna be kind of cheesy and that's why I avoided renting it until now.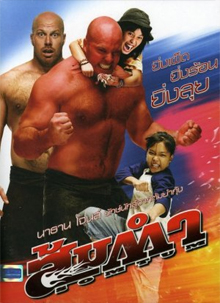 Well, it is cheesy but what surprised me is that the weak link isn't the little girls, it's the giant. Jones, at least in this particular role, is a shockingly terrible actor. He's playing it for sweetness and laughs, so he's always smiling and over-selling his expressions in a way where you have to occasionally ask if the character is supposed to be retarded in some way. I don't think he is, but I'm honestly not sure. He was in the WWE for a short period of time but I think some of this acting would even seem bad in that context where he's trying to have his expressions seen by the people in the back row.
The joke is supposed to be that although he looks like such a monster he's a total sissy. When he happens to see a little girl getting threatened by gangsters he tries to help her, but mainly by cowering over her crying and begging for them to let him go. Unfortunately it's more sad than funny, especially since it continues throughout the movie. How many times can we watch an action scene where a physical specimen like that, who we want to see get in some fights, stands in the middle covering his head and whimpering? It's not fun.
But the girls do feed him some spicy papaya salad and learn that it has a weird effect on him. Not only does his face turn red but he flies into an uncontrollable rage and starts smashing everything. This causes him to destroy their mother's restaurant, so he agrees that even if he straightens out his passport situation he's gonna stay around to help them raise the money to rebuild it. Eventually they turn him into sort of a line cook/mascot, putting him to work with a giant bell instead of a mortar. But first they bring him to some underground fights where they come up with the idea of feeding him spicy food and using his Incredible Hulk type abilities to destroy the other fighters.
And then they decide that would be wrong and don't do it.
But the interesting part of the movie is that one of the two sisters (Sasisa Jindamanee) is a local muay thai champion. Her mom doesn't allow her to fight but she does it anyway. In one scene that I can't imagine in an American movie she tries to raise money by taking a sleazy underground fight against an adult man. She holds her own but gets bloodied and almost knocked out a couple times, and the actress looks about 14 or 15 years old, so it's pretty crazy.
She has a couple good street fight scenes too. There's the one when they first meet Barney, where she keeps jumping off his head or chest, or kicking his hand to make him slap the gangsters who are after her sister. Later she gets attacked by the boxer and his thugs while buying papayas for the restaurant. She can mostly handle them by herself but then gets help from the female papaya vendor, who we already knew was tough because she was chewing a toothpick. The scene is fun because they find about a dozen different ways to use papayas as weapons, ranging from throwing them at heads to actually kicking them up a guy's butthole. Ouch.
The other sister is a pickpocket, and she gets them into alot of trouble with a dangerous international crime syndicate by swiping a jewel that turns out to be the key to a huge stash of drugs and stolen diamonds. In an American kids movie that would have to be some kind of misunderstanding, but in this movie the girl actually is a thief. Her mom tells her not to be and it gets her in trouble but the movie never really preaches against it.
At the end Barney tears apart a private jet with his bare hands. So at least in that respect it's a good role for him.
Now that I read about him, Jones has had an interesting life. In the '80s he was doing armed robberies in Tasmania, got caught and did 7 years. While in the joint he got into lifting heavy things. Next thing you know he gets out, becomes Australia's powerlifting champion. Gets first place in the World Strength Championship 1995. Got interested in MMA and fought at Pride 1 (submitted by sumo wrestler). Became a bodyguard for some rich guy. Then got into pro wrestling. Made it into WWE, but not long after his first televised match was sent to the farm team in Ohio to improve his skills. Came back, was on some team with pre-UFC Brock Lesnar, got tired of it and decided to quit.
He didn't really make it to the top of WWE, but he got to be heavyweight champion of WWA once and tag team champion of NWA. In 2003 he won Wrestling Observer Newsletter's "Most Embarrassing Wrestler" Award. But he has a degree in economics.
Well, this is a pretty stupid movie. I guess I shouldn't get so excited about a guy just because he's giant. Turns out that doesn't make him a movie star. He makes a good big guy for little guys to fight, though. Nothing can take that away from him.
This entry was posted on Thursday, November 10th, 2011 at 3:35 pm and is filed under
Action
,
Martial Arts
,
Reviews
. You can follow any responses to this entry through the
RSS 2.0
feed. You can skip to the end and leave a response. Pinging is currently not allowed.