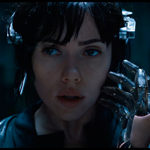 In my view Scarlett Johansson can do no wrong. But the live action manga and/or anime adaptation GHOST IN THE SHELL probly did itself a fatal wrong by casting her as the human-brained robot cop Major, a role that probly should've showcased an exciting up and coming Japanese-American actress.
I was skeptical about the controversy at first, because the animated version of the character looks white to my American eyes, and I mean she's a robot she can look any way they want her to look, plus the story takes place in a very international future, and anyway it's an American remake of a foreign film so by definition it's gonna be changed for American culture, and additionally the director of the anime Momoru Oshii said that Johansson was perfect for the part, and it's true that her roles in UNDER THE SKIN and LUCY prove that she's uniquely qualified to play an ass-kicking almost-naked robot lady, and furthermore it's not like it's easy for her to get a lead role like this either, and anyway a couple years ago all the clamor was for Hollywood to make more big genre movies based around women, and back then nobody specified "white women don't count." So I feel bad for her.
But… I think the criticisms were legitimate.Oshii's right, but he's coming from a Japanese perspective that doesn't have to take into account the struggles of minority actors being ignored and disrespected in the films that come out of our diverse country. Johansson is awesome, but so are many other actors who haven't had the chance to be seen. And the reasonable argument that there aren't any Japanese-American actresses famous enough to open an expensive movie like this is kinda moot after Johansson's star power failed to make it a hit like the ones where she stars alongside Chrises who were not marquee names when they first headlined big special effects movies based on beloved comic books.
Whether or not the casting is defensible, the perception of whitewashing put a stink on it that probly knocked off some of the already limited "sure, I'm interested in a live action version of an anime" audience. There's even an element of the story that seems to me like the writers trying to subvert or comment on the casting decision, which was probly set in stone long before the script was. So if you get to the end without it bothering you then they kinda draw your attention to it.
ATHBSMF (all that having been said my friends), on its own terms GHOST IN THE SHELL is… kinda good? Certainly it is on a technical level. It's a showcase of extremely impressive design and FX artistry, full of cool technology concepts. BLADE RUNNER 2049 is a way better and more substantive movie, but on the surface this is a more detailed look at a BLADE RUNNER-inspired live action version of an anime city itself inspired by BLADE RUNNER. Giant advertising holograms rotate above, people open up body parts to reveal machinery and inputs beneath their flesh, porcelain-skinned geishabots fire machine guns from their faces and fold themselves into insects to scurry up walls, 75 Buddhist monks sit in a circle all plugged into a super computer, animated graphics float above streets and around the bumpers of taxis, people do weird things for fashion like wear latex over their lips and eyelids…
It's the 2010 equivalent of those flawed but colorful and ambitious movies from that stretch in 1996 through 1997 when arty people tried to make sci fi. It even has Takeshi Kitano (JOHNNY MNEMONIC) as the boss and Michael Wincott (ALIEN RESURRECTION) as the robotics company CEO and there was a deleted scene with Tricky (THE FIFTH ELEMENT). I wonder if they ever considered Ice-T or Casper Van Dien for the Major's partner Batou?
Of course, if this was 1997 it would have a soundtrack with "More Human Than Human" and a bunch of bands that try to bridge heavy guitars and the dance floor. In 2017 it's a driving analog-synth-inspired score by Clint Mansell.
Come to think of it there's a little 1993 in there, because the birth of Major's "shell" in the opening, though based on the 1995 anime, reminds me of Angelina Jolie's character being created at the beginning of CYBORG 2. Both depict a milky liquid skin pouring onto a robot skeletal structure and make it look beautiful.
Kitano's dialogue is all in Japanese, everyone else speaks English, but understands him. At first it seems like kind of a nothing part just to get him in the movie, or even a prank to get him to wear a cosplay wig. But he ends up getting a badass turn that's easily a highlight. Seems like a good boss to have.
It's a world where almost everyone is "enhanced," and therefore vulnerable to hackers. So, very much like our current reality, except it's our bodies getting fucked with instead of just our data and our thoughts. When a garbage man suddenly interrupts his run to attack a doctor, Major and her team capture and interrogate him and figure out something he doesn't know: he lives alone, and the family he always talks about are an implanted memory. When Major plugs into a dead robot for a "deep dive" into its memories they worry she will get a virus. And there are some imaginative visualizations of these concepts – she can walk through frozen three dimensional images, the people are right in front of her but they flicker with glitches, and pixels float off of them like ash, revealing hollowness underneath. Because memories don't have x-ray vision.
My favorite stuff in the movie is the police stuff. There's this team (you don't get to know most of them), they seem very confident in each other's abilities, they know what they're doing and they're very serious about getting the job done. Johansson does this thing where she puts her head down and shoulders up and in a scene where she's doing that while wearing a flight jacket and combat boots I wasn't entirely buying her as that type of tough girl. Had to chalk it up to being a robot.
But she acquits herself well in some fights (including a re-creation of the famous one in a giant puddle while she's flashing in and out of invisibility), and the police raids and shootouts are handled well. In fact, the action unit director was Guy Norris of ROAD WARRIOR and FURY ROAD fame.
I like Major's relationship with Batou (Pilou Asbaek, BEN-HUR). She has this GRAN TORINO thing of showing affection by insulting him. When she visits him after they get blown up and he's had his eyes replaced by machinery she asks if he can see her and then "How many fingers am I holding up?" while flipping him off.
He has little binocular eyes now, and she sort of teases him about having done that by choice. "They're tactical," he explains. Being functional for his occupation is more important to him than looking human. I like that they took something that's just a design choice in a drawing and made it into a character moment.
Major is very stubborn and always putting herself in danger after being warned by everyone else. They're very protective of her and there's a struggle between the Section 9 agency (who value her as their teammate) and Hanka Robotics (who see her as their most expensive piece of equipment on loan to the government). The doctor who looks after her (Juliette Binoche, THE UNBEARABLE LIGHTNESS OF BEING, GODZILLA) is caught in between the two, acting as a therapist and motherly figure to Major while beholden to bosses with sometimes conflicting motives.
The movie is a little clunkier with the philosophical stuff, which is too bad because I think that's a big part of what made the anime so popular. Major has some somewhat forced dialogue about wondering who she is, and they take some of the wind out of the poetic title by repeatedly referring to bodies as "shells" and identities as "ghosts" as if that's just the lingo everybody prefers. There is, however, a good scene (SPOILER) after Major has learned that her memories are false, tracks down her former home and has a brief encounter with a woman who is clearly her mother.
This brings us back to the whitewashing issue, and this is also a SPOILER. Early on, Major remembers her parents dying bringing her "to this country." I thought this was interesting for it to be treated as an immigrant story, maybe even implying that there's some kind of horrible thing going on in the States causing people to flee for refuge in safer places like here. But it turns out that she's not American, she's Japanese, a runaway, perhaps found dead, perhaps murdered, and used by the Hanka Corporation under the incorrect assumption that no family would miss her.
So it's this company in Japan run by white English speakers, they're resurrecting a dead Japanese girl, they make her into a white English speaker. And this is not portrayed as a good thing. I definitely think this is an attempt to acknowledge the sort of cultural colonization of Americanizing the character. But does that make it okay? Is that enough? It doesn't feel like enough. It's like a subtler version of that Tonya Harding TV movie where they make fun of those ridiculous people at NBC making a Tonya Harding TV movie.
The adaptation is credited to Jamie Moss (STREET KINGS), William Wheeler (QUEEN OF KATWE) and Ehren Kruger (REINDEER GAMES, SCREAM 3, THE RING, various TRANSFORMERSes).
I've heard many people say the movie looks great but is really boring, which is how I felt about director Rupert Sanders' previous film SNOW WHITE AND THE HUNTSMAN. To me this was a much more involving story and a world that's more exciting to experience, but that's not saying a whole lot. It's one of those movies where you feel like the sequel might've been better but sorry, too late for that.
BONUS FEATURE: Before this came out in theaters I thought I should watch the earlier anime version, so I did. I must've been busy at the time, so I never finished writing a review of it. But here are the two partially written paragraphs plus one cryptic word that I wrote down about it, demonstrating that I picked up on more interesting ideas behind the cartoon version.
Ghost in the Shell
philosophical talks about what qualifies as human in a world where most people are part machine, and where data can mimic a personality. She has a preference for people who still have human brains, because they're not standardized. But she argues against her partner using old guns out of preference, since she believes a more advanced model is measurably superior. She likes to dive underwater – this is scene [sic] as risky, because if something went wrong it could destroy her machine parts. But of course something could go wrong for a human underwater too. So wanting to take that risk does make her more human.
camouflage
I'd heard people say this was an influence on THE MATRIX, or even that THE MATRIX was a ripoff of it. The first one is definitely true. The story and premise are not the same, but many individual parts are similar: the idea of programs trying to take over the earth from humans, and humans being given a fantasy life that they're tricked into believing is real (though here it's with TOTAL RECALL type implanted memories), people with jacks on the back of their necks to hook into computers, fighting a large, faceless killer machine. Also, just alot of similar imagery: streams of green code on black background, a car in a rainy alley, helicopters firing machine guns, sunglasses, a shootout that blows apart cement pillars revealing the rebar beneath, certain similar camera angles (like a shot looking down through falling shards of glass, much like the shot looking down through falling shell casings).
This entry was posted on Wednesday, January 24th, 2018 at 10:48 am and is filed under
Action
,
Reviews
,
Science Fiction and Space Shit
. You can follow any responses to this entry through the
RSS 2.0
feed. You can skip to the end and leave a response. Pinging is currently not allowed.