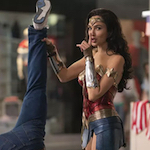 WONDER WOMAN 1984 (actual onscreen title: WW84) is, due to a strange confluence of events, in an unprecedented position. As the first sequel to a big-cultural-phenomenon comic book movie it was highly anticipated and also something of a question mark – I think we were pretty optimistic, but didn't necessarily know if director Patty Jenkins (who hadn't done a big movie before, just MONSTER and some TV) could repeat the magic, or build on it, or if the audience would be as hungry for it a second time. And then the pandemic kicked the world's ass, America's in particular, so the movie got pushed back until the Warner Brothers executives panicked and dumped a year's worth of movies to streaming and it became the highest profile meant-for-theaters blockbuster released directly to streaming on Christmas day.
I enjoyed the movie, and what I enjoyed most is Jenkins' apparent disinterest in making it a modern Marvel-esque or (even moreso) Snyder-esque comic book movie. Though the action is of the modern volume and contemporary FX-based style, the tone and storytelling are more reminiscent of the Christopher Reeves SUPERMAN movies, some of the corny '90s adventure movies I like, a tiny bit of the Burton BATMAN movies, and even (not in a bad way) SUPERGIRL. As I write this I realize that there wasn't a single moment where I thought, "Ah, that's setting up for the next one."
It's just as sincere as the first WONDER WOMAN, which makes the choice to base the whole story around a god damn magic stone that grants wishes even more audacious. If they ever did that in a Marvel movie they'd make it funny. They'd find dozens of clever gags about how to use it, have Paul Rudd riff about it, it would be fun. Jenkins is not averse to that, and certainly she knows she's making a goofier movie this time around, but her interest in the gimmick is to use it as an emotional hook and a broad allegory.
I don't think it would entirely work even under the best circumstances, but the spell would have a better chance of taking hold of an excited, focused audience, coming at an appointed time, paying attention, letting it wash over them, giving it a chance. It's a premise that can only work if you give a little chuckle and then try to roll with it and see what happens. If you give every boring cynical hack in the world (plus plenty of smart great people with good taste and personality, I'm sure) the power to watch it free with subscription and pretend it's the worst thing they've ever seen even though they haven't because they just turned the fucking thing on and aren't even looking at the screen currently then yeah, no shit, it's gonna have a rough go of it.
But that's also why WW84 was kind of perfect for this type of release, because this is a quirkier, less universally appealing (although optimistic and happy as shit!) movie than I would've guessed, and it turned out it had no responsibility to sell any tickets at all, and yet like ten bazillion people in one day heard some of the dialogue playing on the TV while they looked at their phone. Joke's on you, fuckers!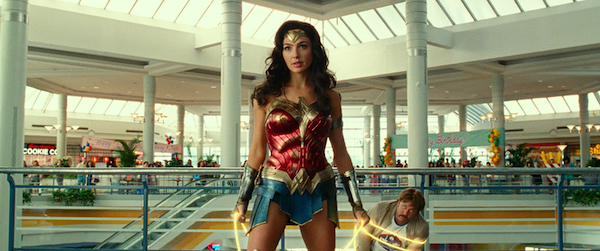 Enough about that. WW84 is basically three interwoven stories about three related characters. I'm not including Chris Pine's Steve Trevor in this trio, though he returns and gets some laughs and some emotions. As in the first one, I'm impressed how down Pine is for just playing the boyfriend. He's the love interest in the story of Diana, a.k.a. Wonder Woman (Gal Gadot, FAST & FURIOUS, FAST FIVE, FURIOUS 6, FURIOUS SEVEN, TRIPLE 9, CRIMINAL, RALPH BREAKS THE INTERNET), who in '84 is working as an antiquities expert at the Smithsonian, and zipping around stopping robberies and shit when she can. (I'm not sure which one she considers her main job.) Those activities intersect after she stops a robbery of some black market artifacts hidden in the back of a mall jewelry store. While the Smithsonian looks over the evidence for the FBI, Diana discovers a weird gem thing with magic powers. And she accidentally brings her dead boyfriend back to life (possessing the body of Kristoffer Polaha, a guy who I thought looked like he could be in Hallmark movies, because in fact he had starred in one I've seen part of called A SMALL TOWN CHRISTMAS).
Story #2 – the least effective one, but not a total loss – is Diana's awkward and needy new co-worker Barbara (Kristen Wiig, WHIP IT), who uses her wish to be "strong and special" like Diana. The movie does a great job of making Diana enviable – she's more fashionable, more charismatic, and physically taller than everyone around her, impressing and charming everybody even in her Clark Kent persona.  The wish does corny things like make Barbara wear better outfits and make dudes start checking her out, but I like when it suddenly cuts to her at work and the entire staff is gathered around adoringly listening and laughing as she tells them stories about herself. And also, she discovers that being "like Diana" means more than she realized.
Barbara has obvious similarities to Selina Kyle in BATMAN RETURNS – not just that glasses are supposed to make her frumpy, but that she's smart and likable to us, but frequently ignored or embarrassing herself when she's trying to impress people at work, and then she becomes empowered and gets out of control. But she's not as compelling of a personality or as cool of an anti-hero, in part because her revenge is against her own social awkwardness, not against anyone we can share her anger with.
Story #3 is (I think) the villain, Max Lord (Pedro Pascal, THE GREAT WALL, THE EQUALIZER 2, TRIPLE FRONTIER). He's kind of a scammer who does infomercials portraying himself as a rich oil guy and motivational business guru or something. In fact he owns a bunch of worthless oil-free land, but he has somehow learned about this magic stone and has a plan for how to use it to get rich. And then richer. And more powerful. And it keeps escalating, like gambling addiction, or at least a spree that's paying off too well to call off yet.
Being a villainous phony rich guy with a certain type of hairdo and a pathological need to prove he's not a loser, you have to wonder if he's supposed to be some kind of Trump stand-in, which I decided he wasn't because he cares about his son (Lucian Perez) and is an immigrant. It's essential to not think of him as Trump, because his appeal as a villain is that he doesn't seem that much like a villain. He seems to lean closer to "fun guy" than "evil guy." He screws over assholes and tyrants (giving them wishes that allow him to take what he wants from them) but doesn't seem to mean anybody real harm before things get out of control as the wishes bring instability all around the world. His closest comic book movie equivalent is definitely Gene Hackman's Lex Luthor, who I've never been a big fan of, but I do dig seeing a villain like that in 2020, now that it's so out of fashion.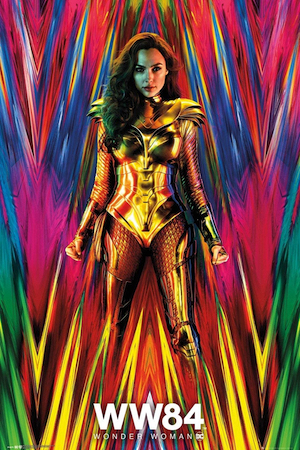 So far what I've described is some silly shit that could be an episode of the '70s TV show, and that is not a criticism. But what I really respect about it is that Jenkins is serious about the lesson Wonder Woman learns, that getting a magic wish is achieving something dishonestly. Bringing back her dead boyfriend who she misses so badly – just like bringing back a character we wanted to see again even though he died in part 1 – is fun while it lasts, and not gonna work. When she (BIG SPOILER) finally accepts this truth, lets him go and walks away, unable to look back, that fuckin got me! And what she learns from her time with him expresses itself in a new super power. So the implication is that every time she flies it will be an act of love and mourning, a celebration of the life and memory of Steve Trevor.
That's only one way it's not your everyday 2020 comic book movie. Another one is (ANOTHER BIG SPOILER) the fate of Max Lord. Wonder Woman doesn't, like… destroy him in a blast of energy. She doesn't kill him at all. She appeals to his morality and eventually convinces him. And the most revolutionary part is that it's not even clear if he got in trouble, because it's not really relevant. What is relevant is that he gave it up for his son. That's what Jenkins is telling a story about. Not the good guy stopping the bad guy.
(Jenkins is credited as writing with comic book writer Geoff Johns [Blade: The Series, AQUAMAN] and Dave Callaham [DOOM, THE EXPENDABLES, GODZILLA, Jean-Claude Van Johnson]).
Since Max gets a nice ending it's a little sad that Barbara doesn't. She renounces her artificial sexy popularity and cheetah powers (long story) but we don't get to see if she gains confidence in herself. That was the kind of shit I wanted out of this movie! That means it's unique.
Not everything is as fresh as that. The Cheetah thing comes kind out of left field, basically for an animated fight scene to happen (it's dumb, but I thought an improvement over the fight against digital Danny Huston David Thewlis in the first one). The DC Universe fictional country of Bialya is used as a generic Middle Eastern country that I think people have unfairly read into because of Gadot's Israeli heritage, but it's definitely a stereotype, and a dull one.
Also, I can't argue much with people who complain that the 1984 setting is wasted. Sure, there's some Cold War, some WALL STREET rich asshole stuff, an excellent outfit for Diana, a scene where she kicks a Trans-Am, a Duran Duran song. But I might've gone from like to love if it really leaned into it. You gotta have a Giorgio Moroder soundtrack, or Harold Faltermeyer, or something, man! They do even less than CAPTAIN MARVEL did with the '90s. They have a joke about breakdancers and don't even have music playing! And there aren't really '80s filmmaking devices other than a trying-on-different-outfits montage. Wouldn't it be cool if this 1984 felt like the one that gave us NINJA III: THE DOMINATION? I seem to be the only one who liked this anyway, they might as well have aimed at my specific tastes.
I can forgive that stuff because we have here a star blasting out charisma like light rays from the Ark of the Covenant, wearing a brightly colored outfit, swinging around on a magic golden rope, sliding, flipping, kicking, smiling, rescuing various children, sometimes winking at them. As Diana, random dudes are always trying to talk to her, and she could not be less interested. As Wonder Woman she uses her lasso to swing from ceilings, planes, clouds, lightning bolts, missiles, bullets. I adore all the lasso-based action in this movie. If you're the type of person who doesn't like gravity-defying ludicrousness in your action, I'm sorry for your loss. But this is the good shit. The pure shit.  And I like the deliberate, set-piecey way Jenkins and cinematographer Matthew Jensen (FANTASTIC FOUR) present the action, like the way the camera pans around the mall coming across various characters involved in the robbery and escape attempt. Even with a sunny, artificial shine to everything I still wasn't sure how they did some of this stuff – there's a flashback to her childhood where it looks like they had a little girl doing American Ninja Warrior shit in front of a green screen. Wires? Animation? I have no idea.
I'm not saying you have to like it. You probly won't. But show it some respect. Wonder Woman and Patty Jenkins don't need anybody's permission. They're not pandering to anybody, especially you. This movie may not be great, but it's legit.
This entry was posted on Monday, December 28th, 2020 at 11:38 am and is filed under
Comic strips/Super heroes
,
Reviews
. You can follow any responses to this entry through the
RSS 2.0
feed. You can skip to the end and leave a response. Pinging is currently not allowed.