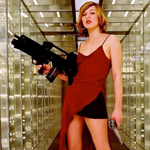 The RESIDENT EVIL movie series is sort of a zombie in its own right – a dead thing leftover from another time, somehow still walking the earth. When the first one came out in 2002, movies based on video games were still a novel concept that had only really been done successfully by this same director, Paul Anderson, with MORTAL KOMBAT (1995). According to a chart I found, the video game industry itself made $48.29 billion in 2002. That's a bunch of money, but it also says that as of three years ago they were making $76 billion. And I'm sure it's still going up.
I don't know of any charts for this, but I bet the revenue from zombie related entertainment has increased tenfold during that period. This may be hard for the youths to imagine, but zombie movies were a genre that had been fallow for nearly two decades, and only horror people obsessed with DAWN OF THE DEAD ever thought about them. This complicated the reception of RESIDENT EVIL for people like me. On one hand, it was exciting to see any take on this type of monster. On the other hand, we were still holding out for a comeback for George A. Romero, who had not yet done LAND OF THE DEAD (or DIARY OF THE DEAD or SURVIVAL OF THE DEAD). We knew because of internetting that he'd shot a series of Japanese commercials for the Resident Evil video game, and had been hired to write and direct the movie until the company didn't like his script and replaced him.
So it was interesting to watch RESIDENT EVIL again in 2016, remembering that I hated it when it came out, but not much remembering why (here's the dumb review I wrote almost 15 years ago). At the very least there's a good opening sequence that I had no memory of. Employees of the Umbrella Corporation in Raccoon City, Wherever arrive one morning at their underground lab work place known as "The Hive," having no idea that the shit is floating mid-air in a cool MATRIX style slo-mo flight toward the fan, because somebody broke open a vial of the deadly experimental T-virus.
We focus in on a nerdy dude who gets his coffee knocked on him by a hurried person while he's waiting for the elevator. The splasher doesn't stop to apologize, and a woman (Indra Ove, "VIP Stewardess," THE FIFTH ELEMENT) who's also waiting for the elevator shares an "aren't people dicks?" moment of sympathy with him. His humiliation has earned him a conversation with this white knight, which he totally blows when their crowded elevator gets stuck between floors and he starts panicking way too early. They don't even know what's going on and he's about two minutes from suggesting a vote for who's gonna get cannibalized.
Sympathetic Lady admirably takes charge, but while she's trying to crawl out through the doors the elevator starts to move again, and she gets one of those viscerally painful deaths that actually make you wince. Based on this opening sequence it seems like the movie means business.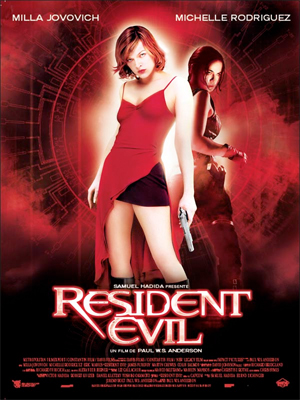 And then we get another little short film. This one is about Alice (Milla Jovovich, A PERFECT GETAWAY) waking up naked in the bathtub of a strange mansion, not sure who she is. She puts on a dress and looks at clues to her identity before a cop (Eric Mabius, THE CROW: SALVATION) scares her, and then a SWAT team busts through the windows. They say that Alice and her partner Spence (James Purefoy, SOLOMON KANE) live in the mansion as a couple but are actually there to guard one of the entrances to The Hive, and that a release of gas from the facility's security system had knocked them out and caused their amnesia.
These commandos are supposed to go in and shut down the security system or something to quarantine this virus. I gotta assume this whole set up comes from the video game, because they got it all figured out: there's an underground train that goes to the Hive. There's an AI security system called "The Red Queen" that appears in the form of a hologram of a little girl with a British accent, and she's being kind of a brat. There are halls with laser grids that come at you and chop you up CUBE style unless you know how to do cool acrobatic shit.
And once they get in the staff that were trapped down there have been turned into zombies. I'm sure the elevator nerd is the most panicky zombie of all of them. (They must've shown him and his coffee stain again, but if so I didn't pick up on it.) They get swarmed and have to climb up onto pipes and through vents and shoot at them and stuff. Michelle Rodriguez – who was early in her career of supporting tough ladies, having only done GIRLFIGHT and the first THE FAST AND THE FURIOUS – gets to be the one to revive the "I don't want to become one of those things, if I get bit you know what to do, right?" cliche for the 2000s.
The zombies lack the personality or high quality makeup effects that we were accustomed to from Romero movies (and now The Walking Dead), so they're not that interesting. But since this is a video game there are other monsters that they gotta fight, the best one being the mutant dobermans that were test subjects in the lab. The one great sequence after the opening is the one where Alice gets chased by a dog and she runs up a wall, spins around and kicks the thing in slow motion. I remember when I first saw this that was the only part I liked, and I rewound it a couple times.
At the climax there's also a monster called a "licker" I guess which is a naked mutant guy that crawls on the ceiling and has a long tentacle tongue. This is a digital animated character, and the effects seem crude now, but are very sophisticated compared to what Anderson was dealing with on MORTAL KOMBAT. And they get some humor out of the characters' disbelief that after all they've survived now they have to deal with this fuckin tongue monster thing.
While they go through and try not to get killed by these various things, Alice is slowly regaining memories and figuring out who she was, that there was an anti-virus, who might have betrayed her, etc. On paper this seems like alot going on, but in practice it's a repetitive slog. To be fair there are a few other surreal sequences – waking up during a medical procedure, emerging to a destroyed city – that really work. But it seems like all the good parts are the parts that feel disconnected from the main section of the movie. Except for the dog kicking.
After Anderson had kicked off the video-game-adaptation genre in '95, he'd moved into slightly more respectable studio sci-fi with EVENT HORIZON and SOLDIER. Meanwhile, the other Paul Anderson, Paul Thomas Anderson, was making enough of a name for himself with MAGNOLIA that it became necessary for this Anderson to add the initials "W.S." on his credits.
The most compelling aspect in the main part of the movie is the gimmick of Alice slowly regaining her badass abilities, visually symbolized by changes of clothing. She starts in a shoulderless red dress, totally inappropriate for battle, but with boots. And then the bottom of the dress gets torn off so it's not in her way, and finally she adds a leather jacket.
By the way, there are obvious reasons to put partial nudity in a movie, but in this one I genuinely think they were also using it as birth imagery. In the opening Alice is basically born, a new person. In the end it happens again. (Not sure if this comes from the game, or from the same thing being done with her in THE FIFTH ELEMENT.)
And in a way Jovovich really was being reborn here. Though she'd done plenty of action in her two Luc Besson movies, THE FIFTH ELEMENT and THE MESSENGER, it was the RESIDENT EVIL series that showed her as a straight up action vehicle lady. In this one she's on metaphorical wobbly Bambi legs, you can see her still learning. There are shots of her coming around corners doing cool gun poses that look almost like she was joking around playing cops and robbers. But at times her emotional acting is effective, and you can definitely see the appeal of her growing persona as Beautiful Dainty Model Who Takes Charge And Kicks Ass While Wearing Leather. It will be interesting to see if it evolves over the series (the rest of which I will now be watching for the first time).
This entry was posted on Monday, January 23rd, 2017 at 3:58 pm and is filed under
Action
,
Horror
,
Reviews
,
Science Fiction and Space Shit
. You can follow any responses to this entry through the
RSS 2.0
feed. You can skip to the end and leave a response. Pinging is currently not allowed.