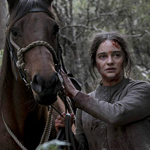 THE NIGHTINGALE, now in limited theatrical release, is Australian director Jennifer Kent's followup to THE BABADOOK. That 2014 debut of hers was a critical sensation and cult hit that made less than 1/34 the box office of ANNABELLE the same year, but it reached a ton of people, including many who don't usually bother with the genre. Certainly some of the hype was about it being directed by a woman, and I think that's relevant in that its scares are based in motherhood. I can point you to plenty of pro-woman horror movies, but few that are about such specifically female fears.
That made Kent one of those directors whose names get reported as being on the short list to direct every WONDER WOMAN or CAPTAIN MARVEL that comes along. She told Indiewire "I did entertain one blockbuster seriously and I thought, yeah, I could give this something really special. But then ultimately I heard about the way the films are made, and I thought it would kill me." So five years later she still hasn't been sucked into the ol' i.p. game, unless you count developing an adaptation of the 19th century lesbian thriller book Alice + Freda Forever. Instead she made this.
I think THE NIGHTINGALE is a very good movie, and it seems to be getting mostly good reviews, but I feel like it has almost zero chance of catching on the way THE BABADOOK did, because number one, no obvious Halloween costumes, and number two the content is more straight-forwardly disturbing. Here's how I described it on Twitter after seeing it at the Seattle International Film Festival last May:
"TRUE GRIT meets I SPIT ON YOUR GRAVE in Australia. And about colonialism, misogyny and white supremacy."
If that still sounds pretty commercial to you, please note that it's shot in a square format similar to COLD WAR and MID90s. I'm sorry, but mainstream audiences do not go for 1.375:1. Just ask them. Ask them what they think of 1.375:1. They'll tell you they don't care for 1.375:1, especially in an Australian rape revenge western with political subtext. No sir.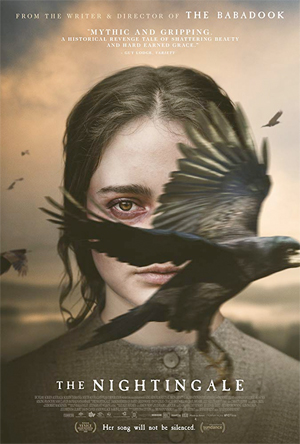 It takes place in 1825. Clare (Aisling Franciosi, The Fall) is a young convict from Ireland living in a British penal colony in Tasmania. She serves food and cleans and they make her sing. All the soldiers there seem like sexually harassing scumbags, but the worst is Lieutenant Hawkins (Sam Cliflin, THE HUNGER GAMES, ADRIFT), who's made all the more hissable by looking at first glance like the clean cut nice guy. He forces her to stay beyond her sentence so he can keep raping her, which she hides from her husband Aidan (Michael Sheasby, HACKSAW RIDGE). And the Lieutenant seems to almost believe his own bullshit that he's helping her out.
When the shit hits the fan it results in the devastating deaths of her husband and baby the night before Hawkins and a couple of his guys split to another post up north where he might get a promotion. The officials won't do anything for Clare but file a report, so she takes her horse and a gun and goes after the motherfuckers herself.
A friend, another convict who refuses to go with her, convinces her to hire Billy (Baykali Ganambarr), a local Aboriginal tracker he knows, so she won't get lost and die. Billy takes some convincing – when the soldiers came before her, he told them to fuck off – but she does not act grateful. In fact she treats him like shit, only calling him "boy" and always pointing her musket at him like she can't trust him. It's an interesting feeling to be rooting for Clare to extract her savage revenge and then have to transition to "well hold on, now, be nice to this guy." And Billy is instantly charming with his bleak humor and refusal to pretend like he's happy about any of this. Their bonding is long and slow and requires a whole lot of generosity on his part. And of course I'm a sucker for that shit.
Damon Herriman plays one of Hawkins' men, Ruse, and as soon as I saw him I thought "Oh shit, that's Dewey Crowe from Justified!" Then his voice came out and sounded totally different and I thought "That's gotta be Dewey Crowe from Justified, right? Nobody else would look like that," before I realized "Oh shit, Dewey Crowe from Justified is Australian!" Anyway, he's good, and even though he's kind of a sidekick he gets more to do than he did as Charles Manson in ONCE UPON A TIME IN HOLLYWOOD.
Hawkins also brings along a couple of convicts to carry his luggage for him. I like the symbolism of Eddie (Charlie Shotwell, CAPTAIN FANTASTIC), who's around nine years old. He works hard enough that the boss is impressed, gives him a gun and says he'll promote him, a technique that simultaneously grooms the kid to be his toady and sadistically humiliates Ruse. Hawkins tells Eddie not to cry and to "be a man" – the ol' toxic masculinity. Eddie is the next generation and he still has some sensitivity, a little bit of a moral compass, but he's losing it. He tries to do what he's told. He doesn't hesitate to hold a black man at gun point. It's terrifying.
And also it's fucked up how casual everybody is about there being a little kid who's a convict! Hawkins holds it over him like it's a given that he deserves punishment for whatever he did (if he did anything at all).
Like many of the serious revenge movies that manage to pull it off there's a combination of excitement for her to get these bastards and recognition that violence is ugly and bad and hard, especially when you're new to it. It's not usually her thing, but she gives it her best shot. She's small and looks very young but she's worked all her life and she's not gonna give up. Her eyes look tired but burning with a bitterness that will fuel her until she achieves her goal.
There's a powerful scene (SPOILER FOR IMPORTANT LATE-IN-THE-MOVIE SCENE) where they come to a small town that does not treat indigenous people kindly, but a very old man offers them hospitality. Against his wife's wishes he gets Billy to sit at the table to eat with them. But Billy breaks down crying and explains that this town is his country, this is where his people lived, and he expected them to still be there. Now he sees that the white men came in and killed them and built their houses on their land. And this guy who a minute ago seemed unusually kind and progressive, he doesn't know how to handle this conversation. How could he? So he just slurps his soup. Mary had a little lamb…
I think that's kind of the whole meaning of the thing. Clare thinks she has it bad, and fuck yeah, she does. That doesn't mean Billy doesn't have it worse in some ways. Especially because people like her think it's okay to take their shit out on him. She's gotta stop seeing it that way. Maybe we can't undo what's been done, but we can acknowledge it, not be so fuckin defensive about it. Be sympathetic and be there for each other instead of worrying about being blamed or fighting to make sure somebody else is on the bottom.
This may be more a sign of the times than of the movie, but this is the first time I heard a sort of trigger warning before a film festival movie. Most of the discussion has been about the rape scenes, but the frank depiction of violent racism toward the natives is also hard to watch. I saw an older black couple who had been very excited about the movie in line walk out during an upsetting scene of degradation.
(There was also a bizarre incident where the woman next to me couldn't control her nervous yelping whenever a gun went off, and the guy in front of her kept turning around and giving her mean looks, then she apparently kicked his chair so he hit her on the leg and they started yelling at each other. I'm pretty sure this is purely caused by a confluence of two strange people and has nothing to do with the particular movie, but I thought I would share it with you anyway.)
If the type of things I've described are not a barrier to you then you should see THE NIGHTINGALE. It's among the best movies I've seen this year, and I look forward to whatever Kent does next. She started as an actress, by the way, so it's time to figure out which character is "Lab Lady" in BABE: PIG IN THE CITY.
P.S. I recommend this Vulture piece by Angelica Jade Bastien which ponders "what it means for rape scenes to be filtered through the female gaze."