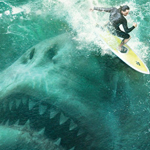 When elite underwater rescue guy Jonas Taylor (Jason Statham, GHOSTS OF MARS) tries to save his friends from a damaged nuclear submarine, he makes a controversial decision to shut a door and leave behind some of the crew, saving eleven others from an explosion. His career and life are ruined by that hard choice. And also because he believes the sub was attacked by a monster and everybody thinks he's nuts.
Years later he lives in Disgraced Hero Exile in Thailand, drinking all day in his Thai farmer hat, running a small fishing boat. It's clear that he's a sweetheart when some little kids wave at him on his motorcycle and he makes a funny face for them. I liked this little touch, though it kind of undercuts the later badass juxtaposition of his friendship with a little girl named Meiying (Shuya Sophia Cai).
Of course he's resistant at first when his old buddy Mac (Cliff Curtis, DEEP RISING, WHALE RIDER, THE POOL, RIVER QUEEN, THE FOUNTAIN… he does alot of water related movies, is my point) shows up to recruit him for another rescue. This time it's people working for a high tech underwater lab who lost radio contact. And one of them is his ex-wife Lori (Jessica McNamee, THE LOVED ONES). In a refreshing swerve from standard action movie protocol, he just likes and respects her, and is not trying to win her back. He does get to tell her "I told you so," of course, when they all see that giant monster that they spent years telling him he didn't really see.
That's The Meg – or "Megalodon" as he declares with wonderfully Stathamy authority – a prehistoric giant shark creature now released from its undiscovered home beneath a cold such-and-such layer at the false bottom of the Marianas Trench. That line delivery reminds me of a famous Bollywood one I know from being sampled on this great CD:
I wish that was also the theme for THE MEG, but this is not that kind of movie. It's an American-Chinese co-production, with that unique international co-production type of crappiness that is rarely transcendent but sometimes pretty enjoyable, and does feel high rent compared to SyFy movies about this sort of subject. So it does have such quotable dialogue as "Launching magnetic hook! Three, two– AAAAAHHHH!", but it doesn't have a bunch of winky winky nudgy nudgy type humor. And it was a smart idea to combine man-eating-monster thrills with Statham vehicle – two things that can be kinda good combined into kinda good+.
The crew's relationship with The Meg includes but is not limited to trying to capture it and trying to kill it. They come up with this great theory that it's so big that one guy swimming near it is not a threat or a worthwhile snack, so Taylor swims out to try to put a tracker on it so they can follow it and then poison it. (I don't remember an explanation of why he doesn't just try the poisoning thing now.) Anyway their theory seems to be incorrect. The thing even goes after a tiny dog later. I mean, we eat M&Ms, don't we?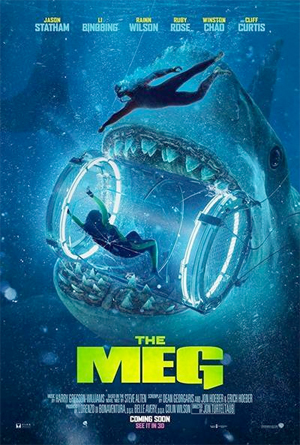 The lab is financed by wacky billionaire Jack Morris (Rainn Wilson, HOUSE OF 1,000 CORPSES), run by Chinese scientist Dr. Minway Zhang (Winston Chao, THE TOUCH) and his badass daughter Suyin (Li Bingbing, SILVER HAWK), who is the mother of precocious Meiying. Though Bingbing's delivery is slightly stilted, she's the actual female lead and love interest, it's not just a guest appearance like RESIDENT EVIL: RETRIBUTION or TRANSFORMERS: AGE OF EXTINCTION, so I think this is a more respectable and less cynical way to try to cross over between Chinese and American audiences.
Also in the supporting cast are Page Kennedy (LEPRECHAUN BACK 2 THA HOOD) in a somewhat thankless comic relief role, Robert Taylor (Agent Jones from THE MATRIX) as the doctor who has hated Taylor since the prologue and now has to adjust to the realization that he was right, Masi Oka from Heroes as, you know, a science guy, and Olafur Darri Olafsson (A WALK AMONG THE TOMBSTONES) as a character called "The Wall" who is so much like Bill Paxton's bearded science buddy in TITANIC that I was halfway convinced it was the same guy. MVP in my opinion is Ruby Rose (JOHN WICK CHAPTER 2, xXx: RETURN OF XANDER CAGE) in all her tattooed glory as tough wiz kid inventor and designer of all their equipment Jaxx Herd. Let me repeat tha – Jaxx Herd. I'm not sure if there was an early draft that was a '90s cyberpunk movie. Anyway I hope she becomes the Q of the series and I hope she builds a Mecha-Statham for part 2. Not that he needs one.
As I always like to note, Statham was on the British national diving team and competed for England in the 1990 Commonwealth Games, which led to modeling which led to LOCK, STOCK AND TWO SMOKING BARRELS. And I've noticed that he often finds reasons to dive into water in his movies. This is no exception – it has two dives and what appear to be some real underwater stunts. And now that I think about it I'm surprised he's not in AQUA MAN. I still think it would be worth continuing the Dark Universe just to have him as the Creature From the Black Lagoon.
I've talked to many people who were surprised to learn that this is based on a novel, Meg: A Novel of Deep Terror by Steve Alten. The THE (which is a misnomer – there's more than one meg in the movie) was added at the eleventh hour reportedly because they were worried people would think it was "Meg" as in "Meg Ryan." I wish they would've gone with MEG: A MOVIE OF DEEP TERROR, but I guess they all can't be Lee Daniels.
The novel came out in 1997 and people have been trying to make it into a movie since before it was even published. I first heard of it when Nick Nunziata from the websight Chud was supposed to produce it, apparently for Guillermo del Toro. Like GODZILLA, it had Jan de Bont attached for a while. And a few years ago it was almost directed by Eli Roth, which I was kind of excited for. It ended up being John Turteltaub, and I lowered my expectations appropriately for the director of 3 NINJAS, DISNEY'S THE KID, NATIONAL TREASURE and THE SORCERER'S APPRENTICE. This is his followup to the pilot of the tv version of RUSH HOUR, and surely his best movie?
The script is credited to Dean Georgaris (LARA CROFT TOMB RAIDER THE CRADLE OF LIFE, JOHN WOO'S PAYCHECK) and Jon Hoeber & Erich Hoeber (WHITEOUT, RED, BATTLESHIP). I haven't read the book, but it sounds like it's about half faithful, with what sounds like an improvement of ditching the news reporter ex-wife who uses her connection to him to get a story, ala the aforementioned GODZILLA.
I was unable to see it in 3D, but I'm sure it was a treat for the climactic money shot. It's not a SPOILER to say that Statham kills the shark but it is a SPOILER to say that after gulleting the motherfucker with a cool submersible maneuver he gets out, makes it personal by looking it in the eye and stabs it with his own hands, while it jumps in the air. Some BEOWULF shit.
That said, the gory Megalodeath from the book sounds even better, and the movie could've probly benefited from an R-rating. The audience I saw it with correctly applauded all munching of humans, and there's no artistic reason not to go way over-the-top with that shit.
And out of fairness I should say I'm not really sure if this is any more or less ludicrous than JURASSIC WORLD: FALLEN KINGDOM, and it certainly doesn't have the same production value or volume of monster mayhem. But the expectations associated with "sequel to movie generally considered a popcorn classic" versus "ha ha Jason Statham fighting a giant shark" allow us to hold them to different standards. That's life. Hakuna ma tata.
And maybe a fairer comparison is the other big dumb Chinese co-production summer of 2018 blockbuster action star vehicle, SKYSCRAPER. I would prefer an actual great action or horror movie, but barring that, I can enjoy a silly one that delivers on lots of silly shit. And this is a reminder that Statham's HOBBES & SHAW co-star Mr. Johnson should step up his action vehicle game. 'Cause Statham has has solid ones (TRANSPORTER 2, DEATH RACE, SAFE, HOMEFRONT) and his ensembles (LOCK STOCK AND TWO SMOKING BARRELS, ITALIAN JOB, BANK JOB, KILLER ELITE, EXPENDABLES 1–3, 13, FURIOUS 7–8) and his enjoyable programmers (MECHANIC 1-2, this) plus some more interesting ones (BLITZ, REDEMPTION, WILD CARD) and a funny one (SPY) and even though I hate the CRANKs, they are weird and unusual and I get why other people love them.
So hats off to Statham for ongoing action star excellence, and I hope in the next one he does a flying spinkick to the Meg's uvula.
This entry was posted on Monday, August 27th, 2018 at 11:52 am and is filed under
Action
,
Monster
,
Reviews
,
Science Fiction and Space Shit
. You can follow any responses to this entry through the
RSS 2.0
feed. You can skip to the end and leave a response. Pinging is currently not allowed.