DRAGON'S BALLS: EVOLUTION is the weird story of a young misfit named Goku (Justin Chatwin, the guy who everybody thought ruined WAR OF THE WORLDS by not dying) who has a strange hair do and on his 18th birthday finds out that he has to collect 7 (seven) magic dragon's balls before the eclipse, or an alien guy named Piccolo is gonna resurrect another guy that's gonna somehow destroy or conquer the world or whatever. That's why Goku's grandfather (Randall Duk Kim, "the Keymaker" from the MATRIX sequels) taught him martial arts and magic "airbending techniques" such as using his ki energy to light torches. I'm not clear though why the grandpa waited until the shit went down to explain what was going on. I guess this kid got his John Connor style childhood's worth of training, but it seems like getting a head start on collecting dragon's nuts wouldn't be a bad idea when the entire earth is at stake. I like the earth.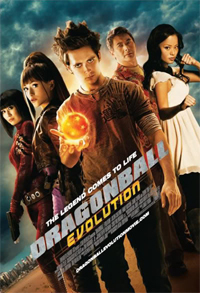 I'm glad they specified "earth," by the way, because this place is kind of weird. I'm not sure if it's supposed to be the future or an alternate timeline or what but at least we ruled out "other planet." Goku goes to an ordinary school with lockers and mean jock bullies, and there's a city, but some weird technology and alot of desert terrain that could pass for post-apocalyptic. In his journey to collect all the dragon's nads he Wizard of Ozzes up a team that includes:
1. a princess or something (Emmy Rossum) with cool gadgets such as a Rubik's cube sized doodad that she throws on the ground and it folds out into a full-sized, working vehicle. It's great transportation and also pretty cool to throw at a bad guy. She wants to use the dragon's huevos to invent an alternative energy source because, she explains, she wants to be famous (whatever happened to making a sex tape, like a Hilton or a Kardassian?)
2. a bandit (Joon Park) who tried to rip them off by making them drive into a big hole. But he helps them dig a tunnel so they become friends.
3. Goku's grandpas' master, played by badass hall of famer Chow Yun Fat in a Hawaiian shirt. I was kind of sad at first that he was in a movie like this, but you know – he doesn't come off bad. At least he gets to use his charm and humor. I felt like his talents were put to more use than in PIRATES OF THE 3RIBBEAN, even though I liked that movie. And he does a few tai chi moves he probly learned for CROUCHING TIGER, HIDDEN DRAGON or something. Good to get some use out of those.
I believe this movie got a– I don't know, let's call it a subtle theatrical release. But the only reason I ever heard of it was looking up Ben Ramsey on the Internet's Movie Database. The guy directed BLOOD AND BONE so he oughta get a medal or a parade, instead he gets a bunch of dragon fondlers on a nerd jihad against him 'cause they don't like his script for this. Turns out DRAGON'S BALLS is a Japanese comic strip. It went comic strip –> cartoon show –> dubbed into English –> turned into live action movie trying to please fans of the original Americanized cartoon adaptation of the comic book version as well as normal adults or children or whatever. So there's a definite xerox of a xerox of a xeroxed xerox feel here.
Funny thing is in the opening they got one of those classroom scenes where the teacher asks a question designed to deliver information they want to make sure the audience knows – in this case the definition of a solar eclipse. But then it's got that STREET FIGHTER syndrome of throwing out a bunch of weird shit that you figure must make sense for somebody who watched the cartoon, but not for anybody else. So the movie assumes you understand all this crazy shit about four-star dragon's nards and flying cars but not what an eclipse is. Not sure if that's a fair assumption for most people but it was off the mark for me.
One thing I wonder about villains like this Piccolo clown: don't they ever change? Like, this guy's been planning to destroy the earth since at least 18 years ago, but I think much longer because there was something about the master growing up knowing a nursery rhyme that tells them to use the dragon's bean-pods to save the earth. Okay, I understand you're pissed off 'cause you were locked up or whatever, you get real vengeful and you want to use a comet to send a kid there that's gonna grow up normal except for his hair but then when you do something magic with the dragon's acorns during the eclipse he'll turn into a wolf monster and that's somehow gonna destroy the planet, which would obviously make you feel alot better about everything.
I get that – obviously I get that. But haven't these guys ever heard of "time heals all wounds"? How come there's never been a prophecy that doesn't come true just because the Evil One lost interest? He went through alot of shit, grew up a little, learned to forgive and forget, picked up some new interests, got bored of the idea, maybe even forgot he ever planned to do it in the first place? Well, I don't necessarily demand that in this movie, but there's nothing very interesting about this villain, and he just looks like an alien from a TV show.
At the end the dragon actually shows up. He doesn't seem that angry about them stealing his marbles, in fact he gives them one wish. His voice doesn't sound very high either, for a castrati. But it's not really made clear exactly how many gonads a dragon has. It might be alot more than just the seven they sliced off of him. It might not be a big deal to a dragon to lose seven bean bags.
But like LEGEND OF CHUN LI I thought this was a slicker and more competent movie than expected, and that it benefited from a good lead performance. This Justin Chatwin is commendable trying to make a human out of a cartoon. He seems to take it seriously with just the right trace of humor. Like when Chow gives him some typical "search inside yourself and you will find your secret power" type platitude and the look on Chatwin's face says "okay buddy, that's completely meaningless, but thanks I guess." And he has a weird enough persona to be pretty interesting. He has an intensity in his eyes but also has this silly spikey hair look and even wears a bright orange Halloween-costume-of-a-cartoon-character type uniform at the end. He seems like he knows everybody else thinks he's a dork, but also that he's gonna save the world. It doesn't nag on him too much like most movie characters, he doesn't have to prove to everybody that actually he's a tough guy. No, he just shrugs it off and tries to stay true to the James Dean image only he sees in himself. And I mean it's gotta be hard just to keep a straight face when you got that wig on. I'm sure there were reflective surfaces on the set, it must've been real hard.
DRAGON'S BALLS was directed by James Wong, the guy who did FINAL DESTINATION and THE ONE. Stephen Chow is credited as producer, but apparently it just means he was gonna direct it but was too busy, so he signed on as an advisor and they didn't take his suggestions.
I watched this shortly after the CHUN LI movie, so it's a fair question to ask which one is "better." Well I'm not really recommending anybody watch these, but if I had to choose one I guess I'd go with this, 'cause it's weirder. So if you ever wondered who these movies like LEGEND OF CHUN LI and DRAGON'S BALLS are made for, there's your answer. They make them for forgiving, open-minded movie fans who can't tell a Street Fighter or a Dragon's Ball from a hole in the ground, to watch on a whim expecting total garbage and then be pleasantly surprised when it's not the worst thing ever.
I give DRAGON'S BALLS: EVOLUTION a score of 7 out of X dragon testicles.
This entry was posted on Tuesday, July 13th, 2010 at 2:16 am and is filed under
Comic strips/Super heroes
,
Fantasy/Swords
,
Reviews
. You can follow any responses to this entry through the
RSS 2.0
feed. You can skip to the end and leave a response. Pinging is currently not allowed.