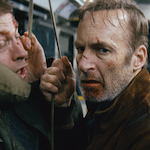 Yes, it's true – the makers of JOHN WICK have turned Bob Odenkirk (DR. DOLITTLE 2) into an action star. NOBODY (now on VOD) comes from WICK screenwriter Derek Kolstad (ONE IN THE CHAMBER, THE PACKAGE) and is produced by WICK co-director David Leitch, and it has many obvious similarities to JOHN WICK. The premise is a variation on a retired super-killer in a "Yeah, I'm thinking I'm back!" situation. It mines the same entertaining territory of depraved Russian gangsters having the shock of their lives when they discover that somebody they assumed was just a random regular person is in fact a preposterously elite warrior who's about to fuck up their whole existence. The dry, dark humor and gory, painful, expertly choreographed violence are certainly in the same ball park.
So if anybody has a bad thing to say about this movie that might not make me spit out my drink it would be "it was too much like JOHN WICK." But I don't agree that it's a problem at all, because its strongest similarity is that it was another trailer that seemed to come somewhat out of the blue and made me say "Holy shit, where have you been all my life?," and then when the actual movie came out it was simultaneously exactly as promised and so much more than anticipated. I don't hesitate in saying that NOBODY is a new classic.
Odenkirk's character Hutch Mansell is both The McClane and The Seagal – he's always getting knocked down and crunched, constantly bleeding and aching and limping, but also we have absolutely no question that he will make every one of these motherfuckers regret they ever met him. But first, of course, he's living a humble life as a suburban father of two, managing a small factory. We see the drudgery through a sequence of similar days with similar failures. His real estate agent wife Becca (Connie Nielsen, SOLDIER) seems to look at him each morning with some combination of love and pity. His young daughter Abby (Paisley Cadorath) still adores him, but his teenage son Blake (Gage Munroe, IMMORTALS) makes his disdain transparent.
Blake's disgust is only increased when the Mansell house is robbed one night. The kid manages to get one of the thieves in a headlock, but rather than attack the other with the golf club he's holding, Hutch surrenders and tells his son to let him go. After that he eats even more shit in his life as responding officers, asshole neighbors and in-law co-workers (including Michael Ironside, HELLO MARY LOU: PROM NIGHT II) look at him like he's some kind of pussy.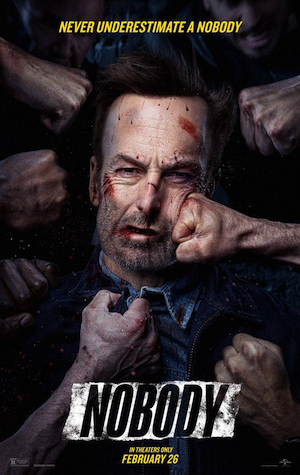 If we hadn't seen the trailer, and didn't know for sure there was something else going on with Hutch, we'd know it when he opens his secret radio and talks to a distinctive voice that those-who-know will know as the director and star of THE MAN WITH THE IRON FISTS. That's when we see that Hutch can rattle off every detail of the gun that was pointed at him, including that it was empty. He wasn't being scared – he was being merciful.
Because NOBODY's most novel innovation is, of course, training up a Saturday-Night-Live-writer-turned-alternative-sketch-comedy-god-turned-character-actor now in his late fifties to perform choreography and stunts on something like a Keanu level. I want to make sure we fully honor both Odenkirk's commitment and the brilliance of this approach by considering how this story would normally be told. They'd get Jason Statham or Nicolas Cage or whoever and they'd put glasses and a wig on him, and he hunches over and acts shy at the beginning and then wow, what a transformation as his true self is revealed! Or they would cast more of an everyman and teach him a couple wristlocks and any more involved action is mostly implied by closeups and wiggling.
This is a great script, so it would probly still be a decent movie, but it wouldn't be this movie, the first in history to say "Fuck it, let's make Bob from Mr. Show with Bob and David into an 87Eleven guy!"
That training fell to BLOODSPORT II-IV star Daniel Bernhardt, who also plays one of the thugs in the movie and was co-fight coordinator along with Kirk A. Jenkins (Leitch's upcoming BULLET TRAIN). Rather than the popular super hero workouts turning comedy stars into he-men, Bernhardt kept him the same size, but toughened him to perform and withstand complex choreography, fighting multiple attackers, using improvised weapons, bashing body part into and through things.
So Hutch is real good at all that, but he chose not to unleash it on the burglars, and he's consigned to accepting everyone's derision and assumptions of cowardice about it until one final straw pushes him over the edge (SPOILER: he realizes the robbers might have his daughter's "kitty cat bracelet"). I love his ROLLING-THUNDER-I'll-just-get-my-gear style decision to just turn and walk out of the house with no explanation. He proceeds to follow the clues he has to locate the thieves and (SPOILER) ends up understanding why they did it and feeling like an asshole for coming after them in the first place. I love the way this subverts the macho empowerment/karmic-retribution/scapegoating-the-urban-poor stuff you expect at this point in a vigilante movie, even the ones that will ultimately tell us that revenge is a mistake. Hutch's reaction – screaming and boxing a brick wall until his fists are bloody – played in the trailer like his fury at being emasculated. It's kind of the opposite!
Only on the sad trip home does Hutch receive what he interprets as a gift from God: the improbable, completely coincidental arrival of a carload of undeniable shitbags who exit a crashed joyride vehicle and enter the bus to terrorize the passengers. So we get to experience the no-one-could've-predicted-this-would-ever-exist miracle of a brutal, body-mutilating brawl between the dad from LITTLE WOMEN and stuntmen including KICKBOXER: RETALIATION/JIU JITSU star Alain Moussi and the aforementioned Bernhardt. The stunned reactions of Hutch's victims and bystanders, and his polite interactions with them, are almost as good as the fight itself. And Hutch gets to get his groove back, reliving his wild days as something he calls "an auditor."
(I would like to note that as a long time user of public transit it's really cool to see so many pieces of the bus used as improvised weapons.)
I really admire the construction of this: The repeated days to establish what Hutch's life is like, the interruption of the robbery and subsequent humiliation, the vigilante mission gone wrong followed by the punchline of a more deserving group of targets falling neatly into his lap. (Hutch's not-quite-suppressed smiles as he doesn't seek violence but sees it coming to him anyway gets huge laughs throughout.)
He goes home badly injured and very fulfilled. I love that I could enjoy that perfect little short story there and then honestly have no clue what the rest of the movie was gonna be.
Then we get a huge title that says YULIAN. It turns out to be the name of a particularly colorful and vicious Russian gangster played by Aleksey Serebryakov, who alternately reminded me of Graham Norton and Dwight from SIN CITY. His brother was one of the thugs on the bus (now in the hospital) so he sends his guys after Hutch, and Hutch goes back at them. Hutch juggles the elation of rejuvenating his life's passion with the responsibility to protect his family, and the movie deftly balances this humor with extremely potent grappling, stabbing, head-blowing-off type mayhem, some great vehicle battle, and nice treats for all us boobytrap fans. Although the baroque spectacle of CHAPTER 3 is currently my favorite mode of JOHN WICK, I love this chance to go back to the original WICK's level of tightness and intimacy.
And I do believe the action and technical craftsmanship is on par. The director this time is Ilya Naishuller, the Russian musician who directed videos for his own band and then did HARDCORE HENRY (2015). That was a clever and very technically impressive action movie that I just couldn't stay involved in because of its gimmick of being shot entirely in the perspective of the main character. It turns out cool action scenes aren't as cool if you never see the hero's poses or expressions. I'm very glad he was able to put those talents to use here.
IMDb lists two editors – Evan Schiff did JOHN WICKs 2 and 3, EVERLY and BIRDS OF PREY; William Yeh did EQUILIBRIUM, ULTRAVIOLET and PUNISHER: WAR ZONE. The director of photography is Pawel Pogorzelski (HEREDITARY, MIDSOMMAR).
Again like JOHN WICK, NOBODY's action is so great, and its greatness is so much more than its action. Thematically it's very different – it's not about grief. And I will admit that violence as a metaphor for being true to one's self is not the newest or healthiest subject for a story. But it works so well here. Hutch is unhappy with his 9-5 routine, but he revives what he once loved and was great at, it makes him happier, reconnects him with his wife and extended family. It does all that with just the right touch. Like, we get to see the "holy shit" look on the son's face when his dad shows his true self, but we don't have to see the kid being delighted about it or high fiving or some shit. And I like touches like the things in his basement that seem to represent hanging on to his youthful passions – his record collection and his pinball machine – that turn out to be an actual means to ditch this buttoned down life and return to his roots.
Odenkirk's performance is similarly layered and detailed. Another thing that's easy to forget is that yeah, back in the day we wouldn't have guessed that the guy who wrote the Chris Farley "live in a van down by the river" sketches would get to stab a hundred guys in a movie, but also we never would've guess he'd be able to give the acting part of this performance. The expression he gives near the end, smoking a cigarette in an interrogation room, burns as hot as the explosives he was setting off earlier.
I've already spoiled too much so I'll refrain from going into some other elements I loved. I'm sure we'll discuss them in the comments. But at the risk of further raising expectations, it is my duty to acknowledge NOBODY's achievement in having not one but two all-timer "Just How Badass Is He?" moments. They're not the traditional list of skills, and require few words, but they involve people's reactions when they put together what Hutch's background is. I think you'll know them when you see them. If you're like me you'll be laughing and applauding, and if it's at home you may rewind one or more of them to watch again.
NOBODY is a perfect little one-and-done self-contained story of action and laughs. It doesn't need sequels, even though I want them. I'll give them the opportunity to back out and I'll sit here waiting innocently for their decision.