I know MORTAL KOMBAT is not exactly a high kwality movie. It has one or more leads who are completely unconvincing as fighters. Linden Ashby as Johnny Cage can maybe get by on arrogance, but the teacher from BILLY MADISON as Sonya Blade just comes off as a grouchy aerobics student in a black painter's cap that's supposed to make her a supercop. This movie is a pioneer in bad computer generation imaginations, possibly the first movie to prove that CGI not good enough for a feature film is in fact good enough for a feature film. (Say thank you, SPAWN).
But I gotta admit, I kind of like this stupid fucking movie. It has, as we Americans say that the French say, a certain… I don't know how to spell it in French. It invented a completely new style of cheesy stupid fun. And it keeps a straight face the whole time. I mean, look at Scorpion there. Does he look like he's gonna wink at you? Fuck no. The man is serious.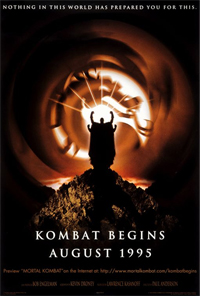 If you're not familiar with MORTAL KOMBAT, it's about kombat, which is a martial arts competition between fighters from different "realms." If our guys win 10 in a row or something they save earth from being conquered by an evil dimension called Outworld. If they lose this one… whoops. The whole world will turn into jagged rocks and badly composited dark skies, maybe some spooky demon statues around and ninja robot dudes and shit moving into your neighborhood. Trust me, you don't want that. Every time you have to go pick up some milk at the grocery store you gotta worry about hearing an electric guitar crunch and then some dude does a cartwheel out from behind somewhere and that means you gotta fight him to death. Outworld fucking sucks, man. So let's win this one, earth. Do it for your realm.
So yes, kombat is pretty much a type of combat. What does that tell you, that two completely separate cultures come up with almost identical words for very similar concepts? Maybe there's something more guiding us than we realize, huh? Makes ya think. That's what this movie is all about, makin ya think.
The earth team includes Liu Kang (Robin Shou), who has trained for years to avenge the death of his brother at the hands of Mortal Kombat host Shang Tsung (Cary-Hiroyuki Tagawa); Sonya Blade, a cop following the murderer who killed her partner; Johnny Cage, an action star trying to prove himself after the press called him a phony; and some dude named Art. I won't give away who dies first. Their coach is Rayden (Christopher Lambert), the lightning-shooting thunder god. He looked alot more Chinese in BIG TROUBLE IN LITTLE CHINA.
Their opponents are a rogue's gallery of colorful creeps. There's Sonya's target Kano, played by the late English boxer turned actor Trevor Goddard. He's tough because he has a piece of metal on his face. Also he eats a giant leg of meat that probly came from some half man half goat or something. There's Prince Goro, a four-armed animatronic beast with very impressive facial expressions but who has a hard time walking around. Johnny Cage defeats him by running up a mountain, but he probly could've just tipped him over like a cow. There are two color-coordinated glowy-eyed ninjas, Sub-Zero (who controls the element of cold) and Scorpion (who controls the, uh, tentacle venus flytrap thing he has on his hand.)
Unlike Han in ENTER THE DRAGON Shang Tsung doesn't bother pretending to be trustworthy or trying to seduce the good guys to his side or anything. He does give the contestants a feast like Han did, but I think he's only doing it to fuck with them because before they finish he has his minions run in and violently flip over the tables to make room for a demonstration. Like a dinner party where you have to suddenly throw away your food and watch vacation slides.
Of course the plot is just an excuse to string a bunch of fight scenes together. Why didn't they think of that for STREET FIGHTER? It seems so obvious. Keep in mind that this is 1995, before THE MATRIX set the precedent for non-martial artists training with Yuen Woo Ping for 6 months to look like they know what they're doing. Still, for an American studio movie of the time there are some decent fights, I guess. My favorite is Scorpion vs. Johnny Cage, where Scorpion tentacles Johnny in some woods, then drags him to his "lair," a weird nest of stick that they climb on, do gymnastics with, and fall through. They do alot of unnecessary flips, but luckily don't talk much. For kombat between more skilled screen fighters I recommend Liu Kang vs. Unnamed Guy With Braids (Hakim Alston, U.S. SEALS II).
I like that women kombatants are treated as equals. When Sonya fights Kano nobody is worried about her being a woman fighting against a man who's way bigger than her and would obviously crush her. In this world it's a fair fight. And what some of these fights lack in convincing choreography they make up for in cutaways of Cary-Hiroyuki Tagawa getting perverse pleasure watching a girl scissor a guy's head.
I've seen this movie a couple times for some reason, but it's still unclear what the rules of Mortal Kombat are. I don't know who fights who – you never see any brackets. It just seems like at random times on a beach or in some woods or something you'll suddenly be expected to fight. When somebody dies Shang Tsung says "fatality." Or if they don't die he magically turns them into a skeleton. He's devouring their souls to make himself more powerful (he's seen the Freddy movies). Man, this asshole probly doesn't give a shit about the art of kombat at all. He's not even paying attention, that's why he calls "flawless victory" on a flawed victory. He's just thinkin about dessert.
I don't know, maybe I could take it completely seriously if the casting was more solid all the way across. Wikipedia and IMDb are ripe with alleged could've beens. They say Jason Scott Lee (DRAGON: THE BRUCE LEE STORY) and Phillip Rhee (BEST OF THE BEST 1-4) auditioned for Liu Kang, but Robin Shou is fine so that's nothing to get upset about. Wikipedia claims that Van Damme turned down Johnny Cage to star in STREET FIGHTER (bad move) and that "Tom Cruise and Johnny Depp were both considered for the role," which I think is industry lingo for "the casting agent tried to get up the balls to call their agency and get hung up on, but couldn't do it even after a couple of drinks." More interestingly they claim that Brandon Lee was cast in the role before he died, I never heard that one before. And apparently Cameron Diaz was cast as Sonya Blade, but had to be replaced when she broke her wrist. Wikipedia also claims that Anderson wanted Ron Livingston (OFFICE SPACE) to play Goro wearing prosthetics, but I'm gonna assume that's somebody fucking with us.
Anyway, my point is if it was Robin Shou, Brandon Lee (or Van Damme), and somebody better as Sonya Blade maybe we'd have something here. Something more than what we already have. But what we already have will have to do.
I think the main thing that makes this movie enjoyable to me is the music. Obviously that theme song is something else. That type of high speed, unapologetically aggressive electronic music just makes me smile. I kind of think it's the '90s equivalent of a really energetic wah-wah and congas blaxploitation soundtrack: completely dated, gets your heart beating fast, meant seriously but makes me laugh, at the same time completely awesome. And that's just the beat, I didn't even get to the samples of the characters' names, maybe from the video game, or of course the dude yelling "MORTAL KOMBAT!!!"
Come to think of it, who is that dude? Why is he yelling it? (UPDATE: All the answers I seek can be found here!) I like to picture it's one of those shirtless muscle guys Shang Tsung has in his Outworld entourage, one of them has the job of just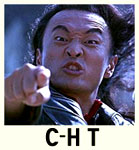 yelling out "MORTAL KOMBAT!!!" during the theme song. Shang Tsung is one of those villains who points in a direction to signal, say, Kano to come out of a dark tunnel and reveal himself. So I imagine he could point at the yelling guy and the guy would know that was the signal to yell "MORTAL KOMBAT!!!" Shang Tsung probly has all kinds of guys with jobs like that. For example I'm sure he has a dedicated gong-hitter (or gongsman I believe it's called).
But I'm getting off track. The theme song is a perfect yin-yang of awful/awesome. Unfortunately I think this soundtrack started a still-existing misconception that fights and action scenes always gotta use the electronical music to show that they're exciting. It worked pretty good in BLADE and then THE MATRIX, but not much else. Time to let that kliche go, in my opinion.
What I think is more important though is the score. Director Paul "not Thomas" Anderson recruited George "not George Clinton" Clinton, who got the perfect dark, foreboding sound, an ominous orchestra hiding behind primal percussion and a wall of electric guitar distortion. It was such a distinct sound that when they made the Chris Farley comedy BEVERLY HILLS NINJA they had Clinton rekreate the same sound, making for the few laughs in the movie.
Check out this fight and pay attention to how much drama that music adds.
That music is not fucking around. It wants to be taken seriously. George Scorpion Clinton wins. Flawless victory.
This entry was posted on Friday, July 9th, 2010 at 1:01 am and is filed under
Action
,
Fantasy/Swords
,
Martial Arts
,
Reviews
. You can follow any responses to this entry through the
RSS 2.0
feed. You can skip to the end and leave a response. Pinging is currently not allowed.