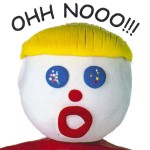 (another unused one for the ain't it cool news.)
Harry and associates,
I am writing to inform you of an exciting new picture called KILL BILL VOLUME 2. Please forgive me if you already know about this one or have covered it already. Or if you have travelled to China to visit the set. I don't usually read your sight except when my reviews are on it.
Just jerkin your chain bud but seriously here's the deal. This has been coming on for a while but after seeing this movie I think today is the day. I would like to officially endorse the works of Mr. Tarantino as an important chapter in the history of Badass Cinema. VOLUME 2 is a very satisfying conclusion to that exciting saga of revenge we began oh those several months ago with The Bride.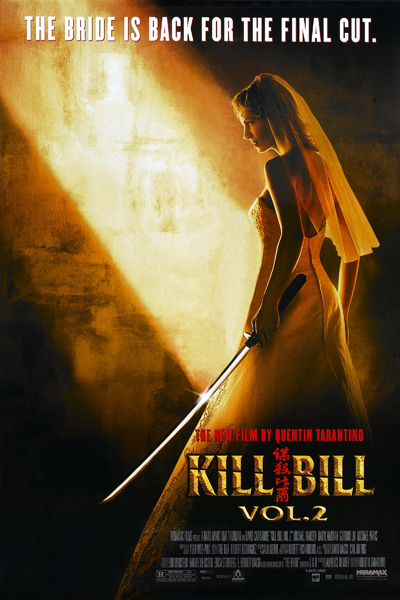 VOLUME 2 is really different from VOLUME 1 though. It seemed like that one was more about fighting than talking, and this one is the other way around. In fact there's so much sitting around talking in the opening scenes that it looks like they had to move the opening credits to the end, afraid that people would be bored by endless driving followed by endless talking. But this one goes much deeper into the characters, revealing all the goods about the relationship between the Bride and Bill (who, remember, you didn't even get to SEE in the first one – now he's all over the place). The Bride becomes a little deeper of a character and you even get to feel some amount of sympathy for Bill. It's a much sweeter film.
But it's still totally brutal. One thing I loved in VOLUME 1 was the scene where the Bride woke up from her coma, realized her baby was gone, and just started to bawl. The audience is having a great time and then Tarantino intentionally bums them out and makes them watch Ms. Thurman's extended, uncomfortably realistic trauma. I can't think of another movie that plays so well with a combination of goofy kung fu type fun and raw emotion. Tarantino and the audience have so much fun with the violence and then every once in a while he just slaps you upside the head with the real life consequences of it, like the scene with Vernita Green's daughter. I mean shit I love the CHARLIES ANGELS pictures but this is like the "deep" version of that. On crack. Times ten. From beyond the grave.
Well, VOLUME 2 is like the sequel to that crying scene. There were times when I thought jesus Tarantino, do you really have to put this poor gal through even more horror? How many times can we see her face bloodied or her eyes red from crying? Can't she kick an ass or two first before she gets shotgunned, drugged and buried alive? But once again Mr. Tarantino proves that he knows what he's doing, just you wait. To me the most satisfying moment in the movie – and for christ's sake don't be reading this shit if you don't want it given away – is after she's been buried alive and it moves on to the next chapter, "The Cruel Tutelage of Pai Mei." We leave the Bride gasping for air six feet deep and flash back to her as a young gal wearing Keds being dumped with a bearded old school kung fu mentor for years of horrible training. I thought all right, this is a cliffhanger, we're gonna have to wait to find out how the hell she survives that. And then you kind of forget about the grave until it comes back to it and you realize exactly how she's gonna escape, and you have no choice but to smile like a retard. Absolutely perfect Badass filmatism.
If you are not familiar with volume 1, what this story is about is a badass killer who is ruthlessly shot on her wedding day, along with her unborn child. She is in a coma for 4 years, then boldly overcomes her atrophied muscles to escape the hospital, goes off to train with swords and then goes down the list of the people who shot her and avenges them one by one.
I know what you're thinking. What do you mean 'HER'? The character of Mason Storm is clearly a MAN, played by Steven Seagal, and he was in a coma for 7 years, not 4. And his child who was supposedly dead but is not actually dead was already born. Actually, you're thinking of HARD TO KILL, another fine film on this same topic of coma revenge. (Where's that dude who did "WHO DO YOU THINK YOU'RE FOOLING?" when you need him?)
Anyway, there is a classic fight scene or two (on a much more intimate scale than the House of Blues scene in volume 1) but most of this movie seems to be going for the spaghetti western type feel. Lots of wide shots, extreme closeups of faces and dusty settings. The music is less upbeat, mostly bits of Ennio Morricone scores or more often Robert Rodriguez imitating Ennio Morricone scores. If you loved the RZA's score for GHOST DOG as much as I did I am sorry to report that once again it is unclear how he got the composer credit. Except I did notice one great scene with what sounded like RZA beats, and there is an instrumental on the end credits.
The whole cast is great and as always Tarantino is a master at finding actors you either haven't seen before or don't remember when you've seen them, that just seem like the perfect guy for that scene. I was most impressed by the dude who played Michael Madsen (FREE WILLY)'s boss at the strip club. Where does he find these guys?
(Hey, wasn't the dude from SPAWN supposed to be in this movie? Where'd he go?)
But the most important part of the picture is of course Uma Thurman. I really don't think anybody else could've done this movie. She's just a once in a lifetime combination of surface and substance. Obviously she is gorgeous and her long limbs help her look great in all the physical stuff she pulls off so perfectly – the tiger crane kung fu, the menacing strut, the zombie-like stumbling around covered in dirt and blood. But then she also has to do all the "real acting" shit. It's a classic character and performance. If she can get an oscar nomination for PULP FICTION and not for this then I guess there must've raised the bar or something.
But like I said before, I am happy to welcome Mr. Tarantino into the pantheon. I don't care if the guy yammers on too long in his interviews or whatever it is people don't like about him. I don't care if you used to like him but then everybody else liked him so then you decided you didn't like him and took his pinup out of your locker. Kids, all that shit is only relevant in the talkbacks. In the actual world of Badass Cinema what matters is what's projected up on the screen there. It's not his encyclopedic knowledge of crime/action/kung fu/western etc. that makes him great (thanks for the homage to MR. MAJESTYK though, that was nice). Behind all that is an extreme confidence that he can take the audience wherever the fuck he wants to, and the skills to back that up.
When I reviewed Mr. Kubrick's 2001 recently I tried to describe that feeling you rarely get in movies where you feel you are in the hands of a true master who ignores all Hollywood formula and common sense, and just KNOWS he can take you in one cut from primitive ape men playing with bones to a space station thousands of years later. No, I'm not saying Tarantino is the new Kubrick, but he gives me that same great feeling. He KNOWS he can skip around in the timeline at his leisure, and you will follow. He KNOWS he can balance gruesome violence, goofy humor, campy '70s homage and the serious story of losing a child. That he can put the crying scene in the same movie with O Ren decapitating the yakuza boss for laughs. I appreciate that this guy takes his time to get things right, instead of making a movie every year just to be working.
I gotta say it friends. He is one of the great living filmatists. For sure. You don't make RESERVOIR DOGS, PULP FICTION, JACKIE BROWN and now this unless you know what the fuck you're doing. He is one of the few (besides occasionally Mr. Soderbergh) treating crime, martial arts and action pictures as both crowdpleasing fun and serious Art with a capital A. I mean even in the '70s you didn't see that all the time, although obviously alot of Peckinpah's movies qualify, and of course POINT BLANK.
Oh jesus can you imagine if he had done a movie with Lee Marvin? Or Charles Bronson or Steve McQueen? Holy shit.
Anyway I approve of this guy and I can't wait to go see this movie again.
thanks Harry,
Vern