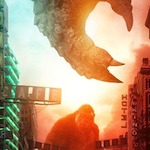 GODZILLA VS. KONG follows GODZILLA, KONG: SKULL ISLAND and GODZILLA: KING OF THE MONSTERS as the fourth movie in the 21st Century American kaiju series known as The MonsterVerse. When it comes to the giant monsters, as I've told you before, I'm a Gamera guy. I'm not trying to be a hipster and choose the less popular thing to show off, it's just a fact – he's the Guardian of the Universe. But setting him aside, Godzilla and his Monster Island pals have always interested me more than the King Kong movies, as great as some of those are.
So hopefully that puts some weight behind me saying that this crossover – which stacks the cards for Kong by starting with him, spending much of the movie with him and treating him as the underdog hero – is easily the best of the series.
It got me instantly. Opening with Kong waking up to a perfect needle drop and a sunny day on Skull Island, he scratches his ass as he groggily stumbles to the waterfall for a shower. It's just a great example of those times I love when monsters just get to live a normal life instead of always leaping through the air and roaring at the camera.
We soon see that Kong is TRUMAN SHOWed in a contained part of the island by Monarch, not for captivity but basically monster witness protection. They believe if Godzilla knew Kong was there he would kill him to maintain his King of the Monsters title. They call it Apex Titan status, but same thing. (By the way, this one ignores the last movie's cliffhanger that all of the Titans were headed to Skull Island.)
Monarch anthropological linguist Dr. Ilene Andrews (Rebecca Hall, THE GIFT) looks after Kong and tries to understand him, while her Deaf adopted daughter Jia (Kaylee Hottle), the last surviving native of the island, actually does understand him. She walks fearlessly up to him, holds up her finger and he reaches down to her – the most size-imbalanced E.T. homage in cinematic history.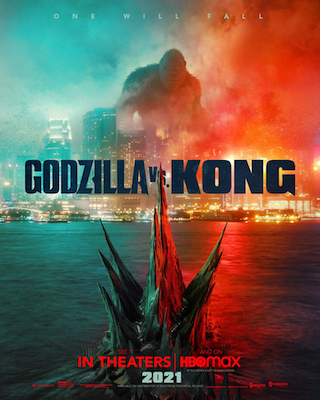 This is a top shelf version of the kid-with-connection-to-giant-monster trope because her interactions with Kong are always cute without her ever seeming precocious, and she projects a level of concern and awareness that makes her seem to have a better handle on what's going on than the adults. When they ask her to tell Kong things that are a little misleading she seems to understand the shitty position they're putting her in. She might be the first character in the series that would be disappointing to not see come back if there's another one.
Dr. Andrews is new to this installment, as is her associate Dr. Nathan Lind (Alexander Skarsgård, THE LEGEND OF TARZAN), who convinces her to ship Kong to Antarctica to enter the center of the earth and use his instincts to sniff out an ancient power source to protect the earth from Godzilla. As one does. He attributes his interest in Hollow Earth theory to a dead brother, and later mournfully looks at a photo of himself with said brother. You bet your ass I assumed the brother was a character I forgot about who died in the last one, but that's not the case. It almost feels like they did that intentionally to fuck with me. You got me, movie! It's true – I can never remember if these characters were in the last one or if they just seem familiar because I've seen the trailer a million times.
Dr. Lind conceives the mission when he's approached by the pretty-obviously-not-trustworthy head of Apex Cybernetics Walter Simmons (Demian Bichir, MACHETE KILLS). It's one of those scenes where they rave about how much they admire each other's scholarship and achievements and Dr. Lind gets to do that thing where you excitedly rush to grab a book and flip through the pages explaining an outside-of-the-box concept, and another person finishes your sentence as they understand and are impressed by the idea.
In this case the sentence is finished by Simmons' right hand man Ren Serizawa (Shun Oguri, AZUMI, AZUMI 2: DEATH OR LOVE), and oh my god I just realized that means he's the son of Ken Watanabe's character who I'm almost positive was in both of the other GODZILLAs. But definitely at least the last one.
I think the movie's biggest (and only serious) weakness is the uselessness of its two major human returning characters. Dr. Mark Russell (Kyle Chandler, who was in Peter Jackson's KING KONG!) is really only in a couple scenes acting important, so it doesn't matter that much. But his teenage daughter Madison (Millie Bobby Brown, one episode of NCIS) gets a whole b-plot that's a textbook example of bringing back a character without ever finding a worthy justification.
That section of the movie can only be described as Emmerichy. To her father's dismay, Madison spends all of her time in her attic bedroom sipping coffee while obsessing over one particular Godzilla-related conspiracy podcast. After Godzilla attacks the Apex Cybernetic facility in Pensacola, Florida she's convinced there's a reason for it, so she and her wacky worrying best friend Josh (Julian Dennison, a.k.a. Ricky Baker from HUNT FOR THE WILDERPEOPLE), who owns a stormchaser van (?) track down podcast host Bernie (Brian Tyree Henry, CHILD'S PLAY remake), who is a mole working as an engineer at Apex, and they break into the plant together to try to uncover the truth, which mainly means they walk through tunnels that somehow never have any security or other employees at all, and look at files and stuff.
Henry is an absolutely brilliant actor, somehow the MVP on Atlanta even though he's between Donald Glover and LaKeith Stanfield, and he does get some laughs with this dumb cliche character (he says all this tinfoil hat stuff but also this time he's right, do you get it?). Dennison has far less to work with, and Brown's character is just there to be very determined. Yes, we are walking into this top secret door. No, we are not going to run. Because I am determined! And then people recognize her as the daughter of an important guy from the last movie.
Other than a brief part where they almost get eaten I'm not sure there's anything accomplished in their subplot that couldn't have been easily gotten out of the way through Bichir's character. But even if we accept that all of their scenes are dead weight, it still feels like there's less of that than in the previous installments. "The Human Stuff" isn't a problem when the main humans are with Kong the whole time, because it's really The Kong Stuff. They're out in the field with a giant ape, not in a control room pointing at graphics on giant screens.
Director Adam Wingard (A HORRIBLE WAY TO DIE), screenwriters Eric Pearson (THOR: RAGNAROK) and Max Borenstein (GODZILLA) and story-providers Terry Rossio (THE MASK OF ZORRO), Michael Dougherty (X2: X-MEN UNITED) and Zach Shields (KRAMPUS), plus others uncredited in a writer's room, maintain a good level of knowing ridiculousness – goofy enough to be fun, even funny, but rarely pushing over into the "oh, jesus christ" level of stupidity. (One exception: when a machine gains sentience for reasons I did not follow.) More importantly, they seem to understand that both larger than life action and small visual and character details are crucial. You get Kong tearing a tree out of the ground, stripping its branches and throwing it as a spear, you also get the sight of his giant unconscious hand hanging off a boat, skimming the water while being transported under sedation. Or the waves of mist that splash off him every time he turns his head when wet.
You don't have to wait too long for the first skirmish between title characters. As predicted, Godzilla catches wind of Kong's existence and tries to take him out at sea. I don't love the modern design of Godzilla (in an attempt to make him look like some burly Crossfit asshole they basically gave him no neck), but I do love the way they portray him as an amphibious creature, his jagged dorsal plates surfacing, cutting through the water (and boats) like blades, lithely slithering around like some cross between Jaws, a crocodile and a sea snake. It's a way to both show him and hide him, to do things he could never do in suitmation, but (unlike GODZILLA 1998) still use his iconic physical features.
This is not a fair fight. Kong is a land mammal in the middle of the ocean, sedated and shackled. I was kinda hoping he would do a Houdini/Riggs escape routine when he fell underwater with cuffs on. Instead he gets rescued, but it's still thrilling. He gets knocked around like John McClane – has to crawl out and puke up water, looks like he can't go on. Later he leaps off of an exploding ship and it, uh, reminds me of something.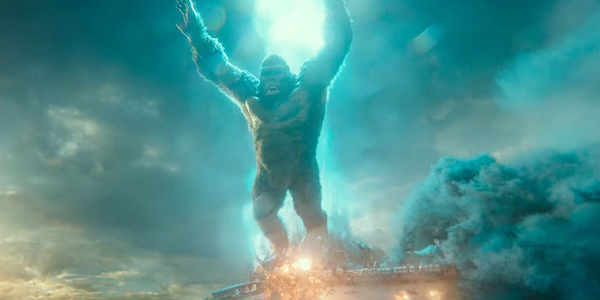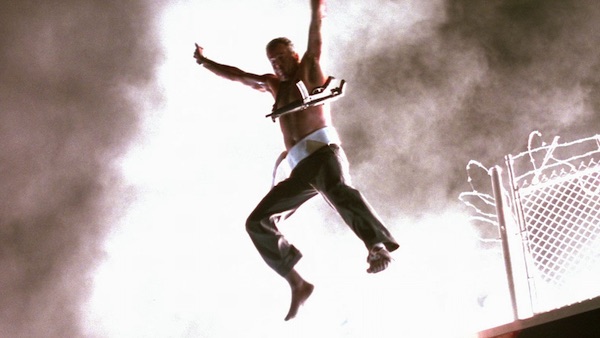 But my favorite part of this fight is when Kong sees Godzilla headed for two aircraft carriers. He looks like he's concerned for the safety of the ships – I wondered how he could be so selfless as to care about these people who have kept him in chains. He leaps he into the air and soars over Godzilla and…
Oh, he lands on one ship and then hops onto the other like they're lily pads. No, he didn't give a shit about those people after all, he just saw a good thing to stand on. Good for you, Kong. I love it.
(I also like how he hangs off the aircraft carrier like it's a boogie board. At one point it flips all the way over and the people get wet and shaken up, but they're okay.)
The survivors of the human fleet figure out it's better to carry Kong with helicopters carrying a giant net, sort of like how they used balloons in the original KING KONG VS. GODZILLA. I wish Godzilla was underneath leaping up and trying to bite him like a yappy little dog, but I guess he has more dignity than that. They manage to separate the two long enough to go on their quest to the Hollow Earth, a nice little excursion with some trippy sci-fi and fantasy imagery that stands out from the others in the series. Even more than KING OF THE MONSTERS, they go all in on Toho-esque space ships and stuff, plus the new additions to the MonsterVerse mythology of a past when Titans ruled the world. On the inside, at least.
Eiza González (BABY DRIVER, ALITA: BATTLE ANGEL, HOBBS & SHAW, BLOODSHOT, CUT THROAT CITY) shows up during this section as an Apex employee who provides some tech and acts like a jerk. Kind of a thankless role, but an important one because we need some humans the movie knows we won't mind seeing get squashed.
And thankfully this is a movie that understands the kaiju format – it knows that though we will go along with the story of course we mostly care about the two title monsters and seeing them fight. And I think it lives up to that responsibility. Although I liked YOU'RE NEXT and THE GUEST, I never would've guessed that long-time indie horror guy Wingard would be the one to finally crack CG kaiju fights. PACIFIC RIM, GODZILLA and KING OF THE MONSTERS all have their charms, and perhaps aspects that are superior to this one. But to me they all, to varying degrees, suffered in their presentation of kaiju battles. PACIFIC RIM obscured them with darkness, rain and (most of all) constant cuts from the fights to the humans inside the robots; GODZILLA just didn't have very many of them; KING OF THE MONSTERS, though a great improvement, still leaned more than necessary on night time and shaky, disorienting human perspectives.
GvK continues showing what it would look like from the ground, or the sky, or close up, emphasizing the colossal size in ways that suitmation never could, taking advantage of technology to have dynamic, thrilling movement in the camera moves. But it does it in the bright sun, and it whips us around without obfuscating. Our point of view rockets, twirls and corkscrews through the battles, but it doesn't vibrate, it doesn't cut away too fast, it doesn't make us struggle to know what we're looking at. Big, loud popcorn movies are often compared to rollercoasters, but how often do they actually make you feel like you're riding a loopty-loop?
It's endlessly inventive in its virtual cinematography (director of photography: Ben Serisin, TRANSFORMERS: REVENGE OF THE FALLEN, WORLD WAR Z, THE MUMMY), with cool visual gimmicks like showing us the view from the cockpit of a jet that Kong throws like a dart, or staying with Kong as he leaps from the bottom of the Hollow Earth to the top and shifts his perception of up and down. In addition to that, it's just pretty to look at: not just all the magic hour and the fantastical settings, but Wingard loves his tech noir shit, so there are red, green and blue lights, and a fight in Hong Kong at night so the lights outlining the buildings and Godzilla's blue glow give it a TRON vibe.
And then, of course, the fighting. Lots of moves that bring to mind pro wrestling, MMA and bar fights. Kong uses weapons, jumps off a building like you might jump off a wall in a cool hallway fight, throws a construction crane like an ax. Godzilla uses his tail well, his atomic breath better. He steps hard on Kong's chest and you feel how close he is to crushing those ribs. He also gets his head bashed through skyscrapers, dragged face-first across wreckage. There is an appropriately savage victory celebration. I had such a great time watching this at home, but I'm sure to some people seeing a movie in a theater for the first time in over a year that climax seemed like the height of cinema. The apex cinema.
The movie makes you really like Kong, and root for Kong, but not necessarily against Godzilla. It's a little like ROCKY III in reverse. Godzilla is the champ, but he's not going soft. He's like Clubber Lang in that he's the hungry one out there looking for a fight, and also that he's the asshole. But he's worked hard to get where he's at and he's earned that attitude. We can see his point of view: he didn't ask to be woken up by these little pricks called humans. And he didn't ask for the other Titans to fuck with him. And it became clear he was gonna have to establish dominance to live in peace.
Which he did! Nobody's seen in him in years. It's only because of what Apex Cybernetics built that he came back. He was provoked by the fucking humans. Like the man says, you fuck around, you find out.
But Kong is more relatable. He's had it worse and made less of a fuss about it. He sticks to his little island kingdom, doesn't bother anybody but, like, pterodactyls and squids. But he lost what he had, because most of the natives died and Monarch keeps him under lock and key. And they bring him on this mission without his consent. He's embarrassed to admit that he's scared. And to get beat up in front of everybody. He has those moments where he's beaten down and trying to catch his breath and might not be able to get to his feet again. But he does. Even has to pop in a dislocated shoulder, which many have taken as a LETHAL WEAPON reference. The credits acknowledge LETHAL WEAPON 2, apparently for various homages (including the logo on a coffee mug) that were cut out. Maybe next time give him some of the ol' blues rock guitar noodling on the score.
Which brings me to my final point: if they do another one, it's gotta be a buddy movie, right? ZILLA & KONG. Or MONSTER KINGS. Godzilla is outmonstered by Titan (or mecha) enemies, and Mothra's been kidnapped or some shit. So he has to go to Hollow Earth and convince Kong to help him. They bicker but they also bond and become a great team. Let's do this, Hollywood.
If not, at least the series is going out on high note.


p.s. If I remember right, the last movie asserted Godzilla's status as King of the Monsters by having all of the others literally bow to him. So I had this whole idea in my head that Godzilla could defeat Kong and force him to bow to him, then be attacked by another monster and be losing, and use his breath to somehow revive the barely conscious Kong, and then they would fight together and out of respect Godzilla would bow to Kong, and after a long beat Kong would bow to back to him and we would all be moved to tears by this honorable karate match/"My friends you bow to no one" type moment. Of course they didn't do any of that, but when early on Dr. Andrews said "Kong bows to no one" I thought holy shit, is it happening?
p.p.s. In other ways, this movie seems like it was made to my specifications. In my KING OF THE MONSTERS review I joked that Godzilla's inner glow should blink as a countdown to when he's going to explode from radioactivity – this one has a magical stone carving in an ancient temple that, when it charges, lights up in a circular fashion like a progress wheel. I also said that instead of Mothra's theme they could've used Loretta Lynn's "You Ain't Woman Enough To Take My Man," and this one indeed uses some vintage needle drops in funny ways. Glad I could help.