More horror movie recommendations than you can shake an ax at
This one cool movie criticism type blog (short for web log) called 'Rupert Pupkin Speaks' started a thing of everybody doing their lists of top ten underrated horror movies. They got HOWLING director Joe Dante, Alamo Drafthouse guy Zack Carlson, and Ain't It Cool's Mr. Beaks in on the action, among a whole bunch of others. Everybody's doing it. So I got jealous and tried to outdo them with not a top ten list, but an entire ENGLISH LANGUAGE ALPHABET of underrated horror. Let's see if I can do it.
A is for ABOMINABLE
A guy named Ryan Schifrin directed this fun old school style REAR WINDOW meets sasquatch-yeti-hybrid. It's clever and has a cool/goofy monster and is elevated by a classy score by none other than Lalo Schifrin, coincidentally the director's dad. I recommend other upcoming horror directors also have Lalo Schifrin as their dad instead of using shitty fake orchestra keyboard scores. Come on guys, show some dedication to your art like this guy.
B is for BIRTH
Alot of other people's lists already had the '88 remake of THE BLOB, so I'm gonna go with this not-strictly-horror suspense thriller about a woman (Nicole Kidman) who comes to believe the creepy boy who claims to be the reincarnation of her dead husband is telling the truth. From the trailers I really thought this looked like the stupidest shit ever, but its patient, ambiguous Kubrickian approach treats the outlandish premise with dead seriousness and makes it eerie as a motherfucker.
or if that's not horror enough for you I guess I'd go with THE BOX, Richard Kelly's I-can-make-watchable-movies-sometimes-proving TWILIGHT ZONE deal.
C is for CANDYMAN
I know, this is a well known and almost iconic movie of the '90s, but I honestly don't think it gets enough credit for how smart it is in bringing gothic horror to the housing projects and haunting its protagonist with white guilt and the legacy of slavery. Somehow Bernard Rose and Clive Barker made the ultimate American horror movie.
D is for DON'T GO IN THE HOUSE
The awesome nut-with-a-blowtorch thriller I finally caught on to last year.
runners up: Australian giant crocodile movie DARK AGE, this year's I-think-misunderstood vampire dystopia DAYBREAKERS and the uncomfortably hilarious Ed Gein biopic DERANGED
E is for EYES OF A STRANGER
I was happy to see this sleazy stalker movie make it on a bunch of the other lists. One of the more effective of the lesser known stalker/slasher movies.
F is for FEVER

You might not find FEVER in the horror section at the video store (if you have a video store, which I wish you did), but it's got a series of murders and a surreal nightmarish feel. Directed by Alex Winter it's a neo-noir starring Henry Thomas from E.T. as a guy who doesn't know for sure that he's not murdering people in his creepy apartment building.
G is for GINGER SNAPS
Okay, it might be a stretch to call this underrated, I think plenty of people have caught onto this fun Canadian teen horror deal about werewolfs. But I gotta fulfill this alphabet gimmick, you know?
Well okay then, GINGER SNAPS 2 is actually pretty good. I'll go with GINGER SNAPS 2.
H is for HIGHWAYMEN
This got a normal release in mutliplexes and everything but until I got on a HITCHER kick (this is the same director) I never heard how crazy it was. Jim Caviezel plays a revenge-crazed man driving around the country trailing the psychopath who ran over his wife, who turns out to be part man and machine, becoming one with his car. It's hard to explain but it's awesome.
runner up: THE HOWLING III: THE MARSUPIALS. I know you guys saw it in NOT QUITE HOLLYWOOD too, but I don't just like its craziness, I think it's genuinely good the way it respects its monsters as people.
I is for THE ISLAND OF DR. MOREAU (1996)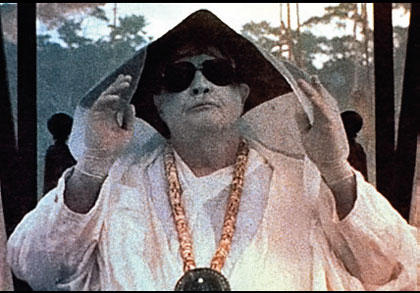 Man, I will never understand why people don't at least respect Marlon Brando's (admittedly too small) part in this movie. They see his brilliant weirdness as a negative, for some reason. This movie is full of dark humor, demented strangeness (like the little guy who inspired Mini-Me), Mark Dacascos, Ron Perlman, Fairuza Balk, some great Stan Winston makeup, and Val Kilmer imitating Brando. It's like I always say, it opens with a knife fight on an inflatable raft and gets crazier from there.
This movie is a mess, but a really, really good mess. I will not budge on this one.
runners up: I AM LEGEND (its good qualities are so much more than its bad CGI vampires), the wacky as hell I KNOW WHO KILLED ME.
J is for JUST BEFORE DAWN
One of the lesser known attacked-by-inbreds gems.
runner up: JAWS: THE REVENGE. It's not that bad, man. Alot of it's kinda good.
K is for… okay, you gotta me. I guess I'll just say KONGA
I don't know that many horror movies starting with K. KONGA is a goofy old mad scientist/bad gorilla movie.
L is for LINK
I just reviewed this one. You'll remember I liked it. Apes and all that.
M is for MUTE WITNESS
A forgotten '90s import that's not entirely successful but full of good setpieces, stylish camerawork and tense, smart setups. I'd say MARTYRS for this one but I think that one's pretty much caught on by now, hard to call it underrated.
N is for… NIGHT OF THE CREEPS I guess?
Okay, not really underrated either. But if you're like me circa last year and haven't gotten around to watching it, do it. It's kind of a similar vibe to RETURN OF THE LIVING DEAD in my opinion. Beautifully directed and cool monsters and what not.
O is definitely for ORCA
Man, I love this movie. I call it "the JAWS of JAWS rip–offs." It takes this crazy concept of a killer killer whale and treats it with respect. Great performance by Richard Harris, beautiful score by Ennio Morricone. Bullseye on the sweet spot between completely absurd and completely awesome.
runner up: ORPHAN. Glad to see that on a list or two
P is for PIRANHA 2: THE SPAWNING.
Okay it's cheap, and James Cameron claims he didn't do most of it. It's cool though because it's the rare leading man role for Lance Henriksen. I suspect Cameron actually did work on it judging from its underwater photography, strong female character, themes of marital strife and great action climax with difficult stuntwork.
runner up: P2
Q is for QUIET EARTH
I haven't seen Q: THE WINGED SERPENT so there's not alot of directions to go with this one. THE QUIET EARTH is a New Zealand take on the old "suddenly most of the people in the world have disappeared" type stories. From the director of UNDER SIEGE 2: DARK TERRITORY.
R is for ROGUE
It's hard to believe how many good Australian movies there are about giant crocodiles. This one is from the director of WOLF CREEK and went straight to Dimension Extreme DVD in the U.S. But it's surprisingly good and even has some gorgeous photography of Australian wildlife.
runner up: RAZORBACK. The Australians also do good giant hog movies
you know S has to be for SILENT HILL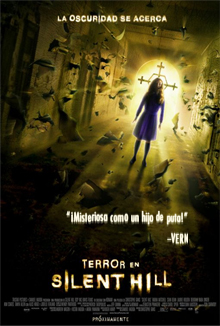 Widely hated, especially by the openly hostile free preview audience I saw it with. And everybody I know. But this is clearly the masterpiece of video game movies. It combines the fever dream logic of INFERNO with great modern effects and atmosphere. Eerie as a motherfucker. (I know, I already used that phrase, but that's because I'm trying to make "Eerie as a motherfucker!" –Vern the new "Scary as hell!" — Peter Travers.)
runners up SEED OF CHUCKY (that was on a couple people's lists, I'm happy to say), the enjoyably stupid WWE slasher movie SEE NO EVIL, and John Carpenter's giallo-esque TV movie SOMEONE'S WATCHING ME! .
T is for TEXAS CHAINSAW MASSACRE 2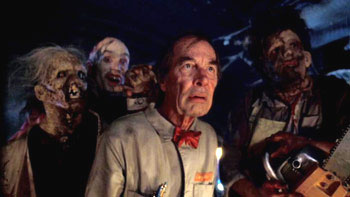 I feel like this one might be starting to pick up steam, but maybe it's just around here. They showed it at the Olympia Film Festival's annual "All Freakin' Night" horror marathon last year and I'm surprised how many people got turned onto it there. But it's one of those sequels that always got a raw deal because the original is so impossible to match. It's much more openly comedic and gory than the original, way more over-the-top and excessive. And it's a masterpiece in its own right. I could and have gone on about this one forever. I'll just shut up now.
runner up: THE TOOLBOX MURDERS 2003 sort-of remake, also by Tobe Hooper. Nowhere near as good as CHAINSAW 2 but a refreshingly strange and effective DTV horror of the 2000s.
U is for… shit, THE UNBORN? That's all I got.
No, this is a cheat. It's actually not very good, but the best Platinum Dunes movie. Has some cool CGI effects here and there.
V is for VAMPIRES
The red-headed stepchild of good John Carpenter movies. I only know like one person who agrees with me on this one. I love James Woods's macho asshole hero, the sunny spaghetti western look, the Carpenter blues rock score, SWAT team approach to vampire hunting. And back in the day it was a refreshing return to non-romantic vampires, practical effects and serious gore. Maybe the popularity of TWILIGHT will give it a comeback.
And I can't believe I've never written a review of this! I'll have to correct that soon.
W is for WOLF CREEK
I know it's well regarded here on the internet, but this is another one where pretty much everybody I know hates it, and it got many disgusted no-star reviews including from Roger Ebert. My only problem is the anti-climactic ending. It's such a well crafted thriller and such a chilling switch from funny to oh shit. A great debut by Greg McLean. Too bad he only made one other movie so far (see the letter R for more information).
X? I don't know man. I saw X-TRO on some lists but I don't know that one. Shit, I might have to cheat here. I might have to pass on X.
Y?
I don't know.
Z?
I'm not gonna say ZOO. I don't believe in that "ha ha, this is scarier than a horror movie" approach. I got no X, Y or Z. I blew it.
But I got most of the alphabet. I think I did okay.
Happy Halloween everybody
This entry was posted on Sunday, October 31st, 2010 at 2:09 pm and is filed under
Blog Post (short for weblog)
. You can follow any responses to this entry through the
RSS 2.0
feed. You can skip to the end and leave a response. Pinging is currently not allowed.