Man, I knew everybody loved NIGHT OF THE CREEPS, but the way people talked about it I always figured it was some nostalgic grew-up-in-the-80s thing like GOONIES or heavy metal. No, it turns out NIGHT OF THE CREEPS is truly fucking great! You guys should've been more clear!
It's a movie with a really unique feel. The only thing it reminds me of is RETURN OF THE LIVING DEAD, but for nerds instead of punks. It has a similar tone of funny-but-serious, similar stylishly cartoonish effects and puppet zombies (see thumbnail), similar confident visual style and storytelling. It lets the horror unfold a piece at a time (aliens, ax-murdering escaped mental patient in the 1950s, cryogenics, zombies, space slugs) and it just seems to know what it's doing so I never questioned that it would all come together and make sense. And it did. It's just great writing and directing – Fred Dekker, I forgive you for ROBOCOP III.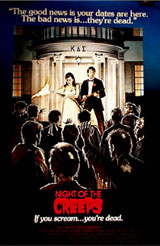 The heroes are two college nerds, Chris (the kid that played Rusty Griswold in EUROPEAN VACATION) and J.C. (on crutches). Chris sees and instantly falls in love with a pretty sorority girl named Cindy, whose boyfriend is a REVENGE OF THE NERDS style frat king called "The Bradster." At this point in the movie I was a little iffy. Chris is a somewhat annoying dork and J.C. is one of those fast-talking "cool" best friends like Stiles in the TEEN WOLF saga. After a great horror opening I thought maybe this was devolving into crappy '80s college comedy. The turning point for me wasn't a horror scene, it was an emotional one where J.C. gets fed up with Chris's whining and yells at him about how much he goes through just to try to make Chris happy, never getting anything himself, including gratitude. And there's the unspoken reality that he's on crutches and that's gonna be a bigger obstacle in life (and getting laid) than just being a nerd, and yet you don't hear him complaining about his life all the time. That's when I realized these weren't just types, they had a little depth to their relationship, and I was sold. Plus that Cindy girl seems genuinely sweet, and her last name is Cronenberg so she's probly into some freaky shit.
But the hands down best character is Detective Cameron, played by the great Tom HALLOWEEN III Atkins. He's a hard drinking, chain smoking, charmingly condescending homicide cop tough guy who answers his phone "thrill me" and calls the heroes "Spanky and Alfalfa." He's also very personally involved in this case – it ties into his high school days, his first days on the force, an incident that changed his whole life and still figures into his nightmares. But he's so cool you want to see all his other less important investigations too.
The effects are great – skeletal puppet zombies like RETURN OF THE LIVING DEAD or that thing in LIFEFORCE, and their heads split open and shoot fast moving alien slugs. I don't even understand how they made those slugs move around. They look completely real to me. There are a zombie cat and dog too. Good stuff.
The movie is full of great jokes, quotable lines and memorable scenes, and I don't want to list them all. But let me at least note the greatness of the scene where Cameron talks to Dick Miller about getting a flamethrower from the armory, and the one where a security guard crosses paths with the naked zombie corpse of David Paymer but is looking down at his clipboard and absent mindedly tells him he'll see him tomorrow.
It's a great balance of comedy and horror. I wouldn't say it's exactly scary, but it works well enough that when bad things happen to the characters it hurts. One of the main characters succumbs to the creeps, and it's done in a really effective off-screen way. You see his encounter with them, but the worst part you only hear him describe on a tape that he leaves for his friends before dying.
Those of you who've been waiting forever for this DVD oughta be happy. It has 2 commentaries, some featurettes (one just on Tom Atkins) and it's a director's cut using a different ending that to my newcomer eyes seems better. (The original ending is on there separately.) In my opinion the best extra is the deleted scenes, though. This is the rare case where they're not just a bunch of crap you're glad they cut out. The scene "Cameron vs. Raimi" especially, that's a hilarious Tom Atkins dialogue scene. I think the later one that pays off the joke should've been put back in. There's also a longer intro to the '50s black and white part of the movie that I can see why they cut, but it gives new context that makes the first zombie's appearance at the sorority house funny. If I'd seen this movie a bunch of times over the years that would've made me say "Eureka!"
In conclusion, you guys were right, I loved this movie. Shit, I'm even gonna listen to you and watch that MONSTER SQUAD now.
This entry was posted on Monday, October 26th, 2009 at 11:25 pm and is filed under
Comedy/Laffs
,
Horror
,
Reviews
. You can follow any responses to this entry through the
RSS 2.0
feed. You can skip to the end and leave a response. Pinging is currently not allowed.