I found EYES OF A STRANGER (1981) with the mystery and suspense movies at the video store. That got me thinking – how exactly do you draw the line between a thriller and a slasher movie? Is it because this guy's a rapist, not just a killer? Is it because he's not supernatural, deformed, masked or a redneck? You could say that about MANIAC too, but I think we all agree that's a horror movie. Both have effects by Tom Savini, too. But MANIAC is way gorier, and the killer gets way more screen time. He's the central character. Here the killer is often sneaking around just off camera, unseen, keeping us on a thread until he suddenly attacks, like Michael Myers. So if you're watching a movie where there's a killer like Michael Myers, but without a mask and not supernatural, that's suspense. Except SLUMBER PARTY MASSACRE. It's horror if it has 'massacre' in the title I believe is the rule.
Ah, shit. I don't know how it works. But EYES OF A STRANGER is a good thriller about a slasher. Miami is being terrorized by a rapist-killer who stalks women, makes obscene phone calls, then attacks them. Jane Harris (Lauren Tewes from Love Boat) is a news anchor so worried about this that she keeps ad-libbing about safety and catching the killer, making her co-anchor look uncomfortable like Mike Meyers standing next to Kanye West, and making for an awkward segue to the wacky-costume-wearing weatherman. The real reason she takes it personally is because her younger sister (introducing Jennifer Jason Leigh) was once kidnapped, and though she escaped she was so traumatized it made her blind, deaf and mute. Jane blames herself and is paranoid about it happening to her sister again.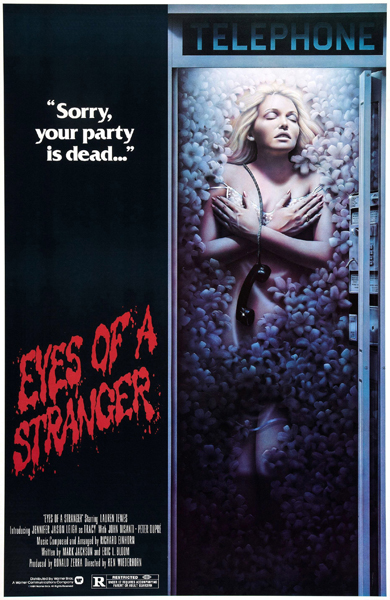 It could happen – there have been bigger coincidences. For example, if Jane's hunch is right then one of her neighbors is the killer. She noticed him doing something odd so she started spying on him. Next thing you know she's harassing him the way he (allegedly) harasses his victims before he attacks them. EYES OF A STRANGER is a good title because first we're with a woman, scared of the eyes that seem to be out there spying on her, knowing things about her. Then all the sudden we become the stranger, intruding on this guy in his apartment trying to relax after work, suspicious of him but not really knowing if he's the guy or not. Man, we're gonna feel like assholes if he's not.
The highrise setting reminded me of John Carpenter's SOMEONE IS WATCHING ME! (which was a couple years earlier, so this might be a ripoff). The phone calls reminded me of BLACK CHRISTMAS. The stalking scenes reminded me a little of HALLOWEEN. But it comes together into a flavor of its own. Even without being graphic it has a very seedy, sleazy kind of feel. The killer just looks like a normal guy, not a monster, and somehow that makes him even more appalling. If he had an eyeball hanging out or was wearing human skins you'd think okay, something went wrong with this guy a long time ago, out in some woods somwewhere, it's not surprising that he's on a rampage. But when it's a normal guy wearing his work suit you think shit man, you know how to put on a tie. You should be a responsible member of society. Life has afforded you luxuries and opportunities that Jason and Leatherface never had.
I was rooting so hard against this prick when he went after Jennifer Jason Leigh. Remember, she's blind, and the guy toys with her, moving objects around so she can't find them, getting off on it. What a fuckin creep. Too bad he doesn't bite it harder. This would've been a good one for a stabbed-in-both-eyes, hurled-through-the-sliding-glass-door, bounced-off-three-balconies-and-run-over-by-two-cars-and-a-city-bus-before-being-shot-by-a-line-of-cops type of death. But oh well, even without that it's a clever and solid movie. Also there's a part with a severed head in a fish tank.
One of the writers is Ron Kurz, who in the same year wrote FRIDAY THE 13TH PART 2, one of my favorite straightahead slasher movies. So let that be entered into evidence. The director, Ken Wiederhorn, also did SHOCK WAVES and RETURN OF THE LIVING DEAD PART II (not to mention MEATBALLS PART II and KING FRAT). In '93 he did another suspense thriller called A HOUSE IN THE HILLS, but I don't think my video store has it, so let me know if it's worth looking for.
special thanks to Roachboy for suggesting this one (and anyone else who might've mentioned it and I forgot)