I always liked THE HOWLING but since the sequels are made by different people and have a reputation for poor quality I never thought to watch them. Then I watched NOT QUITE HOLLYWOOD, that documentary about Australian exploitation movies, and saw the clips from THE HOWLING III: THE MARSUPIALS by Australian director Phillipe Mora. It looked like a crazy fever dream full of low-budget-but-really-cool werewolf transformations, some of them looking straight-up cartoonish. Plus they showed how the werewolves have pouches in this one, and gave away the most memorable scene – I'll get to that later. I figured just from what I saw there was no way this wasn't worth watching. And I figured right.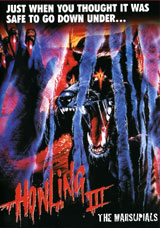 Those clips are misleading though. The tone is not quite as crazy as they make it seem. Some of the more outrageous clips are from a movie-within-the-movie, SHAPESHIFTERS 8, so the werewolf effects deliberately look more ridiculous than the ones in the other scenes.
Unconnected to previous HOWLINGs (which is good because part 2, also by Mora, was checked out at the video store), this is the story of Jerboa (Imogen Annesley), a girl who runs away from her small tribe of Australian werewolves. A guy working on SHAPESHIFTERS 8 sees her in the park, convinces her to be in the movie, and falls in love with her. Meanwhile, an expert on unexplained phenomena is working with the US government trying to prove the existence of werewolves in order to know if some intercepted messages from the Russians are literally talking about werewolves or speaking in code. This (somehow) brings him to Sydney and to a touring Russian ballerina who happens to be a werewolf.
The ballerina has a great scene where she transforms mid-rehearsal, but she's a traditional wolf-werewolf. It's their Australian cousins who give the movie its subtitle. Jerboa gets pregnant and gives birth in a classic, one-of-a-kind scene. You see this little thing come out of her extra-hairy pubic area and crawl up into her pouch, and on her face you see the sweaty, exhausted bliss of motherhood. It's such an outrageous idea and the creature effects are goofy (a mouse in a costume, but it just looks like a rubber doll on a string) and allegedly it was meant to be funny. But fuck it, I think it's brilliant and I'm taking it seriously.
See, in THE HOWLING the werewolves were evil. Here they're an oppressed minority, a feared other, an endangered species related to the extinct Thylacine or Tasmanian tiger. But they're not glamorous like you tend to get with movie vampires, or like some of the wereweloves in UNDERWORLD. These werewolves aren't cool rebels, they're just weirdos. When we see her pouch it's gross but in a kind of awkwardly human way I think, like seeing somebody naked for the first time and they're a little embarrassed about their imperfections. And when her boyfriend finds out she's a marsupial it turns out it's not a dealbreaker. It's like, "Okay, I didn't expect a pouch, but I love you, so it doesn't matter. I can get used to a pouch." Eventually he's gonna think pouches are beautiful. If they broke up he'd probaly mainly date marsupials. He might start looking at pouch porn.
Now, you might think okay, he still loves her, but he's gonna come to regret it. You can't keep her monster side in check, she's gonna end up killing him or turning him or he's gonna realize this has gone too far and have to figure out how to kill her or something. Wrong! She's a nice lady. They're in love. They're gonna raise the kid together. There's no down side to this. Stop being so cynical.
That's what I love about it. It's so crazy – pretty sure I've never seen another movie with a human pouch birth. And it's shocking. But usually a shock scene like that is showing something monstrous, something that threatens the protagonists. This one isn't. It's just a baby. Maybe you're conditioned to think it's gonna be a killer, but it's not. This is nature.
That's part of the Australia-ness of this movie, I think. It's like DARK AGE, where the last part of the movie is all about protecting the giant crocodile even though it ate people. Some people want to kill the werewolves, but they're wrong, they're assholes. You don't try to defeat nature.
This also has DARK AGE's aboriginal actor Burnham Burnham. I didn't understand he was a werewolf until they showed his burnt werewolf corpse (SPOILER) which then got up and attacked somebody (DOUBLE SPOILER). That's the other thing that's great about this movie, it's full of unexpected gags and weird imagery (I can't even remember the context of that werewolf nuns shot above). It's not lazy, it keeps trying to entertain you.
Director Moya on the DVD explains how this came about. He did THE HOWLING II: POUCHLESS but had problems with the producers and wasn't happy with the movie. He wanted to have another shot so he got the rights from the writer of the book and made his Australian version of a werewolf movie. He says it's a comedy but played straight – okay, the whole marsupial thing is absurd, and there's some light satire of moviemaking and the government. But I think it works as straight horror. He says horror at the time had simple plots so he made his overly complicated. The result is very effective because it's a weird story, it doesn't follow the formulas, so it really stands out from the pouch. I mean pack.
Did you know a baby kangaroo is small enough to fit inside a thimble.
Sometimes the low budget shows. You gotta be a little forgiving when it skips over years and nobody seems much older, or especially the scene with the least convincing Oscar broadcast ever (Dame Edna in front of a curtain with one of those fake statues they sell at costume stores for Oscar parties). But the ideas are there. I mean, who wouldn't want to see somebody turn into a marsupial werewolf in the middle of an Oscar acceptance speech? I wonder if the band would try to play her off or not? That would definitely become one of those famous Oscar moments that always gets replayed and referenced, like "You like me! You really like me!" or Adrien Brody kissing Halle Berry.
In other parts they stretch their budget well. They got ballet in the Sydney Opera house! That's not something you would get in a Full Moon video or something. It doesn't seem as cheap as it actually is. You don't have to forgive that much.
Man, I really liked this movie. I consider it a good find, even if I always knew it was there. I just never knew what it contained inside. Like the werewolves themselves, THE HOWLING III is unfairly maligned for being strange and unusual. It just wants it and its family to be left alone. It can't help it if it has a pouch.