There once was a director named Chuck Russell, who did movies like THE MASK and ERASER. Not very good movies as I remember it, but he seemed like his heart was in the right place. He was trying to have some fun. He also did THE SCORPION KING, which I enjoyed, and then disappeared for the last couple years. But before he became The Occasional Director of Studio B-Movies he was a promising name on the '80s horror scene. His debut was A NIGHTMARE ON ELM STREET 3: DREAM WARRIORS, the ridiculous but fun one that reinvented the series and gave Freddy his obsession with the word "bitch." He wrote that one along with future THE MIST director Frank Darabont, who also helped him write movie #2, his remake of THE BLOB.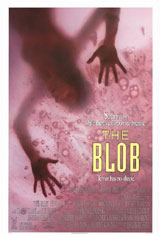 For the remake they take the 1958 original and sharpen it like a knife. I'm not saying it's anywhere near as good as THE THING, but I bet they thought alot about that one when figuring out how to do THE BLOB thirty years later, especially when it comes to the monster. The effects are absolutely outstanding and horrifying. Instead of a slow moving glob it's a barreling pile of guts with tentacles and acid-like corrosion capabilities. It suffocates people under a giant mucous membrane. You can see them screaming inside as their heads melt and change shape. And in case some fool thinks they don't mean business Russell and Darabont set up the characters and then before it's even halfway into the movie they brutally, disgustingly blob out two of the characters who seem most likely to survive. Characters they have gotten you invested in really could die suddenly but painfully. You might not even see them die, you'll just see their partially digested corpse float by. "Oh, by the way, that one main character is dead. Here, you can identify the body if you want." This Blob keeps you on your toes.
Like the original there's a group of teens and there's some cops who don't believe them but one is nicer than the others. As is customary in '80s or '90s remakes the girl (Shawnee Smith, who's in all the SAW movies) gets more to do this time. She's actually the one who witnesses the first Blob killing and tries to convince everybody else what's happening. Kevin Dillon I think is supposed to be the Steve McQueen rebel type, although not actually based on the "Steve" character of the original. This guy's a long-haired, leather jacket-wearing juvenile delinquent with a bad attitude and a motorcycle. He also does a motorcycle jump so it might be more stories from Steve McQueen's youth adapted onto film.
The biggest twist on the story has to do with the government's reaction to the Blob and their knowledge of where it came from. In the original it's up to the local cops to defeat the Blob using fire extinguishers stolen from the school. In this version the feds are there immediately in spooky biohazard suits like the guys who went after E.T. And these ones carry more than walkie talkies.
It's predictable but appropriate that there's a whole issue with the military wanting the Blob for their own purposes. Kind of a cliche but I mean, just think how much easier Panama or the first Gulf War could've gone if they had the Blob. Just drop it off a plane, you don't even need a parachute. The Blob really would be a great way to commit war crimes.
There's a real sense of dread in this movie, but also some humor. I think Russell and Darabont are from that same horror-movie-loving generation as Fred Dekker, so they also got the knowing nods that don't have to be specific references. MONSTER SQUAD had the fake slasher movie called GROUNDHOG DAY, this one has GARDEN TOOL MASSACRE, which a kid describes to a mom: "Well this guy in a hockey mask, he chops up a few teenagers, but don't worry, there's no sex or anything bad."
By the way, with my pre-Halloween viewing this year I noticed a horror cliche I never picked up on before. In this movie a projectionist gets killed. Same thing with the original BLOB. Same thing with POPCORN, CUT and THE MEATEATER. That's five dead projectionists there, and as far as I remember none of the movies I saw had projectionists that survived. What I'm saying is that it's a dangerous occupation. Maybe that's why they're making everything digital now, they're trying to make it more automated to protect human life.
The characters are pretty good, if not great. There are some pretty funny, quirky touches, like the sleazy attempted date rapist who has a full bar and seduction kit in the trunk of his car. Man, Steve McQueen liked to make out in his car but he didn't treat it as a Mission:Impossible. It's pretty funny how elaborate the cocktail is that this guy mixes. He doesn't have any TV screens in the car though so I don't think it's from PIMP MY RIDE.
The nice cop has some dimension because he's really nice to the older waitress but a dick to Dillon, so it's not all black and white. Dillon is kind of dorky with his long hair and tough guy act, but he does get to be the anti-authority character and gets to stick it to the man in a pretty badass move he does at one point. Also he gets to stick it to the Blob.
THE BLOB is no THE THING, but it's always fun to watch. It's an underrecognized movie, a real solid '80s horror-sci-fi picture and a good argument in favor of remakes.
trivia: the reverend (you know, from the crazy NIGHTBREED style ending) is played by Del Close, who is considered one of the founding fathers of modern improv. He also apparently was in BEWARE! THE BLOB.
epilogue: Right after I watched this and was wondering what the hell happened to Chuck Russell I read that he's working on a 3-D Arabian Nights movie.
This entry was posted on Thursday, November 12th, 2009 at 2:33 am and is filed under
Horror
,
Reviews
,
Science Fiction and Space Shit
. You can follow any responses to this entry through the
RSS 2.0
feed. You can skip to the end and leave a response. Pinging is currently not allowed.