ALONE IN THE DARK is the story of a bunch of people together in the dark. It's a siege movie, but it starts out like THE NINTH CONFIGURATION or other movies where a guy comes in to take over as the new doctor at a mental hospital, and he meets all the colorful characters and what not. For example New Line Cinema's mascot Lynn Shaye plays the receptionist who turns out to be a patient.
Dwight Schultz, aka Howling Mad Murdoch, the mentally ill member of the A-Team, gets to play the doctor in this one. It would be cool if Mr. T showed up as a vegan helicopter pilot, or George Peppard as a spacey hippie who absolutely hates it when a plan comes together. Instead they have ex-military Jack Palance and preacher/arsonist Martin Landau as two of the guys on the third floor. These are the patients one hospital employee describes as "very, very intense." They also got a huge fat child molester (Erland van Lidth, Dynamo from THE RUNNING MAN) and a notion that Dwight Schultz killed the old doctor and they gotta get revenge. They wait for a window of opportunity, and it opens up pretty quick when there's a power outage and they're able to get out, Michael Meyers style.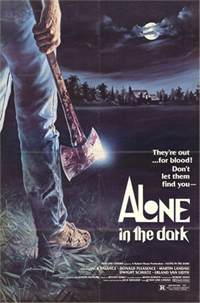 See, you thought when I said "siege movie" and then "mental hospital" it was gonna be ASSAULT ON PRECINCT 13 in an asylum, with the sane people locked up and the lunatics outside trying to get in. Nope, just some escaped mental patients attacking a house. But at least they got a bow and arrow. That's pretty cool.
Inside the house is the doctor, his wife (Deborah Hedwall), his daughter (Elizabeth Ward), his sister (Lee Taylor-Allan) and a guy who gave his sister a ride home from jail after an anti-nuke protest. The daughter is a pretty obnoxious character straight off some sitcom like "Blossom." In fact IMDb says the actress played Carol Seaver in the unaired pilot for "Growing Pains." She's a nerdy little girl with thick glasses who says precocious things like "I need a valium." (What was that they used to say about kids and their relationship to the things that are the darndest?) There are weird conversations like where she talks about people getting their fingers stuck together with super glue and her doctor father for some reason thinks it's a made up thing that he's never heard about before.
Palance and Landau elevate the movie. The trick is they probly didn't actually have to shoot that long, because they're not really on camera that much. They're supposedly out in the shadows alot of the time. But when they're in the hospital and when they show their faces it's true, they're "very, very intense." Palance is his usual tough guy but with a complete disconnect from reality, so there's no reasoning with him. If he thinks you killed his doctor, even if his doctor is still alive, you may be fucked. Landau is more freaky and does most of his acting with his face. You look at some of the wild-eyed expressions he comes up with here and it's obvious why he made a good Bela Lugosi.
There's alot of different business going on here. I guess the title comes from a part where the parents talk to the daughter about being afraid of the dark and what's under the bed. This comes back later when a neighbor girl finds one of the escaped mental patients actually under her bed stabbing at her, and like a kid she's afraid to step onto the floor. That was pretty clever.
Also there's a weird subplot about the sister having a history of mental illness that's being dredged up by all this mayhem. The best-directed scene is when the camera follows her walking very slowly across the house with all kinds of commotion going on with the other characters in the background, and then she hallucinates some kind of skinless ghoul (courtesy of Tom Savini).
This was the first movie that New Line Cinema actually produced, and Robert Shaye gets a story credit. The director is Jack Sholder of A NIGHTMARE ON ELM STREET 2: FREDDY'S REVENGE fame. Weirdly the opening scene seems like an Elm Street sequel, except with adults. The first shot has red and green lights shining on an old diner, and it turns out to be a weird dream sequence. Didn't notice any homoerotic stuff, though.
In the tradition of the dancing-alone-in-his-room part of FREDDY'S REVENGE this has some broad, dated parts in it. Not just the corny jokes with the daughter but also the ones at the punk rock show. This is an interesting movie, but not one that completely clicked with me. It's an odd combination of elements with a few scary moments (the fat guy lifting the girl by her neck) and I forgot to mention it has Donald Pleasance in it. Without Jack Palance I might not think much of it but just for the scene pictured at the beginning of this article I give it respect.
That's all I got, so happy Halloween everybody.
.
.
thanks to Hermes for recommending this one