You guys know how it is when two men in separate cars drive around the country, one trying to stalk and then run over women, the other trying to hunt the other guy. The one is a perverted serial killer, the other has gone mad from the first guy running over his wife, so he rammed into the guy disabling him and making him even more hellbent on murder. They are antagonists, arch-enemies, villain and dark avenger. You know, a couple of highwaymen.
This is the 2004 movie from Robert Harmon, director of THE HITCHER. I remember the trailer but it didn't catch my interest – just looked like another studio serial killer movie, at best on the level of JOY RIDE, probaly worse. But seeing THE HITCHER made me more curious and I'm glad about that because HIGHWAYMEN turns out to be way weirder and more interesting than advertised.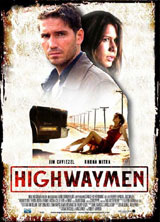 The first sign of life is in the first big crash scene. Two women in a car are being blatantly followed by a big old Caddy with only one headlight. Then they go into one of those big multi-lane tunnels and suddenly have to swerve because there's a wheelchair sitting in the middle of their lane. Then there's a horse running around in the tunnel, and a huge pileup happens. I think maybe the horse came from a truck that already crashed, but the wheelchair – I don't know. The Caddy doesn't show up to run people over for a few minutes. He must've been supposed to set up the whole thing, but I like to think it was a coincidence. The sicko highwayman just lucked out and came across a multi-car/wheelchair/horse tunnel pileup. I don't know man, whatever's going on it just feels like a weird nightmare, and I like that.
(The horse thing was probaly inspired by the great scene in the American remake of THE RING, but it still works. Horses creep me out, and not just because of ZOO.)
Jim Caviezel is the guy trying to hunt the killer. We see his wife's death in flashback – he was on a hotel deck across the street and saw the car coming. I think maybe he blames himself because instead of yelling "HEY, LOOK OUT FOR THAT CAR!" he didn't say anything, just tried to run down the stairs and across the street to… what, push her out of the way? A really boneheaded reaction, but you can't always be your best under pressure like that. I feel sorry for the poor guy having to live with that. And we know he relives it every day because we see the flashbacks.
So now he obsessively follows the guy around, talking to him on a CB, snooping around accident sites, following clues. And he has a trunk full of the prosthetic arms he's found. Strange. He tracks the survivor of the tunnel crash (Rhona Mitra) and basically kidnaps her to use as bait, or more like an entrance fee into an exclusive game between him and the killer. I like this implication that he's become as crazy as the killer, so I was kind of disappointed when the girl quickly warmed to him. Might be better if he was way out of line in bringing her along.
The car mayhem isn't as good as in THE HITCHER, and some of the action is a little confusing (not too bad). But I like the grim mood of the thing, treating it deadly serious even though it gets pretty absurd. The other main character is not a homicide detective but an unarmed accident investigator named Macklin (Frankie Faison, I guess from The Wire). Caviezel won't even talk to the cops, because he has enough experience in following this guy to know that nobody fuckin believes him. All he can do is drive his badass orange not-street-legal Barracuda and try to catch up. He says that the car is the guy's body, without it he's nothing. Macklin asks what happens when he separates the driver from the car. "Then you can go home," Caviezel says. He'll take it from there.
It's true, the guy's pretty pathetic without the car. Nobody wants to see a turtle without its shell.
I guess in a way this overlaps with DEATH PROOF, and a little bit with Cronenberg's CRASH. It's this sick fuck who gets off on car crashes, who uses his vehicle as a murder weapon, as an extension of his body, who pretends it was an accident and gets away with it, who takes pictures of his prey and thinks of them as his girlfriends or something. He's a mean bastard – in one of the crueler attacks he hits a car, sending it flipping, then drags it by a chain upside down, catching it on fire with a survivor still inside. He's not cool like Stuntman Mike (before he starts crying). He's an obvious coward hiding inside his car. But would it interest you if I told you he was kind of a cyborg? Caviezel says they "rebuilt him from the ground up," like ROBOCOP or one of those clunkers on Pimp My Ride. His arms and lower half of his face are covered in mechanical exo-skeleton. Like Darth Vader loose on our highways.
There is reason to believe he never leaves the car, either. I bet he has some way to take a shit through the bottom of the car.
The writers are two guys who did the movie KOMODO, which I haven't seen, but I have some hunches about based on the fact that it's called KOMODO. Seems like they did a good job on this one though, or if not then Harmon knew how to handle it. Crazy ideas, not too much dialogue, and when they put in little things that you know they have to follow up on they don't hammer you over the head too hard. For example Mitra's character doesn't drive because of something that happened to her as a kid. So you know she's gonna end up having to drive at the end. But when it happens the movie doesn't act like you're surprised. Just that it's inevitable.
I think there might be something to this Robert Harmon. He has enough solid and unusual movies under his belt that I don't think it's a coincidence.