In honor of the fresh new summer movie season I thought it might be a good idea to go all the way back to the beginning, the one that started it all, the granddaddy of summer movies, JAWS. And then skip forward two years to ORCA.
Now, I don't want to rattle any cages or nothing, but in my opinion – and it's a free country, so I'm allowed to believe whatever I want to believe – ORCA is not as good as JAWS. To be fair, the makers of ORCA most likely had no idea about JAWS, they hadn't heard of it, it's probaly a coincidence. Just two completely unrelated summer movies about men in boats going to battle against deadly aquatic mammals. So it's probaly not cool to compare them. And that's good because as its own thing I think ORCA is topnotch.
Richard Harris plays Nolan, lifelong fisherman with his own small crew on a boat called the Bumpo. When we first see him he's trying to save Bo Derek from a shark attack. But an orca shows up – a good samaritan orca – and fuckin headbutts the shark, sending it flying into the air and bloodied. So it's not a killer whale, it's a saver whale, or a protector whale. If these filmatists had known about JAWS this would've been their way of saying "fuck sharks, man, an orca could totally ram a shark and make it fly through the air, that is why it is so much more terrifying than a shark, because of its ramming." But like I said, they didn't know.
Next we see Charlotte Rampling giving a college lecture about orcas. This is basically the "just how badass is he?" scene where she hypes up the intelligence of the orcas so we know who we're dealing with. She says they're good parents, better than most humans. She talks about a recording of their language, how it was analyzed and found to contain 50 million pieces of information, ten million more than the Bible. She talks about their sonar, and how it helps them to know things about each other without words. "A human phrase like 'how are you' would be meaningless. What we call language they might call unnecessary, or redundant. Or– retarded."
She also makes a claim that arguably is more relevant for us, the viewing audience, than for her students: "Like human beings they have a great instinct for vengeance." Hmm, that's odd. Probaly won't ever come up in this movie, because the orcas in this one just go around defending people, they wouldn't do something like that. But good to know, could be handy some day for a crossword puzzle or Jeopardy answer or something.
Nolan decides he should catch on orca and sell it to a zoo for a quick buck. But the one he catches doesn't go peacefully. She tries to kill herself on the outboard motor, then when she's hanging upside down on the deck bleeding she pops out a baby. And her husband/boyfriend/sea life partner watches the whole thing, so he's  probaly upset. What was that trivia I heard one time about orcas and vengeance? Can't remember anymore.
Okay, so this is a movie about a killer killer whale. It has plenty of enjoyable absurdity to go around. But I also like its humanity. You can see Nolan start to feel bad about his whole plan as soon as he hears the sound the whale makes when he shoots her with a tranquilizer dart. He quickly sees that he has alot in common with the papa orca. For example, he lost a pregnant wife too. But the orca comes after him, starts smashing everybody else's boats until the townspeople start demanding he go out there and kill it. Trying to force a showdown. But Nolan knows he's the bad guy here. He doesn't want a fight. he even considers a plan of apologizing to the orca.
But this is the Charles Bronson of orcas. He's not looking for "I'm sorry." Try to see it from his perspective. Remember what we learned from that lecture? To orcas we seem like retards. They literally believe that we are retarded. They also think we're bad parents. So he already thinks badly of us, then one day we just show up and attack his pod, murder his pregnant wife. To him we're the fuckin HILLS HAVE EYES, savage inbred hicks attacking him for no reason. Why do we still have fingers? Why didn't they grow into fins like an orca's do? We're monsters.
So he devises a systematic revenge plan. This is the first (but hopefully not last) movie I've seen where an orca commits arson. He knocks over  a lantern that burns down the entire dock and causes a bunch of explosions. And he can't really run away in slow motion so instead he does a bunch of jumps like he's at Sea World or doing stunts for FREE WILLY.
Also he takes out a whole house and 1 human leg. I won't give away the details except to say that the same orca who saves your life may one day bite off your leg. That's how tenuous the bonds between man and orca are. It's the tension that's boiling just beneath the surface. Surprised they didn't cover that one in CRASH.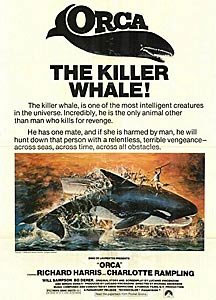 By the way, don't believe this movie poster here. The orca is not giant like in that painting. Also, the orca is not happy like in that logo.
One thing that's clever is that Nolan is the anti-Ahab. Instead of obsessing over an act of vengeance against an animal, the animal obsesses over vengeance against him. He tries to get out of it but decides their destinies are intertwined. He goes out to face the orca, and wants it to be an honorable fight. We see them staring each other down face-to-face. Nolan reflected in the orca's eye, the orca reflected in Nolan's eye. And now that I'm writing this down it sounds pretty goofy, but in the movie I swear it seems kind of deep. I blame Ennio Morricone. They got more than one beautifully photographed scene of orcas swimming around in front of beautiful sunsets, and the Morricone music is as emotional as the peaks of his spaghetti westerns. He makes it seem profound.
The director is Michael Anderson, who it turns out directed alot of movies, including 1984, AROUND THE WORLD IN 80 DAYS, THE QUILLER MEMORANDUM, DOC SAVAGE: MAN OF BRONZE, LOGAN'S RUN and SWORD OF GIDEON (that one that's about the same thing as MUNICH). The story is credited to an Italian named Luciano Vincenzoni – can you believe the same dude wrote THE GOOD THE BAD AND THE UGLY, ORCA and RAW DEAL? The other guy, Sergio Donati, did DUCK YOU SUCKER, and they both worked on FOR A FEW DOLLARS MORE. (IMDb also says Robert Towne did an uncredited rewrite.)
This is just a real good movie of its type. It's the JAWS of JAWS ripoffs. It's not Spielberg-level but it is well directed and acted, with a lean and fun story. It delivers with characters and emotions but also with mayhem. On land and on sea. I hope that some day – perhaps in some Big Brother program – man and orca can watch this movie together and laugh.