Let's say you're a huge great white shark. I mean, just enormous. You're gonna need to eat, right? Sometimes you can eat orcas, but you try to avoid those because sometimes they'll eat you back. And little tiny fish won't do it. A guy your size, it's hard to find a meal that's filling.
So you come across this nice little joint called Amity Island. Wide open, not much competition from other sharks or orcas. (There was one smaller shark, but some people killed it, mistaking it for you. Suckers!) So it's a good set up. Just little pink morsels wiggling around, as far as the eye can see. Which is not that far actually, because sharks don't have very good vision. But they do have a weird thing where they can sense the electromagnetic pulse of even a heartbeat. And these heartbeats feel delicious.
Unfortunately, there are consequences to eating this "hot lunch." You eat one or two people, all the other people get pissed off and come after you. They stick an air tank in your mouth and shoot at it until you explode. Or they trick you into biting a power cable. Or they put a grenade in your mouth and blow you up in 3-D and it's ironic because they call you "Jaws" and then your jaws are about all that remains intact when you explode into a bunch of blood and guts. People really know how to keep a big shark down.
Well this is the story of one courageous shark who got fed up with being blown up, and he took a stand.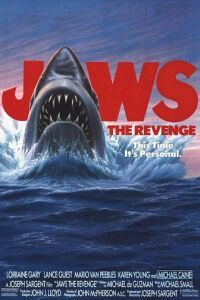 To be honest I'm not sure who this shark is. It seems like it's supposed to be the one from JAWS, but everybody knows the one from JAWS got blown to bits. This movie seems to take place in an alternate timeline not related to the other JAWS movies. Lorraine Gary is still Ellen Brody, but Lance Guest (THE LAST STARFIGHTER) plays Michael instead of Dennis Quaid, and he's a marine biologist studying snails in the Bahamas instead of an engineer building a water park in Venezuela. Sean (Mitchell Anderson) is no longer trying to get away from the island, he's actually a sheriff's deputy there now. Chief Brody is dead, but his portrait hangs on the wall at the department, so he must not have gotten fired like in JAWS 2. Or he did and then they forgave him.
I can't explain any of these changes, but I kind of like them. They keep you on your toes. This whole movie has a very strange dream-like feel. This JAWS feels more like a horror movie than the other JAWSes. It's got a nice sort of surreal, paranoid, not-sure-what-is-reality type of feel.
I know, I know, you're not supposed to say anything nice or neutral about JAWS: THE REVENGE. I looked it up, and it turns out everybody says it's the worst. In the comments for the other JAWSes several of you declared it a "worthless piece of shit," even "one of the worst movies of all time." When I told friends I was watching the JAWS sequels at least one said, "Uh oh! Part 4 is terrible!" The stupid Razzies nominated it for worst picture (it lucked out 'cause it was up against LEONARD PART 6). Entertainment Weekly had it at #10 of the worst sequels of all time, just five above BATMAN AND ROBIN. It has a 00% on Rotten Tomatoes, and I never could figure out how to log in on there so I can't change that. And I remember this comedian (Richard Jeni it turns out) had a popular routine that was just him talking about the movie and complaining about how dumb it was.
When a child grows up being told he's worthless, he starts to believe it. But when a moviegoer hears about a movie sucking for decades before seeing it it lowers his expectations. And then he sees it and he thinks actually, fuck it. I know this is absurd, but I can go along with it. In fact I kind of like it. I don't think people are being fair to this movie. The poor little guy. Why are they picking on him?
This time Ellen Brody is the main character. (Unless you consider the shark the main character.) It's Christmas time and Sean Brody is doing some petty deputy duties where he has to go out in a boat to check on some garbage in the water. Out of the blue he gets his arm bit off by a giant shark and bleeds to death. (PSYCHO-type spoiler.) I really fell for that one, I didn't see that one coming and it's a real brutal death scene.
Ellen realizes how unlikely it is that her husband was attacked by a giant shark all those years ago, and then he and both her kids were attacked again in part 2, and I guess we'll ignore part 3 (because that's on a 3-D timeline separate from the 2-D one) but now her other son gets killed by a shark… she knows this doesn't make any sense, and that's why she comes to the conclusion that, as the trailer narrator says, This Time It's Personal. This fucking shark has picked out the Brodys and he's stalking them, picking them off one by one. He has a vendetta. Or maybe just real refined tastebuds. Maybe Brodys are delicious. Either way, he's singling them out.
Or that's how she feels, anyway, but obviously everybody else thinks she's crazy, or too stressed out from her son's death. She tries to convince her other son Michael not to work in the water anymore. But he explains why this is ridiculous and convinces her to come stay with his family in Nassau for a while. Get away from the memories, play with her little granddaughter. So she does. And, uh, the shark shows up.
That seems to be the main sticking point, that's why everybody else in the world besides me is not open to this movie. They can't get past the leap of logic that this shark is gonna follow the Brody family to the Bahamas no matter how tender and succulent their meat is. I get it. If you can't go along with that you can't go along with that. But let's be fair here. It's not like this is some ridiculous thing that the movie is trying to sneak past us and hope we don't notice. It's not a "plot hole." No, the movie points it out, emphasizes it. Michael tells Ellen that a great white shark has never been where he lives before, because the water is too warm. Then when the shark does show up his partner Mario Van Peebles points out the same thing.
All I'm saying is let's acknowledge that the movie knows this is far-fetched, knows that we know it's far-fetched, and in fact is using that as its way to try to scare us. It's no longer just the shark itself that's supposed to be scary, it's the impossibility of the shark trying to get The Revenge, and going this far to do it. Impossible, but happening. It's the same as when Charles Bronson shows up unexpectedly to confront creeps in DEATH WISH 2. They're not just scared because a stranger is in their home. They're scared because oh shit, it's the guy. That's why JAWS: THE REVENGE pays so much loving attention to the widening eyes of the Brodys as they see the shark and contemplate the significance of it being there.
Ellen: Holy shit, this shark killed my husband and my son and my other son is next if I don't do something about it!
Michael: Holy shit, are you telling me Mom was actually right about that shark?!
So exactly as Ellen lets go of her paranoid idea and apologizes for being such a pain in the ass her son is actually realizing that she was right.
One thing that would make it more fun would be if you got to see more of the shark's perspective on this, why he feels that This Time It's Personal, why he wants The Revenge. It could be a shark's version of DEATH WISH or THE EXECUTIONER, complete with a scene where a radio call-in show has different sharks giving pro and con opinions about the vigilante shark. But since it's unclear which shark this is it's hard to figure out what he's got his fin up his ass over. What we do know is that Martin Brody died of a heart attack, but Ellen blames this specific shark for scaring him to death. Does this mean Brody actually died after the incident in JAWS, and the shark didn't actually blow up? Or was there another shark later on that scared him to death, perhaps a relative or war buddy of Jaws #1? (They're real close, they go all the way back to the USS Indianapolis.) Or did he really blow up the shark but then somehow it kept haunting him, a ghostly or undead shark, and that's why it scared him so bad and why Ellen is so convinced that the family is marked for death?
I don't know but there are definite hints of something supernatural going on. Elaine seems to have a psychic connection with the shark. At one point a wave laps against her foot on the beach and she senses the shark. She just needs to make physical contact with the body of water the shark is in to be able to zero in on its location. A big point is made about how big the ocean is and how unlikely it is she'll run into the shark when she goes out on a boat, but of course they'll find each other like Luke and Darth Vader. When she sees the shark from a boat, she takes her sunglasses off, as if she has to make eye contact to communicate with it. (Or maybe she just wants to look her boy's killer in the eye.)
There's also a sense of predestination, same as in (the admittedly much better movie) ORCA. Ellen is even less of a shark hunter than her late husband, but she feels that her and the shark are destined to do battle, and the more she runs the more trouble it causes. So when there's a shark attack on a crowded beach (almost getting her granddaughter) she without hesitation, without telling anybody, speed walks to her son's boat and single-handedly sails it out into the ocean to look for the man-eating bastard. It's like that turning point I love so much in HALLOWEEN: H20 where Laurie has the realization that she can run all her life or she can go back and get this shit squared away, and she chooses the latter.
And check out how this alternate poster makes you question whether maybe the shark is not the one getting the revenge, or taking it personal. Maybe it's Ellen: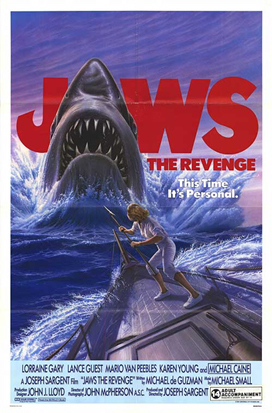 Unfortunately, it's not at all as badass as the painting indicates. And like Ellen Brody before me you're all gonna think I'm a lunatic for saying this, but I think this is where the movie finally blows it. This should be the culmination of Ellen's journey. She was right, the shark was after her. It killed her husband (?), it killed her son, it tried to kill her other son and her granddaughter. She tried keeping her family away from the water, but she couldn't do it, and the shark found them. So now she must take on the responsibility as the matriarch of the family to put this fucker down. She goes out into the water herself and rams a boat up the motherfucker's ass and lets him bleed to death. And the original ending they shot had the shark's death throes tearing the boat apart, which is very fitting. They nearly take each other out.
But the way it unfolds in the movie it's not really Ellen vs. shark. Hoagie (Michael Caine) shows up and lands his sea plane, he and Michael and Van Peebles hop aboard and they use their scientific know-how to try to defeat the shark. She gets to grieve some more (the shark eats the damn plane, momentarily making them think Hoagie is dead) but they totally steal her thunder. This should be her final stand. Instead it's her acting crazy and her son stops her and takes over.
But more importantly they just fucked up when they were filming the ending. The first ending they shot was a better idea but, uh, I think you can see why they decided not to use it. Here it is, taken from the TV version:
They weren't happy with that so instead of using the laughably fake looking shot of the shark they cut it together incomprehensibly. As she tries to ram the shark it's intercutting with the end of JAWS (so he did blow up the shark after all, didn't he?). I didn't notice any explanation for why the shark would explode, so at first I thought it only exploded in her memory of part 1 and not in the present. But then all the sudden everybody's safe, even Van Peebles who got bitten in half. I had to rewind it in order to sort of understand what happened, but the results weren't entirely conclusive.
(By the way, for the most part Bruce the fake shark is used great in this movie. I think he looks really cool. I like that you see him so much. But obviously that original ending there didn't work, they needed to figure out some other way to do that.)
I know everybody was excited to see me rip this one a new gill, but I look at all these criticisms and I can't help but think that people are being unfair to it. Yeah, okay, it's preposterous, but it's not as constantly inept as I keep reading it is. Until that crappy ending it's well shot, well put together, dramatically paced. It treats its plot and characters seriously. And it's very against the grain for 1980s horror sequels. It has a rare romance between older folks. None of the FRIDAY THE 13TH or HALLOWEEN sequels had the balls to put a 50 year old widow in the lead. The only sex in the movie is an off-screen romantic encounter between a married couple. The body count is low (isn't it just one?) but upsetting when it happens. The granddaughter is a good kid performance, precocious but naturalistic like (hey, wait a minute) a Spielberg movie. The acting and dialogue are better than expected in this type of thing. So it's not TROLL 2, let's not exaggerate.
Reading about the movie I've seen alot of people mention Michael Caine coming out of the water and then immediately being dry. Yeah, I noticed that too. But I notice that all the time in movies, people coming out of a lake or a rain storm and then all the sudden they're totally dry. It happens in plenty of movies without anybody saying it makes them the worst of all time.
I remembered that Richard Jeni comedy routine so I looked it up, couldn't find it on youtube but found a transcript.  Always seemed like a cheat to me to just describe a movie plot and call that comedy, but it was more of a cheat than I realized, because nothing he says is accurate. He makes fun of Ellen having a love life when "4 or 5" members of her family have just died. But only one has just died and her dating Michael Caine is part of her struggle to move on with her life. Jeni makes fun of her for going to an island to hide from the shark, but of course she's not trying to hide at all and in fact feared going there for the very reason that a shark can get to an island. The only legitimate complaint in that whole routine is about how fast the shark was able to swim there, although he doesn't actually beat the jet as Jeni says and it's unclear how much time has passed when he does show up. So I take exception to that comedy.
Well, shit. There you have it everybody. I'm the guy. The one guy who says JAWS THE REVENGE isn't all that bad. Please adjust your respect for my opinion accordingly.
The director is Joseph Sargent, a prolific director of TV movies. He didn't come from "Night Gallery" like all the other JAWS directors. He was actually from an earlier generation, going back to "Lassie" and "Star Trek." One of the few theatrical movies he directed, though, was THE TAKING OF PELHAM ONE TWO THREE. And not the Tony Scott version, either. The Joseph Sargent version. Something to be proud of.
I bet if they used the PELHAM theme song for THE REVENGE it would've gone over better.
* * *
Watching these movies made me wonder something. Why is it that sequels appeal to me so much? They're an easy way for studios to make money without having to gamble on new ideas, everybody knows that's why they're made. And while there are sequels that manage to live up to or even surpass the first time around (THE GODFATHER PART II, ALIENS, TEXAS CHAINSAW MASSACRE 2 [gotta throw that one in there], THE DARK KNIGHT) I think we all agree that's an exception to the rule. Most of the time – including in the case of this particular shark series – the best you can hope for is a pretty entertaining but derivative hollow shell of the original that has a few funny or cool twists to the formula.
But somehow I like that about them. Or maybe I just like '80s sequels. If I like the thing that started it all, it might be best that they left that thing alone. But since they didn't, the sequels become a part of the history of that thing, and somehow take on an importance in my mind. I like that it's a series, a continuing character or theme that can be reworked or copied by different filmatic teams over the years, with varying success. It's kind of like they're given a challenge, a set of rules to work within or to bend. You gotta have a shark in it, you gotta have some bullshit connection to the Brody family, you gotta use this theme music, but other than that just be creative. I like seeing the different things they tried to keep it fresh. If I like the series enough as a whole I'll even go back and revisit the bad ones every once in a while. I seem to go through the entire FRIDAY THE 13TH or NIGHTMARE ON ELM STREET series once every couple of years. I even rewatch the HALLOWEEN sequels every once in a while, and those are mostly terrible. I like watching the PSYCHO sequels, even though the original is so sacred and so separate from them. I still enjoy them.
So if you want somebody to blame for all the unnecessary sequels made in the '80s, blame me. It was partly my fault. I didn't mean any harm, though. Don't take it personal.