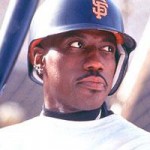 Well it looks like this week is Nerd Hanukkah, when everybody freaks out about the new Batman movie and then they go to San Diego and they seem to open presents every day. I'm not clear what exactly it is they do there but it apparently involves comic books and occasionally Halle Berry or Charlize Theron or somebody. There will be alot of exciting posters passed out or something and lots of exciting news will be broken about some movie or other. You'll be hearing about your star treks and your hobbits and your Iron Man part 2s and what not. But there is one sequel that you won't be hearing jack shit about there unless you are currently sitting there reading this article. Ladies and gentlemen, I am proud to announce that I got the exclusive inside scoop on a movie and the title alone is gonna knock your god damn socks off. Your socks are gonna tear right through your fuckin Captain America boots, fly across the room and land on a table where somebody from some Dr. Who spinoff is signing autographs.
There's only one thing to do, I gotta spit it out: THE ART OF WAR II: BETRAYAL. Starring WESLEY GOD DAMN SNIPES.
(straight to video)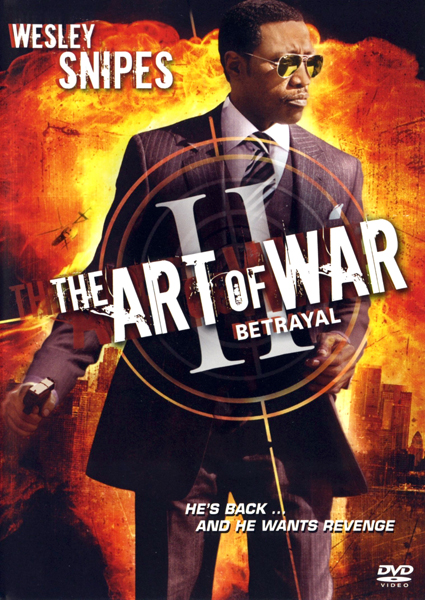 Yeah, THE ART OF WAR. Such a perfect title. A reference to the Sung Tzu book, so everybody can relate. Action movie fans or war buffs know it's supposed to be badass, business men or rappers think it makes them cool and deep if they quote it. But also it just has that yin and yang shit going on. ART is the creative act that man strives to perform, WAR is the destructive one he usually does instead. And in its star ART OF WAR had both – the art of the classically trained dramatic actor, the war of the cocky capoeira motherfucker from BLADE. ART + WAR = Wesley Snipes.
So maybe it's some kind of justice that THE ART OF WAR II: BETRAYAL would be, as far as I can figure, the first DTV sequel to a theatrical movie that retains the original star. They could've easily done it with DMX or Bill Goldberg. In fact they went so far as to make an ART OF WAR II starring Treach, but fate and the Internal Revenue Service intervened and Wesley offered to do one himself. (The Treach one is listed as INTERVENTION on IMDb, as if they're gonna pretend it's not a sequel, but I've been told it will probaly be released as ART OF WAR 3 somewhere down the line.)
Let's not get too excited though, fellas. One problem with making this a trilogy: THE ART OF WAR wasn't very good. Definitely slicker than part 2 here, but not memorable at all. He was some kind of U.N. guy I remember. He wore a cool African hat in one part. That's about it. But that's the weird world of DTV, I guess. Nobody has to like the movie, nobody even has to know about the movie. It's sequel recognition, one step below name recognition. If it's part 2 then somebody must've liked part 1, right? Semi-legitimacy.
Snipes returns as Neil Shaw (now answering the phone with the much cooler handle Nigel Stone). He's left the spy game and now works as a consultant for movies, but he gets pulled back into it when his mentor (a "super agent crossdressing martial arts instructor" named Mother) gets killed, and when his actor friend who's running for senator gets blackmailed, and when he gets framed for a political assassination, and that type of deal.
Snipes's performance is a little stiff in a few scenes. He does do a funny expression when a woman at his master's funeral says "Mother was my father," and he has a couple funny smartass moments. I always like Wesley but I've seen much worse movies where he gave better performances. I guess he had alot on his mind.
The fights are pretty good though, and they remind you how tragic it is that Wesley's not doing real action movies anymore. He and his stunt double are a great team. There's a fight on a boat that lasts less than half a minute, is cut too quick and has a little bit of shakycam, but the moves shine through. Later fights are longer, sometimes lit too dark. My favorite is the second boat fight, where after some fancy kicks he singles out one of the guy's pinkies and breaks it. Then he lassos him with a fire hose. My favorite scene though is the almost-climactic shootout, because that's where Wesley gets to be funniest. This one brings out the classic action movie trope of the superweapon – the villains are into cutting edge military hardware and shoot bullets that act as little CGI missiles. Wesley says "Damn, what the hell was that!?" because he was totally unaware of that subplot.
The director is Josef Rusnak, the guy who did THE THIRTEENTH FLOOR and the upcoming unnecessary remake of IT'S ALIVE. He does okay I guess. Maybe he should get credit for leaving in weird little touches like the funeral full of drag queens. There are funny parts here and there, like the scene where Wesley switches phones with some dudes at a gas station and then subdues them with the deadly art of squeegee. And there's a scene where he fucks with the Department of Homeland Security by pumping rats into their building, which was kind of funny since I saw it before I saw WANTED. Who ever thought that British pipsqueak would one-up Wesley by putting bombs on his rats? Seems so obvious in retrospect, but ART OF WAR II was made in a more naive time.
There are a couple subtle twists on typical action movie plot points. There's the standard scene where the hero is about to get shot but suddenly the bad guy falls over dead and the girlfriend is standing behind him with a gun. But usually when that happens there's no consequences – in this one you get a whole scene where she cries, complains that she will be wanted for murder, and pulls over to throw up. Another one is the computer expert guy they use to hack into CIA computers and what not (unfortunately the words "blogosphere" and "hacktivist" are both used in this movie). Many action movies use a character like that to get information to the hero, but then they usually disappear. In this one the authorities track them down, kick the door in and kill them all.
Also there's a little trick after the opening. It cuts to Afghanistan, where an idealistic female journalist has scored a dangerous assignment, and she and her crew get stuck in a gun battle. It turns out to be the movie Snipes is working on, and of course we've seen that routine a million times. But this one goes on a little longer than usual and because so many DTV movies these days take place at least partially in Afghanistan it was convincing that this was what the movie was gonna be about. And when it's not you think "Oh, thank God" because you didn't want to watch that shit.
That's just a couple touches though – overall it feels fairly generic. I think it's an above average DTV sequel, but I wouldn't really recommend it to anybody who's not a Snipes completist or a serious DTV action aficionado. Or Treach – I would recommend he watch it in case they do a part 4, so he knows more of the backstory. The rest of you feel free to sit this one out. If you can only watch one DTV sequel to a not very good Wesley Snipes movie, the Snipesless UNDISPUTED II: LAST MAN STANDING is actually a better bet.
Okay, I give in, I'll mention Wesley's troubles with the law. The guy is supposed to get 3 years in the can and the prosecutors are openly saying that they want to make an example out of him. Personally I believe in paying taxes, because I like when the street lights come on and the bridges don't collapse. But I also don't like what they do with most of our taxes so if Wesley was serious about his tax protest I can understand. On the other hand, who the fuck thinks that's gonna work? As a wise character played by Wesley Snipes once said, "Motherfuckers always tryin to ice skate uphill."
So okay, real stupid move on Wesley's part. But it still seems kind of fucked. If you're a celebrity you can get away with slitting a few throats, shooting your wife, molesting kids, videotaping yourself peeing in a 13 year old girl's mouth, etc. We're gonna let those ones go and it's the guy who doesn't pay taxes we want to make an example out of? I don't get it. Make him pay the back taxes, plus a huge fine, plus some community service (ideally BLADE 4). Putting him in prison is not gonna help anybody unless it's to film a cameo for UNDISPUTED 3 in which case it would help Scott Adkins a little. Why is this the guy we're making an example out of? How about we make an example out of the girl-peeing guy after he makes a couple more chapters of TRAPPED IN THE CLOSET? That's just an idea I came up with, thanks for listening. If you guys like peeing on kids though that's fine, put Wesley in jail. I doubt he'd come back for ART OF WAR PART 4 anyway.
In unrelated DTV sequel news I noticed something called BELLY 2: MILLIONAIRE BOYZ CLUB comes out on August 12th, same day as this one. Not much info is available but it's not directed by Hype Williams, it stars The Game, and doesn't seem to have any connection to BELLY at all. Another example of sequel recognition for you. In this case the small cult following of BELLY knows it's not related but feels like they should watch the official part 2 just to have an opinion on it. I think this is a shitty thing to do since Williams has been trying for years to make a sequel called BEAST. Does this mean that's officially dead? Does anybody know? If you do email me.
–Vern
Originally posted at Ain't-It-Cool-News: http://www.aintitcool.com/node/37534
View the archived Ain't-It-Cool-News Talkback