There was once a promising new director on the scene named Anthony Waller. This was the '90s, the Miramax Dynasty, when Hollywood executives searched for promising young directors like prospectors looking for gold, and here's this Lebanese born British guy who independently made a well reviewed thriller called MUTE WITNESS. Not too arty either, real energetic, funny, violent. Pretty commercial. They scooped him up, signed him on to direct AN AMERICAN WEREWOLF IN PARIS, and for some reason nobody ever talked about him again. Weird.
Okay, he shouldn't have made that sequel, but actually it had some moments. I always meant to see MUTE WITNESS, but never did until now. So let me be the very last to say "this kid shows promise!"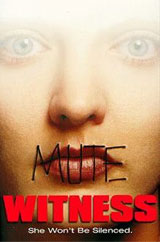 Marina Zudina plays Billy, an American makeup artist working on a horror movie in Russia. And as the title says, she's mute. Not deaf, just mute, and don't worry, there's no traumatic backstory tying everything together and then she learns to speak at the end or some shit like that. She just can't talk, end of story.
Anyway, one night when the studio where they're filming gets closed down she goes back in because she forgot to grab a mask she needs to work on. And nobody realizes she's there so she gets locked inside the building. She tries calling her sister (Fay Ripley) on the phone and tapping out a message, but there's a misunderstanding and her sister doesn't get that she's trapped.
So where does the "witness" come in? When she sees some of the guys from the studio filming a porno that turns into a snuff movie. This is a bad day for Billy. To add insult to injury the killer in the snuff movie is wearing her mask! Fucking snuff guys, no respect for other people's property. Haven't you always found that to be true? Not trying to generalize here but fuck those snuff guys. I'm against them. I know that's not politically correct but I'm like Carlos Mencia, I just say what you're thinking but you're afraid to say, and sometimes using the same words Billy Cosby used.
Anyway, these snuff assholes hear her and it turns into a tense cat and mouse type deal… two cats trying to catch a mouse who cannot talk. A mute mouse, that's the gimmick. It's a game of hide and seek through dark tunnels, cluttered sound stages, storage rooms, elevator shafts, fire escapes. I thought this might be the whole movie (it might've worked), but the plot switches up a couple times. She finds herself trying to convince the police what happened, but the perps are good at covering their tracks and she's got a serious language barrier to climb over. She speaks sign language to her sister, who speaks English to the Russians, and then the Russians try to explain to her how movies are made. But of course she knows what looks real and what looks fake – that's her job.
Waller milks all kinds of tension out of this idea that she's seen too much and is in danger but can't convince anybody. And just trying to communicate is a struggle, so how many times can she try before giving up? A mute heroine in a movie like this is also interesting because she's getting chased all over and not screaming. You're not used to seeing that. She tries to scream, but can't. You wish she could. And of course it's kind of a self reflexive type deal too because you're a mute witness watching a movie. You can't say anything to help. (Deep, huh? I thought of that. That's just how I am.)
Billy's sister's husband (boyfriend?) (Evan Richards) is a funny character. He's the director of their movie and who knows if he's talented. But he's some kind of spoiled son of a producer or executive or something, with a serious sense of entitlement. I laughed whenever he tried to pull the "I'm a director" card. Dude, these people kill for a living. They sell snuff films to rich, powerful sickos. They are corrupt cops and government officials, deep in the Russian crime underworld. They're not impressed that you're making a dumb horror movie. They're past that, I'm thinking.
You know what is impressive though: fucking Alec Guinness is in this movie! Apparently it's his last theatrical film. I forgot he was even alive then so when I saw his cameo I thought "geez, that guy looks like Alec Guinness." It didn't even occur to me it was the genuine article or that that's why he has such a dramatic reveal, his face first hidden in shadows and then he leans into the light. Funny thing is, Waller apparently got him to shoot the scene many years earlier as some kind of favor, and when it came out Guinness read the reviews and swore he wasn't in the movie and never heard of it before.
I think the tone of the movie is a little off balance because it's only in the back end that the director/brother-in-law weiner really gets sucked into the action, so then it becomes much more jokey than it had been. It made me laugh though, some good stuff where they're fighting some killers to the death and the old man in the apartment downstairs is pissed off about the noise.
It's a real solid and enjoyable thriller. I guess I can understand its forgotten status – it would get more attention if the guy had gone on to make a bunch more movies. But he clearly has some chops. I wouldn't be surprised if he popped up again some day.
Thanks to Jake for recommending this one.